This Friday will be Round 2 for Small Bites Big Sips, the new cooking classes here at Cooking by the Book. We've had many requests for classes open to the public and Small Bites Big Sips is our response. Uniquely, in these classes we start with the beverage and then find the foods that best complement those liquids.
Last week, we did four delicious wines from Paumanok Winery on Long Island. This Friday, with September already half gone, it's time for Oktoberfest.
This Friday at 6:30 PM beer expert Tom Gelinne will feature a tasting of four outstanding German beers typical of Oktoberfest. We'll sample the beers while Tom provides beer knowledge and some Oktoberfest history. Tom's beer discussion with go from dark to light beers and what makes each one distinctive.
Tom will discuss beer quality, including the hops and grains used, the fermentation styles and the very distinctive tastes of combination creates for you.
Then you'll take a tour, not of Germany, but our showroom kitchen. You'll get a demonstration about to how to make the very best pretzels you have ever had in your life. Suzen has conducted serious R&D here, along with testing and tasting, to get you just the perfect pretzel.
You'll return to the dining area for more beer and a tasting of four wonderful dishes:
Those homemade pretzels you just saw demoed
Beer soaked bratwurst
Spicy beer mustard for those pretzels and brats
Linzer tart [traditional, perfect and containing absolutely no beer!]
As with the wines, you'll be amazed at how differently each of the four beers now taste when complemented with food. Your personal favorites might just change. And you will truly experience the power of pairing food and beverage.
If you are a beer lover or a curious foodie, we hope you can join us. If you would like to register for the class, please go to
http://www.brownpapertickets.com/event/271080
If you can't come, please consider this idea for one of your fall parties. It's a great way to add some flavor to a weekend afternoon where some football fanatics need to cheer a victory or cry in their beer. Let's make that good beer.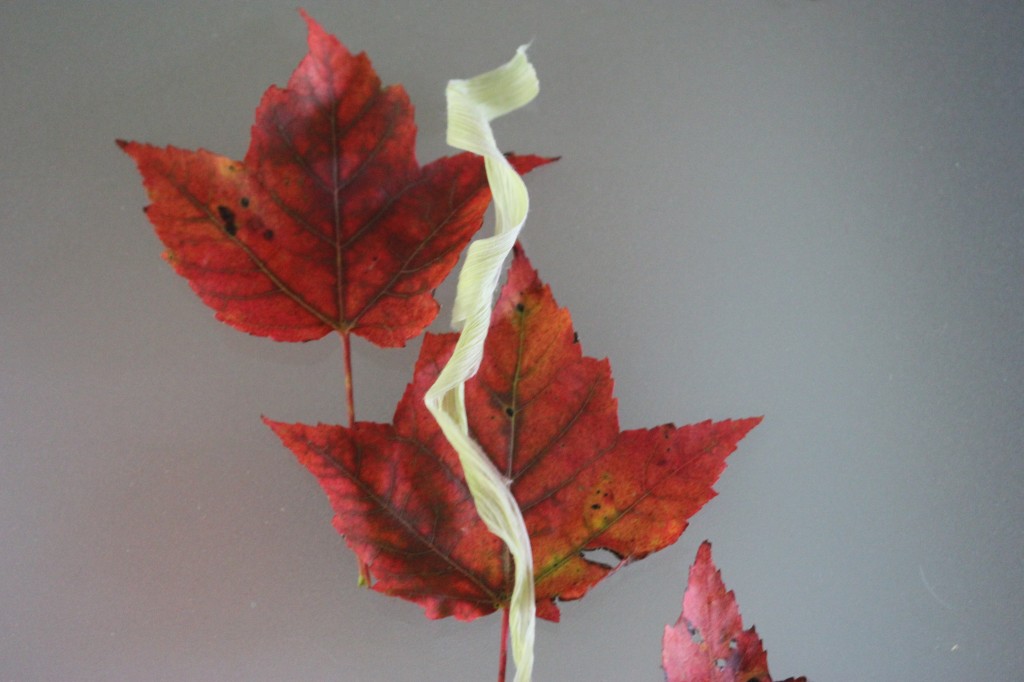 That picture? It's a photo haiku. A short reminder of where we are. Summer is rapidly slipping into fall. I found these red leaves on the ground one morning. I looked up to see what tree they had come from. No tree had red at all. These portents of autumn had turned red and fallen overnight.
Soon though, the trees will be blustering red and orange and brown. Each day will have changes that appear right before our eyes. And with those visual changes, our food opportunities change too. Each week the apples will be different, the corn not at all the same as the week before.
This weekend, tomorrow, I start giving you a round of early fall recipes. A cold drink for warm days. Some warm syrups for cold mornings, syrups to put on special pancakes and waffles.
That strip of green in the picture? It's a fragment of corn husk. One day old, and velvety to the touch. I'm just like you. I strip the husk off the corn and toss it away. It's only by accident that this piece was lying around and I was able to touch it and realize how lovely a leftover could be.
As the days go by and we see all the changes about us, just pause for a moment. Or an hour. Let autumn fill your eyes and your nostrils.
And, get ready for some fall cooking!