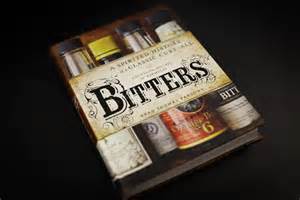 Bitters, by Brad Thomas Parsons, is a gem of a book, a heavyweight gem.
You know bitters: that little bottle of something that sometimes get dashed into your beverage? Oh, yes, a dash is much more than a drop, by the way. Three, four, even five drops.
But what are they and why do they matter and why — you may have noticed — is there a blossoming of bitters. They seem to be everywhere in specialty stores [if you live in New York] or in liquor stores [but not if you live in New York]. That's one of the twists in the history of this now keenly tracked item.
What is, or are, bitters? To quote BT, "Bitters are an aromatic flavoring agent made from infusing roots, barks, fruit peels, seeds, spices, herbs, flower and botanicals in high proof alcohol." Bitters got their start as "medicinal." At 94+ proof, people have long enjoyed imbibing them; Civil War soldiers drank them by the boxcar load. The first bitters and, sadly for American history, the first cocktails or "cock-tails" were in use in Great Britain in the early 1700s.
But it was in America, in the 1800s, that bitters took off. Both as those medicinals and as ingredients in the great wave of cocktails that did sweep across this nation. With no control on quality and with its high alcohol, the products were sometimes termed "snake oil." Federal legislation in 1906 began to put the clamps on what could be claimed and sold. Prohibition, in 1919, literally put the cork in the bottle. What was then a landscape of hundreds of bitters became a desert with only a few brands surviving.
Beginning in the late 1980s, a cocktail revival has spread across the nation. First the classics and then new concoctions of incredible imagination. Fueled by the internet with its ability to rapidly promote and inspire, cocktail concepts blossom like spring flowers. And the classic ingredients from two hundred years ago, bitters, are vital threads woven into in the new cocktail tapestry.
You may have seen Peychaud's and Angostura bitters at bars and on store shelves. Now, matching the past, there are literally hundreds of bitters being created by firms and individuals. [If you find yourself inspired to start a home business, do remember that the Feds consider bitters to be a non-alcohol product and you'll need Fed approval before you sell; since the Feds know your every phone call, email and text, please, please be discrete].
What flavors beyond the those classic "bitter" ones. Everything you can imagine. Apple, peach, berries of all kinds, lemon and lime and orange, celery and rhubarb, mole and coffee … The very term "bitters" refers to the ingredients. The product itself, while rarely sweet, is not always inherently bitter.
This wonderful book, Bitters, takes you on a journey through all this. The history of bitters. The revival, with focus on the two cities — New York [aka Brooklyn] and Seattle — that lead in the creation and marketing of new products.
Want to make your own? Bitters has lovely recipes to get you started and tells you where to find the ingredients — again you are very lucky if you live in the ingredient paradise cities of New York and Seattle. Where to get the little bottles [again, Seattle].
And, of course, how to use bitters, whether your own or purchased at the online stores or brick-and-mortar locations listed in Bitters. There are 60+ cocktail recipes here, half classics and half inspired newbies.
Several of these recipes use the balance of a sugar syrup and Bitters is a delight in offering 15 recipes for syrups sure to tempt you: blackberry lime, blood orange, lemon basil, sour cherry, … These syrups are a bonus and will feed your own creativity when you are independently experimenting at the bar or when seeking to add a "bonus" to a dessert. That blackberry-lime syrup with mixed berries over pound cake is a smashingly flavorful summer treat.
Over the rest of this summer and into the fall, I'll post some of the ideas from the book. Suzen and I will make a batch of bitters, which typically takes a month from start to finish. With fall approaching all too soon, apple bitters seems appropriate.
If you love cocktails, if you are foodie, if food history is your passionate hobby, then Bitters is sure to be your next best friend.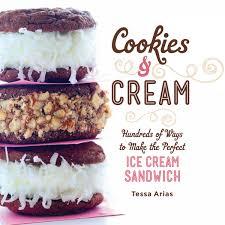 1945. Lots of things happened. I was born. World War II ended. The atomic bomb was tested and used.
And Jerry Newberg in Pittsburg invented something. He worked at the old Forbes field where the Pirates played in air heavy with pollution. In that steel city, summers are hot and expectations are high. So Jerry invented the ice cream sandwich.
This month has seen two books about ice cream sandwiches published. I have both and I love both. This first review goes to Cookies & Cream by Tessa Arias because we've used it at Cooking by the Book. In just over 200 pages, Tessa takes you down every pathway you need to know for great treats: equipment, ingredients, techniques for Philadelphia style and French style ice cream, …
Oh, you didn't know? Philadelphia is made without egg yolks and is fine. French is made with yolks, often involves cooking a custard base, and is divine. Pick your poison.
Tessa provides many cookie recipes and techniques for you. You can of course just drop cookie dough on a sheet, bake them, and mate them with ice cream. But there are ideas here for rolled dough that you cut out to get fun shapes to match a special day or holiday.
There's even a section about storing ice cream sandwiches. I have no idea why she would include that.
Because you are going to eat these goodies. Devour them. There are over fifty recipes here and the recipes are complete. A specific ice cream is paired with a specific cookie. Yes, you can always mix and match on your own, but Tessa has put supreme effort here into finding combinations that will fulfill and delight. For example, consider:
Chocolate Malt: Malted Vanilla Ice Cream with Chocolate Malt Cookies
Elvis: Peanut Butter Ice Cream with Banana Oat Cookies
Pomegranate: Pomegranate Frozen Yogurt with Orange Cardamom Cookies
Chocolate Coconut: Coconut Ice Cream with Double Chocolate Cookies
Salty-Sweet: Salted Caramel Ice Cream with Bacon Chocolate Chip Cookies
Yes, there are some things here you've never tried. But if you have a child, or if you frequently act like one, then Cookies & Cream is for you.
Suzen has already begun to use the individual recipes on their own. For tonight's dinner party, she has brownies ready to go. How to serve them? Add some of that Coconut Ice Cream. It's made with milk, heavy cream, and coco lopez [the goo for pina coladas]. It's NOT over the top too-coconutty like the drink. There is a lovely soft coconut flavor and a super smooth texture. It's rich, but you won't notice. To erase the sin, just do 2 hours on the treadmill the next day.
From that perspective, this may be one of the greatest exercise books ever written.
Treat yourself to Cookies & Cream.