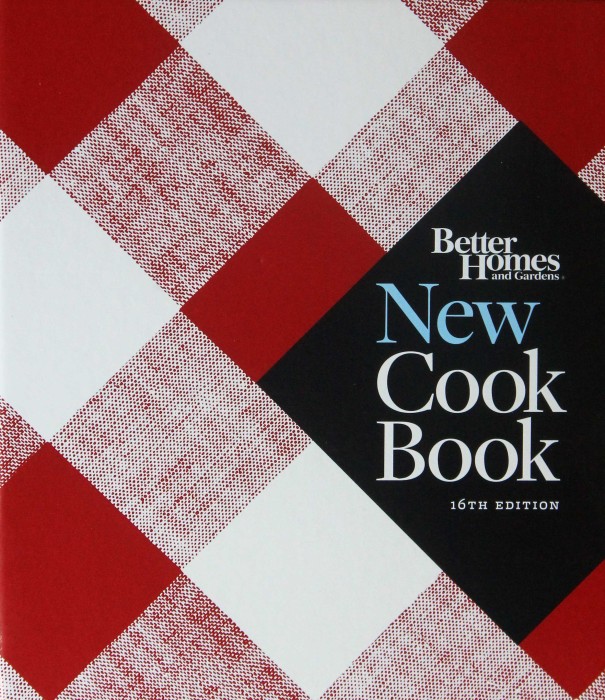 It's Throwback Thursday. Time to review an old but still very excellent cookbook. And today's choice is …
Brand new.
Well, it's actually over 80 years old, and the world's bestselling cookbook, but the newest edition, the 16th, has just been published.
Talk about packaging. The red and white checkerboard cover of the Better Homes and Gardens New Cook Book is instantly recognizable. It's a constant reference for me — especially me. Suzen is a talented cook, as good as you can get without going through the CIA. Me? I need help. Lots of help. Hundreds of pages of help. Plenty of pictures help. Plenty of tips help.
So, I often look on my bookshelf for this book's distinctive cover and grab it with a sigh and smile of relief. The BH&G tome is one we can all trust. And all use.
The previous edition, the 15th, was published fairly recently, in 2010. So two questions arise: what is different and should I add this book to my shelf? Briefly, there are distinct changes — more shifts really — in the content that make this book really "new." It's such a classic that I am happy to put the 16th next to the 15th and plan to use both. It's not a matter of "one for the other" but rather "adding a new child" to the family.
This book is not a rewrite from scratch. Most of the old recipes are there, but there are additions and clarifications. This edition reflects the changes and shifting trends in home cooking:
The inside cover has a new table for substitutions that includes Cajun and Fajita
Smoothies appear with multiple recipes
The pasta recipes are more contemporary and a whole section is devoted to homemade pasta
One new chapter appears, Holiday Favorites, which is sure to be one you will dive into this fall
The Tips appearing in each chapter have been greatly expanded to help people like, well, me
This new edition is about the same length as the old one. It's hard to quantify the content change, something on the order of 10%. If you add something, and want to keep the book length the same, then sadly some recipes must go away. So, we get smoothies, but the mint brownies are gone. That's a reason to both add the 16th but keep the 15th.
Old recipes are mostly untouched, but there are some significant boosts. Ever tried to make classic hash brown using grated potatoes? I have and I created one mass of black stuff.
"Don't blog that," was Suzen's comment. I did anyway, but made heavy use of salt, pepper, lighting and Photoshop.
The hash browns recipe in the 16th has been greatly expanded with instructions to guide you to perfect, dreamy hash browns. Not hash blacks.
So the 16th is heavily about refinements, clarifications, and reorganizations. The onion rings are still there but shifted from the Appetizers chapter to Vegetables. Many of the recipe titles have been changed to give you an immediate idea of what the flavor will be: the Asparagus Deviled Egg recipe is now title Asparagus and Ham. The net effect is to make the book more immediately clear and give you an easier path to recipe selection.
An interesting new feature is the "8 Way With …" concept. Here a basic recipe can be changed with some simple changes and additions. It lets you turn chicken breasts into something beyond chicken, an act that may draw applause from your children. Or from you.
The 16th edition makes the BH&G standard a contemporary, very friendly and very wise addition to your kitchen library. Your old copy of BH&G, like my 15th, probably has a collection of dog-eared pages. After you get your copy of the 16th, you'll find many favorites — both old and new. The 16th is big, helpful, and immensely enjoyable.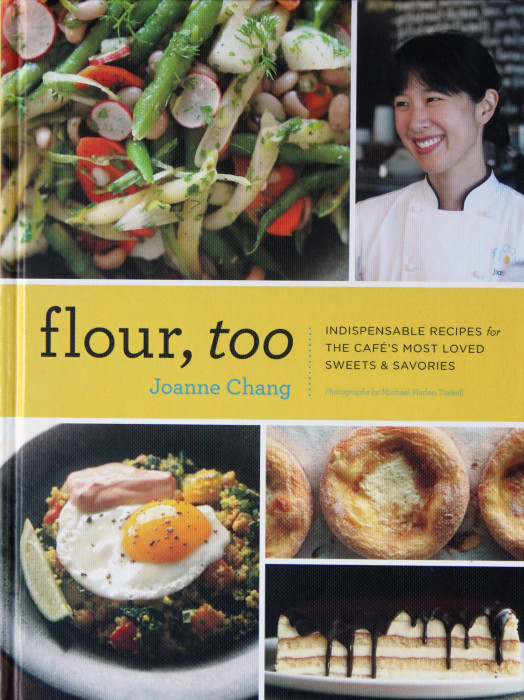 Have you ever done something incredibly stupid? Really stupid. Embarrassingly stupid. And yet, intriguing. "How could I have done that?" you ask yourself. "Have I done it somewhere else and still don't know it?" is the question that then pops up and begins to haunt you.
A year ago, I got a copy of Flour, too by Joanne Chang. Joanne's first book, Flour, was devoted to the sweet side of the dishes from her Boston café. Suzen and I love that book and we were eager to get Flour, too. This book covers all those wonderful "other" things — savory breakfast, lunch sandwiches and soups, dinner salads and main dishes, plus snacks, drinks and even more desserts.
I took my brand new copy of Flour, too and set it down. And then more books came and I put them on top of Flour, too. The stack grew, and I never, ever worked my way back down to the bottom of the stack.
Flour, too lay there, forgotten, abandoned. And that was incredibly stupid. I did find the book last week and I've gone through it page by page. And, now Suzen and I are cooking from it. Flour, too is delightfully impressive. Flour, too comes with ideas that are familiar yet different. Different enough to make you sit up and say, "I'd like to try that." For example, there is the Chilled Spanish White Gazpacho. The recipe includes cucumbers, seedless grapes and almonds. Unlike some other white gazpacho recipes, this one does not include heavy cream or other dairy. It, it is actually healthy. And, no tomatoes. White means not red.
Joanne studied math and economics at Harvard with a plan to make it to Stockholm and accept a Nobel Prize someday. She began baking for fun in Boston and, well, life sometimes follows an unexpected path.
Take Breakfast, her first chapter in Flour, too. The very first recipe is Classic Apple Turnovers, followed by Cinnamon Cream Brioche. Right there you capture the essence of this book. The turnovers are classic and clearly the right way to start breakfast. But the Cinnamon Cream Brioche is strictly her riff on Nancy Silverton's Viennese Cream Brioche. Joanne has this knack for cleverly extending an existing recipe in directions to create something that customers line up for.
Of course, breakfast can also be savory and even more inventive. The café is famous for its egg sandwich: eggs whisked and then cooked in a bain marie, topped with cheese and bacon and ham, then served on focaccia with a mustard-mayo combination. And there's:
Breakfast Pizzas: brioche dough, cream fraiche, eggs, and caramelized onions, plus cheese
Ham and Vermont Cheddar Hot Pockets
Smoked Salmon Sandwiches with Herbed Ream Cheese, Arugula, and Red Onion
For Lunch, there is an abundance of soup recipes — like that gazpacho or a classic split pea — but people line up at the café for the sandwiches:
Curried Tuna with Apples and Golden Raisins
Lemony Hummus with Cucumber, Radish Sprouts, and Red Onion
Smoked Turkey with Sharp Cheddar and Cranberry Chutney
Roast Lamb with Tomato Chutney and Rosemary Goat Cheese
For Dinner, there are salads and main courses aplenty, including:
Asian Celery, Fennel, and Edamame Salad with Candied Lemon
Warm Quinoa Salad with Roasted Autumn Vegetables and Ginger-Scallion Dressing
Mushroom and Leek Lasagna with Creamy Béchamel
New England Style Baked Beans with Thick Cut Bacon
Turkey Burgers with Tomato-Onion Jam
Roasted Pork Loin with Chive Spaetzle, Slow Roasted Balsamic Onions and Oregano Mojo
There are party food ideas here, like scallion pancakes and goat cheese Portobello and cumin empanaditas. You might though want to jump to Desserts for more of Joanne's sweet creations:
Sugared Crepes with Rum-Butterscotch Bananas
Maple-Apple Upside-Down Buttermilk Cake
Bittersweet Chocolate Espresso Terrine
If you live in Boston, you might visit the café for a special, upscale dining treat either to begin or to end your day or to pause midway. And whether you live in Boston or in Montana, this wonderful book offers you the opportunity to boost your home cooking. The recipes are all approachable by the typical home cook. Some are very simple, and some will give you a bit of a challenge and take some time. But the investment is worthwhile.
For example, the New England Baked Beans are easy but show you the power of combining molasses, brown sugar and mustard. That Roasted Pork Loin with Chive Spaetzle is a dish for a wet Sunday afternoon when you want to spend time in the kitchen and end the day with a dining triumph.
Flour, too is filled with flavors and ideas that will please you and surely draw praise from the crowd at your table. Whether it is breakfast, lunch, dinner, or something in between, Flour, too has recipes that will delight you.