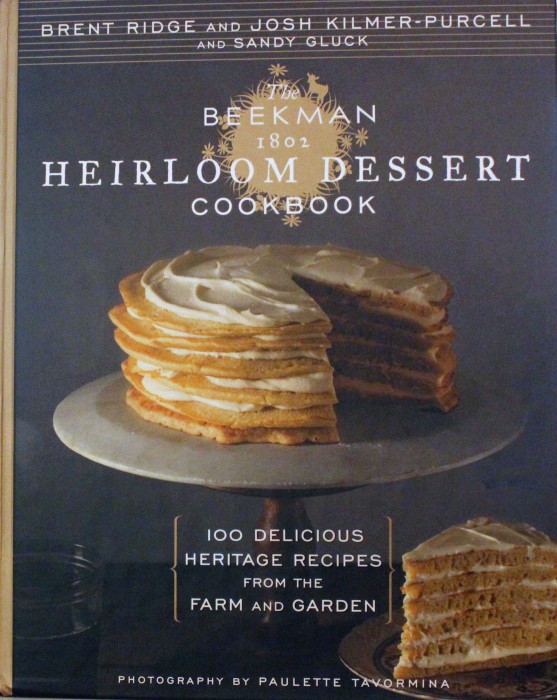 You may have actually seen authors Brent Ridge and Josh Kilmer-Purcell on television. Not necessarily on their cooking show. In 2012, they won The Amazing Race. Actually, they have been on their own personal and successful race for some time.
Two New York professional men meet, become partners, buy a weekend house, lose their jobs in the 2008 crash, and make the weekend house the entry way into a merchandising empire, complete with cookbooks. That's how the Beekman 1802 brand began, with that first meeting in 2000. The past 14 years have seen adventure, success, and certainly accomplishment.
Their cookbooks reflect their flavorful style and concern for meticulous, down-to-last-last teaspoon care. The Beekman 1802 Heirloom Dessert Cookbook is their latest achievement. It's an enviable work. I've tested, I've tasted, and I really enjoy Heirloom Desserts. I'm sure you will, too. Why? Simple and excellent recipes.
I suppose with a title that says "heirloom" you'd expect to find the recipes from grandparents and herds of cousins. Those old and familiar dishes do appear here, but the gentlemen have a very forward looking perspective. You'll find brand new recipes, too, but ones they believe will become heirloom. Their definition of heirloom is quite specific: it's a recipe that will be made over and over again because:
It is delicious
It is relatively simple to make
It uses ingredients readily available to everyone
So, the recipes in this book are really good to eat, definitely simple to make, and will not require a journey to Whole Foods and Trader Joes all in the same day.
The recipes are arranged by season. However, I have never been one to see a great recipe and say to myself, "My, I must remember to make that in six months." I suppose the Chocolate Pots de Crème would be perfect on a winter night as suggested here, but they have to be refrigerated so why not serve them up in July?
Let's just toss the calendar aside. Besides Pots de Crème, old favorites appear: German Chocolate Cake, Key Lime Pie, … The names are the same, but all these familiar recipes have been tweaked just a tad. The Key Lime Pie filling is quite standard, but the crust is adjusted with the addition of lime zest and salt, and reduced sugar. Their German Chocolate Cake is altered too: more sugar, eggs, and butter. After all, richer is better, right?
So, if you see a "standard" recipe in this book, you'll benefit from giving it a spin and discovering how a new version appeals to your palate.
It's the new recipes, though, that caught my eye. Consider, if you will:
Mint Bars [chocolate wafer crust and mint gelatin filling, studded with mint candy]
Pancake Cake with Maple Cream Frosting [the picture on the cover of the book!]
Pumpkin Jelly Roll [your Thanksgiving alternative to pumpkin pie, although it works year round]
Salty Nougat Fudge Brownies [Snickers bar required]
Concord Grape Pie [which is seasonal, I admit]
Grilled Fruit Cocktail with Bourbon and Sweetened Sour Cream
Three-Citrus Crème Caramel
Diablo Cake with Custard Sauce [their riff on Devil's Food Cake]
Inventive, clearly new, and appealing. There's plenty in Heirloom Desserts to engage you and have you stirring up an extravagant ending to your meal. Thanks to the crafting of these recipes, extravagance can be achieved with mere modest effort.
I've already been busy testing away from Heirloom Desserts. Tomorrow you'll see a Fudge Topping for ice cream that is, to use their definition, heirloom. It will be made again and again. And later this week, you'll see the Diablo Cake, with chocolate, spice, and heat.
Heirloom Desserts is a solid cookbook, designed for the home cook with a sweet tooth. You can be sure that you will definitely use it over and over again. A heritage book indeed.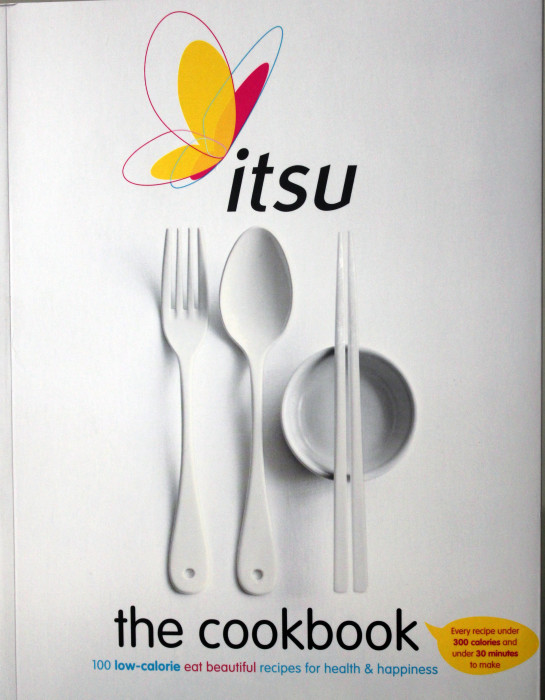 You may not know the name Julian Metcalfe and you probably have not met him. But if you live in London or Paris or New York [and other cities, too], you may well have eaten at his food chain Pret a Manger. My French tells me that is literally "Grab and Go and Eat." Julian started the chain in 1986 with a college friend and has expanded across Europe, North America, and Hong Kong.
Julian describes the mission of his chain: to make "proper sandwiches using natural, preservative-free ingredients." I like that word "proper." Definitely a British guy.
And restless. You might think that with one worldwide chain Julian would stop. He hasn't. Itsu is a second venture, now in its secnd decade, with two real restaurants in London and 50+ "low-fat salad, sushi and noodle health food shops across London." Expansion continues and I look forward to Itsu coming across the Atlantic.
In the meantime, we have Itsu: The Cookbook, a crisp preview of what is in store for us. Pret a Manger was decades ahead in that quest for fresh, local and healthy. Itsu goes the next step. Each dish in the book is 300 calories or less per serving and each dish can be made in 30 minutes or less.
Healthy and fast. And eye catching. Itsu: The Cookbook is superbly photographed by Anders Schonnemann with full-page, top-down shots that vibrantly announce "good food is here." Chapters in the book are devoted to:
Soups
Rice, Noodles, Sushi & Eggs
Vegetables & Salads
Meat
Fish
Dressings and Sauces
Desserts and Drinks
The Asian influence is not subtle here. It's evident in every recipe and photograph. Personally, when I eat Asian food, I think — fried rice aside — that I have just done something healthy. The recipes on these pages confirm that. What is intriguing about Itsu is that the recipes are not just the "normal" ones repackaged or renamed. As part of making them quick and healthy, there's been serious work here to make delightfully different. So, will find:
Hot and Sour Soup with Pork and Noodles
Chicken, Mushroom and Coconut Soup
Hot Soba Noodles in Mushroom Broth
Crab California Maki
Scrambled Eggs with Shrimp and Nori
Beef Salad with Green Beans and Lime Marinade
Spinach Balls with Sesame Sauce
Chicken and Leek Yakitori
Pan-Fried Salmon with Wasabi Peas
Quick Watermelon and Lime Sorbet
Baked Bananas with Caramel Sauce [made with tofu!]
Itsu is an inviting book that shows care, not just in the recipes and photos, but in the layout and readability. The header for each recipe is short, in a big font, and directly worded: you can tell in a flash if this recipe is the one you want to try. The list of ingredients is mercifully short — Asian cuisine can have recipes with 20 or 30 things you need, which is an intimidation barrier I have never overcome. The instructions are simple: remember, this food is ready in 30 minutes or less. So, typically in about 5 paragraphs of 1 or 2 sentences, you are told everything to do in simple fashion.
The pictures in Itsu will motivate you. The ingredients you may well already have on hand — and Itsu does tell you how to stock up your pantry, as well as how to make that sushi roll. And the instructions are easy. Once you start using Itsu, you'll find yourself easily becoming a "regular."
If you are bored with your current recipe portfolio, if you want to eat healthier, and if you "don't have time to cook," then you are just the person Julian has been looking for. And you should look for Itsu: The Cookbook.