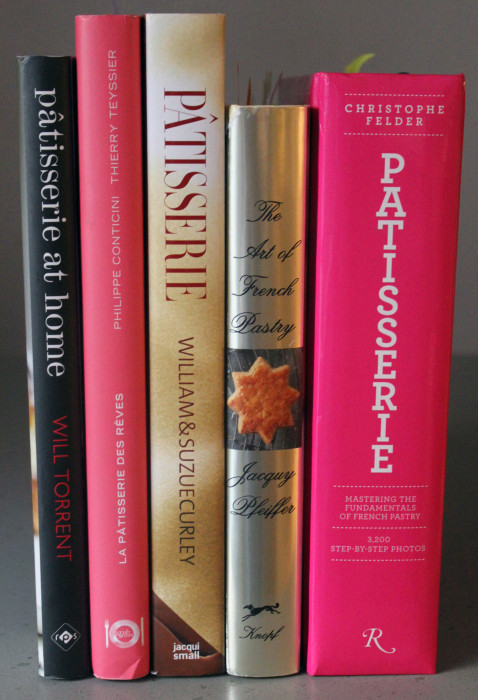 The past five days I've reviewed five outstanding pastry books:
Pâtisserie at Home by Will Torrent
La Pâtisserie des Rêves by Philippe Conticini and Thierry Teyssier
Pâtisserie by Will and Suzue Curley
The Art of French Pastry by Jacquy Pfieffer
Pâtisserie: Mastering the Fundamentals of French Pastry by Christophe Felder
This are five wonderful books. Oh, but you want to know which of the five you should buy? Sure, I'm happy to answer that question and, in the process, upset four authors and four publishers.
No, I won't pick one. I can't. I'm not you, but I can help you zero on which of the books are for you. First, you can start with the one that best meets your immediate needs, but I truly, truly believe that you'll benefit from having two or three or all five on your bookshelf.
Let me walk you through the books. The order in which I posted really was designed to aid you.
If you want to learn, with some good instruction and assisting photos, but you don't want to be overwhelmed, then Patisserie at Home is good beginning. After you've absorbed this volume, a second selection would be the more detailed Patisserie by the Curleys or Mastering the Fundamentals, which is really a Wikipedia on paper of recipes.
If you want a good cookbook, with incredible photos, and recipes that are a commercial, culinary and artistic success, then you need La Pâtisserie des Rêves. These are recipes coming from a culinary empire where the emphasis has to be on maintaining quality while engaging in heavy daily production for multiple brick and mortar locations in Paris and London. These recipes have been honed. So, if you own a bakery or want to start a baking business, and if you want to know what success looks like, then this is your starter book.
Patisserie by Will and Suzue Curley is a major work, one for both the home and the professional cook. It's a combination again of text and photos, but there is more information densely packed here. It's a very strong step-by-step guide.
If you learn more from text than photos, if you want to know "why" you do certain things, then there is no better book than The Art of French Pastry by Jacquy Pfieffer. Without being too technical, you get doses of kitchen chemistry, culinary architecture, and the structural engineering necessary for those composed, layered French masterpieces. How do they make that, you wonder? Well, this is the book that tells you how, and shows you, too, with both photographs and incredible diagrams that make it all transparently clear. Oh, you'll tell yourself, that's the trick to doing it. This is a dual book that conveys both wonderful recipes and deep understanding.
If its volume you want, then you should start with Pâtisserie: Mastering the Fundamentals of French Pastry by Christophe Felder. There are 200+ recipes here in 800 pages along with 3,200 photos. Ah, that's the difference in this book. Yes, there are written directions for each recipe, but they are tersely presented. The real directions appear in one or two sentences below each of the 10 to 30 photos for each recipe. The photos form a masterful, totally detailed sequence of the steps need to create the treat. If you are a visual learner and really do not like to read, then this is the book for you. Actually, I would team this book up with the one by Torrent or the Curleys. These books have photos, too, but as supplements to text instructions. You just might want to experiment a bit there before transferring to photo-centric Felder.
I have all five books, of course, so it is easy to say I use and love all five. But I do. There is a role for each one and I'm sure you'll discover the same for yourself. So, you need to clear space on your bookshelf. Make room for more than one. Use this guide to select a first book, but if you find yourself with three or four or five, you are not a hoarder. You are simply on your way to becoming a thoroughly accomplished pastry maven. That's a great pathway in life.
Finally, if in your refrigerator you have five or more pounds of butter, you are still not a hoarder. You were probably in the Boy or Girl Scouts. What did they teach you? Be prepared. Be very prepared.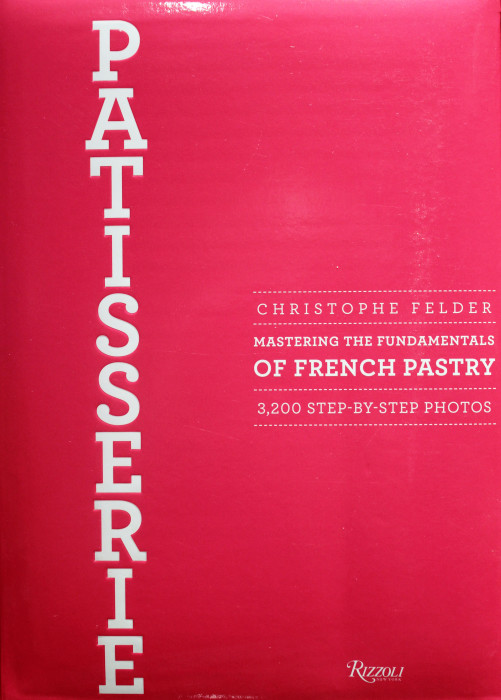 This is Pastry Week on the blog and this is the fifth important pastry book being reviewed. For the last of the group, I have saved the biggest. Patisserie: Mastering the Fundamentals of French Pastry by Christophe Felder is a massive 800 pages anointed with 3,200 step-by-step photos leading you to the creation of 200 dessert treasures.
This is a pastry book unlike any other I have seen. Author Christophe Felder was a pastry master by his early 20's. An Alsatian by birth, Felder comes from a family of bakers steeped in regional tradition. Felder followed the typical career of pastry school and apprenticing as one of the best and brightest in France. Now the author of over 20 books, he consults, teaches, and inspires.
This huge book is a compilation of several earlier ones, but merged here with a design that reflects his approach to teaching. As with any great pastry chef, he believes strongly in technique and precision. This book is his creative take on how to literally show the technique and detail needed in a perfect dessert. To succeed in this teaching, he has a little trick for drumming the instructions into your head.
Here's how a typical recipe works. There are no header notes. It's assumed you know the importance of, say, chocolate mousse. There is a simple quarter page picture of the final product, the list of ingredients and a rather terse list of one-or-two sentence paragraphs of instruction. This is not a wordy book.
But, here's the twist, there is a set of photos for each step in the recipe, often more steps than in that first description. Underneath each photo, those earlier sentences are repeated, often in revised language and with a little more detail and much greater context because now you "see" what is happening at this very stage of creation. A recipe may have from 10 to nearly 30 of these small pictures providing a most complete sequence of steps for the entire dish.
It might be difficult to create a dish from those first terse instructions Felder provides. You need to "see" the recipe. You need the photos and their text, which both repeat and amplify the details. You have seen other cookbooks attempt this before, but this book is unique in its scale, quality and precision. There are 3,200 photos here and every one of them has a role to play in its own particular recipe.
There are no chapters in Patisserie on background, ingredients or technique. You jump right in and flour and butter are immediately put to work. The recipes are divided about equally among these chapters:
Basis Pastry and Tarts
Creams, Custards, and Puddings
Decorations
Classic Cakes and Desserts
Chocolate Cakes and Candies
Holiday Cakes, Cookies and Other Sweet Treats
Macarons
Brioches and Breakfast Pastries
Petits Fours
In a book that talks about mastering the fundamentals, the recipes naturally include the basic staples, although this book does give you a richer abundance of doughs and crèmes than any other of the pastry books I have reviewed this week.
And there are recipes here that you won't find in a typical pastry book. You'll find the details to make Candied Rose Petals, Apple and Strawberry Chips, Chocolate Leaves, Sugar Sculptures, Caramel Flowers, and roses made from Pulled Sugar — perhaps the most intense recipe in the book.
Searching for a "different" brownie? Try one with hazelnut and coffee in the dough, baked, and then glazed with a combination of bittersweet chocolate and hazelnut cream.
Looking for something special to end a holiday meal? Consider Frozen Honey Parfait with Caramelized Pears or Baked Meringue with Chestnut Cream and Cherries.
It is impossible to page through this book and fail to be inspired, enticed, and maybe even bedazzled. With his rich experience in writing and teaching, you know that these recipes have been executed by thousands of his pastry students over the past decade. Every step needed to create each dish is now perfectly understood. Why, every step has even been photographed and now printed in this pastry tome.
Patisserie is book of substance, dedication, and — most of all love — for the kitchen and the wonders that it can produce. As Felder says in his introduction: the pleasure of a fine pastry lingers forever. You should linger over Patisserie.