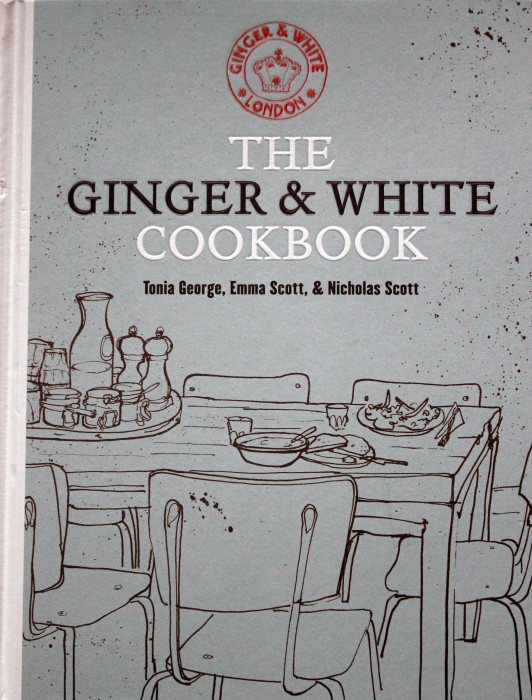 Northwest of downtown London is Hamptead and there you will find Ginger and White, a neighborhood establishment that is a "child friendly coffee shop serving artisan espresso coffee, British sandwiches, salads, and breakfast."
There are a couple of things in that self-description to note. First, Ginger & White is child friendly, but also adult friendly too. For the kids, there is hot chocolate and muffins. For adults, espresso and so much more.
Second, they specialize in British food, that is the very particular contemporary British style we are all coming to love. The firm's founders — Tonia George, Emma Scott, & Nicholas Scott — have taken their brick and mortar experiences and put them on paper. The Ginger & White Cookbook has just been published this month and you should hunt down a copy for a search and inspiration. Take some time and you'll become a devotee of new British casual food.
Let me tell you why.
It's a coffee and espresso shop, so the very first four pages are about how to make a perfect espresso. I know. Why bother? You can drive or walk to Starbucks, right? Yes, but, and this is the truth, Suzen and I do buy Starbucks coffee but we have a home espresso machine and our home version is much, much better than anything anywhere. Beyond the coffee, we have a specific technique that matches the one in this book, and the technique works. You do need to tamp the coffee correctly in that basket, and pull the shot just so long. Steaming milk sounds like a simple thing to do, but you can get awful results and a tragically messy kitchen if you don't have the technique down just right. That technique is here.
Once you have your espresso, you need something to eat for breakfast. Here are some very Ginger & White ideas:
Toasted Banana Bread with Vanilla Cream Cheese, Rhubarb, & Raspberries
Spicy Baked Beans with Red Bell Peppers, Chorizo, & Feta Cheese
Mini Frittatas [Cheddar with Thyme and Caramelized Onion, Salmon with Onion and Anchovy]
Fried Duck Eggs with Blood Sausage and Sourdough Croutons
If you go to Ginger & White for lunch, you can dine on:
Smoked Mackerel, Fennel & Chickpea Salad
Corned Beef, Red Onion & Potato Salad with Anchovies and Capers
Ham Hock Potato Cakes with Minted Peas, Shallows and Parsley Cream
Spiced Butternut Squash & Coconut Soup
Fish Stick, Lettuce & Tartar Sauce Sandwich
Coronation Chicken Sandwich [with yogurt, mayonnaise, korma paste, mango chutney, honey and butter]
If you want to just go to the counter to take home something sweet, then your options include:
Gluten-Free Almond & Pistachio Cake
Mini Gooseberry & Elderflower Sponge Cakes
Caramel Croissant Bread & Butter Puddings
Coffee & Walnut Triple Layer Cake [a British staple!]
If you read the recipe titles, and if you have book open and can gaze at the pictures, you are stuck by how familiar and yet somewhat distant it all seems. The ingredients are mostly the same, perhaps not that korma paste, but the combinations are just, well, different. They reflect contemporary British food style and history. There's chutney in many of the recipes and coconut in that butternut squash soup — all reflective of the deep intertwined history of the British Empire and India. This aspect of the history is gloriously enriching.
And there are the little things that the gardening-mad British created and we can cherish. Minted peas and parsley cream.
The recipe titles tend to be long because, thankfully, these dishes are collaborations of flavors and textures that take just a little extra effort but yield magnificent rewards. Take that Toasted Banana Bread. It comes with, not just cream cheese, but vanilla cream cheese: cream cheese + yogurt + vanilla bean paste + powdered sugar. It's a very clever idea and perfectly mated here with raspberries, who have their own distinctive tang.
That's the "perfected genius" of Ginger & White. These are really simple dishes, ones you might consider comfort food. The simplicity is not lost in the Ginger & White versions, but some extra ingredients and effort here add a dimension of distinctive elegance that you will instantly appreciate.
So, look for a copy of The Ginger & White Cookbook. It is published by Mitchell Beazley, an imprint of Octopus Publishing Group. You can, of course, find Octopus books online, but you can also find them in lovely neighborhood book stores where the owner has an eye out for the best in cookbooks. These are.
Oh, the Vanilla Cream Cheese works with blueberries, too. 24 X 7.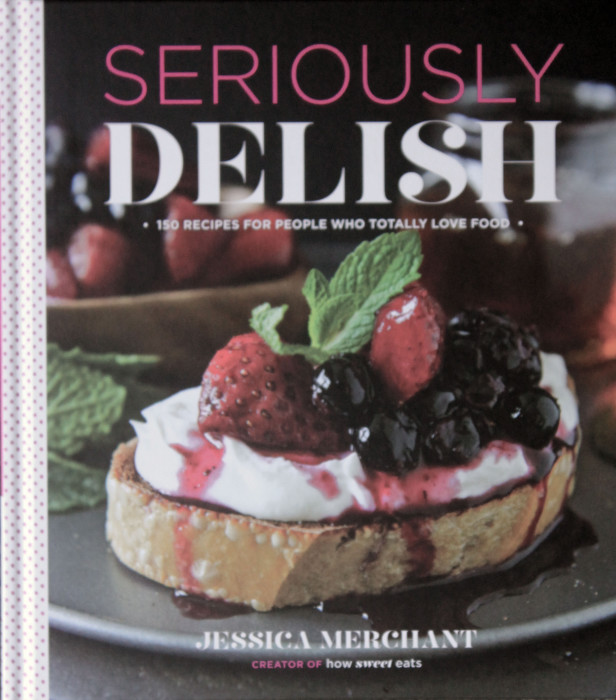 Jessica Merchant describes herself as being intensely passionate about food and writing. That is an immense understatement. Pay a visit to her wonderful website:
Here's you'll find a trifecta: strong writing, brilliant photography, and of course recipes you want to dive into. It's a great resource.
And now there's a book, too. Seriously Delish is subtitled "150 Recipes for People Who Totally Love Food." Suzen and I qualify. You probably do, too, and you surely want to take a gander at Seriously Delish. Jessica admits to being focused on chocolate, browned butter, and bacon. Not every one of those 150 recipes has one — let alone all — of those ingredients, but the spirit is there.
Spirit and spice do penetrate every recipe here. You might call this a book about comfort food, for the everyday eating things we all crave. From breakfast to bedtime, our appetites may activate at any time and this book is filled with ways to satisfy those wonderful, basic, slightly carnal cravings.
Here are some of the best of the best ideas from the chapters of Seriously Delish.
Breakfast can begin with Baked Black Raspberry Oatmeal with a Brown Butter Drizzle. Or, something simpler, Brown Sugar-Bacon Biscuits, made in just 30 minutes. If you have 2 hours, you can make Whole Wheat Cinnamon Rolls with a coconut oil filling. Less time? It's only 20 minutes to Honey-Whole Wheat Yogurt Short Stacks with Blueberries.
Snacks can be consumed anytime: in bed in the morning, in bed at night, in bed at naptime. Now you can actually snack healthy with BBQ Roasted Chickpeas using paprika, onion powder, garlic salt, chili powder, and, yes, just a little sugar. If you see the picture of Grilled Scallion Corn and Shrimp Quesadillas, you want to spend the next 20 minutes making them. Probably too gooey for bed.
Sandwiches and Stuff on Toasts includes a Green Grilled Cheese with Spinach. And there is the Oven-Toasted Artichoke, Roasted Red Pepper & Fresh Mozzarella Sandwich. You'll think you've been transported to Milan, the queen city of Italy [and the world] for sandwiches.
Salad and Soups includes an Amaretto-Butternut Squash Soup with Cinnamon Toast Croutons. Between that title, and the picture, you may tempted to rush out and cook. Except, on the very next page there is the BBQ Chicken Chili which just might leave you dangling, just like the string of chicken meat atop the dense red chili broth in the accompanying picture.
Tex-Mex, Burgers, Pizza and Everything Else opens with a bang: Jalapeno-Pineapple Pizza with a Bourbon BBQ Drizzle. If you want to be healthy, there are Zucchini Tacos with Grilled Corn Salsa. If I, personally, wanted to be happy, then I'd turn to Green Chili Turkey and White Bean Enchiladas, or perhaps the Mini Crab Cakes with Sweet Corn and Blueberry Salsa.
Stuff to Sip On does not depart from Jessica's obsessions. Yes, there's a nice Blueberry Limeade but you'll probably be drawn to her Bacon Manhattans. Too much for you? You can compromise on Cucumber Mojitos or a Mango Pina Colada.
The Lighten Up chapter offers desserts that are healthy with no sacrifice in flavor. Like the Olive Oil and Lemon Skillet Cake with Caramelized Meyer Lemons. Or the White Cheddar Apple Crisp.
That healthy chapter is followed by one called Celebrations where all the stops are pulled out. It gets a little crazy here. Do you have a slow cooker? Do you have 8 hours? Then consider Slow Cooker Short Rib Breakfast Hash where short ribs, onion, bacon, peppers, potatoes and eggs become "one." There is a S'mores Hot Fudge Shake that will take just 15 minutes but leave you happy for hours. And, back to the 8 hours thing. That's the chilling time for the Mocha-Coconut Tiramisu.
Suzen may not have the 8-hour patience needed for that one. But I am intent on getting her to make the Fleur de Sel Caramel Bourbon Brownie Milk Shake. Normally, we have a Gin and Tonic for our Sunday afternoon bath together. This weekend, it's gonna be different.
I really, really am a fan of this book. You can read the recipes and see that they are going to work and that they can double as a platform for your own imagination. Jessica not only loves food. She has fun with food, and these recipes resonate with both love and humor as rich as the ingredients. Jessica can be outrageous, completely over the top and perpetually brilliant. Now it's all down on paper.
Seriously Delish is an attractive book, with busy design for the page layout that has your eyes moving around and constantly adjusting. That's a metaphor for the recipes. The photographs are spectacular and will, I hope, inspire me to do better. They are brilliant. The recipes themselves are well written and typically have a small set of ingredients and a preparation time of less than an hour. You can learn from this book, enjoy the artistry, be inspired by the wild combinations, and surely be thrilled with every bite.
Just look at Seriously Delish. You'll get serious.