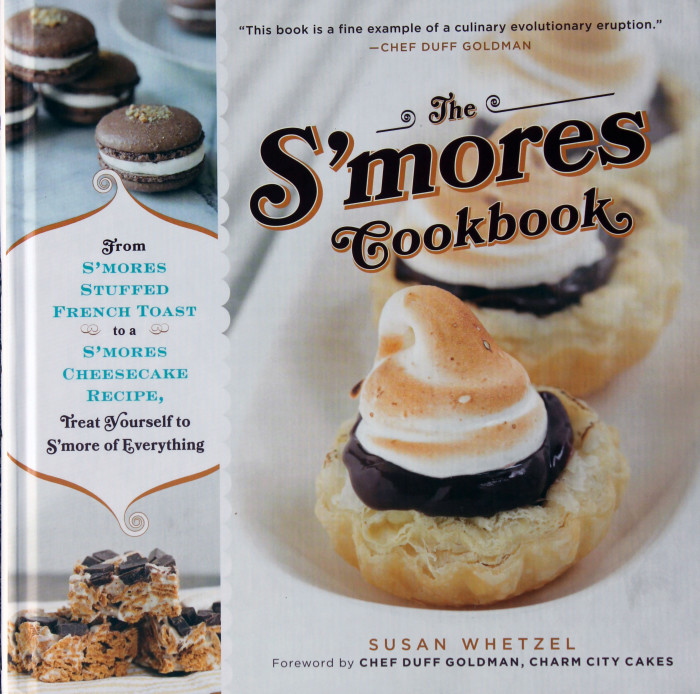 I do believe that s'mores represent a combination of ingredients with the longest time span:
Marshmallows were created in Egypt 4,000 years ago [seriously, although today's versions are just a tad, a big tad, different]
Graham Crackers came in 1829 [as a health food]
Hershey Milk Chocolate from a little company begun in 1894
No one knows officially when s'more were created and it is only speculated that "s'mores" stands for "some more." The first printed recipe is from the Girl Scouts in 1927. These days, Americans consume 90 million pounds of marshmallows a year and half of that in the summer and fall while making s'mores.
When you think about it, 90 million pounds over 300+million Americans is really too modest. We need more s'more consumption. We need help. We need The S'mores Cookbook by Susan Whetzel.
This is a clever book filled with s'morish ideas that will have you scratching your head: "Why didn't I think of that?" And you'll be in rapid search for marshmallows and other ingredients. Lots of ingredients because there are lots of ideas here including:
Not Your Average S'more: Black Forest with cherries and Apple Pie with apple butter
Breakfast S'mores: Pancakes, waffles and even stuffed French toast
Cakes and Pies: S'mores Layer Cake and Crustless S'mores Cheesecake
Decadent Desserts: S'mores Crème Brulée, S'mores Éclairs
Grab-and-Go Treats: S'mores Granola Trail Mix, S'mores Cereal Bars
Cookies & Brownies: Crock-Pot S'mores Brownies, S'mores Macarons
Chilly S'mores: Toasted Marshmallow S'mores Ice Cream, Chocolate S'mores Frozen Yogurt
Drinks: S'mores Milkshake, S'mores Hot Chocolate
Giftable S'mores: S'mores Bars in Jars, S'mores Popcorn
Essential Recipes: Homemade Graham Crackers, Marshmallow Frosting
Now, I am not sure about s'mores stuffed French toast. I'm not a chocolate for breakfast fan, unless it is hot chocolate, of course. But there are ideas here that Suzen and I will be testing and tasting. She's already seen recipes to incorporate in her team building events. Imagine a kitchen full of people cooking together with a dessert team assigned to make S'mores Chocolate Bread Pudding. Or S'mores Mousse Cups. People won't care about the chicken or steak another team is preparing for the meal. All attention will be on dessert. These desserts.
There is a picture in the book of the S'mores Layer Cake: a full cup of coffee, buttermilk, cocoa and lots of eggs. And the layers are topped with Marshmallow Frosting. No matter what your blood sugar registers, this dessert cannot be resisted.
You'd enjoy having The S'Mores Cookbook in your kitchen. You don't need a summer or fall campfire. You don't need a cluster of people. As author Susan Whetzel explains, it can be just you and your microwave or broiler. S'mores can be enjoyed year round. You just might feel like a pharaoh!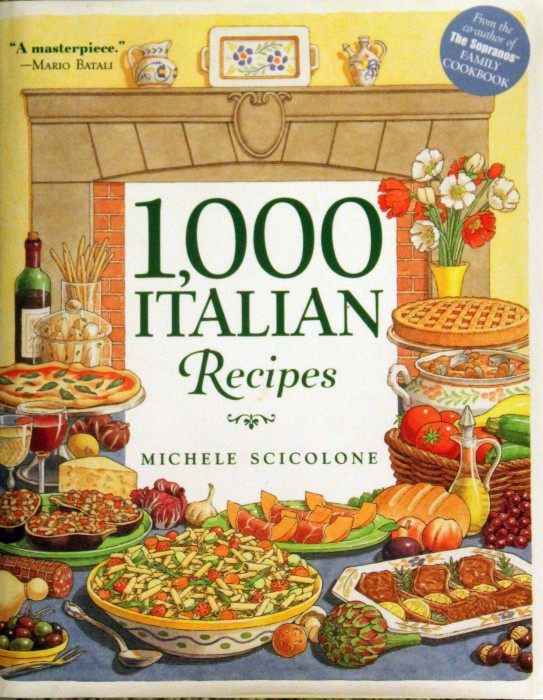 It's Thursday and time to inaugurate "Throwback Thursday" cookbook reviews. Each Thursday, instead of some shiny new book, I'm going to dust off an old friend, a cookbook that Suzen and I have loved and used for years, a cookbook we want you to know about.
There are just two criteria here: the cookbook has to be really and truly good and it has to be available, either in print or online on one of the stores that specialize in keeping wonderful old books alive and well.
We met Michele Scicolone so many years ago, we've lost track of the exact year. It had to be around 1991, when she published The Antipasto Table. Michele had written some slimmer volumes before, but Antipasto was that landmark, legendary, launch vehicle. Now, it takes three pages in Amazon to list all her wonderful and skillful books. Antipasto, pizza, sweets, regional specialties, the Sopranos, several slow cooking best sellers and most recently vegetables.
Suzen and I have them all. We use them all. But there is the one, that one, that we repeatedly turn to: 1000 Italian Recipes published in 2004. When Michele told us she was writing the book, Suzen and I thought it was the most natural choice possible. With her breadth of knowledge and her dedication to testing each recipe — a trademark here is that any one of her recipes will work flawlessly for you — we thought Michele was easily the best choice to take on that task.
We met her shortly after she was selected for this volume, and she seemed a bit stressed. "Do you know how many a 1000 is?" she asked. Actually, Suzen and I once had a project to make 5000 chocolate truffles. We know that any number above 100 is big. Very big.
And so, 1000 Italian Recipes is inherently a big book. Six hundred and fifty-one pages big. And there are, about, 1000 recipes culled from Michele's decades of research and travel. The recipes here are authentic Italian [not Italian-American], regional from all around Italy, and meticulously presented. It would be impossible to document every recipe in Italy, but this book is an impeccable subset, a sample of the best, a literary travel map to flavors and treasures that are centuries old.
If you want to know what authentic Italian is, if you want a survey of the whole country, then this book is easily your best choice. Chapters are devoted to:
Antipasti
Salads
Soups
Sauces
Pasta
Rice, Cornmeal, and Other Grains
Eggs
Fish and Shellfish
Poultry
Meat
Vegetables
Breads, Pizza, Savory Pies and Sandwich
Fruit, Ice Cream, and Spoon Desserts
Cookies, Cakes, Tarts, and Pastries
With this comprehensive content available, there are two ways to use this massive book. One is to take the road trip, the survey. Just go page by page and find yourself marking pages to "return to immediately" or "tonight" or maybe "next spring" when the asparagus is fresh. There are over a dozen asparagus recipes here, by the way, including Asparagus in Zabaglione. That's a perfect example of why touring 1000 Italian Recipes is a great exercise. Would you have ever imagined coupling asparagus and zabaglione? Not I. Getting inspired is one of the gifts that this book seems to endlessly supply.
The second way to exploit this book is to climb into the 23 pages in the index. If you have a need, you simply have to search. For example, one night Suzen had leftover fresh pasta from Refetto's, a legendary Greenwich Village store that has sold the best egg pasta for a century.
"I have fresh tomatoes, too," Suzen began.
I was tomatoed out. "Green," I said. "I need a green sauce, and not green tomatoes."
"Find one," she pointed her finger at me. "Make it a good one." While this sauce recipe below is intended for meat or fish, it's lovely on pasta. Michele notes it really can be used for anything and this version is her favorite from all of Italy. The bread provides an extra creamy texture to keep the parsley suspended in the liquid. It's a flavor bomb combining a mound of parsley with both capers and anchovies.
If you try just this one recipe, I think you'll immediately recognize that you have 999 important journeys before you.
My picture above shows the original book cover. The book is, thankfully, in reprint and has a bright red-orange cover intended to catch you eye. Do let it.
For more information about the book and another recipe, visit MIchele's website at:
http://michelescicolone.com/1000-italian-recipes/
---
Green Sauce/Salsa Verde
Yield: 1 ½ cups

Ingredients:

3 cups loosely packed fresh flat-leaf parsley
1 garlic clove
¼ cup crustless Italian or French bread, cubed
6 anchovy fillets
3 tablespoons drained capers
1 cup extra-virgin olive oil
2 tablespoons red or white wine vinegar
Salt
Preparation:

In a food processor, finely chop the parsley and garlic. Add the bread cubes, anchovies, and capers, and process until finely chopped.
With the machine running, add the oil and vinegar and a pinch of salt. Once blended, taste for seasoning and adjust as needed. Cover and store at room temperature for up to hours or in the refrigerator for longer storage.