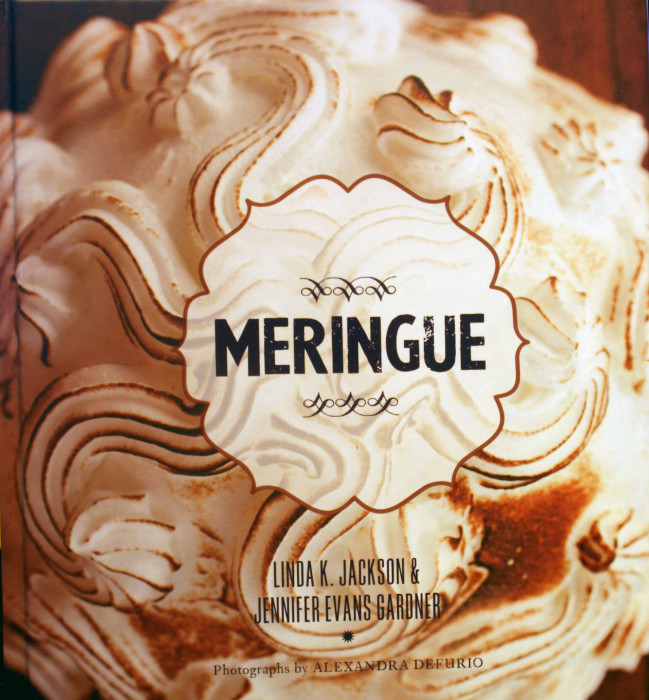 Meringue by Linda K. Jackson and Jennifer Evans Gardner is a book I keep close at reach. It's a 90° turn to the right and two shelves up. I've posted five recipes here from the book:
Pavlova with Peaches and Blueberries
On Making Meringue
Coconut Joys
Alafajores con Bano Blanco: Sable Sandwiches Filled with Dulce de Leche and Covered in Meringue
Malted Milk Meringues
You can use the search box here to find these recipes, which are fun, different, and rewarding. The flavor combinations and complexity of textures, especially in the Alafajores cookies, are just magnificent. And the post on making meringue really does provide you important insights in getting that meringue just right.
I've looked at Meringue this week as a way to use egg whites left over when the yolks are being consumed in ice cream bases. With more ice cream recipes on tap, I need more meringue ideas. Meringue is a treasure trove.
I realized this week that, while I wrote about individual recipes, I never gave you a general cookbook review for Meringue. Here's the short version: buy, use and fall in love. Let me tell you why Meringue is such a wonderful book.
You can make mistakes, easily, when doing meringue. So Meringue has chapters [About Meringue and Ingredients, Tools, and Techniques] that give you the instruction you need to skirt the common problems and produce excellent results.
Chapters then follow for:
Cookies: 17 recipes ranging from the simple [chocolate chips in the meringue] to the complex [those Alafajores]
Pavlovas: 10 recipes including classic berry and a lovely Kiwi Pavlova with Lime Zest and even Cherries Jubilee
Bars, Tarts, and Pies: 9 ideas including a Sky-High Lemon Meringue Pie
Cakes, Tortes, Vacherins, and Dacquoises: 10 serious recipes including a Clementine Meringue Cake with Rosemary
Meringue Frostings: 8 ideas ranging from classic Seven-Minute Frosting to Mocha Italian Meringue Buttercream
Heavenly Creations: 8 modestly complex dishes including Baked Alaska and Praline Meringue Cups with Huckleberry Sauce to give your dinner party a triumphant conclusion
Celebrations: 11 big dishes for big days, like Passover Blackberry Pavlova and Meringue Buche De Noel
Little Clouds: 7 silly little wonders you'll love, like the Meringue Pizza
I put the recipe counts by chapter in there to reinforce a key fact about this book: the 80 recipes here are carefully sculpted. It's not "everything you could possibly do with meringue" but instead "here are some perfected examples that you can start from." The pavlovas are surely an example of this approach. Once you see the beautiful photos, you'll instantly begin to see options you can employ using the fresh, local fruits available to you. Now.
The frosting chapter is a delight. Yes, a recipe called "Salted Caramel Swiss Meringue Buttercream" may seem just a tad intimidating. But you'll find the instructions here relatively brief and easy to follow. You've never had Salted Caramel Buttercream before, have you? You want it, don't you? And here, here, is the way to get some. Actually, "some" is 4 cups worth, enough for 1 triple-layer cake or 24 cupcakes. Notice that the authors talk about a triple-layer cake, not a common double layer. That's a characteristic of Meringue: richness is adroitly edged into each and every recipe. Each offering yields not just a dish but a dessert experience.
Meringue is a book meant to inspire. Some of the recipes are sort and simple, a good way to become comfortable with meringue dishes. Other recipes are complex with layers of flavors and steps. Just have patience, follow the steps, and be prepared to pat yourself on the back. First, though, you might want to get that meringue off your fingers. It's sticky stuff and Meringue cannot do anything about that fact of life.
I consult my copy of Meringue every time I have a bowl of egg whites that deserve a decent ending. With Meringue, that ending will be luscious.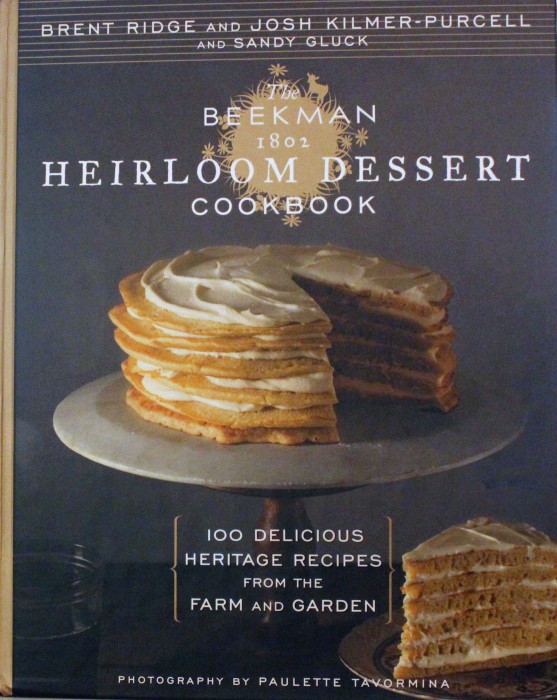 You may have actually seen authors Brent Ridge and Josh Kilmer-Purcell on television. Not necessarily on their cooking show. In 2012, they won The Amazing Race. Actually, they have been on their own personal and successful race for some time.
Two New York professional men meet, become partners, buy a weekend house, lose their jobs in the 2008 crash, and make the weekend house the entry way into a merchandising empire, complete with cookbooks. That's how the Beekman 1802 brand began, with that first meeting in 2000. The past 14 years have seen adventure, success, and certainly accomplishment.
Their cookbooks reflect their flavorful style and concern for meticulous, down-to-last-last teaspoon care. The Beekman 1802 Heirloom Dessert Cookbook is their latest achievement. It's an enviable work. I've tested, I've tasted, and I really enjoy Heirloom Desserts. I'm sure you will, too. Why? Simple and excellent recipes.
I suppose with a title that says "heirloom" you'd expect to find the recipes from grandparents and herds of cousins. Those old and familiar dishes do appear here, but the gentlemen have a very forward looking perspective. You'll find brand new recipes, too, but ones they believe will become heirloom. Their definition of heirloom is quite specific: it's a recipe that will be made over and over again because:
It is delicious
It is relatively simple to make
It uses ingredients readily available to everyone
So, the recipes in this book are really good to eat, definitely simple to make, and will not require a journey to Whole Foods and Trader Joes all in the same day.
The recipes are arranged by season. However, I have never been one to see a great recipe and say to myself, "My, I must remember to make that in six months." I suppose the Chocolate Pots de Crème would be perfect on a winter night as suggested here, but they have to be refrigerated so why not serve them up in July?
Let's just toss the calendar aside. Besides Pots de Crème, old favorites appear: German Chocolate Cake, Key Lime Pie, … The names are the same, but all these familiar recipes have been tweaked just a tad. The Key Lime Pie filling is quite standard, but the crust is adjusted with the addition of lime zest and salt, and reduced sugar. Their German Chocolate Cake is altered too: more sugar, eggs, and butter. After all, richer is better, right?
So, if you see a "standard" recipe in this book, you'll benefit from giving it a spin and discovering how a new version appeals to your palate.
It's the new recipes, though, that caught my eye. Consider, if you will:
Mint Bars [chocolate wafer crust and mint gelatin filling, studded with mint candy]
Pancake Cake with Maple Cream Frosting [the picture on the cover of the book!]
Pumpkin Jelly Roll [your Thanksgiving alternative to pumpkin pie, although it works year round]
Salty Nougat Fudge Brownies [Snickers bar required]
Concord Grape Pie [which is seasonal, I admit]
Grilled Fruit Cocktail with Bourbon and Sweetened Sour Cream
Three-Citrus Crème Caramel
Diablo Cake with Custard Sauce [their riff on Devil's Food Cake]
Inventive, clearly new, and appealing. There's plenty in Heirloom Desserts to engage you and have you stirring up an extravagant ending to your meal. Thanks to the crafting of these recipes, extravagance can be achieved with mere modest effort.
I've already been busy testing away from Heirloom Desserts. Tomorrow you'll see a Fudge Topping for ice cream that is, to use their definition, heirloom. It will be made again and again. And later this week, you'll see the Diablo Cake, with chocolate, spice, and heat.
Heirloom Desserts is a solid cookbook, designed for the home cook with a sweet tooth. You can be sure that you will definitely use it over and over again. A heritage book indeed.