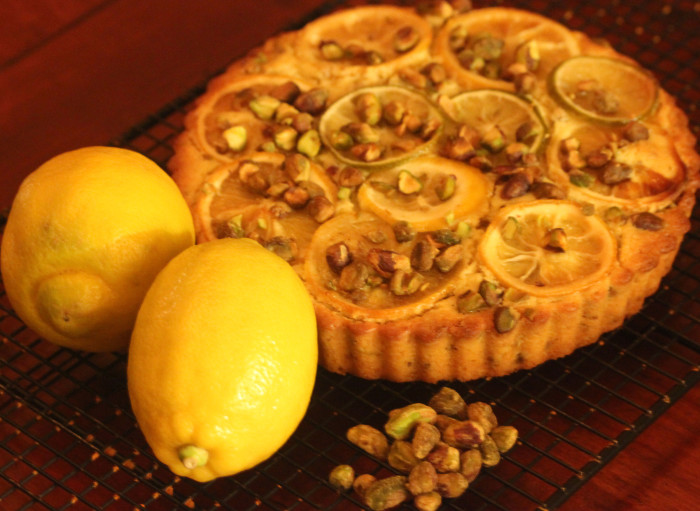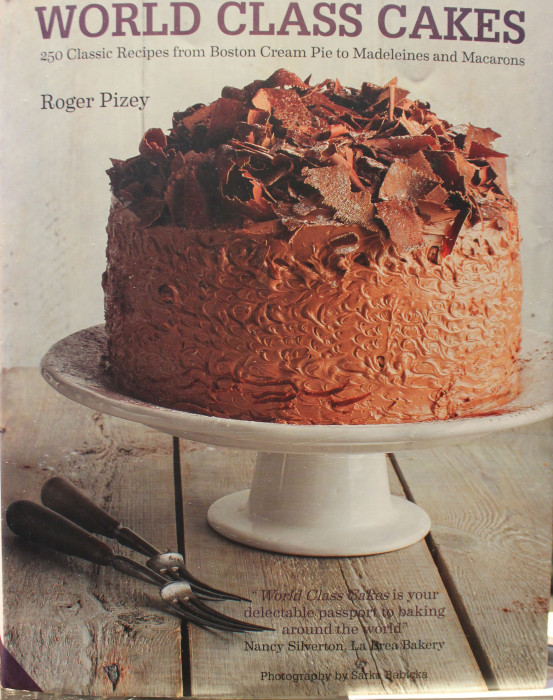 Roger Pizey is a renowned British baker and patissier. Three decades in top restaurants and on television food shows have made him an unsurpassed cake expert.
His latest book, World Class Cakes, is filled with both the comfortably familiar and the intriguing new. Here you'll find a terrific perfected recipe for Boston Cream Pie, but also a Pistachio and Lemon Cake that is Roger's tribute to Turkey. I blogged that particular recipe yesterday and it is pictured at the top of this post. The cake is incredibly lovely to your eye and to your palette.
There are more specials from the Middle East and very fun treats from Scandinavia and other ideas from around the world:
Sticky Date Cake with Caramel Sea Salt Sauce [from an Australian living in Singapore]
Cassava Cake [Philippines]
Hummingbird Cake [Southern US}
Yogurt Cake [Turkey, Roger is fond of Turkey!]
Rhubarb Crumble Cake [Great Britain]
Dundee Cake [Scotland]
Apple and Cinnamon Damper [Australia]
Mandarin, Polenta and Macadamia Cake [Italy]
Cardamom Coffee Cake [Scandinavia]
Kueh Lapis [Indonesia, a thousand layers of spicy flavor!]
Fiadone [Corsican cheesecake]
Sfenz [Middle Eastern doughnuts]
Sonhos [airy puffs from Portugal]
I could list just about every cake in the book here. I've selected a sample because maybe, just maybe, when you read one of these names or say it out loud, your memory will be jogged. Perhaps as a child, your mother or aunt or grandmother served one of these. If you did grow up with ethnic cakes, and the recipe is lost, then here is the best place to search for your long loved treasure.
And, if you don't have something missing, but you love cake, then World Class Cakes is literally a world tour of the best baking you can imagine. You'll enjoy traveling around the planet as you turn the pages. And, there is no reason for you not to stop off in, say, Corsica and sample the local cheesecake.
Oh, you don't bake. Ever? Do you eat cake? Because buried inside are notes on the best places to eat cake in a half dozen key places: Paris, Tokyo, … And, thankfully, New York City. I will admit to being familiar with all the Manhattan places in this book, including some just minutes from my doorstep. There are, however, places in Brooklyn and Queens for me to visit.
World Class Cake is a world class book.
Photo Information [top picture]: Canon T2i, EFS 60 mm Macro Lens, F/4.5 for 1/6th second at ISO-3200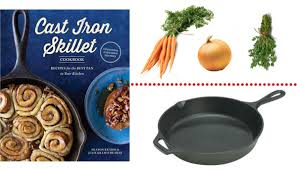 It's there. Stashed on a back shelf. Hanging on a hook at the far end of the kitchen. Perhaps hidden in a basement. Alone. Abandoned. Probably a little tired, a little dusty, maybe with a touch of red rust somewhere.
I am not going to say "shame on you." I wish to merely point out that you are missing out on culinary opportunities that are easy to make, immensely satisfying, and just a few moments away from reality.
Sharon Kramis and Julie Kramis Hearne are cast iron skillet mavens. This book, Cast Iron Skillet, was a best seller in its first edition. Now, it has been revised, extended, made a little more contemporary, and friendly to those who favor veggies on their plate. Now, these changes should not be a surprise: daughter Julie for years was the chef at the Herb Farm Restaurant outside Seattle. There is no better restaurant anywhere. [Suzen and I will never forget the Douglas fir sorbet!]
Mom Sharon has over 30 years as a restaurant consultant and studied under James Beard.
And here these two experts are rolling out more cast iron gems. There's a need to stop, look, and listen. Oh, to cook and taste and relish, too! A cast iron skillet is a dramatic piece of cooking gear. Have a pan full of chicken or veggies, cooking on high heat, and your kitchen — if not your whole house — will fill with extraordinary aromas. It's not just the smell of cooking food. It's the smell of "completely" cooked food in the way that only a cast iron surface can do.
What's here to cook? Well, on the cover there are those pecan sticky buns, but I should not start with something quite so sweet.
There are chapters here from breakfast to dessert. In each one, you'll find items that make you want to exercise those muscles and lift up that, I admit, heavy pan.
This is a Seattle-based book, so you know there have to be Dungeness crab recipes:
Dungeness Crab and Tillamook Cheddar Soufflé
Dungeness Crab Cakes
Dungeness Crab Quesadillas
You want "the white meat?" Consider:
Chicken Paillards
Chicken with Calvados and Cream
Chicken with Herbed Dumplings
The other white meat is there, too:
[I'm urging Suzen to start testing with that recipe because it includes a recipe for making your own Katsu sauce. Never had Katsu? It's rich sweet and breaded pork. And the sauce is sweet and spicy and sensational on your tongue.]
For side dishes, you can sample from:
Sweet Potato Soufflé
Wild Mushroom and Caramelized Onion Tart
Winter Squash with Cranberries, Hazelnuts and Fried Sage
Caramelized Brussels Sprout Hash
And to end the meal:
Bread Pudding with Grand Marnier Sauce
Caramelized Apple and Gingerbread Cake
Old-Fashioned Peach Dumplings
Cast Iron Skillet is an exciting book. With these recipe options, Suzen and I just need a cold winter weekend to test and taste.
Guess what? This weekend will bring the third round of snow in a week for us. So, we are pouring over this lovely book, plotting our meals, and getting ready for a cast iron skillet weekend. Suzen is preparing to add to her inventory of four [2 large, 2 small]. I'm just want to get fresh peaches for those dumplings. In February. Clearly, a trip to Whole Foods is in order.
We'll let you know the results. Bite by bite.