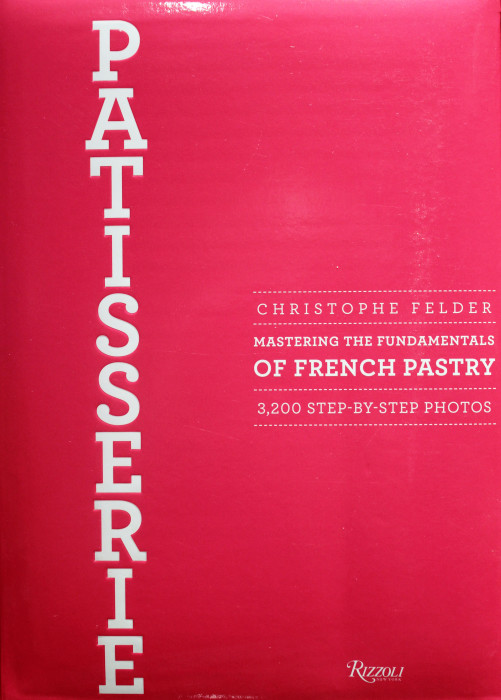 This is Pastry Week on the blog and this is the fifth important pastry book being reviewed. For the last of the group, I have saved the biggest. Patisserie: Mastering the Fundamentals of French Pastry by Christophe Felder is a massive 800 pages anointed with 3,200 step-by-step photos leading you to the creation of 200 dessert treasures.
This is a pastry book unlike any other I have seen. Author Christophe Felder was a pastry master by his early 20's. An Alsatian by birth, Felder comes from a family of bakers steeped in regional tradition. Felder followed the typical career of pastry school and apprenticing as one of the best and brightest in France. Now the author of over 20 books, he consults, teaches, and inspires.
This huge book is a compilation of several earlier ones, but merged here with a design that reflects his approach to teaching. As with any great pastry chef, he believes strongly in technique and precision. This book is his creative take on how to literally show the technique and detail needed in a perfect dessert. To succeed in this teaching, he has a little trick for drumming the instructions into your head.
Here's how a typical recipe works. There are no header notes. It's assumed you know the importance of, say, chocolate mousse. There is a simple quarter page picture of the final product, the list of ingredients and a rather terse list of one-or-two sentence paragraphs of instruction. This is not a wordy book.
But, here's the twist, there is a set of photos for each step in the recipe, often more steps than in that first description. Underneath each photo, those earlier sentences are repeated, often in revised language and with a little more detail and much greater context because now you "see" what is happening at this very stage of creation. A recipe may have from 10 to nearly 30 of these small pictures providing a most complete sequence of steps for the entire dish.
It might be difficult to create a dish from those first terse instructions Felder provides. You need to "see" the recipe. You need the photos and their text, which both repeat and amplify the details. You have seen other cookbooks attempt this before, but this book is unique in its scale, quality and precision. There are 3,200 photos here and every one of them has a role to play in its own particular recipe.
There are no chapters in Patisserie on background, ingredients or technique. You jump right in and flour and butter are immediately put to work. The recipes are divided about equally among these chapters:
Basis Pastry and Tarts
Creams, Custards, and Puddings
Decorations
Classic Cakes and Desserts
Chocolate Cakes and Candies
Holiday Cakes, Cookies and Other Sweet Treats
Macarons
Brioches and Breakfast Pastries
Petits Fours
In a book that talks about mastering the fundamentals, the recipes naturally include the basic staples, although this book does give you a richer abundance of doughs and crèmes than any other of the pastry books I have reviewed this week.
And there are recipes here that you won't find in a typical pastry book. You'll find the details to make Candied Rose Petals, Apple and Strawberry Chips, Chocolate Leaves, Sugar Sculptures, Caramel Flowers, and roses made from Pulled Sugar — perhaps the most intense recipe in the book.
Searching for a "different" brownie? Try one with hazelnut and coffee in the dough, baked, and then glazed with a combination of bittersweet chocolate and hazelnut cream.
Looking for something special to end a holiday meal? Consider Frozen Honey Parfait with Caramelized Pears or Baked Meringue with Chestnut Cream and Cherries.
It is impossible to page through this book and fail to be inspired, enticed, and maybe even bedazzled. With his rich experience in writing and teaching, you know that these recipes have been executed by thousands of his pastry students over the past decade. Every step needed to create each dish is now perfectly understood. Why, every step has even been photographed and now printed in this pastry tome.
Patisserie is book of substance, dedication, and — most of all love — for the kitchen and the wonders that it can produce. As Felder says in his introduction: the pleasure of a fine pastry lingers forever. You should linger over Patisserie.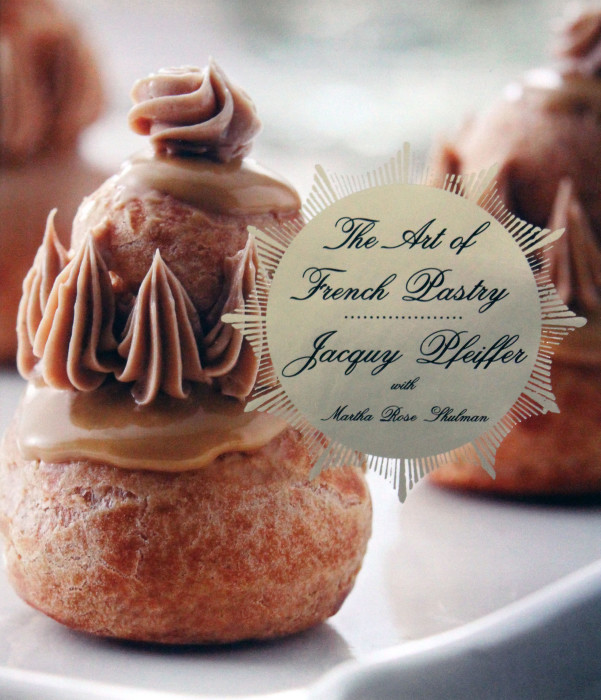 And on the fourth day of reviewing outstanding pastry books, we have The Art of French Pastry by Jacquy Feiffer with Martha Rose Shulman. This book fulfills a very distinct need: it is the ultimate in detailed instruction. Other pastry books we have looked at tell you what to make. The Art of French Pastry tells you why you make it that way. It's cookbook for sure, but here you'll find kitchen chemistry, the architecture of layered or towered dessert design, and the vital engineering to enable those pieces in a composed dessert to come together and then stay attached. All with beauty and deftness.
If you want to make beautiful desserts and truly understand how they "work" then The Art of French Pastry is essential for you.
Unlike some other pastry books we have considered with an emphasis on photographs to entice and enlighten, this book takes different routes to providing you detailed information. Take nuts, and how to roast them as an example. Is there a difference between walnut pieces and whole walnuts when you want to roast? About 3 minutes according to Pfeiffer who provides a chart with the roasting times for 23 different nuts combinations. It's a book about detail.
There are photos in this book, good, full page ones of many of the desserts. But it's the diagrams that I relish. There is a wealth of carefully constructed [engineering again!] 2-D drawings showing for example:
The right and wrong way to line a tart pan with dough to prevent collapse
How to cut croissant dough and where to put the chocolate when making that chocolate version
How to pipe the mousseline onto the puff pastry sheets when assembling mille-feuille
The molecular difference between a successful and a broken ganache
The diagrams come with full explanations so now you know, if your ganache breaks, how to fix it. And how to avoid breakage next time. It's a book about necessary details.
The organization by chapters follows a standard path from techniques through simple things to challenges for your new talents. Here are the primary chapters with some representative treats:
French Pastry Fundamentals: glazes, syrups, washes, doughs
French Pastry Classics: Chocolate Éclairs, Paris-Brest, Napoleons,
Tarts: specific tart doughs, Wild Blueberry, Plum, Alsatian Sour Cream and Berry
Cookies: Spritz, Coconut Macarons, Palmiers
Cakes and Ice Cream: Chocolate Almond and Ganache Pound Cake, Black Forest Cake, Frozen Coffee and Chocolate Mousse
Sweet and Savory Alsatian Specialties: the signature Alsatian bread Kougelhof, Streusel Brioche, Warm Alsatian Meat Pie
From the Classics chapter on, there are about 300 pages, filled with instruction, ingredients, photos and diagrams. You begin to think you've opened a treasure chest. And you have. Thing is, when you count them, there are only about 60 recipes. You do the math: it's almost 5 pages per recipe. It's an immense stream of detail. Relax, you will not be overwhelmed, but you are surely going to have the sense — as your review any recipe — that you are about to enter a graduate school for pastry.
Take that Black Forest Cake. The list of ingredients numbers 25, and several of those are "compound" ingredients like a Vanilla Custard Sauce that has 6 ingredients of its own. And there are 24 tools and items, from spatulas to a double boiler, that you will need for preparation for the cake itself, let alone the compound pieces.
Accordingly, right up front you get advanced notice: this Black Forest Cake will take two days to prepare. You get the breakdown for what is made on Day 1 versus Day 2, and the step-by-step process for each day. You won't get lost and the cake will be rewarding. This is baking from scratch at the extreme, and some self-pride is well deserved when you undertake any of these projects.
Other examples of the detail in the book include:
10 pages on making and piping Choux [cream puff dough]
6 pages on the turns of Puff Pastry
7 pages on each roll of making Croissants
More than any other book, your hand is being held here as you are led down a path to dessert success and quality. It almost would help you to have a partner-in-flour as you commit yourself here for any of the recipes: a spouse, a friend, a child with chef aspirations. You know how you were always told to read a recipe before beginning? Well, five or six or ten pages of recipe is lot of material to absorb. Clearly you'll be going back and forth over the recipe. Having a good reader here can mean as much as having French butter.
The Art of French Pastry is for the dedicated cook. This is not a casual baking book. This is a culinary tour de force. Yes, at times, you'll get bogged down in the details. The devil is in those details. So is the taste.
Treat yourself. Give The Art of French Pastry a test drive. You won't bake the same way again, ever.