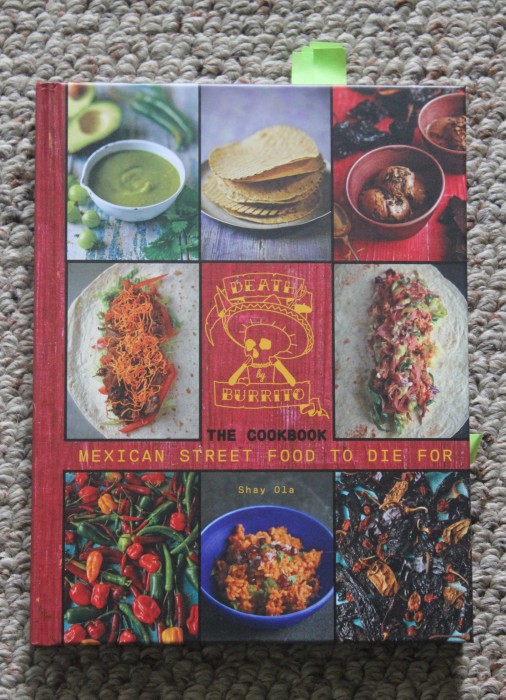 You've heard this story before. Man in Britain loves food. Not a professional. Cooks for friends, dabbles in cooking parties. Then a cooking stall at a fair – hardest work of his life. Then a real place, brick and mortar. And a cookbook: Death by Burrito. And then still another brick and mortar place.
It's been a fast journey for Shay Ola, the founder off the creative food event company The Rebel Dining Society. His two restaurants, in East and Central London, provide grills fashioning wonderful Mexican-style foods and bars specializing in tequila.
Ola studied Mexican street food to understand the basics and to form the foundation for his street food riffs, all fast and fabulous dishes. There are tacos and burritos here, but not in the combinations you have seen:
Confit Duck and Mango Tacos
Lobster Tacos
Quinoa, Pumpkin and Mushroom Burritos
Braised Turkey with Celeriac and Apple Slaw Burritos
How authentic are the recipes? Let us call them inspired. The ingredients are real: chiles, pumpkin seeds, pork, lard, plantains. The preparations are deliciously free form. I did take a second look at his Salsa Verde recipe because it uses gooseberries. Gooseberries. But, if you research, gooseberries are in the same genus and tomatillos. And gooseberries are grown in Yucatan. So inspired the salsa is.
There is the most complicated recipe I have ever seen for Chipotle Chicken Wings and, from the photo, seemingly the most beautiful. Suzen and I will be testing shortly. The wings are brined then dipped in heavily seasoned flour before getting a rolled oats crumb covering and then they finally meet the hot oil. Oh, the brining is authentic, right out of Yucatan with some orange. And right out of Great Britain, too, with some tea.
Ola says he is authentic to the spirit of Mexican food but prefers not to be confined to traditional recipes. I think he has succeeded. You should look for a copy of Death by Burrito: Mexican Street Food to Die For. Death is not necessary. Enjoyment is a guarantee.
Famous for his cocktail innovations, Ola claims his Toreador is better than a margarita when you need a brilliantly fresh sweet and sour beverage. As a treat to end this cookbook review, here's the recipe.
Toreador

Yield: 1 cocktail

Ingredients:

1 ¾ ounces tequila
1 ounce apricot brandy
1 ½ tablespoons lime juice
2 teaspoons agave nectar
Lime slice for garnish
Preparation:

Place a handful of ice in a blender and add the tequila, apricot brandy, lime juice, and gave nectar. Blend together and serve in an old-fashioned glass with a slice of lime.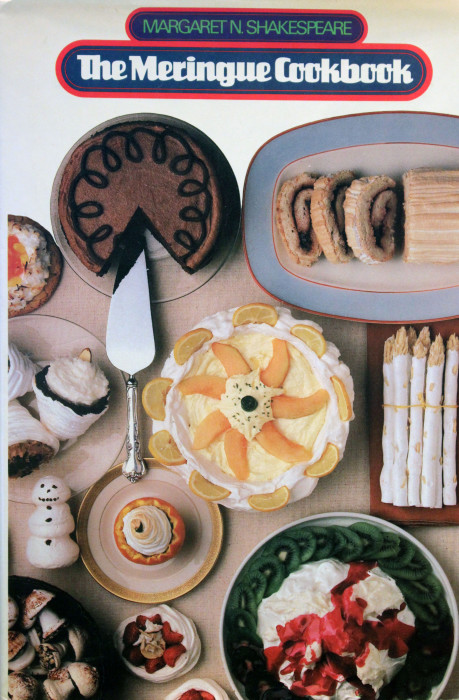 In the past few days I've blogged about ice cream bases using egg yolks and then what to do with the left over egg whites. My meringue guidebook is Meringue by Linda K. Jackson and Jennifer Evans Gardner. You can find a review of that book and five recipes by using the search box here; just enter "Gardner" and you'll get all the results.
Meringue is my "new" friend, published in 2012. In 1982, Margaret N. Shakespeare published The Meringue Cookbook. It's not in print anymore, but on Amazon you can find resellers who have copies in various conditions. I have two copies, the most recent being a "new" one that I did get from one of those resellers. I wanted a backup copy because The Meringue Cookbook is a gem. Together with Meringue, you have a full arsenal of recipes to deal with those pesky egg whites.
The two cookbooks could not be more different. Meringue is big and slick and has lots of photos. The Meringue Cookbook is smallish, one of those old 6 ½ X 9 ½ inch formats, with no photos. Just lots and lots of recipes, 130 versus 80 in the new book.
The Meringue Cookbook contains classic and, you might say, some old-fashioned recipes for making and deploying your meringue. You'll find chapters on:
Mainly Meringue: simple cookies, shells, mushrooms, mousses and icings
Cakes and Tortes: angel food, roulades, tortes [banana] and vacherin [pecan]
Pies and Tarts: cantaloupe tart, pumpkin spice pie, mocha raisin pie
Cookies and Bars: lemon walnut slices, butterscotch cookies
Puddings, Alaskas, Fruits, Vegetables and Even Some Cheese: butterscotch Alaska, applesauce pudding, blueberry fog [inspired by Maine], sweet potato meringue
Recipes for Leftover Yolks: custards, more puddings, sauces and rich yolky brownies
There is not that much recipe overlap between the two books, in terms of title let alone detail. So The Meringue Cookbook offers you a whole additional array of meringue pathways to follow. The recipes themselves are often intriguing, ones that you can read and see applying for a special meal or holiday.
For example, the Cranberry Layers is a single layer cake made with cranberries and walnuts. Once the cake is baked, it is topped with a walnut meringue that requires a short second stint in the oven. This would be a dramatic Thanksgiving dessert.
Margaret loves nutted meringue tops, so she puts one on her Bourbon Pound Cake, too. Bourbon and nuts with buttery cake is meant for a crispy winter's feast.
The Chocolate Meringue Mousse uses a set of ingredients that includes butter, water, and cream of tartar. If you google for this recipe, you won't find this configuration of ingredients and techniques on the first or second search page. You actually make a sugar syrup here and cook it to the soft-ball stage. This candy-based technique is in contrast to the usual gelatin method. With this recipe, you'll have very different taste and texture experience. There isn't a meal that cannot be concluded with chocolate mousse.
As a last example, the Fresh Fruit Tart seems to be right out of the mid-1800s. Grapes, cantaloupe, tangerines and strawberries are arranged in an almond pie crust, then topped with raspberry sauce. Oh, the meringue here? A sheet of meringue studded with chocolate shavings is baked, then cut into 1-inch squares, which are gently woven into the matrix of fruit before the fruit mates with the pie shell. You can imagine what it looks like. Imagine what it tastes like? There's only one way to find out.
I've had my first copy of The Meringue Cookbook since 1982. I've dipped into it, sometimes every month, sometimes only once a quarter. But 32 years on, I still find it charming. Look for a copy for yourself.