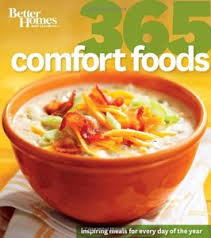 Comfort food. We all have that short list of things that are culinary tranquilizers. For me, a baked potato with meat loaf, creamy potato salad with scallions, a chocolate cake — made with cocoa of course — and topped with a fudgy frosting, …
I would like to extend my list of comfort foods and have more things that are tempting, yet easy, and have the potential to draw me back and back over the years.
Better Homes and Gardens has just published 365 Comfort Foods. There are, truly, 365 ideas here to bring you smiles and that warm inner glow that only a "favorite" food can inspire. Here you'll find lots, well 365, of ideas to sample including:
Creamy and Comforting Corn Chowder
Overnight Three-Grain Waffles
Overnight Coffee Cake
Baked Potato Soup
Chicken Soup with Chive Dumplings
Beer-Braised Beef Short Ribs
Loaded Creamed Corn with Tomato and Bacon
Orange Glazed Carrots and Parsnips
Pecan Crusted Pork Tenderloin with Sautéed Apples and Sweet Potatoes
Buttermilk Brined Fried Chicken
Layered Turkey Enchiladas
Apple, Bacon and Leek Stuffing
BLT Salad with Buttermilk Dressing
Best Ever Chocolate Cake [made with cocoa!]
The ideas here are often first cousins to favorites you may already have. But now, these recipes often include a twist to give you a new delight. Like that BLT Salad with Buttermilk Dressing. The Orange Glazed Carrots and Parsnips are perfect for a holiday table. And the Layered Turkey Enchiladas may just become your standard dish for turkey leftovers the Friday after Thanksgiving.
Some of the recipes are simple, some take a little time and a few more ingredients. But, the time and effort are surely worthwhile. The Pecan Crusted Pork Tenderloin with Sautéed apples and Sweet Potatoes is a magnificent dish — you'll think about eating the photo when you see it. Suzen and I are planning it for this weekend's dinner!
All the recipes here have the essential quality of comfort food: mouth appeal that barks out at you right from the page. I encourage you to take a peek at 365 Comfort Foods. Scan those recipes. Just see if you have the power to put that book back on the shelves. Or, will you clutch it, pay for it of course, and dash back home, find the cocoa and begin with the Best Ever Chocolate Cake.
I do hope you enjoy every last bite.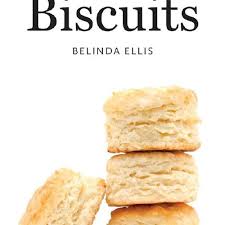 Belinda Ellis had the perfect job. For 15 years, she worked for White Lilly Flour, touring the country and showing people how to make biscuits. She's traveling less but writing more. Biscuits, a Savor the South cookbook from the University of North Carolina Press, is her perfect tome, her lovely tribute with deep insights into biscuits. Biscuits, it turns out, are less humble than you might expect.
If you've ever had a White Lilly Flour biscuit, I need say no more. Light and flakey and flavorful. It's a wonder.
If you know French, then you know that "biscuit" comes from "twice baked" just like biscotti. The original biscuits were like hardtack, designed for long lifetimes at sea. Not soft and flakey.
The key to great biscuits is the flour, particularly from soft winter wheat. That flour is very low in gluten. Gluten is what you want for a cake or a cookie. It is not what you want for a biscuit.
The combination of soft winter wheat flour and buttermilk is essential to making the classic Southern biscuits. Why did biscuits rise, no pun intended, in the South. The soft winter wheat was there. Buttermilk was aplenty. And biscuits bake quickly. In the rural and poor south, having to fire an oven for less time made biscuits the choice over bread.
Biscuits presents over 50 recipes. There is the classic Southern treat, rolled out and cut. There are drop biscuits [aka "lazy" because you don't roll]. But, but in defense of dropping the dough, Belinda emphasizes that the best way to make a bad biscuit is to overwork the dough. Remember, gluten is not your friend. So, dropping the dough is fine. You should not feel guilt.
The chapter on flavored biscuits provides an abundance of combinations to make your morning. I've already posted this week about a Bacon Cheddar gem. Belinda offers more extravagant options:
Gorgonzola, Walnut and Cranberry
Fresh Garlic, Cheese and Herb
Pimento Cheese
Goat Cheese
Black Pepper and Sour Cream
If you love biscuits so much you want them for dinner, you can do that. In fact, the biscuits don't have to sit on the side of the plate. You'll find recipes for:
The Southern Reuben
Chicken Pot Pie with Cheddar Biscuit Topping
Chicken and Dumplings
Lamb Stew with Caramelized Onion Mashed Potato Dumplings
It's now officially fall. Biscuits was officially published on September 4th. The timing could not have been better. A cool night and warm biscuit are the ingredients for family memories that will never be forgotten.