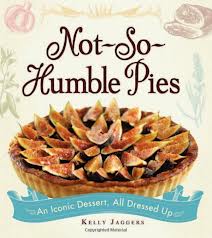 I do believe in diversity. Something beyond brownies and chocolate cake.
I just need inspiration. And now there is Kelly Jaggers' Not-So-Humble Pies. Just in time for the holidays. Not-So is staggering filled with ideas: new crust concepts, cream and custard and chiffon delights, fruit pies extraordinaire, tarts and rustic gems, dinner pies to sooth your conscience, and exotic pies to complete a perfect meal. There is a symphony of ideas here:
Lemon and Lavender Short Crust Pastry
Cinnamon Streusel Topping [in lieu of more crust!]
Maple Walnut Pie [think Thanksgiving]
Parsnip Custard Pie [think Pilgrims again!]
Cardamom and Saffron Chiffon Pie [for dinner party elegance]
Honey Lavender Apple Pie [for elegance at the end of the table]
Strawberry White Chocolate Ganache Tart
Bourbon Peach Tart
Lemon Pistachio Tart
Goat Cheese and Roasted Red Pepper Tart [main course idea]
Seared Ahi Tuna and Wasabi Crème Tartlets [devilish hot main course idea]
Spinach and Artichoke Tart [main course or side]
Duck Confit Tart
Chipotle Fudge Tart
Meyer Lemon and Serrano Chili Meringue Pie
Pies are naturally rich. This is a book to take you, and perhaps your blood sugar, one level higher. I actually am interested in the savory concepts here, like the Duck Confit Tart. But I do find myself attracted to the attractions here with a Southwestern kick, like that last one, the Meyer Lemon and Serrano Chili Meringue Pie. I know all the words: Meyer, Serrano, Meringue, … But the combination here is one that I just not have pondered. My thinks to author Kelly Jaggers for opening up a pie wonderland.
The recipes here are well-written, clear, and easily executed. The titles may seem complicated, but the written pathways are easy to traverse. This book proves exceptionally simple routes to exceptionally delightfully treats.
Now, it's time to explore.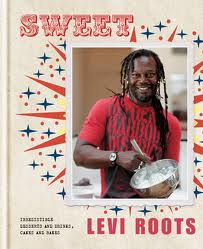 Levi Roots is a man whose background is charmed and has led him to a charming career in the food industry. He's now a British-based author whose latest book, Sweets, is tantalizing.
Levi grew up in Jamaica, living with his grandparents. At age eleven, he joined his parents in Great Britain. His grandmother taught him to cook, and Great Britain gave him the opportunity to expand. He has appeared on BBC as a guest, then had his own show. And a café and a string of cookbooks.
Sweets shows deep Jamaican roots but tops things off with British polish. For example, a fool is an English dessert, traditionally created by folding pureed stewed fruit [originally gooseberries] into a sweet custard. It's as English as Shakespeare.
Levi offers up Roast Apple, Rum and Maple Fool. There's his Jamaican rum plus North American maple syrup and apples from Eve's tree. It's a masterful mélange of old and new using the framework of that fool concept that actually first appeared at the time Shakespeare was writing his plays and poems.
Oh, if you like fools, on the facing page is Mango and Mascarpone Fool. Shakespeare never had that one.
There's a Caribbean flair to many of the recipes here:
Mango and Passion Fruit Cake
Chocolate and Lime Cake
White Chocolate and Vanilla Cake with Dark Chocolate Swirls
Cardamom and Allspice Brownies
Barbecued Pineapple with Lime Caramel Sauce
Passion Fruit and Orange Sorbet
Mango and Lime Ice Cream
When you read these recipes, and salivate over the photos, you begin to notice something. Yes, they are inspired by a climate where it's 80°F in February, but these are universal recipes, ones you can enjoy year round, no matter the temperature outside.
This book is a delight to page through, testing your will power, and constantly offering you the opportunity to surrender. The only thing you may have to do is go buy some limes, or mangos or passion fruit. You could rake the last fall leaves or barbeque some pineapple and make that lime caramel sauce.
The leaves can wait.