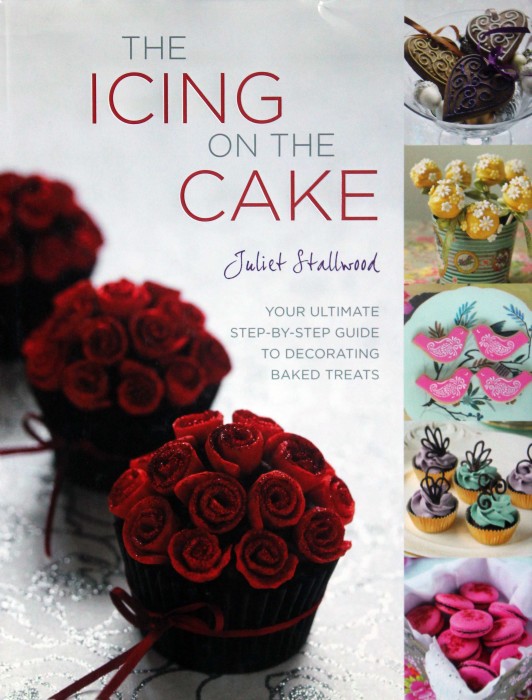 Have you looked and looked for a cake decorating book that you could enjoy? I have and I've had a hard time finding a book that I could understand and follow.
Cake decorating books seem to fill a special publishing niche. There is a certain style and format for the books that I find confusing. For me, there is either too much or too little information. The techniques are explained in language that I just stumble over. "Fold how? Twist how?" I read the instructions and I look at the photos and I just become dizzy.
Now, Suzen will tell you that she has a husband with a high awkward factor, but I don't think that's fair at all. I am clumsy, I admit. And I certainly lack patience. But, I want to try my hand at cake decorating. And I don't want to do it with a heavy hand. I just need help.
So I am delighted to say that there is a beautiful new cake decorating book that may help all of us decorating-challenged folks. The Icing on the Cake is the product of Juliet Stallwood. Her story is charming and one that you see often repeated: home baker become business success. She began life as a graphic designer — so she has a high skill set as the pictures here will ardently prove. She moved to Dorset and began home baking but with her refined style. Family and friends were impressed. And they ordered. And it all grew into a business.
Now she bakes, she teaches and she writes. Want to see some really, really exceptional creations. Visit:
http://www.julietstallwoodcakesandbiscuits.co.uk/home/
Look at the novelty cakes link there and prepare to be amazed. She loves to decorate cakes in 3‑D creations that seem to come off a movie set.
In this book, you'll learn some, not all, but some of the tricks and techniques that make her baked goods so distinctive and so humorously appealing. For example, look at these darling party penguins.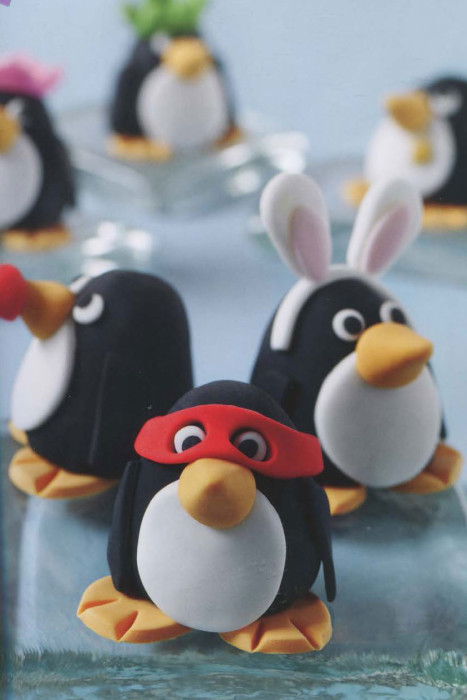 How could you make these 3-D decorations? It's marshmallows and rice crispy cereal and lots of gum paste. [Gum paste? Same thing as fondant? No, look for a post tomorrow to explain some cake decorating facts of life.] Juliet gives you brilliant step by step instructions, with photos that do match, to create these Party Penguins. Granted she has inherent skills, ones that I might lack. But it is doable. It's a matter of patience and getting the training that this lovely book provides. Again, visit the website and you'll be quite amazed at what a little time and some vigorous imagination can produce.
Have you ever seen a theme cake that was just overpoweringly beautiful? And yet confusing? How did this get made? That's the question that lingers. Juliet is British so why not make a cake that is a lovely, elegantly shaped teapot. Like this one: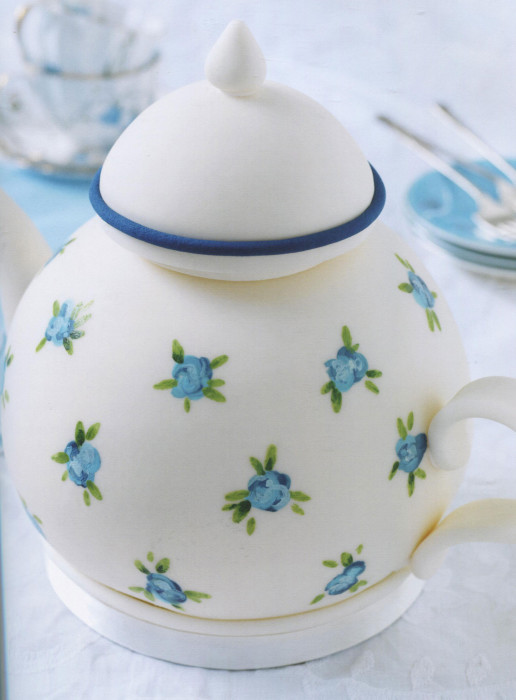 The step-by-step technique for this cake is all laid out for you. It's not a miracle at all. It's simply a number of individual steps and some patient craftsmanship.
The Icing on the Cake is several books rolled into one. There are these, and many other, examples of completed works. Plus, you'll find basic recipes for the underlying cakes, cookies [or biscuits if you prefer], frostings and icing. Ever made Royal Icing but had some difficulty applying it? Here you learn about three types of Royal Icing, and how to make them, and most importantly what consistency of icing to use where.
Suzen and I are always impressed by quality and imagination. Juliet's books abounds with both. No, I don't envision myself making cakes professionally. But to add some of her spectacular features to a party cake would be a noble goal. Put a penguin or a mouse on top of your next cake, and you are sure to attract attention and smiles.
This is a book to read and enjoy and let yourself be tempted. Oh, the roses on the cover of the book? Gum paste. Easily done if you know how. Read this book, and you will.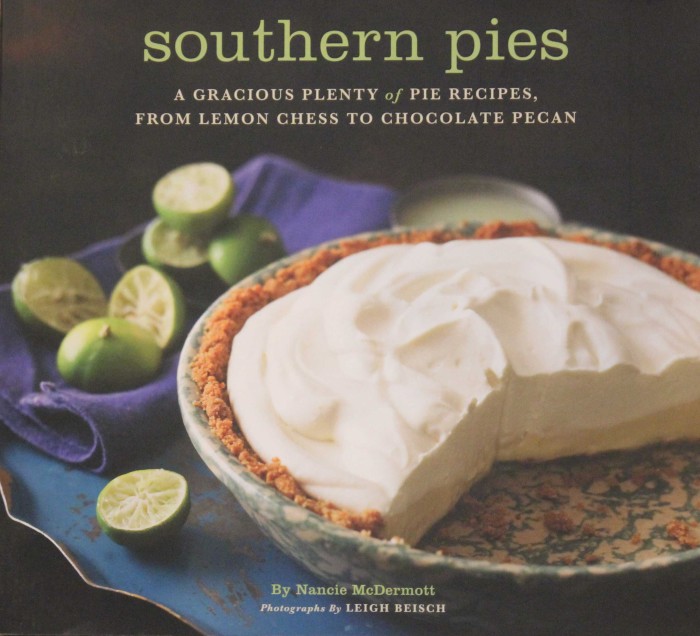 This is not a brand new cookbook, 2012, and it's still far too young to be a Throwback Thursday offering, so I'm just tossing this out to you because it's so very delightful. And, officially, it's fall. For many of us, fall is pie season. We may avoid spring berry pies and summer custards, but all of us succumb in the fall. There's Thanksgiving, of course, and just about no one can pass up a silky pumpkin pie with whipped cream. Or fall apples baked to pie perfection.
Born and raised and living in the South, Nancie McDermott knows pies and Southern pie tradition. Southern Pies is filled with recipes, both familiar like Black Bottom and distinctively regional like Peanut Butter Banana Cream.
Beyond the recipes, this book is a treasure of research and history. Nancie has drawn on her own expertise plus historical books and other dessert experts. The result is this compendium of wonderful pies that you rarely see north of the Mason-Dixon Line. In fact, many of these treats are rare now even south of the line. To find them, you need to visit home bakers, or diners off the freeway, or the pages of dusty books lying on the shelves of small antique stores.
But there is richness here and pie ideas to try throughout the year and particularly in the coming holiday season.
From a friend Suzen and I have in common, Stephen Schmidt, Nancie presents an Almond Custard Pie made with a dash of rosewater. Stephen is a baking guru with insights in British baking and how it came to America and morphed in the new land.
It is, in fact, the colonial and British roots that so permeate Southern recipes. In Southern Pies you will find dashing recipes for:
Butterscotch Pie
Cream Apple Pie
Pecan Chiffon Pie
Lemon Chess
Sweet Potato Pie
Buttermilk Pie
Molasses Pie
You can have apple pie, or you can have Cream Apple Pie. It's worth a test drive. And the many recipes here for sweet potato and chess variations can keep you busy for more than one fall pie season.
Coconut was, and remains, an ingredient dear to Southern bakers. Pies, and cakes too, appear in all kinds of coconut variations in Southern recipe books. Here you will find a Creole Coconut Pie made with white wine or apple juice. And there's the Amazing Coconut Pie where a coconut custard is poured into a pie tin and, as it bakes, the pie creates its own crust. Quick, easy, and very Southern.
The Buttermilk Pie reflects multiple Southern traditions. Real buttermilk, not today's manufactured product, is the leftover from churning to make butter. That leftover, the buttermilk, could safely sit without refrigeration. And frugal Southerners, without a refrigerator, would use buttermilk in many ways, from biscuits to pies.
Lemon, coconut, walnuts, pecans, and peanuts appear on almost every page of Southern Pies. Chocolate pies are here too, but chocolate is a "recent" addition to the typical Southern pantry. If you want to be orginally Southern, you should try the Molasses Pie. You'll enjoy this Southern Pies for both its recipes and its description of our pie heritage.
Southern pie baking in rural areas was a way to use every last bit of the energy of a fire. After the meat and bread were baked, then, when the oven was still warm, a pie could be nestled into the oven for a slow and final bake. That "use-everything-and-use-it-well" philosophy is reflected in these recipes. A custard may be a simple idea, but perfectly made and meticulously flavored, each bite is to be relished and remembered. Southern Pies shows you how very many ways that flavoring can be achieved.
Yes, Suzen and I are going through the book page by page. One of these gems will grace our Thanksgiving table. We'll let you know. Honestly, I don't think I can get Suzen to bite on the Peanut Butter Banana Cream Pie. But maybe in your household?