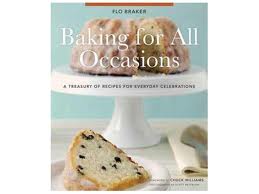 Yesterday's post was for a lovely Red Velvet Cake Roll or Roulade from Baking for All Occasions by Flo Braker.
Today, I just want to emphasize why you should consider Baking for All Occasions for your kitchen bookshelves, sagging though they may be. There are many baking books and, truthfully, many of those are interesting and have some recipes that you want to try. Baking is different for two reasons.
First, Baking is simply dense with recipes that do catch your eye and that compel you to utter the dessert lovers' mantra: "Make me. Make me."
Second, because this is a book by Flo, you know that there is substance beyond her seductive titles. You know that each recipe is real, has been tested, is ready for the home cook, and will — if carefully followed — give you exactly the results you desire.
For me, the first sign of a great cookbook is the title information in those recipes. If it says "Chocolate Cake with White Frosting" I'm interested, as any chocoholic might be, but not convinced. When Flo says "All American Chocolate Cake with Divinity Frosting" then I have to pause. Yes, "All American" can mean anything but this is Flo's book so I know it represents research, testing, and a "best of breed" development.
And "Divinity Frosting?" Well, I remember being eight years old and making divinity for Christmas presents. It's been a long time. I liked that divinity. I'm sure I'd like it on top of rich chocolate cake. So sure, that the next time Suzen is not around, I fully intend to …
On the list of Flo's recipes goes, for example:
Banana Streusel Snack Cake
Black Bottom Praline Chiffon Pie
Caramel Chocolate Cream Pie
Chocolate Vanilla Swirl Cookes [that's them in the picture below!]
Cinnamon Bubbles with Sour Cream Dough
Heirloom Banana Cake with Prune Plum Filling and Seafoam Frosting
Strawberry Mango Shortcake with Basil Syrup
Take that last recipe, which Suzen and I will be testing for you later this summer. We've all had strawberry shortcake. It's classic, it's a delight. But Flo adds dimension and flavor here. Mangos are married with the strawberries. And that basil syrup is sure to enrich the experience.
This is typical Flo: more flavors for a deeper flavor profile. New ideas are matched up, and yet adroitly balanced so that they complement rather than compete. You'll know, in that first bite, that before you is something quite special.
Baking for All Occasions is surely a book you'll enjoy. Just reading it is fun. Sampling your way through, one treat at a time, can be your personal journey to dessert nirvana. Don't wait for reincarnation. Bake now. Bake with Flo.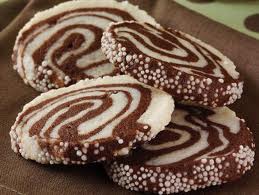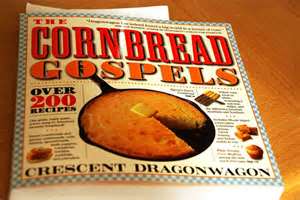 Well, thank God for Google alerts. You know, if you are an author, you can put up an alert for any post that Google might track. Any post using your name or the name of your book. Nice to know if someone has written about you.
Important to know if the blogger has committed some error or a major, tragic, dumb mistake.
My blog last week for Simply Corn Muffins called for 1 tablespoon of buttermilk. It's actually 1 1/4 cups. So, if you tried my poor version of the recipe and failed, I owe you a corn muffin. If you come by to Cooking by the Book at 13 Worth Street, New York, New York, I will happily issue you my penance.
You see, those muffins are so good they are now my standard breakfast. I bake, freeze, microwave, and adorn with butter and jam or honey. I have lots, made with the right amount of buttermilk. As for the batter you have from last week, if you still have it, I would suggest using it as mortar for your patio.
My thanks to author Crescent Dragonwagon for being alert and oh so understanding.