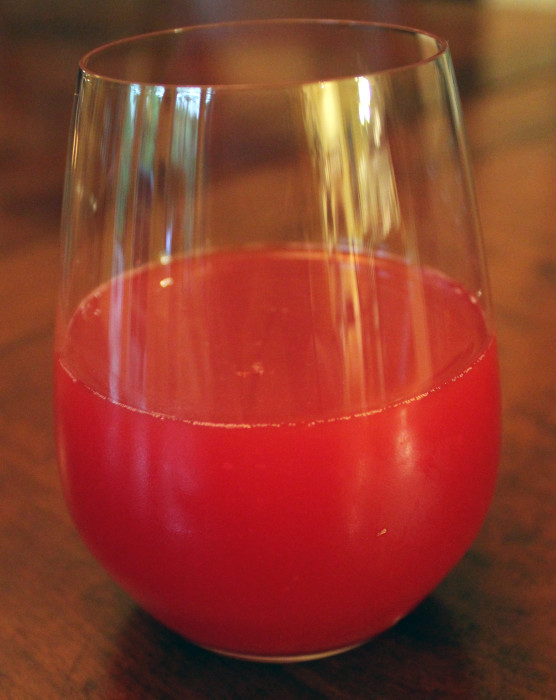 Growing up in Oregon, I was surrounded in spring and summer by fields of berries, mostly strawberry because they have higher productivity than raspberries. And strawberries behave themselves, while raspberries tend to "grow wild" and spread out of control. They are members of the rose family after all.
The United States grows 9% of the worldwide crop. Russia grows 26%. I have no idea what Putin and his associates do with them. I will research. There's only so much vodka you can make.
The beverage above has no vodka, but it does have a bit of a kick. This is my latest agua fresca and I investigated what to do about the essential flavor of raspberries. Don't get me wrong. I love raspberries. The color of raspberry red is immediately recognizable. Darker, deeper, more mysterious than pure strawberry read.
No, my issue is that raspberries tend to be tart and have a monolithic flavor. These days, mixologists will use 6+ ingredients to create cocktails with an abundance of flavor notes and layers. Wine makers have, of course, been doing the same for centuries. There is surely some difference between a deep Burgundy and the one-note of Welches Grape Juice.
Same issue as the raspberries: one note. The skills of a mixologist need not be devoted to just cocktails. Any beverage can be experimented with, extended, and amplified.
To give raspberries more flavor here, I'm doing a yin-yang approach. There is some lemon juice, which always brightens. There is sugar to sweeten. And there is Adobo Honey — see yesterday's post! — for a second layer of sweetness and just the barest image of heat in the finish of your sip. This drink is not fiery, but it has full sweetness and series of flavor layers that you will sense and adore.
About the sweetness. This recipe calls for 1 cup of simple syrup, which consists of ½ cup of water and ½ cup of sugar. You'll find agua fresca recipes that call for a range of sugar: from 1 tablespoon to that full ½ cup. You can adjust as you wish. But the sugar syrup is viscous, and I find that it adds some body to the drink. Textures is one of the senses involved in "tasting" food and here the syrup plays a double role of sweeter and "thickener."
To make it easy for you, the Adobo Honey is made with ⅔ cup honey and 1 teaspoon adobo sauce from a can of chipotle pepper in adobo. Please, start with 1 teaspoon the first time out. Go for more heat in future experiments.
Raspberry Adobo Agua Fresca
Yield: 4+ cups
Ingredients:
Two six-ounce packets of fresh raspberries
3 cups of water
Juice of one medium lemon
1 cup of simple syrup
1 tablespoon of Adobo Honey
Preparation:
Put the berries and water in a blender and process for two minutes. Strain through a fine wire mesh sieve. There will be considerable residue — with a blender and even with a Vitamix.
Stir in the lemon juice, simple syrup, and adobo honey. Mix very thoroughly. The honey can be viscous, so you may want to warm it before stirring in.
Chill thoroughly before consuming. At least 4 hours. And then, you can taste test. More sweetness is unlikely. But you can mix this agua fresca with some sparkling water to dilute the flavor a tad while imposing those bubbles. Or, you can mix this with the sparkling wine of your choice, in the proportions of your choice, to create an unmatched summer aperitif.
Sources: Brian O'Rourke
Photo Information Canon T2i, EFS 60 mm Macro Lens, F/5.0 for 1/15th second at ISO-3200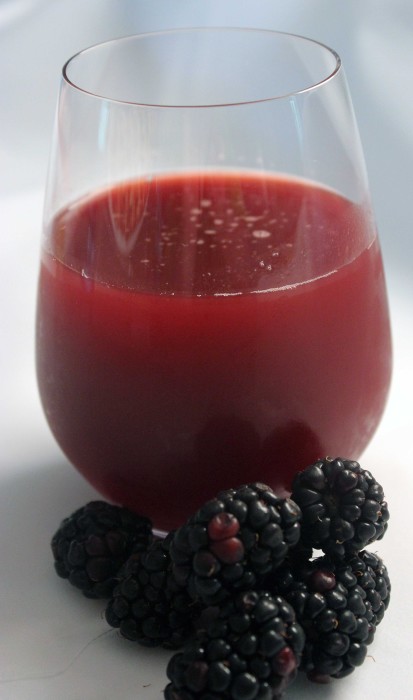 After my very happy experience with Cantaloupe Agua Fresca, I've decide to experiment more this year. I live in New York City, distinguished for its impeccable water. As good as it is, often I crave something more. "More" for me has meant lemonade but that beverage is sugar intense. I need something "in the middle."
Agua frescas are definitely less sugar packed than lemonade and quite delicious. To find recipes, at least to get started on an agua fresca journey, you can surf the web. When you do that, for blackberries as an example, you'll find high variation in the relative quantities of ingredients. I've seen a spectrum recipes with, for the nominal amount of 1 ½ cups of berries, a call for 8 cups of water or 4, a tablespoon of sugar or a full ½ cup.
In my versions of agua frescas, both this one and the ones that will follow, I'm going to side on intensifying flavor. I will tend to use less water. To be healthy, I will start with a low amount of water. If you do want just a tad more sweetness, then in your freshly poured glass you can add a teaspoon or two of sugar to meet your personal satisfaction.
Look for the "Agua Fresca of the Week" here at Suzi's Blog.
Blackberry Agua Fresca
Yield: serves 4
Ingredients:
1 ½ cups blackberries [fresh or frozen]
4 cups of water
½ cup simple syrup
Juice of 1 large lemon
Preparation:
Put the berries and water in a blender — better a Vitamix. Process until very smooth and the berries are liquefied: 1 to 2 minutes.
Strain the liquid through a fine mesh sieve into a bowl. Even a Vitamix will have some residue that you do not want in your "water."
Into the bowl, add the simple syrup and lemon juice. Pour into a container, cover, and refrigerate for at least 2 hours.
Source: Brian O'Rourke
Photo Information Canon T2i, EFS 60 mm Macro Lens, F/5 for 1/60th second at ISO‑2000