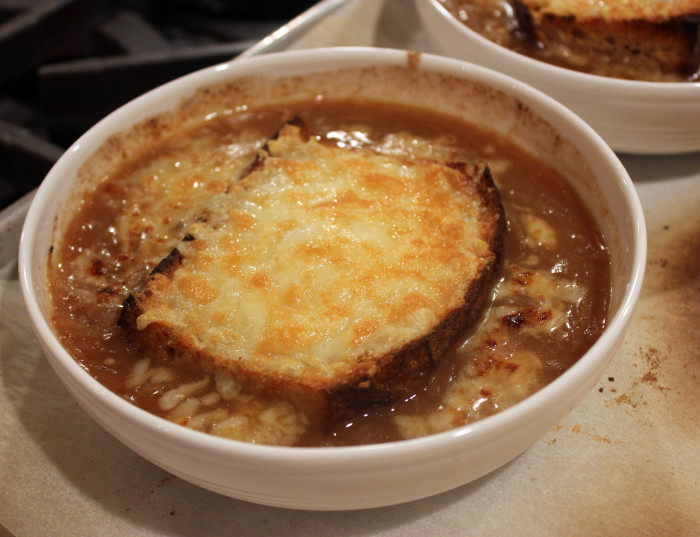 Suzen and I were delighted to see that Cold-Weather Cooking by Sarah Leah Chase has been republished by Workman just last September.
We love Sarah's books and Cold-Weather Cooking is filled with solutions to a problem Suzie and I face today: the chill factor outside our Manhattan apartment is 16 below. We are leaving for our upstate getaway where the chill factor is a mere 5 below. Still we will need something warm, and we just might repeat last weekend's meal from Cold-Weather Cooking.
It was equally cold and we needed something nourishing and warm. Ideally, we wanted a "one stop" dish, one complete enough in substance and flavor to be our entire meal.
We actually stumbled into this recipe. Earlier in the week, we were across the street at a favorite Tribeca restaurant, The Independent. We go there frequently and we no longer receive menus after we sit. Instead, we come in the door and they already know what we want: Suz and I will each have a Caesar Salad and we'll split a burger. We were finishing our salads when the couple next to us were served two bowls of French Onion Soup. It looked really good. It smelled even better. And Suzen and I had instant regret. I had to restrain myself from asking for just one spoonful.
The couple spoke in French so I finally leaned over and asked if they were from Paris. They are from Brussels but were kind about my request. They are often presumed to be French by Americans with tin ears for accents. Yes, they said, the soup was delicious. We traded business cards and when we next get to Brussels, we plan to all go out for onion soup.
In the meantime, I did recall seeing a recipe somewhere in some book that seemed to be a strongly different spin on onion soup. I searched my database and, voila, here it is. And here it is in its full glory. A combination of France and New England. Onions and stock, but also apple cider and then apple brandy — that Calvados. And cheese, lots of cheese broiled on top of a floating layer of thick bread.
Make this once, and your entire impression of onion soup will be changed. The apple components radically reshape the flavor. It's still onion and it still has a bite, but the apple provides sweet undercurrents of flavor that make your eyes open wide. The abundance of cheese make this dish gooey and satisfying. It easily makes for meal on its own.
I think when we visit Brussels, we might just want drag along a quart of New York State apple cider. Our new friends will find us taking over their kitchen. They won't mind.
---
Onion Soup with Cider and Cheddar Gratin

Yield: serves 8

Ingredients:

4 tablespoons [½ stick unsalted butter]
2 tablespoons olive oil
5 giant onions, peeled and thinly sliced
1 tablespoon light brown sugar
⅓ cup Calvados
¼ cup unbleached all-purpose flour
4 cups orchard-pressed sweet apple cider
2 ½ quarts chicken broth, preferably homemade
Salt and freshly ground black pepper to taste
8 sliced [each 1 inch thick] French bread, lightly toasted
1 pound sharp Cheddar cheese, grated
1 cup freshly grated Parmesan cheese
Preparation:

Heat the butter and olive oil in a large stockpot over medium- high heat. Add the onions and cook, stirring occasionally, 30 minutes. Stir in the sugar and cook 10 minutes more to caramelize the onions.
Pour in the Calvados and flame it with a match, being careful to stand back from the pot. When the flames have subsided, stir in the flour and cook 3 minutes, stirring constantly.
Gradually stir in the cider, then the chicken broth. Season to taste with salt and pepper. Simmer uncovered over medium heat 45 minutes.
Preheat the broiler.
Ladle the hot soup into 8 ovenproof soup bowls. Top each with one of the toasted slices of French bread. Combine the grated Cheddar and Parmesan and sprinkle generously over the soup and bread. Place the soup bowls on a baking sheet and broil 6 inches from the heat until the cheese is bubbling and lightly browned on top, about 5 minutes. Let cool slightly, then serve with big spoons and napkins
Photo Information: Canon T2i, EFS 60mm Macro Lens, F/4.5 for 1/40th second at ISO‑1000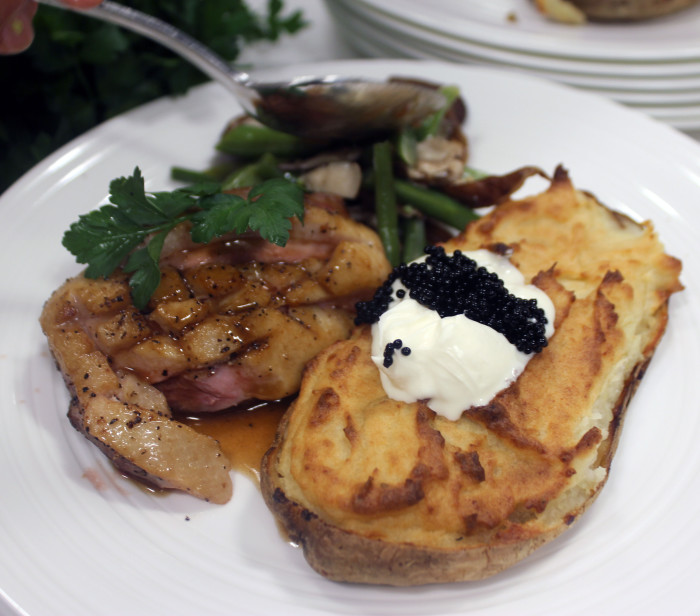 This year's Valentine's Day feast at Cooking by the Book featured duck breast:
http://www.cookingbythebook.com/recipes/16580/
The richness of that duck demands that the side dishes rise above the norm. "Side dish" can almost be a pejorative term, which is tragic. A side dish needs to sparkle. It's the chrome on the car of your main dish.
Here the chrome is crème fraiche and caviar.
Suzen and I love twice-baked potatoes because they give you the ability to layer in some much more flavor. Here, the first-baked potatoes have their insides scooped out and mashed with a healthy dose of butter, milk and egg white, then scented with shallot, lemon zest and nutmeg. The mixture, once passed through a food mill or ricer, is piped back into the potato shells for that second round of baking. Once out of the oven, the potatoes are topped with crème fraiche and caviar. The result is happy to the eye and to your mouth.
When you make this, and I hope you do, go easy on the lemon zest. Yes, you will taste it and it's lovely but these are potatoes and not lemon pies!
Use large potatoes as we did. With the crème fraiche and caviar, a person only needs one half to be thoroughly satisfying. Especially when paired with that duck!
---
Twice Baked Potatoes with Caviar

Yield: serves 12

Ingredients:

6 russet potatoes, scrubbed
3 tablespoons butter
1/2 cup milk
1large egg white, lightly beaten
1 small shallot, finely minced
2 teaspoons finely grated lemon zest
Salt to taste
Pinch of grated nutmeg
1cup crème fraiche
4 ounces caviar
Preparation:

Preheat the oven to 425°F for 20 minutes. Prick potatoes and bake until about 1 hour. Let potatoes cool, then halve lengthwise. Scoop out pulp in each half, taking care to leave about 1/8 inch worth of pulp with skin intact. Reduce the oven temperature to 400°F.
Meanwhile, press the pulp through a food mill or ricer set over a mixing bowl. Beat in the butter, milk, egg and egg white. Stir in the shallot and lemon zest; season with salt and nutmeg. Transfer the potato mixture to a pastry bag or tube fitted with a large star tip. Pipe into each potato half. Use the back of a teaspoon to press an indentation in the center of each swirl (large enough to hold sour cream garnished with caviar). Place the potato halves on a baking sheet and bake until golden (about 10 minutes). Transfer to serving plate and top each twice-baked potato with sour cream and garnish with caviar.
Source: Cooking by the Book with inputs from Wikipedia

Photo Information: Canon T2i, EFS 60mm Macro Lens, F/4.0 for 1/30th second at ISO‑200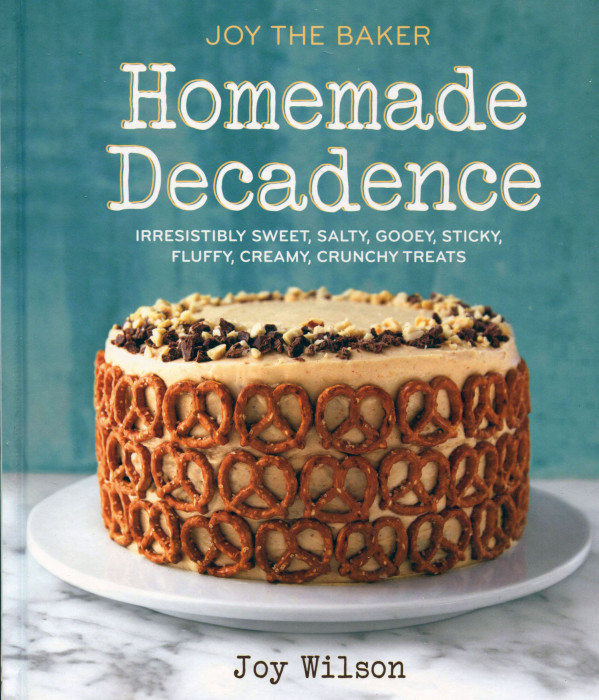 To understand this lovely book you only need the first sentence:
I believe that every great Saturday night in the history of Saturday nights has been preceded by or followed by brunch.
And so this book, devoted to "irresistibly sweet, salty, gooey, sticky, fluffy, creamy crunchy treats," does begin with a Brunch chapter filled with dining delights like:
Lemon-Poppy Seed Pancakes

Sour Cream Scones

Cinnamon Sugar and Dark Chocolate Croissants

Cinnamon-Sugar Pull-Apart Cake

Roasted-Potato Breakfast Nachos

French Onion Quiche

Mango-Watermelon Tequila Sunrise
Any of these dishes might make your brunch better. Take three or four, assemble them on your table or counter, and you have just the greatness in food that Joy Wilson so devoutly promotes. Joy has the wonderful, and very popular, website joythebaker.com, and is a prominent writer and photographer. Her photos have appeared in Food & Wine, Redbook, The Atlantic and Forbes.com.
She has this passion and vast talent to conceive a great recipe, describe it in words to perfection, and photograph it with the ultimate seduction. When you "see" one of her recipes, the immediate reaction is "I'm making that." She is the ultimate communicator.
When we are done with brunch, it is time to march on to dessert treats and the remaining chapters of Homemade Decadence are each treasure houses of desserts intense in flavor, texture, and satisfaction.
Cookies, Brownies and Bars offers:
Oatmeal Sandwich Cookies with Creamy Peanut Butter Filling

Melt-y Chocolate-Truffle Cookies

Pumpkin, Cranberry, and White Chocolate Cake Cookies

Peach, Brie and Dark Chocolate S'Mores
Pies, Crumbles & Cobblers is filled with ideas to turn an empty round pie dish into the best thing you've had all week. It begins with her famous Buttermilk Pie Crust, the perfect container for the pies to come. You'll find:
Lemon-Buttermilk Pie with Maple-Cranberry Sauce

Chocolate Pudding Pie

Pear-Cranberry-Pecan Crumble

Apple Pie with Cheddar-Bacon Crust

Peanut Butter Banana Cream Pudding Pie
If you are more a cake than crumble person, then you love the chapter Layer Cakes, Cupcakes & Skillet Cakes. There are standards here and then Joy's "pile it on" flavor extravaganzas:
Basic Three Layer Yellow Cake

Maple Orange & Ginger Cream Cheese Cake

Chocolate-Peanut Butter Pretzel Layer Cake [the book cover!]

Maple-Apple Upside-Down Cake
And in Ice Cream Social her personal fascination with Ben & Jerry's is given many exclamation points:
Double Peanut Butter Ice Cream

Mocha Fudge Sauce

Caramel-Swirled Sweet Corn Ice Cream

Honey-and Pistachio Frozen Yogurt

Peach& Buttermilk Milkshake
The recipes in Homemade Decadence amplify the book's title. Yes, you can make these at home. And, yes, after enjoying any of these treats you will be filled with a sense of decadence. Joy is in love with chocolate and peanut butter and pretzels and buttermilk. That's a pretty good start if sweets are in your bloodstream. I think Joy's bloodstream is streaked with chocolate. How else could she have articulated all these truly sweet ideas? Along the way, she proves that decadence is not a bad thing at all. It's just delicious.