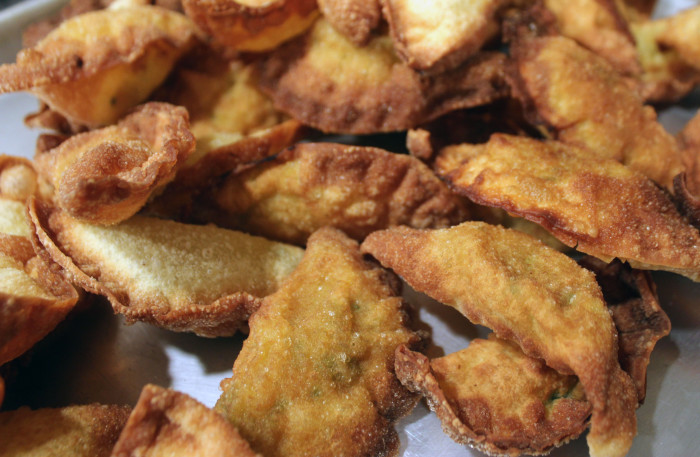 Sometimes you have to fry. I know, it can create a mess and the aroma lingers and no one wants to clean up that mess. Still, there are dishes where there is no option but boiling oil. If the payoff, the taste, is good enough, then all that effort will be forgotten. These samosas are worth every drop of effort and oil
For a party with 30 people, Suzen made four batches of these samosas. We had plenty, or so we thought. But 30 people can, easily, devour 160+ samosas if they are very good. And these dainty packets were voted best by a food-wise crowd here at Cooking by the Book.
The filling is curried butternut squash which surprises on the first bite and remains seductive as you consume every last bit. As with almost all recipes like this one, we "cheat" a bit. We use commercial wonton wrappers rather than make our own dough, one samosa at a time. Especially with the volumes of samosas you need for a party, those packages of wonton wrappers make this dish "doable" for a crowd.
If you party is planned to begin in the kitchen, perhaps with cocktails and appetizers around the island, this dish is wonderful pathway to a culinary evening. You can even have the ingredients at hand and enlist some of your guests to enjoy some hands-on participation. Truthfully, these samosas are best hot out of the oil, so you should search for culinary volunteers. Or just lay down the law and conduct your own version of the draft. In end, everyone will be glad they served.
Curried Butternut Squash Samosas with Tamarind Chutney

Yield: 40 samosas serves 8+, 1 cup of chutney

Ingredients:

For the samosas:

1 butternut squash – about 1 ½ pounds
3 tablespoons olive oil
2 tablespoons white onion, chopped
2 cloves garlic chopped
1 tablespoon madras curry powder
1 teaspoon sea salt,
1 teaspoon sugar,
1 large egg
1 package (1 pound) square wonton wrappers
Canola or rice bran oil for deep-frying
For the tamarind chutney:

½ teaspoon ground cumin
½ teaspoon garam masala
½ teaspoon ground ginger
¼ cup seedless tamarind paste
Sea salt [to your taste]
Sugar [to your taste]
Preparation:

For the samosas:

Preheat the oven to 400°F.
Cut the squash in half lengthwise and scoop out and discard the seeds. Place the halves, cut sides up, on a rimmed baking sheet and drizzle with 1 tablespoon of the olive oil. Bake the squash until tender when pierced with a knife, about 40 minutes. Let cool until easy to handle. Scoop the cooled squash flesh into a bowl and discard the shells.
In a saucepan over medium-low heat, warm the remaining 2 tablespoons olive oil. Add the onion and garlic and sauté until the onion is soft, about 5 minutes. Remove from the heat and stir in the curry powder. Add the squash flesh and mash with a potato masher until almost smooth. Stir in the salt and sugar, then taste and adjust the seasonings.
In a small bowl, beat the egg with a fork until blended. Lay about 5 wonton wrappers on a work surface; keep the remaining wrappers covered with a slightly damp kitchen towel. Spoon a scant tablespoon of the squash filling in the center of each wrapper and flatten with the bottom of the spoon. Brush the edges of the wrapper with the egg. Fold each wrapper in half on the diagonal, forming a triangle, and then press the edges together to seal the filling inside; set aside. Repeat with the remaining wrappers and filling.
Preheat the oven to 200°F. Line a large baking sheet with paper towels and place a wire rack on top. Pour canola oil into a heavy, high-sided skillet to a depth of 3 inches and warm over medium-high heat until very hot. Working in batches, add the samosas to the oil and fry, turning once, until golden brown on both sides, about 2 minutes on each side. Using a slotted spoon, transfer the samosas to the rack to drain and keep warm in the oven. Cook the remaining samosas in the same way, adding oil to the pan as needed.
Arrange the samosas on a warmed platter and set the chutney alongside for dipping. Serve right away.
For the tamarind chutney:

In a small, dry saucepan over medium heat, toast the cumin, garam masala, and ginger, shaking the pan occasionally, until fragrant, about 1 minute. Remove from the heat and let cool for about 2 minutes.
Break up the tamarind paste with your fingers and remove any extraneous seeds. Add the tamarind and 2 cups water to the pan and return to medium heat.
Simmer the mixture, stirring and mashing the tamarind constantly, until reduced by one-half, about 15 minutes. Taste and adjust the seasonings with salt and sugar. Pour the chutney into a small bowl, let cool, cover and set aside at room temperature.
Source: Williams-Sonoma New Flavors for Appetizers

Photo Information Canon T2i, EFS 60 mm Macro Lens, F/3.5 for 1/30th second at ISO‑640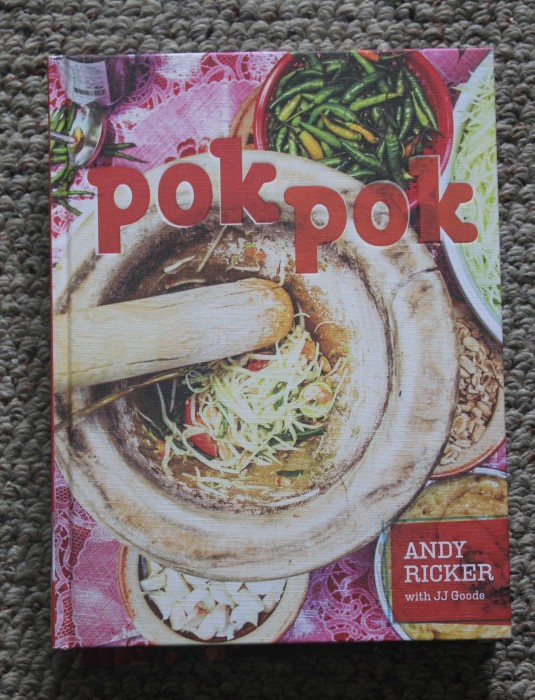 Love Thai food? Want to experiment at home? Demand authenticity? Then Pok Pok is essential.
If you had met Andy Ricker 15 years ago and asked him what he did, his story would have seemed unusual, no, exotic. He was living in Portland, Oregon and painting houses part of the year to fund the rest of the year: backpacking through Thailand [and the rest of Southeast Asia] to learn the food.
Not just taste, not just sample. But learn it. Recipe by recipe. Comparing the "same" street food dish vendor by vendor, learning the vastly different regional cuisines of Northern, Northeastern, Central and Southern Thailand. It's four countries in one, and Andy can tell you the differences village by village, literally at times street by street.
His food obsession, with its travels and education, was positive. It lead to a food truck in Portland, then brick and mortar there, and now three spots in New York City. He's changed the Brooklyn waterfront. The Pok Pok restaurant on Columbia Street is so busy, Andy bought the bar next door. You can drink and nibble at the bar and then be called across the street to the actual restaurant. The drinks and nibbles [oh, the wings] are so good that you pray for a long wait.
So, Pok Pok the cookbook is a great Thai cookbook, right? No. As accomplished as Andy is, he is incredibly modest with a boundless curiosity. The cookbook is primarily Thai, but has recipes from across Southeast Asia. The signature wings, for example, are from Vietnam. The recipe is in the book, and you'll see it on this blog in a few days. Andy says the wings alone pay his mortgage.
Andy acknowledges he is not a professional chef, but he's proud of his palate, his food memory and his dedication to originality. Is the food in Pok Pok authentic? Andy laughs at the word. With so much variety in Thailand itself, "authenticity" is impossible to define. What Andy does do in Pok Pok is give you the opportunity to duplicate some of the finest dishes from Thailand.
The book has only 70 recipes. What, you ask, will you do about Thai ingredients? With the wisdom of his travels, Andy has worked out feasible substitutions for you if you live in Des Moines or Detroit. And his wisdom means that some great Thai dishes have not been put into Pok Pok. Andy refuses to compromise on the final quality, so many dishes — that depend on regional spices and chiles and seafood, for example — are not here. For those treats, you don't need Pok Pok. You need some time and a plane ticket. [If you do go, be sure to take Pok Pok with you. Andy's comments on the culture and style of the country make this the best Thai food travel guide you could find.]
For the recipes that do appear in Pok Pok, Andy has applied his dedicated approach to detail. Some recipes can be presented in a page, but Andy can go for two or three pages. There are instructions on special equipment that may be need [time to by that wok], things to prepare in advance like a chile paste, stir frying some elements, and final assembly.
Andy's belief is that all the recipes can be made, here in America, by you. While he never says it, I believe you might want to purchase a six pack of some of that excellent Thai beer. You'll be in the kitchen for a while. You should relax and enjoy each recipe, each serious but fun learning experience.
Can you really do all these dishes? Mostly, I think. There is a Grilled Salt-Crusted Fish with Chile Dipping Sauce that is on the menu for Suzen and me this summer. We have done salt-crusted beef, but never fish, and never on the grill. It sounds fun and Andy supplies very careful direction for grilling so that the crust works without cracking.
On the other hand, the Shrimp and Glass Noodles in a Clay Pot over shimmering charcoal is something that I'm going to return to Pok Pok to sample. But you and I can surely try:
Central Thai Papaya Salad [as opposed to those Northern and Southern versions!]
The justly famous Vietnamese Fish-Sauce Chicken Wings
Stir-Fried Thai Rice Noodles
Cucumber Salad
Thai Style Pork Ribs [NOT Memphis, or Texas, or Carolina at all]
Northern Thai Stewed Beef Soup
Curried Fish Grilled in Banana Leaves [yes, you can find those leaves]
Stir-Fried Brussels Sprouts
You'll find salads with and without meat, fish, stir fries, grilled delights, curries and soups and the Thai versions of several tapas to feed several parties. Plus there is a fiery chapter on chile dips and one more on stocks, condiments and the pantry staples you might want to accumulate for more readily attacking these recipes.
Suzen and I have cooked from the book, drunk at the bar, and eaten at the restaurant. There is a consistent quality to the Pok Pok brand. Distinctive and distinguished. Pok Pok is a cookbook that will educate and delight.