So I wanted a cocktail, but something brightly, distinctively different. And I have those bottles, especially the ones almost filled and shoved to the back because after I used them once or twice, I could not figure out what else to do with them. Lack of imagination.
I saw this bottle labeled Tuaca and remembered I had originally bought it because it sounded so Mexican. I did not even read the details so blatantly obvious on the label: it's Italian, not Mexican. Uh, well, it was Italian and the recipe is still Italian but Tuaca is now made in Louisville, Kentucky. The world is strange.
Tuaca dates from the Renaissance and this liquor has a mild flavor reflecting its ingredients of brandy, orange and vanilla. Modern Tuaca was resurrected 1938 in the Tuscan seaside town of Livorno, a lovely place for any tourist seeking Tuscan cuisine with a view of endless blue sea. The Tuaca plant in Livorno closed in 2010 and all production is now in Louisville which is indeed closer to, but not part of, Mexico.
I do love the flavor of Tuaca but I was mystified about how to use it. In all such cases, what do I do? I go to:
where I can interactively search for cocktails using an amazing tool:
http://www.diffordsguide.com/cocktails/advanced-search
Here you find cocktail ideas by selecting:
By base spirit
By liqueur
By wine/vermouth
By mixer
By style
By bartender
It's just the best site on the web by a wide margin — or by a case if you measure in liquor terms. You can find cocktail ideas here and then, if you wish as I often do, amend them.
For Tuaca, the Giffords site suggested the Sophisticated Savage created by Paul Jensen. I was immediately intrigued because it combines Tuaca with Cachaҫa. Guess where my bottle of Cachaҫa was? Right there next to the Tuaca because my Cachaҫa repertoire had, to date, consisted only of Caiprinhas. I got a two for one thanks to Diffords!
I made the recipe as suggested and found it a tad formidable. So, I've added a little sugar syrup to mute the flavor, and I do prefer it. I've also doubled the amount of lime juice — because of the sugar. And the original recipe called for ½ of an egg white. I like foam. I used the entire egg white. As I said, you can use Giffords and follow the recipes religiously, or you can be inspired, creative and playful.
This is a lovely cocktail, sour + sweet, with plenty of oomph. It's an ideal match for appetizers with their own zip, say shrimp with cocktail sauce.
---
Sophisticated Savage Ala Brian

Yield: 1 cocktail

Ingredients:

2 shots Tuaca
2 shots Cachaҫa
1 shot lime juice
1 shot simple syrup
1 egg white
Preparation:

Place all the ingredients in a cocktails shaker filled with ice. Shake very, very vigorously to ensure the egg white foams. Pour into a chilled champagne flute and sip to your pleasure.
Source: Diffordsguide.com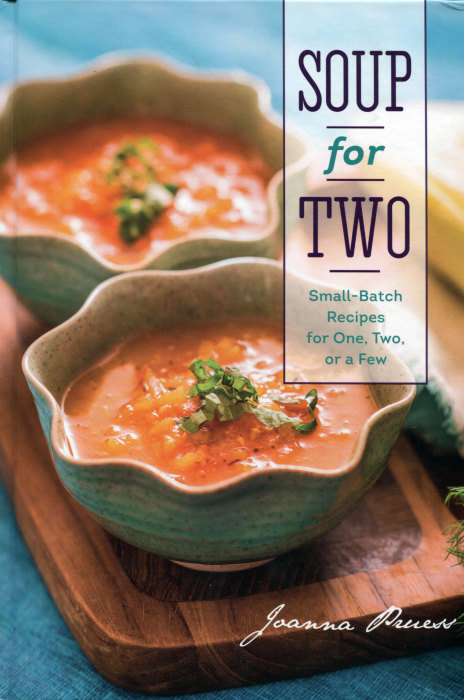 Soup. What does that word summon when you hear it? Visions of red and white cans, maybe blue ones? Bowls of something very watery served in your grade school cafeteria on a "bad food day?"
I have fonder soup memories. In the 1970's there was a soup and salad chain, Salamgundi's, in California that had lunch lines out the door. There would be five special soups of the day and I learned that fresh soup, a small salad, one piece of bread and sweet butter could make a meal that was unsurpassed. The key, of course, was the soup. Not from the can, but crafted from ingredients that same day and fresh from the stove — or perhaps from the refrigerator for my new friend named Gazpacho.
For her 14th book, prolific and acknowledged expert Joanna Pruess has turned to soup with this book that will revitalize your soup impressions. Or, if you had a Salamdundi's in your life, Soup for Two will bring you visions of soup wonders you may have feared forever lost.
Joanna has assembled a mountain of recipes in this book, using her own ideas, family, friends, and lovely ideas selected from her journeys around the world. Soup can, and really should be, a central element in our diets. Soup can provide excellent nutrition with little cost in calories or carbs. The trick, of course, is to find the recipes that provide you with "real" soup, not just can contents.
There is one little issue. Thing is, many soup recipes will give soup for 6 or 10 or 20. That's a lot to make and store and heaven knows you just might never get to the leftovers in the back of the fridge. So here is the the strong twist that Joanna provides. This is not just a soup book, it is literally a Soup for Two book.
With Soup for Two, you can sample excellence quickly: most of these recipes can be prepared in an hour or less. The quantity is intended for one, two, or perhaps a few. You won't have gallons of leftovers to worry about. And, as they once said in a certain movie, tomorrow is another day. Tomorrow you can return to Soup for Two to craft another batch of another exceptional recipe.
Chapters are devoted a half dozen key soup styles:
Chilled
Vegetable
Legume, Nut, and Bean
Seafood
Poultry
Meat
No matter your preferences, or today's whim, or today's weather, somewhere in Soup for Two you'll find a gem you want for an exceptional lunch or dinner.
Can I prove that? Sure. Just read this list I made from Soup for Two. These are soups that Suzen and I hope to try in the coming months, some now and some when the temperature is far about its current 18˚F. Here is food that is both comforting and exciting:
Andalusian Garlic Almond Soup
Belgian Beef, Beer, and Vegetable Soup
Blueberry Pomegranate Beet Borscht
Chestnut Squash Soup with Mole and Peppers
Chunky Leek, Potato, and Tomato Soup
Circassian Chicken Soup
Clam, Potato and Kale Coup
Creamy Cheddar Cheese and Bacon Soup
Finish Jerusalem artichoke Soup with Marinate Tofu
Greek Lemon Chicken and Rice Soup
Malaysian Chicken Laksa
Parsnip, Prosciutto and Potato Soup
Peach Soup with Sugar Glazed Blackberries
Salmon and Corn Chowder
West African Peanut Soup with Chicken
See? You did not breeze through that list, did you? Along the way, your brain and stomach communicated and you took a pause to consider what might be in your bowl tonight. Finish Jerusalem Artichoke Soup? What can that be? You know what Salmon and Corn Chowder is, of course, and you can almost smell the fragrances of salmon and corn swirling about in your kitchen.
There are mysteries in that list of recipes. Circassian Chicken Soup? It from Turkey and here Joanna has applied her expertise to transform a centuries old recipe. Meatballs of chicken and walnut are cooked in a broth of chicken stock amplified with carrots, celery, paprika, parsley and garlic. It's a simple, yet brilliant recipe. It's not just a "soup." It's a centerpiece. It's a meal unto itself.
That is the ultimate message of Soup for Two: soup is much more than just "soup." Soup can be a feast providing that comforting satisfaction we all long for in every meal. In Soup for Two, Joanna gives you the roadmap to satisfaction, one glorious bowl at a time.
If I say "spaghetti" then what word is triggered in your brain? For many of us, "spaghetti" is synonymous with "meatballs." Like Macaroni and Cheese, spaghetti and meatballs are inseparable and, of course, universal.
The truth is less simple, more complex. Many food historians and Italian ones by far believe that spaghetti and meatballs is an Italian-American dish, one fashioned in the 1920s where immigrants found abundance in America that they had never encountered in Italy. You can find that tradition today in, say, the Italian-American restaurants of Brooklyn where you can display your richness, and reward your appetite, by ordering a side of meatballs.
The meatballs-are-American is an interesting story and, according to Wikipedia and the Smithsonian, largely true but not totally true. In Southern Italy, in Puglia for example, there are written examples of recipes for pasta with meatballs preceding the 1920s American ones. Italian cuisine is complex and highly regionalized so it would not be unexpected to find some examples of pasta and meatballs somewhere in Italy. Those Italian meatballs, though, were called polpettes, often dainty in size and never the size of the gigantic ones you'll experience in Brooklyn.
According to the Smithsonian, [http://www.smithsonianmag.com/arts-culture/is-spaghetti-and-meatballs-italian-94819690/?no-ist ], the immigrants who came to America in Italy had a totally revised economic experience. In Italy, they spent 75% of their income on food. In America, and that often meant the Lower East Side or Brooklyn, food required only 25% of their income. The immigrants had more money, more disposable income, and could get more for the money they devoted to food. They could afford meat and they could make meatballs, ones with more meat than bread filling.
With meatballs, sauce was in order. Marinara sauce gets its nautical name from the Italian word "marinaro" meaning sailor. The city of origin was, what else, Naples. The combination of spaghetti and meatballs and marinara quickly spread through first the immigrant community and then through the American population. Spaghetti and meatballs drenched in sauce became emblematic of Italian food. American tourists fresh off the plane in Rome would go in search of the "best" spaghetti and meatballs they could find.
They tended to find stares and shaken heads.
The dominant style in Italy is spaghetti with that sauce. But no meatballs.
How, how can we be so "advanced" in our Italian-American cooking while those Italian people seem to lag behind? What is going on?
That photo above is worth, if not a thousand words, at least a few hundred. Italians have an advantage called Italian pasta. The terroir of Italy affects not just the wines but also the wheat. The premier Italian pasta makers, like Felicetti and Barilla, make products that are best described as "self-satisfying." You literally do not need a meatball to have a totally exemplary dish. The taste and texture of the pasta form an unsurpassed foundation for a pasta dish like, say, spaghetti. Top that pasta with a great homemade sauce, perhaps some cheese, and your meal is complete. There simply is no need for meat to have the feeling that your meal has been "complete."
Italians, of course, know this, which is why they can sit quietly sipping their wine, discussing the American tourists, and shaking their in laughter-filled bewilderment. Money can't buy love, someone said. Money can buy meatballs, but sometimes you just want to save your money.