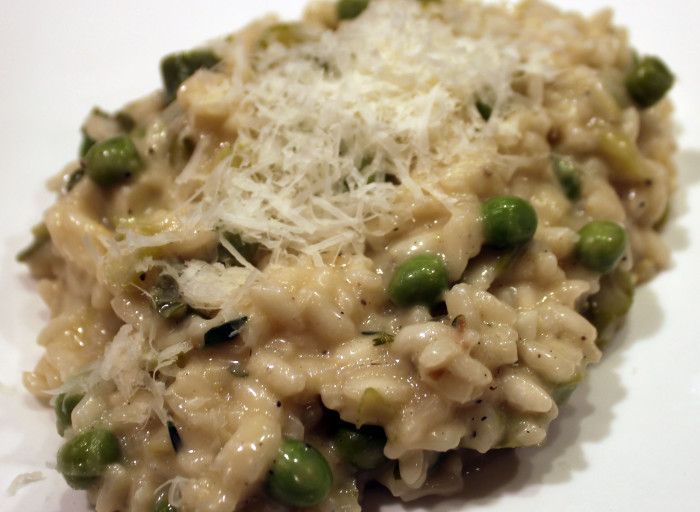 Now, technically, I know it is not spring. In just a few days it will officially be fall. But that means that south of the equator, it will be spring. So you could make this recipe while visiting Argentina or the vineyards in Chile. A great South American wine would go so well here.
Or, you can look in your market for "fresh but non-local" asparagus that has been airlifted to us in North America from those spring fields far to the south. I don't think we really pay enough attention to the impact Boeing has had on our culinary experiences and opportunities.
Vegetables often come to us with an edgy, sharp taste. Certainly that is true of asparagus. So, soft, creamy, mild risotto is the perfect foil for asparagus and even the peas suggested here. You can always amend this recipe, substituting green beans or sautéed carrots or corn kernels. The concept is to let flavors and textures resonate together. Risotto is a "platform" that provides the foundation supporting an endlessly varying market basket.
The final frosting or dusting of Fontina is just the ticket to make this dish authentically Italian. The particular recipe comes from The Italian Vegetable Cookbook by Michelle Scicolone. This is her latest book. I want to call it her greatest, but I don't want to diminish all those earlier books and all those wonderful recipes she has shared with us. Let us just say that The Italian Vegetable Cookbook continues a great tradition.
You don't like vegetables? You will.
---
Spring Risotto with Asparagus, Peas, and Fontina

Yield: serves 6

Ingredients:

12 ounces asparagus, trimmed
5 cups rich vegetable broth or chicken broth
2 tablespoons unsalted butter
1 tablespoons extra virgin olive oil
1 medium onion, finely chopped
4 scallions, chopped
1 ½ cups short grain rice, such as arborio
½ cup dry white wine, at room temperature
Salt and freshly ground pepper
1 cup fresh or thawed frozen peas
1 cup grated Fontina Valle d'Aosta
⅓ cup freshly grated Parmigiano-Reggiano
Preparation:

Cut the tips off the asparagus and set them aside. Chop the asparagus stalks into ½-inch pieces.
In a medium saucepan, bring the broth just to a simmer over medium heat. Turn the heat to low to keep warm.
In a large wide saucepan, melt the butter with the olive oil over medium heat. Add the onion and cook until lightly golden, about 8 minutes. Stir in the scallions and cook for 1 minute. Add the rice and cook over medium high heat, stirring often with a wooden spoon for 3 minutes, or until the rice is hot and coated in oil and butter. Add wine and cook, stirring, until it has evaporated.
Add the warm broth about ½ cup at a time, stirring frequently after each addition and waiting until each one is almost absorbed before adding more. Regulate the heat so that the liquid remains at a simmer and the rice does not dry out. After about 10 minutes, stir in the asparagus stems and continue cooking and adding broth. If you run out of liquid before the rice is done, add warm water. Season to taste with salt and pepper. When the risotto is almost ready it will be firm yet tender to the bite and look creamy, when it's done-16 to 18minutes, stir in the asparagus tips and peas. Cook for 2 minutes more
Stir in the cheeses and let stand for 1 minute, then spoon the risotto into shallow bowls and serve.
Source: The Italian Vegetable Cookbook by Michelle Scicolone

Photo Information: Canon T2i, EFS 60mm Macro Lens, F/4 for1/30th second at ISO‑125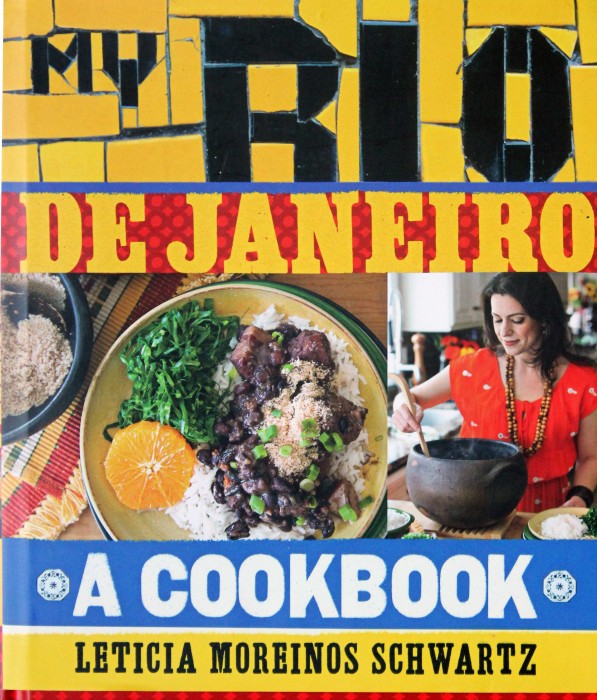 I had intended to review this book a few weeks ago. I was going to time the review to match Brazil winning the World Cup in soccer. And then there was that match with Germany. I was making cookies with my grandson. We turned off the television in one room and moved to another room to watch the bloody end. In those two minutes, Germany scored two more goals.
I put my copy of My Rio De Janeiro aside. To pause, to mourn, and certainly to forget.
It's a new day. Time to talk about this wonderful book based on the complexities that can only be found in Rio de Janeiro. Author, and cooking teacher, Leticia Moreinos Schwartz was born in Rio and now lives in Connecticut. The beaches are different.
As a tribute to her home town, in My Rio she takes you on a culinary journey through the neighborhoods that are woven into a great, world-class city. Brazil is famed for is incredibly rich blend of people and cultures. And cuisines. It's an "over-the-top" country and the food reflects that enthusiasm. Recipe titles are long, the ingredients many, and the flavors embody the full array of tropical delights so easily found in Rio markets and streets.
Beyond recipes, Leticia offers insights into the people and ingredients that are Rio. The photographs — of food, people, and places — depict the warmth of the dishes, the happy smiles, the sunny venues that make Rio a destination we all secretly crave to "someday" visit. Her My Rio tour includes a list of the best in farmers markets, still another incentive to reach for your passport.
You'll find beverages here:
The classic Caipirinha made with cachaça
Papaya and Orange Smoothie, best made with small papayas filled with Brazilian sun
Pineapple and Mint Smoothie
With all that Portuguese influence, Brazil and Rio cannot escape the temptation of tapas:
Deep-Fried Beef Empanadas
Garlic and Cilantro Soup with Poach Eggs and Croutons
A city on the sea will of course offer an abundance of seafood treats, often with European origins:
Shrimp and Cheese Turnovers
Baked Salt Cod with Potatoes, Onions, Eggs, and Olives
Shrimp and Butternut Squash Risotto
Wild Striped Bass with Caramelized Bananas and Golden Raisin Sauce
Shrimp, Mussel, and Squid Soup with Shredded White Fish and Fresh Parsley
Farfalle with Salmon and Caipirinha Sauce [you eat it as well as drink it!]
Meats, especially for a country next to Argentina and with immigrants from around the world, are not forgotten:
Steak with Fried Garlic served with Rice and Potatoes
Brazilian-Style Veal Stroganoff
Slow-Roasted Pork Ribs with Guava Sauce
Poultry comes with ideas inspired by recipes and ingredients from around the world:
Brazilian-Style Fried Chicken marinated in lime juice and beer
Duck and Yucca Shepard's Pie
Chicken and Chorizo over Jasmine Rice
Rio's neighborhoods include the rich and then the no so rich where a basic recipe can still be turned into a treasured meal:
Brazilian Black Beat Stew with ham hock, pancetta, and sausage
Creamy Cheese Spinach Pie with a crust made of Ritz crackers
Black Bean and Sausage Soup
Fresh Peas with Sunny-Side Up Eggs and Sausage
Tropical cuisines have a special knack for sweet endings. In My Rio you can encounter:
Coconut Layer Cake with Coconut Pastry Cream and Meringue Frosting
Chocolate-Covered Honey Breads with Dulce de Leche Filling
Passion Fruit Mousse
Roulade with Orange-Caramel Sauce
Brie and Apricot Crepes
Suzen and I have cooked from this book and you'll soon see some results posted here. In a phrase: homey, yummy, gotta-have-seconds. We have yet to tackle that wild bass with caramelized bananas, but it's a sure bet for a dinner party. The Brie and Apricot Crepes, well, I don't really know if they are dessert or appetizer. And I don't care. I don't have to care. Why?
Because it's Rio, lovely, extravagant Rio. And now My Rio can be yours.