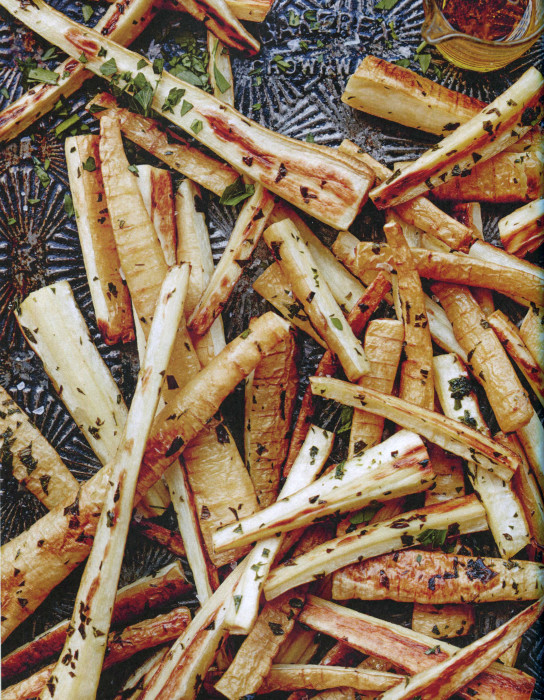 I recently posted a review of Eat Drink Shine, from authors who are triplets and who share the Shine restaurant in Boulder. They strike a great balance in this book, offering healthy ideas, without sacrificing culinary happiness. And the book has bright ideas to expand your recipe repertoire. Try these parsnip fries as alternative to regular or sweet potatoes. Parsnips have a friendly, earthy flavor that you just may find to be your favorite.
The Emich sisters suggest you serve these with ranch dressing, arugula sunflower pesto, or homemade mayonnaise.
---
Parsnip Fries

Yield: serves 4-6

Ingredients:

3 tablespoons extra-virgin olive oil
2 tablespoon chopped fresh parsley
8 medium parsnips, peeled and cut into fries
Sea salt to taste
Truffle oil for drizzling [optional]
Preparation:

Preheat the oven to 400°F.
Whisk together the olive oil and parsley in a mixing bowl. Add the parsnip fries, toss to coat, and season with salt.
Spread the fries out on a large baking sheet. Bake for 15 minutes, or until the fries are lightly browned on one side.
Remove from the oven flip the fries over with a large spatula. Increase the oven temperature to 450°F. Bake for an additional 5 minutes until crispy and lightly browned on both sides.
Serve hot drizzled with truffle oil, if using, or with your favorite dipping sauce.
---
Source: Eat Drink Shine by Jennifer, Jessica, and Jill Emich [Kyle, 2016]