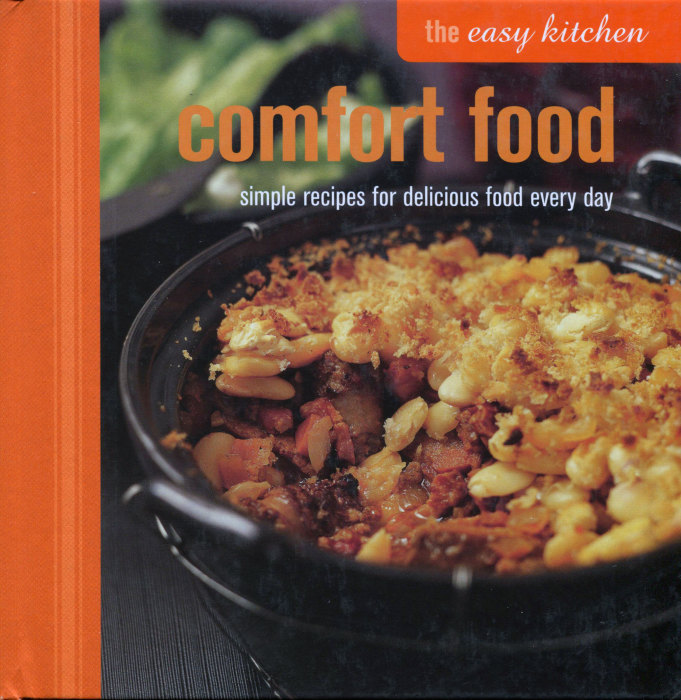 This is the time of year when we often talk about feasts, holiday feasts. But, not every day is a holiday. Or can be. Nor would we want it to be.
You can get "fooded" out this time of year. Yet, after a day or two of soup and salad — perhaps an early New Year's Resolution? — we return to wanting a good, comforting meal. Comfort foods are those recipes we make at home that make us think of home, feel of home, feel part of that warm kitchen.
The staff at Ryland Peters & Small have just the book for you, one appropriately titled Comfort Food. It's filled with dishes you can make at home, on weekends or weeknights. Most of the recipes are simple to assemble and can be left to simmer or roast while you tend to the immediate chores of the hour: some snow to deal, homework to prod and help on, or just a glass of wine that needs care and feeding. Well, care and drinking actually.
Comfort Food has some of the standard fare you would expect and actually need: mac 'n' cheese, for example. But this tidy, tasty book has recipes from around the globe: India, Morocco, Mexico, and Southeast Asia. You are sure to raise your comfort level by browsing through and then cooking from Comfort Food.
Because the publisher is British, the comfort food here thankfully includes pie ideas and some curries to blow away winter cold. Here's a sample of the recipes you will find in Comfort Food:
Soups: Roast Chicken with Garlic and Watercress, Split Pea and Sausage, Parsnip with Chorizo and Chestnuts, Vietnamese Beef Pho
Hearty Snacks: Baked Fish and Chips with Butter-Fried Breadcrumbs, Pepper Beef Quesadilla, Cajun-Spiced Souffled Baked Potatoes
Rice and Noodles: Wild Mushroom and Leek Risotto, Bowl of Red [meat, that is, with chilies galore], Beef Chow Mein
Pies and Oven Baked Treats: Bacon Egg and Parsley Pie, Butternut Squash and Cornbread Pudding, Root Vegetable Gratin, Mashed Potato Pie with Bacon and Leeks and Cheese
Curries and Stews: Asian Beef Braise with Boy Choy, Lamb and Bean Tagine with Buttered Couscous, Vietnamese Chicken Curry
Roasts: Sweet Chili-Glazed Ham; Slow Roasted Pork Loin with Rosemary, Madeira and Orange, Slow Cooked Spiced Pork Belly with Apple and Fennel
You know, some of these dishes do sound like feasts, don't they? That last one, the pork belly with apple and fennel could adorn any holiday table with grace. But, of all these, I must say I'm first attracted to the Mashed Potato Pie with Bacon and Leek and Cheese.
These recipe ideas are for your consideration and consideration is surely the word to use. These are considered recipes, well developed and designed to provide just what the book title says: comfort food. A good comfort dish has to have something extra, something special, perhaps something extra special. It has to, from the first bite, make you aware and begin that addictive process that will have you return again and again to this recipe.
Comfort Food is filled with those ideas. Time to fill your tummy.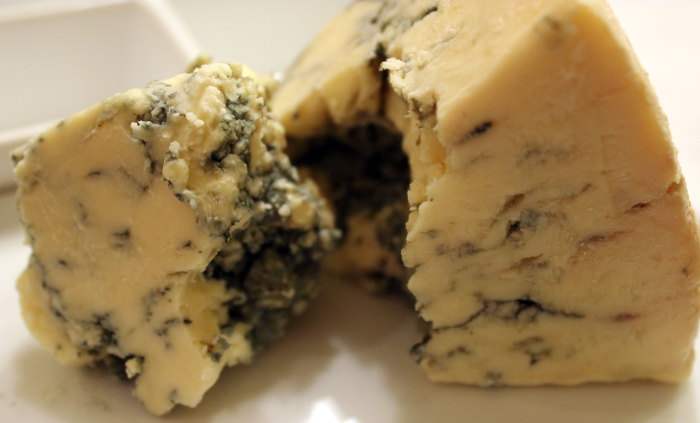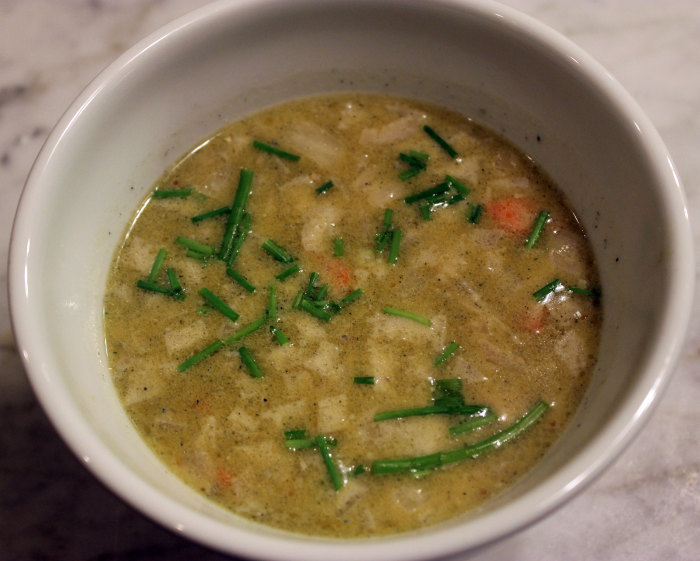 Not all blue cheeses are created equal. Some, which I shall not name, are harsh. There is no other way to say it. That fungal aroma assaults your mouth, lodges in the upper throat, and refuses to go away — no matter how much wine you consume.
While I do appreciate a pungent blue as much as the next person, there are times when a little subtlety is appreciated. Stilton, a name we all recognize, is just such a marvelous blue. You taste that hearty "blue" flavor but it does not overpower you or your taste buds. It's just blue enough.
There actually is a website for Stilton:
http://www.stiltoncheese.co.uk/
There you will learn that Stilton can only be made in three counties located in the heart of Great Britain. Local, pasteurized milk has to be used. The shape of the cheese is fixed, the aging process strictly set. And those distinctive blue veins must, as the top picture shows, must radiate outward from the very center of the cheese.
There are many ways to use Stilton — much beyond cheese and crackers! One very British way is to serve a Stilton soup, often with cauliflower. From the new book Edwardian Cooking, here is a Stilton Chowder offering Stilton flavor tempered with sautéed veggies.
Be oh so careful when making this soup. It cannot boil. None of it can boil, or the creaminess is lost.
What is the taste? Stilton for sure, but that quiet, dignified Stilton flavor. Plus the notes of onions, carrot, and celery with the richness of stock and milk. This soup is not thick, but it tastes hearty. In a large bowl, it can be a meal unto itself. A cup of this soup and a salad are complete lunch or dinner.
On the side, white wine, cold and rich. Stilton is, after all, a regal cheese.
---
Stilton Chowder

Yield: serves 4

Ingredients:

¼ cup butter
1 yellow onion, chopped
1 carrot, peeled and chopped
1 stalk celery, chopped
1 bay leaf
¼ cup flour
3 cups chicken stock
2 cups milk
½ pound Stilton cheese
Chives or herbs for garnish, optional
Preparation:

In a medium saucepan, melt the butter over medium heat. Add the onion, carrot, celery, and bay leaf and sauté 5 minutes.
Stir in the flour until well combined.
Stir in the stock and milk until smooth and thickened.
Stir in the cheese and mustard and continue stirring until the cheese has melted and the soup is smooth.
Bring soup just to the point of a simmer. Do not let it come to a boil.
Ladle the soup into bowls and serve.
Source: Edwardian Cooking by Larry Edwards

Photo Information [top]: Canon T2i, 18-55mm Macro Lens, f/4.5, 1/50th second, ISO-1600

Photo Information [bottom]: Canon T2i, 18-55mm Macro Lens, f/4.5, 1/50th second, ISO-640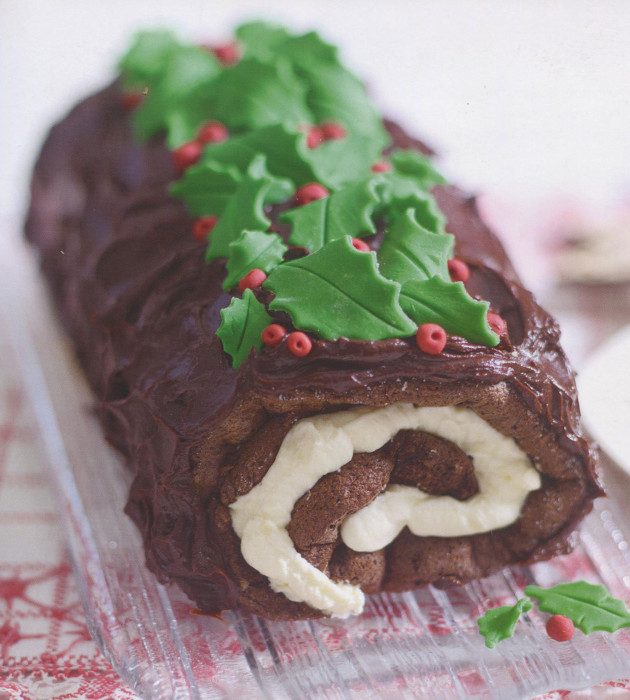 My Christmas memories center around two things: the Christmas tree and the Christmas Yule Log. That chocolate sponge cake filled with whipped cream and draped in frosting was the signature point of the Christmas table. By unwritten rule, this dessert would only appear at Christmas and the Fourth of July. Delicate and chilled it offered lovable flavors: bittersweet chocolate, cocoa with its lingering aftertaste and the bolt of sweetened whipped cream.
Sadly, few of us make Yule Logs and most of our experiences now are with store-bought versions that are often days old and just a tad stale. A Yule Log freshly made is not just a dessert. It is an experience. A glamorous end to an important day.
Making a Yule log should not be that hard, but it is something too many people shy away from. I know why. You have to make a sponge cake, and that involves steps and techniques that are not common in our kitchens any more. And, if you research sponge cake recipes, you are bound to be surprised if not overwhelmed. The basic ingredients are the same:
Whisked egg white
Whisked yolks
Sugar
Flour or, in this case, cocoa powder.
But how do you combine all these elements to get to the final cake batter? There is great variety in the techniques employed for sponge cake. For example, for the sugar,
The sugar is beaten equally with the yolk and the whites,
Or mostly with the yolk and a little with the whites
Or, the sugar is beaten only with the yolks
And for the flour/cocoa:
The flour/cocoa is sifted over the yolk mixture and folded
Or, the flour is shifted over the white and folded in with the yolks
If you start to read and compare several recipes, it can be confusing. What goes where and when? Most importantly: why? Do the different steps matter, matter that much? The last thing you want for your holiday table is a Yule Dud. In deciding what to do, it becomes too confusing for me. I want a simple recipe from a source I can trust. Retro Cakes and Cookies by Wendy Sweetser is just the guide I need, and the guide for you if a Yule Log is on your menu.
This recipe is the simplest set of steps, the simplest combinations of ingredients as you assemble the batter that I have found. Suzen and I will be baking away on Christmas Day, not just the turkey but our own fresh and wonderful Yule Log. If you try this recipe, you may find it becoming a tradition for you, too.
Oh, the decorations? We have a holly bush right in our back yard. For color and beauty, we adorn our log with real leaves but not the berries. The berries are poisonous, so do NOT use them for decoration on food. In water, in a vase, on the table for decoration. But not on the food surface ever. It's not a good Christmas tradition to visit the Emergency Room.
---
Christmas Yule Log

Yield: serves 8

Ingredients:

For the cake:

Oil for greasing
6 extra large eggs, separated
¼ cup superfine sugar
I teaspoon vanilla extract (essence)
½ cup (50g) cocoa powder
For the filling:

1 ¼ cup heavy cream


3 tablespoons confectioners' sugar

For the chocolate frosting:

8 ounces bittersweet chocolate chopped
1 cup heavy cream
To Decorate:

Marzipan or sugar paste holly leaves and berries
Preparation:
Preheat the oven to 350°F. Lightly grease a 13 x 9-inch jelly roll pan and line with baking parchment.
To make the cake, put the egg yolks and sugar in a mixing bowl, and whisk until pale, thick, and creamy. Whisk in the vanilla, then sift in the cocoa powder, and fold in until evenly combined.
Whisk the egg whites in a clean, grease-free bowl, until standing in stiff peaks. Stir 1 tablespoon into the chocolate mixture to loosen it, before carefully folding in the remainder with a large metal spoon. It is important that there are no lumps of egg white left in the mixture, as these will prevent the sponge from baking evenly.
Pour the mixture into the pan, spreading it into the comers, and bake for 20 minutes, or until risen, and just firm to the touch. Turn out onto a sheet of clean baking parchment, remove the lining paper, and roll up from one short side with the parchment inside. Lift onto a wire rack and leave to cool completely.
To make the filling, whip the cream with the confectioners' (icing) sugar until thick. Unroll the sponge and spread the cream over it to within ½ inch of the edges, reserving a little cream to neaten the ends. Roll up again from one short side, and pipe or spread a swirl of cream to fill any gaps at each end.
To make the frosting (icing), put the chocolate in a bowl. Heat the cream in a heavy-based pan and as soon as it comes to a boil, pour it over the chocolate in the bowl. Leave until the chocolate has melted, then whisk or stir until smooth. Allow the frosting to cool and thicken, stirring occasionally.
Cover the log with the frosting, roughing it up to resemble tree bark, then decorate with marzipan or sugar paste holly leaves and berries.
Source: Retro Cakes and Cookies by Wendy Sweetser