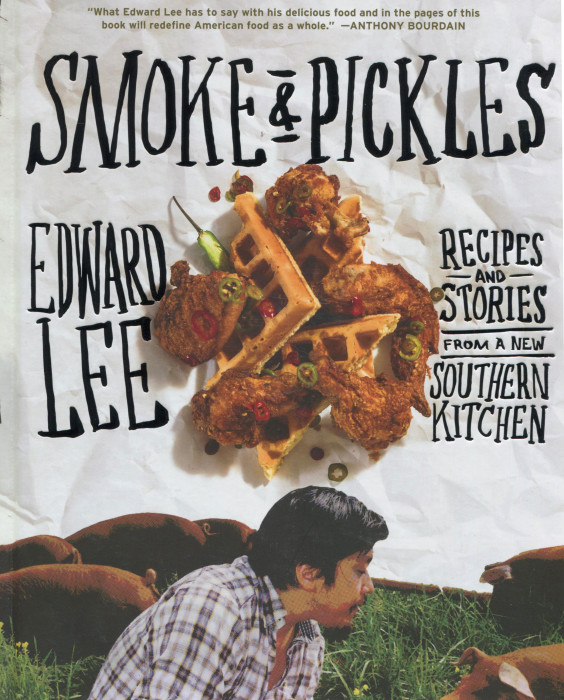 "Do you have this book?" my friends asked. It was my birthday recently and I can be a tough person to buy a cookbook for. Suzen and I have a sprawling collection and we are graciously sent review copies from publishers far and wide. So, typically, if someone gives me a cookbook, I do already have it.
Not this one. I looked up from my piece of chocolate birthday cake, what else, and double checked the book cover again. Yes, I had meant to get this book, Smoke & Pickles, but it had escaped me. Now, a year later, here it was for me to survey.
Author Edward Lee begins each chapter with a couple of rice recipes — for reasons I'll explain. But in Chapter One the first two big recipes are Orange Lamb-Liver Pate and Darkly Braised Lamb Shoulder. I knew, immediately, that this would prove to be an exceptional cookbook.
Edward Lee grew up in Brooklyn to Korean parents who worked very hard in the sweatshops of the Garment District in Manhattan. How hard? When they regularly worked the weekends, they brought Edward and his sister to the shop. The parents labored, the kids explored. At home, they ate rice. On these Manhattan weekends, they scoped out the city for food. Mom never made gyros, for example, but there gyros right on the block housing that sweat shop.
For Edward, it was impossible not to fall in love with food. He became a chef, and expanded his skills by cooking and eating his way through France. He would work, learn, take the money, have a great meal, and then begin all over again in another restaurant in another town. Where does someone like that end up? Louisville, Kentucky as the chef/owner of 610 Magnolia, where he has earned nationwide fame.
What happens when you take Asian background, add French training and then suspend the chef in the American South? There's a lot of meat in this book: pork, beef, lamb. And there's a great assembly of ingredients: American and Asian, subtle and spicy, pantry favorites and probably some items you'll need to go shopping for.
Here's the ingredient list for his mahogany colored Darkly Braised Lamb Shoulder:
Kosher salt
Freshly ground black pepper
Lamb shoulder roast
Canola oil
Chopped onions, carrots and celery
Garlic
Button mushrooms
Jalapeno pepper
Bourbon, ketchup and soy sauce
Balsamic vinegar
Sorghum
Black bean paste
Bittersweet chocolate,
Chicken stock
I simply defy you to find another recipe using bourbon + soy sauce + jalapeno + sorghum + black bean paste + chocolate .Edward has traveled the world and in this recipe, and so many of his others, a sampling of the world is combined to create an experience that is hard to label. American? Asian? French? No, I think it is best to call these Lee-recipes, just masterful amalgams of the unexpected, the unanticipated.
I suppose the Asian influence from his childhood has the deepest penetration here. You see spices applied left-and-right while the sweet and the sour are carefully balanced. For your next Easter, you may want his Tarmarind-Strawberry Glazed Ham. Or you could serve his Cinnamon Honey Roast Leg of Lamb.
Or, you could ignore the calendar and tradition and just make one of these now.
Not up for ham or lamb? There's the Braised Brisket with Bourbon-Peach Glaze.
Yes, bourbon does play a role in many of these recipes. Fortunately, Louisville is in Kentucky and bourbon — serious, dark and great bourbon — is always just a few steps away. I've already posted Edward's Bourbon-Ginger Glazed Carrots that were the hit for our last Easter meal.
The typical recipe here will not overwhelm you too many flavors, but surely you are going to be flavor sated. Most of the recipes have that long list of ingredients, and you may find yourself in search of that bean paste or sorghum. Don't compromise. Get everything the man says you need for his wonders. It's not the time to shortchange yourself.
The book offers separate chapters for lamb, beef, poultry, pig and seafood. Plus, given that the man has kimchi in his genes, there is a serious chapter on pickles, one on veggies, and one called Bourbon and Bar Snacks. Ah, there's one more chapter called Buttermilk and Karaoke. That's where you'll find the desserts, ones heavily influenced by the South. Desserts like his Whiskey Ginger Cake, where grated ginger, coconut milk, and buttermilk fashion the cake, while cream cheese, butter, lots of powdered sugar, and lots of whiskey form the frosting.
Yes, whiskey. He does not use bourbon in every dish. The man trained in France.
If you are close to Louisville, Kentucky, you want to experience 610 Magnolia, which advertises American cuisine with global influences. In the meantime, no matter where you live, you can experience Smoke & Pickles.