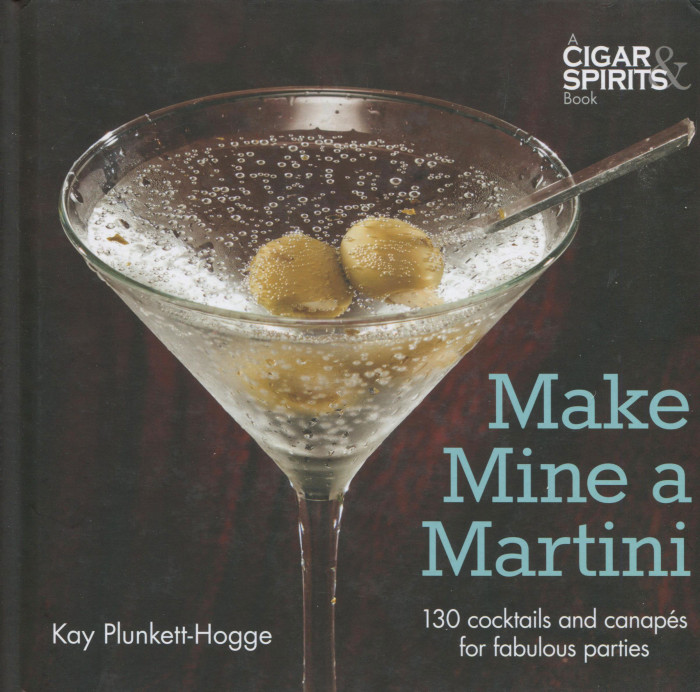 The good news is that there are great, classic martini recipes in Make Mine a Martini. The better news is that the book goes far beyond mere martinis.
Oh, have I offended? Do you view martinis as the ultimate drink, the only drink? I understand. I watched those first James Bond films, too, and I wanted mine shaken and not stirred. Although here, author Kay Plunkett-Hogge does explain that shaking a drink can chip off little pieces of ice that affect the ultimate flavor while stirring is the safer route to a superior martini.
That's one of the insights that make this a very good cocktail book for you to consider. This actually is a cocktail party cookbook. Even experienced cooks, like my wife, can be a tad nervous when offering up a dinner party. How do you begin it? What beverages, what foods to start with. We often put all our time and attention into the main course and then, at the last hour, begin to worry about how the entire evening will begin.
That's where Make Mine a Martini comes into play. Here, you have an array of beverage ideas, mostly classic but with some new ideas, paired with an extensive, excellent assortment of app ideas.
All the classic cocktails here: martinis, margarita, Cosmos, … The entire set. And, the drinks are arranged with interesting side bars and comparisons. What's the difference between The Gin Fizz and The Tom Collins? Same ingredients actually, but different techniques to achieve a different cocktail.
Beyond the classics, assembled from bars around the world, there are some new ideas you'll want to try. There is The Fine & Dandy: lemon juice, Cointreau, gin and bitters. The cocktail is a brilliant yellow offering of sophisticated flavor. I'm posting the recipe later this week.
You enjoy drink avocado? Yes, drinking. That is not a typo. From mixologist Julin Cox in LA there is The Avocado Project: rum, lime juice, agave nectar, and sweetened avocado puree. That puree is avocado, agave and more lime juice. My wife and I are ripening avocados now to try this out.
Where I think this book shines is its vast array of food ideas for cocktail apps. They are grouped by cuisines type, so you can find, say, an Asian Platter of ideas: Quick Curry Puffs, Asian Scallops, Thai Fish Cakes with Cucumber Pickle, Vietnamese Summer Rolls, and Thai Peanut Brittle Dipping Sauce. There you go, an incredible spread of tasty ideas, all packaged and ready for you to supercharge your cocktail party.
If you stress over your cocktail parties, this book is better than a bottle of Valium. Seriously, Make Mine a Martini makes your life blissfully tranquil.
The book is filled with excellent photos that are appealing and, yes, totally appetizing. It's a great book for party novices. And even for nervous pros. I know. Our next cocktail party, we may do this Asian portfolio, but the French-Trimmed Lamb Cutlets with Salsa Verde is hard to resist.