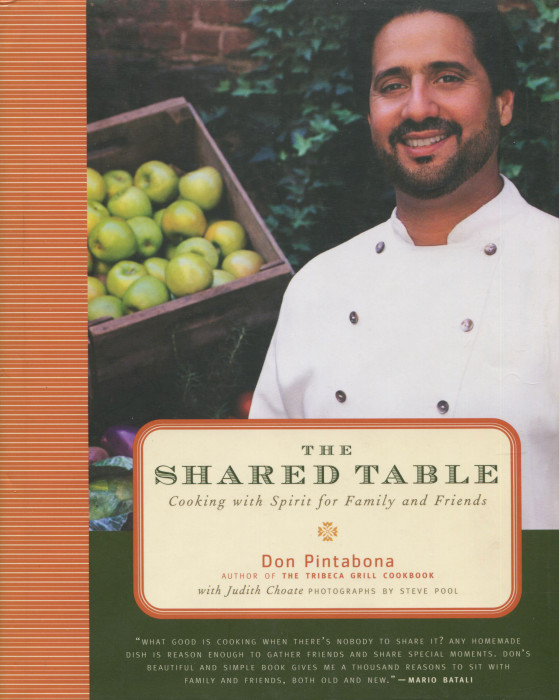 In less than four weeks, we will have the next Super Bowl where Green Bay will defeat the Patriots. Trust me. You can bet on it. I have.
For Super Bowl events, we tend to stock up on nachos and chips and chicken wings. What if you want something "more" something this is actually a bit elegant?
There is no better place to look than The Shared Table by famed chef Don Pintabona. The first chef at The Tribeca Grill, he's written books and opened restaurants and markets across the country. He was a chef hero in the aftermath of 9/11, a leader in the effort to provide great food for the workers on "the pile."
This book is an amalgam of recipes from Don's restaurant world and from his world travels. There are Italian family classics and shining examples of dishes that made The Tribeca Grill so outstanding under his leadership.
The recipes are big, designed for 6 or more people. And they are easily scalable to support 12 or 24. Just what you need for a super party.
If you want a party-specific dish, then Don offers Warm Poppy Crisps with Red Wine-Shallot Marmalade and Sesame Beef with Ginger Plum Sauce. Those two recipes are designed for 28-30 people. And those recipes are so sticky good that you'll probably want to double them anyway.
What other signature dishes are to be found here? Well, you will encounter:
Homemade Gravlax with Mustard Sauce

Bruschetta of Preserved tuna, Anchovies, and Caper

Foie-Gras-Stuffed Figs with White Truffle Honey

Eggplant Cured in Lemon

Singapore Spicy Curly Noodles

Turkey Meat Loaf with Cranberry Glaze

Artichoke Bottoms Stuffed with Veal

Blue Crab Sauce for Pasta

Monterey Jack Spoon Bread

The Very Best Brownies
Ah, those brownies. Yes, they are unmatched. And they have a secret ingredient: Wondra Flour. I know, that Wondra sits on your shelf only for making gravy. Not anymore.
There is class and style on every page, in every recipe. Don's subtitle to The Shared Table is Cooking with Spirit for Family and Friends. Share away. Everyone will smile.