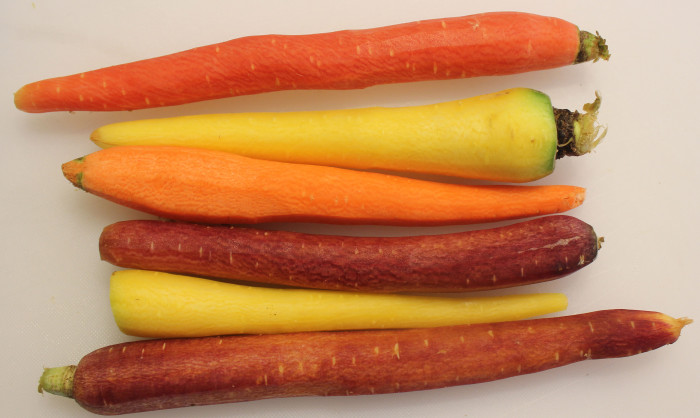 Carrots. What to do with carrots. Too often with our veggies we go simple. A little roasting or pan frying. Some sugar, salt, or vinegar and the veggies appear on our plate.
In The Broad Fork, author Hugh Acheson suggest that you can employ veggies in vibrantly distinct recipes. Carrots, for example, are appearing now in our famers markets and we have months of color, and flavor, before us.
This soup is not a five-minute knockoff. It's a serious recipe that will take some time and has a number of ingredients. Here, the sweetness of carrots marries the acidity of yogurt plus the tang of jalapeno and gloss of maple syrup. This is a recipe that you can use year round, but I think summer, with the carrots rich from the sun, is the perfect time to enjoy this recipe.
And, of course, you can play with this recipe, toying with relative proportions or adding ingredients that you find enchanting.
---
Carrot Soup with Brown Butter, Pecans and Yogurt

Yield: 4-6 servings

Ingredients:

1 pound carrots 4
4 tablespoons unsalted butter
1 medium yellow onion, minced
2 sprigs fresh thyme
1 red jalapeno, minced
2 tablespoons ground sesame seeds (not tahini—pulse them in a food processor or spice grinder)
1 quart chicken stock
Kosher salt
½ cup plus 2 tablespoons plain Greek yogurt
¼ cup crushed pecans
1 tablespoon sherry vinegar
2 tablespoons chopped carrot tops
Maple syrup, to taste
Preparation:

Peel the carrots and cut 1 carrot into very thin rounds. Cut the rest of the carrots into ½‑inch pieces.
Melt 2 tablespoons of the butter in a medium saucepan over medium heat. Add the onion and cook, stirring occasionally, until soft, about 10 minutes. Add the thyme sprigs, jalapeno, sesame, and ½-inch cut carrots. Cook for 10 more minutes, stirring occasionally, and then add the stock and kosher salt to taste. Bring to a boil, reduce the heat, and simmer until the carrots are very tender, about 15 minutes. Remove from the heat and remove the thyme sprigs.
Puree the carrot mixture in a blender, taking care to secure the lid. Pour the soup back into the saucepan, stir in the ½ cup yogurt, adjust the seasoning with salt, and place the lid on it to keep it warm.
Melt the remaining 2 tablespoons butter in a small sauté pan over medium-high heat, and cook until the solids begin to brown. Add the pecans. Toss and toast for about 1 minute, and then remove from the heat and add the vinegar.
Serve the soup in bowls. Dollop each serving with the remaining yogurt and the pecan brown butter, sprinkle with the carrot tops and coins, and finish with a drizzle of maple syrup.
---
Source: The Broad Fork by Hugh Acheson [Clarkson Potter, 2015]