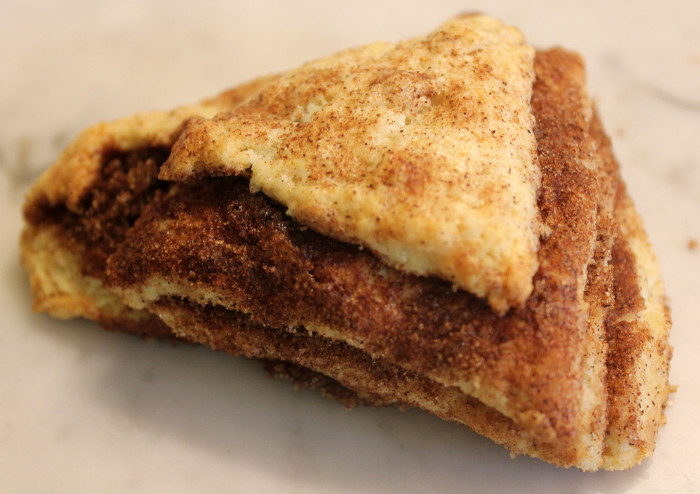 They are there. And they are not moving. Last night's rain has weighed down the falling leaves and a rake, not the wind, will be the solution to a messy looking yard.
Before you go outside, something warm and sweet would give you just the incentive needed to put on gloves and start swinging that rake. These scones are lovely. Easy to make, because they come from One Bowl Baking, they are soft, rich, and permeated with cinnamon flavor.
Truth is, we double the amount of cinnamon sugar filling and used it both in the layers, as indicated in the recipes, and sprinkled on top. No butter, jam or other adornments are needed. A cup of espresso is a desirable mate.
These scones are a treat but save for just a day or two. So, having a second one before you venture outside is perfectly wise.
Cinnamon Sugar Scones

Yield: six 4-inch scones

Ingredients:

For the scones:
1 ¾ cups (8 ¾ ounces or 245 grams) all-purpose flour
3 tablespoons granulated sugar
1 tablespoon baking powder
½ teaspoon salt
8 tablespoons (4 ounces or 115 grams) unsalted butter, cold, cut into ½ inch cubes
¼ cup (60 mL) half-and-half, cold
1 large egg
For the filling:
2 tablespoons granulated sugar
2 teaspoons cinnamon
1 tablespoon granulated sugar to sprinkle on top
Preparation:

Place an oven rack in the middle position. Preheat the oven to 375°F (190°C). Line a sheet pan with parchment paper.
To make the batter, in a large bowl, combine the flour, sugar, baking powder, and salt. Cut the butter into the dry mixture until it resembles coarse cornmeal, but is not clumping up. Stir in the half-and-half and egg until combined.
To make and use the filling, roll out the dough on a lightly floured surface to a 10 x 6-inch rectangle. Sprinkle 1 tablespoon sugar and 1 teaspoon cinnamon over half of the rectangle, then fold it in half. Roll the dough out again into an 8 x 6-inch rectangle. Sprinkle the remaining tablespoon of sugar and teaspoon of cinnamon over half of the rectangle, then fold in half.
Pat the dough into a 6-inch circle and cut into 6 wedges. Evenly space the wedges on the pan, sprinkle with sugar, and bake until golden and just firm, 15 to 17 minutes.
Let the scones cool on the pan for 5 minutes, then transfer to a wire rack to cool. Serve warm or at room temperature.
Sources: One Bowl Baking by Yvonne Ruperti Photo Information: Canon T2i, EFS 60 mm Macro Lens, F/5.6 for 1/10th second at ISO-3200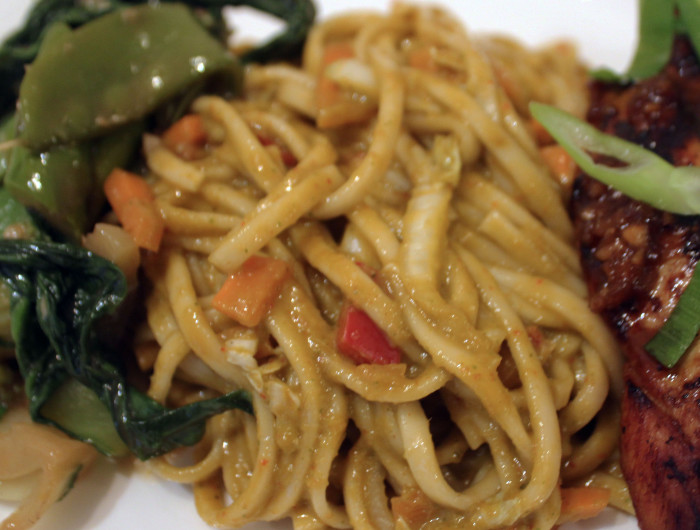 I am not being disparaging when I say this: Asian recipes can have a lot of ingredients. That's a complement and actually a statement of longing. American food culture is built around fast food. Not just McDonalds and Burger King. Look at the popular cookbooks and the television shows. In 30 minutes, they'll show you how to do three or four recipes for an entire meal. And often those recipes have just three or four or five ingredients.
Now, that kind of food can be fine, particularly for an American family on a weeknight when both Mom and Dad have just returned from the office. With their laptops and an evening of emails to work on.
But there are other cultures and there have been other times. And those other things are relentlessly capable of superior food. This Asian dish can only remind you of a mother or grandmother working away at home for hours to craft a meal of both substance and integrity. It might mean some time in the garden, weeding before selecting home grown vegetables. And, of course, the noodles would be handmade, not pulled from a cellophane package.
Suzen has served this dish fifty times over the past year. In her hands-on cooking events for teambuilding, the happiest group is the one working on these noodles. There is a delight in going through all these ingredients, smelling, sampling, and ultimately tasting the most lively results.
The original recipe below calls for snow peas and cabbage. Sometimes she does it that way, sometimes the veggies are left out of the noodles and served on the side, as you see in the picture above. For Suzen, and for me, it's all about the noodles, giving them a dashing flavor from chilies and lime juice fish sauce. Mitigated, of course, with just a little sugar and some coconut milk.
Lots of ingredients. Lots of flavors. A little time. No, I'm not asking you to weed the vegetable garden or even make the noodles by hand. But, do dawdle in the kitchen. Here, just enjoy the time spent creating a dish that is excitingly, even exotically different.
---
Red Curry Noodles

Yield: serves 4

Ingredients:

¼ cup vegetable oil
4 large garlic cloves, minced
3 large shallots, thinly sliced
3 Thai chiles, minced
3 stalks fresh lemongrass, inner bulbs only, thinly sliced
¼ cup fresh ginger, minced
2 tablespoons light brown sugar
2 tablespoons ground coriander
1 ½ cups unsweetened coconut milk
¼ cup fresh lime juice
¼ cup Asian fish sauce
Salt & freshly ground black pepper
1 cup snow peas [optional]
1 pounds thin dried Chinese egg noodles or 1 pound spaghetti or Dan Dan Noodles
1 small red bell pepper, very thinly sliced
1 cup Napa cabbage, chopped [optional]
½ cup carrot, shredded
Preparation:
In a large, deep skillet, heat the oil. Add the garlic, shallots, chiles, lemongrass and ginger and cook over moderate heat, stirring occasionally, until the aromatics are softened and golden, about 5 minutes. Add the brown sugar and coriander and cook until the sugar is melted, about 20 seconds. Add the coconut milk and simmer, stirring, for 2 minutes. Transfer to a food processor and blend until pureed. Blend in the lime juice and fish sauce. Scrape the sauce into a glass measuring cup and season with salt and pepper. Leave the skillet on the stove.
Bring a large pot of salted water to a boil. Add the snow peas and blanch until bright green, about 40 seconds. Using a slotted spoon, transfer them to a plate to cool. Add the noodles to the pot and cook, stirring, until al dente. Drain, reserving ¼ cup of the cooking water.
Add 1 cup of the curry sauce to the skillet and bring to a simmer over moderate heat. Add the noodles, snow peas, red pepper, cabbage and carrot and toss well to thoroughly coat the noodles with the sauce. Add some of the reserved cooking water if the noodles seem dry. Season with salt and pepper and serve right away.
Source: Chef Ming Tsai in Food and Wine, October 2003

Photo Information: Canon T2i, EFS 60mm Macro Lens, F/3.5 for1/30th second at ISO‑1000