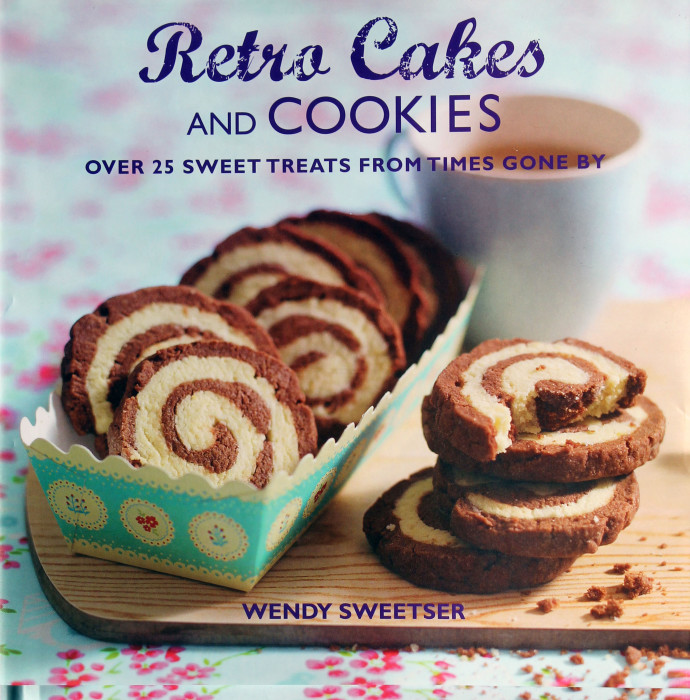 Good cookbooks often have one basic underlying theme:
New ideas from a great chef
Family heirlooms from one culture: Jewish, Turkish, French, …
Trends along one food vertical: vegetarian, poultry, …
Old and wonderfully classic
And sometimes, with cleverness, you will find a book that has wonderfully old and classic ideas presented to an audience that will see them as refreshingly new.
Retro Cakes and Cookies by Wendy Sweetser is another of those gem books from the publisher Ryland Peters & Small. This British book is about timeless classic from the homes of England, Scotland and Wales. There are 26 treats here. If you were reading this book in Britain, then most or even all of the recipes would be familiar and endearing.
But my eyes are American and I see these recipes very differently. Many of them I do not recognize and even the ones that have the "same name" are quite different in detail. This "small" book is big with ideas.
Retro Cakes and Cookies is a book to carefully browse and lazily sample and surely enjoy. The book has three chapters:
Small Cakes, Bars and Buns
Cookies and Other Treats
Large Cakes
That Small Cakes chapter begins with a recipe that is perfectly British in name and ingredients and that is perfectly unfamiliar to us here in the United States. The Maids of Honor are shells of puff pastry filled with cottage cheese flavored with lemon, milk, cream, raisins and, of course, sugar. Cottage cheese, you ask? Some patience and trust are in order here. The results will pay off.
There are Lemon Bars here, using a shortbread base that surprises: both flour and cornmeal are blended for a definitively different mouth appeal. You'll find Coconut Pyramids here, a very simple combination of sugar, egg whites, and grated coconut. This is a perfect recipe for kids in the kitchen.
The Cookies chapter offers classics you will recognize, like Snickerdoodles and Shortbread. But you need to dig deeper beyond the recipe titles. Compared to American versions, the cookies here have far more butter, less egg, less flour. Make these and you'll experience a new dimension in flavor. So, when you do make them, make sure you have richest butter you can find. That's the price of perfection.
The last chapter, Large Cakes, is appealingly filled with tall treats. The British classic, Coffee and Walnut Cake, has a cake batter laced with coffee and those walnuts. The buttercream has coffee, and the cake is finished with a scattering of nuts.
The Devil's Food Cake shows how different the "same" cake can be. In this version, bittersweet chocolate is used instead of cocoa, sour cream instead of milk or buttermilk, and brown sugar instead of white. This Devil's version is one that Suzen and I "must" try.
This chapter offers a Dundee Cake, a Scottish fruit cake that is wonderfully light and nutty, quite unlike many of those ponderous fruit cake you may have encountered. You know them: the paving stone cakes. Fortunately for us all, British bakers have spent centuries perfecting this and the other lovely recipes here in Retro Cakes and Cookies. Don't miss the opportunity to taste a whole new mouthful of classics.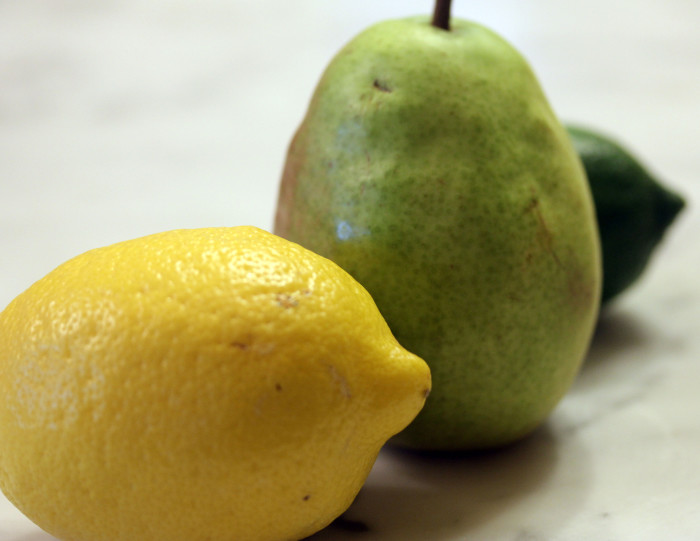 It's finally fall and your farmers market is abundant with the summer's bounty of fruit, particularly apples and pears. I have this love/hate relationship with pears that I don't think I can win. When good, a pear is the best fruit possible. Of course, a pear is at its peak for perhaps all of 90 minutes.
How to save that precious pear flavor? You can follow one of the many recipes to make pear vodka. Or, for these imbibing purposes, simply purchase a great pear vodka. And then concoct this lovely cocktail. The popular St.-Germain liqueur is matched with champagne, sugar, and lemon juice. This a lively beverage that will bubble over your tongue, the ideal accompaniment to a fall Sunday brunch. Sip and watch the falling leaves.
Pear Vodka, St. Germain and Champagne Cocktail
Yield: 1 cocktail
Ingredients:
Lemon slice
Superfine sugar
2 ounces pear vodka
2 ouces St. Germain elderflower liquor
Champagne
Preparation:
Use a wide-rimmed cocktail glass, a marigarita glass. Run the lemon slice around the edge, and then dip into the superfine sugar.
Place the vodka and St. Germain in a cocktail shaker filled with ice. Shake vigorously for 30 seconds. Pour into the rimmed glass and top with champagne.
For garnish, a lemon or lime slice is fine, or add a sprig of herb to complement the elderflower liquor.
Source: adapted from About.com
 Photo Information: Canon T2i, EFS Macro Lens 60mm, F/2.8, 1/80th second, ISO-800