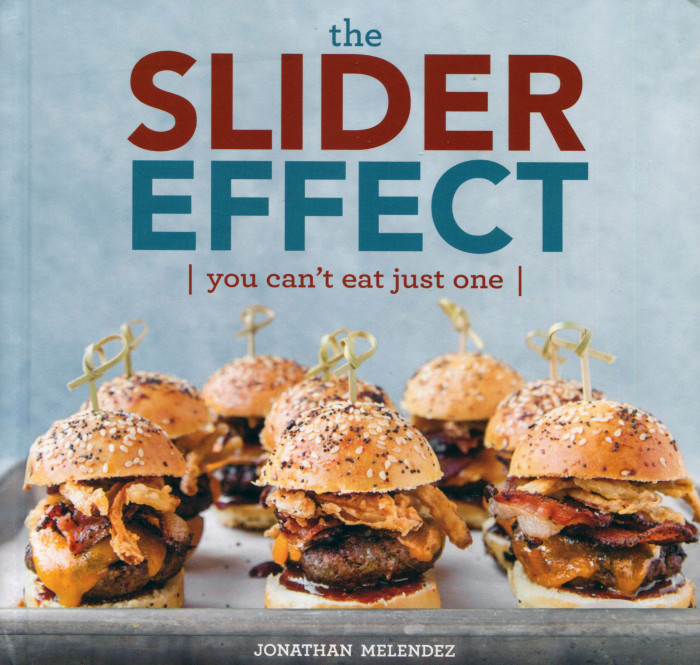 The first time I saw a slider, I thought it was a cute idea. And then I took the bite, the one big bite that got it all in my mouth at once, and I instantly knew what sliders were really all about. Rather than "fight" with your burger, unable to get it all in your mouth as the buns shift around and that slice of tomato shoots out and attacks your tablemate, rather than that struggle with gooey fingers, you just ingest the entire slider in one oversized bite. You immediately sample all the flavors at once, just as they were meant to be: the bun, the meat, pickles and tomatoes and other veggies, the sauce or sauces.
Sliders are the perfect marriage of American burgers with that wonderful tapas-bite-sized food concept. Now, the slider community is expanding. It ain't just burgers anymore.
In The Slider Effect author Jonathan Melendez travels around the world, down almost every possible pathway, to offer you slider ideas with impact and promise. About the only ingredient not put into sliders here is Mac and Cheese. But this book, so filled with ideas, may inspire you to craft your own Mac and Cheese slider, or maybe Volume 2 by Jonathan is already being written with a new round of even more outrageous combinations.
There are two major portions to this book. First, recipes for sliders using meat, poultry, seafood and vegetarian cores. Second, chapters for Buns, Rolls and Biscuits and for Sauces, Spreads and Condiments.
I actually think you should begin with those last two chapters, to get a survey of the key packaging and flavoring that will frame your slider.
Yes, a "slider" is made with a tiny hamburger bun except when it isn't. Except when that outside is:
Everything Bagel
Braided Challah Buns
Whole Wheat English Muffins
Waffle Buns
Black Pepper Buttermilk Biscuit
Pretzel Buns
Rosemary Parmesan Focaccia Buns
Crusty French Bread Rolls
Sweet Pineapple Hawaiian Rolls
Classic Potato Rolls
Baked Potato Buttermilk Biscuits
And while a standard sauce could be mayo or mustard or ketchup, what if you used:
Homemade Aioli: Roasted Garlic, Siracha, or Cilantro and Lime and Green Onion
Hummus
Spicy Pumpkin Chutney, Cajun Remoulade
Arugula Pumpkin Seed Pesto
Chimichurri
Buttermilk Ranch
Sweet and Spicy Strawberry-Rhubarb Tomato Ketchup
Thai Peanut Sauce
Now, imagine you are having a party. Imagine pitchers of sangria and margaritas and beer surrounding a few trays of different buns and different sauces. It's a slider party and it's a sure success whatever fillings you desire.
Oh, fillings. Those meat and poultry and seafood and veggie fillings? Here's a sample of what Jonathan suggests for you:
Chicken Fried Steak
Grilled Steak and Potato
Mediterranean Lamb
Vietnamese Banh Mi
Buttermilk Fried Chicken
Turkey Meatloaf
Roast Chicken Salad
Grilled Fish Taco
Salmon Cake
Shrimp Fajita
Roasted Beet
Fried Zucchini
Vegetable Tempura
Now, in some case Jonathan does have a specific combination of bun and sauce in mind but he does list alternatives and you are completely encouraged to mix and match. There are literally thousands of combinations available to you here in The Slider Effect, enough for a hundred slider parties to be sure.
The subtitle of this book is a phrase you know: You Can't Eat Just One. That's sure the truth. You won't want to stop with just one. And you won't want to stop with just one kind. This is a book to open, meander and experiment with. Don't worry how you start cooking. Just, just slide into it. One very open mouthful at a time.