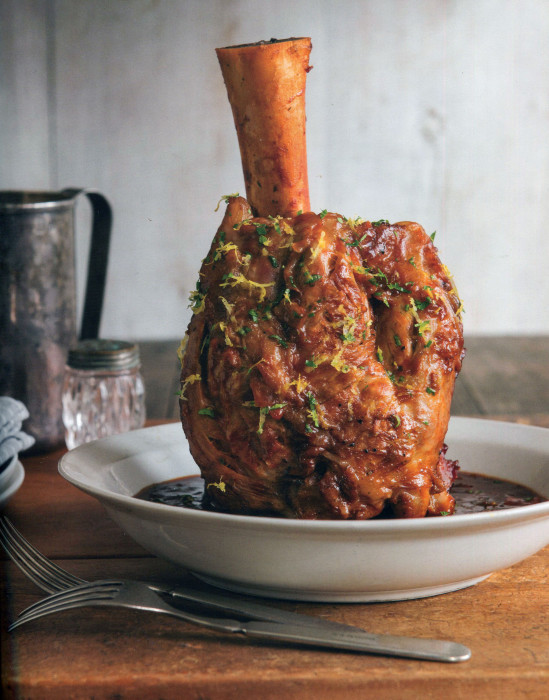 Famed butcher Pat LaFrieda has a marvelous new book Meat that combines information, education and wonderful recipes. This is the standard for meat books, the standard. Here's a link to my recent cookbook review:
http://www.cookingbythebook.com/cookbook-reviews/cookbook-review-meat-by-pat-lafrieda/
The homey recipes in Meat are definitely and truly Italian-American. The LaFrieda meat company is four generations old and meat has been the topic of work and of the table for almost a hundred years in that expanding housefhold.
This recipe, as you can see from the picture in the book, is one of those "ultimate" meat recipes that you might serve on a weekend night and certainly for a holiday. This is a classic dish, one Pat often makes. Rather than cut the shank into disks, here the entire shank is cooked whole and meat is carved off at the table. The dish has the striking presentation of, well, osso buco.
For the spring holidays, you might forgo that ham or lamb and serve this most elegant dish.
Oh, one note. When ordering a shank for this meal, be sure to request a hind shank which is considerably larger than a foreshank. If you cannot get a hindshank, use two hindshanks for four people.
---
Pat LaFrieda's Whole Shank Osso Buco

Yield: serves 4

Ingredients:

1 whole veal hind shank (about 3 ½ pounds), knuckle cut flat by the butcher; or 2 veal foreshanks (about 5 pounds)
2 teaspoons kosher salt plus more for seasoning
½ teaspoon freshly ground black pepper
All-purpose flour for dusting
¼ cup extra-virgin olive oil
1 large yellow onion, cut into ½-inch cubes
1 large carrot, cut into ½-inch cubes
1 stalk celery, cut into ½-inch cubes
4 cloves garlic, smashed
5 sprigs fresh thyme
2 strips orange zest (removed with a vegetable peeler)
1 sprig fresh rosemary
1 bay leaf
½ cup white wine
¼ cup tomato paste
6 to 8 cups veal or chicken stock, or as needed
2 tablespoons finely chopped fresh flat-leaf parsley leaves
1 lemon or ½ orange for zesting
Preparation:

Preheat the oven to 325°F.
Season the shank meat with the salt and pepper and dust it lightly with flour.
In a Dutch oven or other ovenproof pan just large enough to hold the shank (or shanks) resting on its side, heat the oil over medium-high heat until it slides easily in the pan, about 2 minutes. Add the shank(s) and sear until browned all over, about 15 minutes. Transfer the shank(s) to a plate. Add the onion, carrot, celery, and garlic to the pan you cooked the veal in. Season the vegetables with salt, stir to coat them with the oil, and cook until they begin to soften, about 10 minutes. Stir in the thyme, orange zest strips, rosemary, and bay leaf. Add the wine and cook until it reduces by half, 3 to 4 minutes. Add the tomato paste and cook for 4 or 5 minutes to caramelize it. Lay the shank in the pot (with the bone pointing to the side) and pour the stock around the meat, adding as much as needed so the liquid comes just to the top of the meat. Bring the liquid to a simmer over medium-high heat. Cover the pot with the lid (or cover it with foil if you're using a pan with no lid), put the pot in the oven, and roast until the meat is fork-tender and failing off the bone, about 3 hours. Let the shank cool in the braising liquid.
Remove the shank from the braising liquid and set it aside. Put the pot with the liquid on the stovetop and bring it to a boil over high heat. Reduce the heat to medium and simmer until the sauce is thick enough to coat the back of a spoon, about 15 minutes. Turn off the heat and stir in the parsley.
Put the veal shank on a platter with the bone standing straight up. Pour the sauce around it and zest the lemon (or orange) over and around the meat. To serve the shank, cut the meat down the length of the bone; it will begin to fall off in chunks.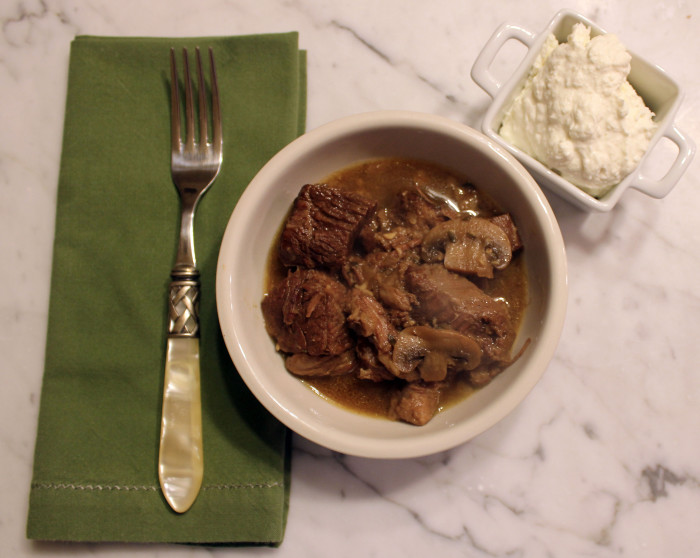 Yesterday's post was for Horseradish Cream:
http://www.cookingbythebook.com/recipes/horseradish-cream-from-curtis-stone-and-beyond/
The cream is a dream unto itself, useful in myriad ways atop proteins or salad. Heck, you can use it instead of mayo in that next roast beef sandwich.
But in Curtis Stone's newest book, Good Food, Good Life, this cream is the "frosting" atop the Porcini-Braised Beef. What is braising? It's slow cooking in hearty liquid that just covers the meat. I think of it in more military terms. Braising meat is like laying siege to city in medieval times. You take your time, you batter, you wear down, and ultimately you conquest.
Braising is idea for cheaper cuts of meat, like beef chuck roast. It's much cheaper than steak and it has a reputation for toughness. But, in this preparation, the beef is superb. It does, really and truly, fall apart in your mouth. Why not? It's been cooked for four hours in wine and beef broth. The toughness has literally been bled out of the meat and, particularly because of the mushrooms, flavor seems to have entered into every last molecule.
This was our first dish we prepared out of Good Food, Good Life and it was a happy and indulgent success.
We did not alter the recipe one single syllable. But next time, I could see adding some carrots, onions, or potatoes into the mix. Not for all four hours, say, but for the last 90 minutes for so. The broth from the braising is indulgently rich and deserves some vegetable accompaniment.
This dish is perfect for a busy weekend when you have things to do and your stovetop can carry the load, four hours at a time.
---
Porcini-Braised Beef with Horseradish Mascarpone

Yield: serves 6

Timing: prep for 20 minutes and cook for 4 hours

Ingredients:

½ ounce dried porcini mushrooms
1 3-pound beef chuck roast, cut into 8 large chunks
Kosher salt and freshly ground black pepper
3 tablespoons olive oil
1 cup dry white wine
3 cups low-sodium beef broth
1 pound white mushrooms, thickly sliced
4 shallots, sliced
8 garlic cloves, chopped 1 bunch fresh thyme
Horseradish Mascarpone (see the link above)
Preparation:

Preheat the oven to 300°F.
Using a clean coffee grinder or spice mill, grind the porcini mushrooms into a powder.
Heat a Dutch oven or other wide ovenproof pot over high heat. Season the beef with salt and pepper. Add the oil to the hot pot, then add the I beef, and cook, turning the meat occasionally, for about 10 minutes, or until well browned on all sides. Add the wine and stir to scrape up I any browned bits on the bottom of the pot, then add the broth, mushrooms, shallots, garlic, thyme, and porcini powder and bring to a simmer.
Cover the pot and place it in the oven. Braise the beef, turning the pieces of meat over halfway through the cooking, for 3 hours.
Uncover the pot and continue cooking the beef for about 1 hour, or until it is tender enough to pull apart with a spoon and the liquid has reduced by about one-third. Discard the thyme stems.
Transfer the beef to four shallow serving bowls, spoon the mushrooms and braising liquid over, and serve with the horseradish mascarpone.
Source: Curtis Stone Good Food, Good Life [Ballantine Books, 2015]

Photo Information [top picture]: Canon T2i, EFS 60 mm Macro Lens, F/4.5 for 1/30th second at ISO‑400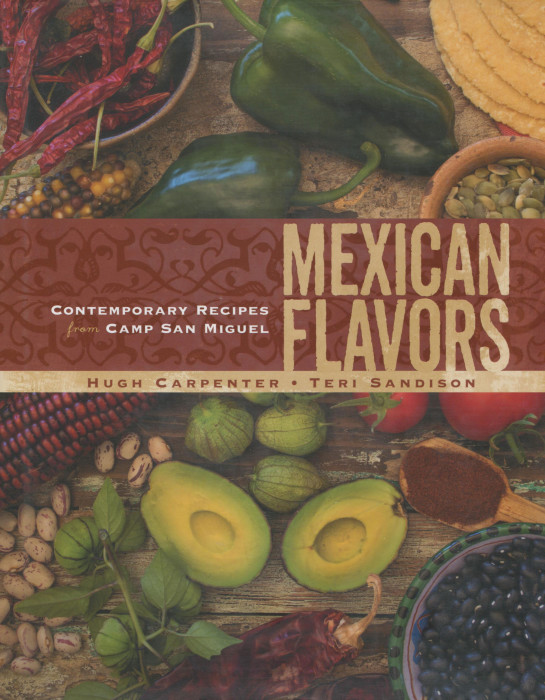 Here is a contmporary Mexican cookbook that is designed for you, the American home cook. Author Hugh Carpenter does the recipes and his wife Teri Sandison is the most accomplished photographer. Together, the couple have a renowned Napa Valley cooking school and fifteen cookbooks under their belts. Some of those books, The Great Wings Cookbook and Great Ribs, have been featured on this blog.
Hugh is an expert in Asian and Mexican cuisines. This book features his experiences based employing the specific cuisine of San Miguel de Allende, a UNESCO World Heritage Site north of Mexico City. Hugh and Teri teach there and have fallen in love with the flavors and recipes that complement cobblestone streets. This is heritage cuisine, refined over centuries with both native and Spanish influence and ingredients.
In this book, Hugh has captured the essence of those recipes and framed them using the language and techniques familiar to the American home cook. Mexican ingredients are now widely available to us. Hugh has written this book in terms that let us easily use our home kitchens, our own home equipment, to prepare flavors that resonate with authenticity.
The book begins with a chapter, Flavor Building Blocks, that is a Mexican market placed on the page. The discussion of ingredients here, particularly the chilies, is excellent. Have you ever seen a dozen chilies laid out in bins at the supermarket and been embarrassingly mystified? They don't all look the same, and that's part of the problem. Big, small, red, green, brown, black. It can be overwhelming. Read this chapter and the mystery may disappear. Or, like me, just take the book to your market and compare the lovely photos with the chilies in the bins. It's actual easy. If anyone stares at you, just stare back.
As with many cuisines, Mexican food is often layered with multiple ingredients and preparations being used as components for the ultimate dish. Chapter 2, Core Recipes, introduces the recipes that are foundations for completed dishes. Here you will find, for example, and quite naturally including:
Guacamole

Tomatillo Salsa

Banana Salsa with Four Variation

Ancho Chile Jam

Dry Rubs

Refried Beans
The remaining chapters of the book are where the pieces come together, chilies are applied, and Hugh's creative juices spill onto the page. His experience, his imagination, and Mexican heritage are blended into a phalanx of formidable flavors. Let's tour the chapters and see some of the outstanding ideas:
Gravlax Infused with Chiles, Cilantro and Tequila

Marinate Goat Cheese with Chiles and Mint

Shrimp Dumpling with Chile Cream Sauce

Quesadillas with Papaya and Brie
Four Beloved Country Foods
Sea Bass Tacos with Limes, Chilies and Guacamole

BBQ Chicken Tostados

Chile Rellenos with Goat Cheese, Pine Nut and Corn Filling

Red and Green Chicken Enchiladas
Salad Surprises and Complex-Tasting Soups
Caesar Salad with Chile Croutons

Avocado Salad with Seared Tuna

Serrano Gazpacho Served in Shot Glasses

Coconut-ancho Soup with Mushrooms
Shrimp with Chile-Tangerine Glaze

Mexican Seafood Risotto
Grilled Quail with Hibiscus Sauce

BBQ Pork in Yucatan Achiote Sauce

Rack of Lamb with Coffee, Chiles and Chocolate
Chocolate-Grand Marnier Sauce with Ancho Chile

Chocolate Fudge Tart with Hints of Chile

Fallen Kahlua Chocolate Cake with Strawberry Coulis
Cucumber Tea

Sangrita

Mexican Bloody Mary

Café de Olla
Hugh's recipes are, as you can see, inspired by Mexico but adorned with world flavors. The Papaya and Brie quesadillas, for example. Or the seafood risotto. Yet, you make any of these delights and you'll be craving a margarita and wishing you could actually hear the breezes rustling through the palm trees.
Hugh's food is exciting and colorful. This post ends with this vibrant picture of his Red and Green Chicken Enchiladas. In just over a month it will be Cinco de Mayo. You have time to buy Mexican Flavors, test recipes, and throw the best darn party of your life. From appetizers to drinks, this is a book to enjoy day by day, fiesta by fiesta.