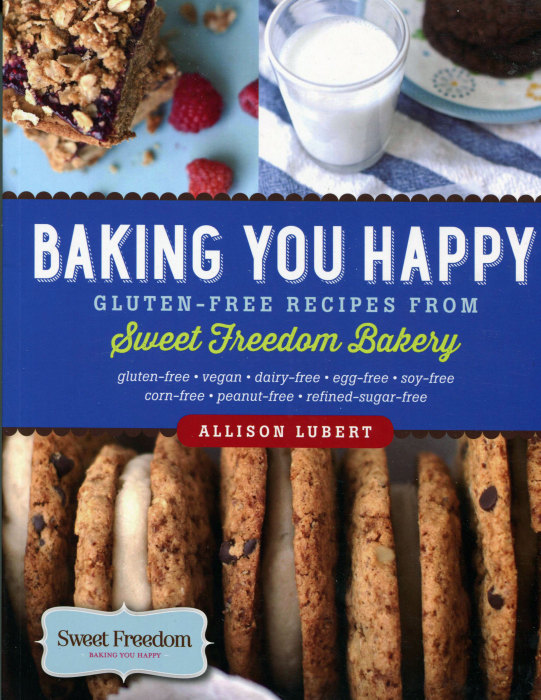 There is no question that more and more people have food issues, serious food issues. And, for reasons no one is certain about, the food allergies appear to be growing in terms of the numbers of people involved and the level of severity in the individual cases.
We know about kids and peanuts. Suzen works continually with the Celiac Disease Center at Columbia University Medical Center. There are semi-monthly events at Cooking by the Book where patients from Columbia come here to learn and to cook. How serious is the celiac problem? Look at the size of the gluten free section of your supermarket. It used to be a few feet, and now it is often an entire aisle.
There are other food allergies and preferences: vegan, dairy, eggs, soy, corn, and sugar. How do you accommodate someone who has many or even all these concerns? How do you make them dessert? Allison Lubert is a specialist in nutrition for these situations. She's a writer with this book Baking You Happy. And she's an entrepreneur with a bakery in Philadelphia where these recipes are offered to everyone, even people who don't have one single food issue.
Allison herself is allergic to wheat and dairy. So, she began experimenting in her home kitchen. What ingredients could she use? What techniques would work? And what kinds of dishes, including desserts, could she fashion? From that very personal experience, she has developed expertise that few others have.
There are recipes here for cookies, bars, cupcakes, frostings, sauces, glazes, muffins, coffee cakes, doughnuts, pies and even cinnamon rolls. The standards appear, like chocolate chip cookies. And there are special treats for holidays, like pumpkin spice loaf.
All of these recipes will satisfy someone with one or more of these food issues:
Wheat allergies [celiac]
Vegan preferences
Dairy-free needs
Egg-free needs
Soy-free needs
Corn-free needs
Peanut-free needs
Refined sugar avoidance.
So, what does she use in the recipes presented here? You'll find abundant use of:
Coconut milk and oil
Gluten free flour
Sorghum flour
Potato starch
Garbanzo-fava bean flour
Coconut sugar
Applesauce
Xanthan gum
Agave
Many of the ingredients here may be ones you have not used. But the lovely photographs and the fact that she has an ongoing bakery will tell you that from different beginnings there still come desserts that people enjoy. More importantly, desserts that people with issues can enjoy.
The recipes are very carefully written and organized. Ingredients are divided into groups for recipe steps, often labeled "wet" and "dry" ala Alton Brown. There may the three, four, five or up to six steps to combine those groups of ingredients and have something ready for the oven. The instructions are not complex at all. Rather, they are simple and direct: a sentence or two. Once you have managed to assemble all the raw ingredients on the table, you are really just a minutes away from having something ready to bake off.
If you have food issues, and particularly if you have multiple issues, then this is a book that, as it says, will be Baking You Happy.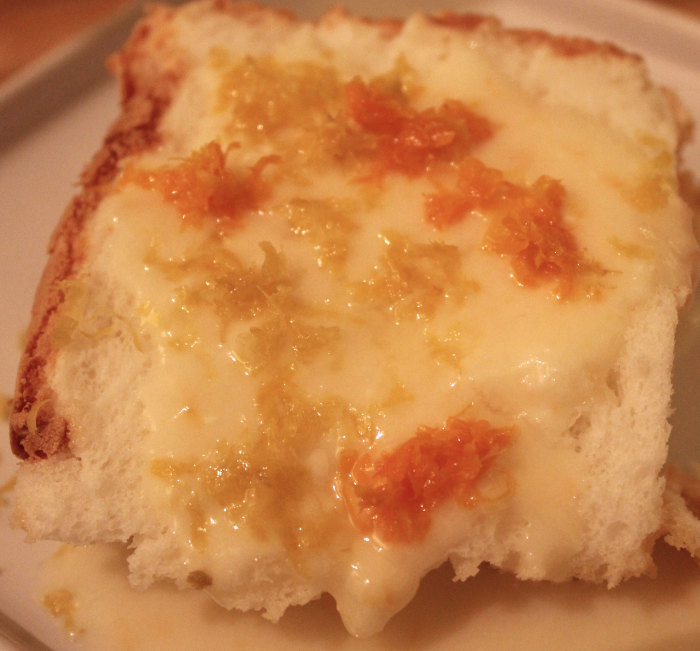 Last week I posted about a marvelous cookbook Sweets and Desserts from Middle East by Arto der Haroutunian:
http://www.cookingbythebook.com/uncategorized/cookbook-review-sweet-and-desserts-from-the-middle-east-by-arto-der-haroutunian/
The book has inspired me to go down byways I would never have considered. Like yogurt. I don't eat yogurt. I don't like yogurt. I won't try yogurt.
There have been times when Suzen was coaxing me to taste some, times when I really felt I was in the middle of tonsillectomy.
"You'll like it. Just swallow," she'll be saying, one hand holding a spoon deep in my mouth and the other hand cradling my heat to block the gaging reflex.
Browsing all the pages of Sweets and Desserts, I just was struck by how much yogurt is employed in Middle Eastern recipes. And, I know, humans have been eating the stuff for thousands of years. In my local supermarket, there is an entire wall-length refrigerator case devoted to a dozen competing brands and what seems to be a hundred competing flavors. I keep looking for someone to introduce spinach and foie gras as the "new" flavor of the month.
"Mommy, that one," a two year old was pointing on Saturday at something on the top row of that long case. If a two year old can brave yogurt, maybe I can.
And I did. Admittedly, I found a simple recipe. And admittedly, I was trying to find a way to enjoy some Angel Food Cake but avoid frosting. So I zeroed in on Yogurt with Honey [and Citrus]. And I have to say I may just become a yogurt convert. Honey is whisked with citrus juices and zest, then yogurt is added. The mixture is chilled until quite cold and then ready to use.
In the picture above, you'll see that I used extra orange and lemon juice to get a more liquid mixture to pour over the cake. And I added some extra clusters of zest for visual effect.
How does it taste? Well, the base is plain yogurt. There is sweetness but I could not readily identify the source as honey. And the citrus notes do penetrate. This was, I have to admit, as good as vanilla frosting. Even as good as chocolate.
I suppose I should apologize to my wife. I'm considering.
---
Yogurt with Honey [and Citrus]



Yield: serves 4-6

Ingredients:

¼ pint clear honey
1 teaspoon grated lemon rind
1 teaspoon grated orange rind
1 teaspoon orange juice
½ teaspoon lemon juice
1 ¼ pints plain yoghurt
Preparation:

Pour the honey into a mixing bowl, add the lemon and orange rind and beat until smooth. Add the juices and whisk until frothy. Add the yoghurt and stir until well blended. Chill before serving.
Photo Information: Canon T2i, EFS 60mm Macro Lens, F/4.5 for1/40th second at ISO 1600


So I wanted a cocktail, but something brightly, distinctively different. And I have those bottles, especially the ones almost filled and shoved to the back because after I used them once or twice, I could not figure out what else to do with them. Lack of imagination.
I saw this bottle labeled Tuaca and remembered I had originally bought it because it sounded so Mexican. I did not even read the details so blatantly obvious on the label: it's Italian, not Mexican. Uh, well, it was Italian and the recipe is still Italian but Tuaca is now made in Louisville, Kentucky. The world is strange.
Tuaca dates from the Renaissance and this liquor has a mild flavor reflecting its ingredients of brandy, orange and vanilla. Modern Tuaca was resurrected 1938 in the Tuscan seaside town of Livorno, a lovely place for any tourist seeking Tuscan cuisine with a view of endless blue sea. The Tuaca plant in Livorno closed in 2010 and all production is now in Louisville which is indeed closer to, but not part of, Mexico.
I do love the flavor of Tuaca but I was mystified about how to use it. In all such cases, what do I do? I go to:
where I can interactively search for cocktails using an amazing tool:
http://www.diffordsguide.com/cocktails/advanced-search
Here you find cocktail ideas by selecting:
By base spirit
By liqueur
By wine/vermouth
By mixer
By style
By bartender
It's just the best site on the web by a wide margin — or by a case if you measure in liquor terms. You can find cocktail ideas here and then, if you wish as I often do, amend them.
For Tuaca, the Giffords site suggested the Sophisticated Savage created by Paul Jensen. I was immediately intrigued because it combines Tuaca with Cachaҫa. Guess where my bottle of Cachaҫa was? Right there next to the Tuaca because my Cachaҫa repertoire had, to date, consisted only of Caiprinhas. I got a two for one thanks to Diffords!
I made the recipe as suggested and found it a tad formidable. So, I've added a little sugar syrup to mute the flavor, and I do prefer it. I've also doubled the amount of lime juice — because of the sugar. And the original recipe called for ½ of an egg white. I like foam. I used the entire egg white. As I said, you can use Giffords and follow the recipes religiously, or you can be inspired, creative and playful.
This is a lovely cocktail, sour + sweet, with plenty of oomph. It's an ideal match for appetizers with their own zip, say shrimp with cocktail sauce.
---
Sophisticated Savage Ala Brian

Yield: 1 cocktail

Ingredients:

2 shots Tuaca
2 shots Cachaҫa
1 shot lime juice
1 shot simple syrup
1 egg white
Preparation:

Place all the ingredients in a cocktails shaker filled with ice. Shake very, very vigorously to ensure the egg white foams. Pour into a chilled champagne flute and sip to your pleasure.
Source: Diffordsguide.com