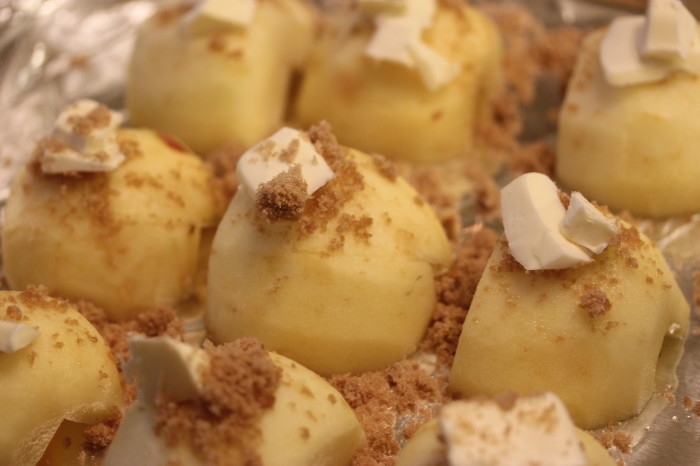 A fool is an English fruit dessert, typically berries in sweet custard [is there any other?]. Levi Roots in his new book Sweets offers a fall fool with a very different aspect. The berries are gone. The apples are in. Along with maple syrup.
Levi lives in Britain and grew up in Jamaica. He's created an all-American dish. The fool is soft, velvety and surely decadent. It does not photograph well, which is why I've shown the starting point above: the apple halves ready to be baked with butter and sugar.
You can, of course, make alterations like mad here. Add spices to the apples [cinnamon, nutmeg, …]. You add more or less booze and switch from rum to brandy or calvados or … You have idea. Now all you need are apples!
Roast Apple, Rum and Maple Fool
Yield: serves 8
Ingredients:
1 ¾ pounds cooking apples
2 ounces soft light brown sugar
1 ounce unsalted butter
9 fluid ounces whipping cream
7 ounces custard [crème anglaise]
3 tablespoons maple syrup, plus extra for drizzling
2 ½ tablespoons white or dark rum
Dried apple slices to serve
Preparation:
Preheat the oven to 400°F. Peel, core and halve the apples, then arrange them in a roasting pan lined with foil. Sprinkle over the sugar and dot with the butter. Bake for 30-40 minutes, or until the apples are completely soft.
Transfer the apples and any juice they released to a bowl and mash them using a fork.
Whip the cream to soft peaks.
Carefully fold the apple pulp, custard, maple syrup and rum into the whipped cream. Chill in the refrigerator until ready to serve.
To serve, spoon the fool into 8 serving bowl or glasses, drizzle with maple syrup and top with dried apple slices.
Source: Sweets by Levi Roots
Photo Information: Canon T2i, 18-55MM Macro Lens, F/2.8, 1/100 second, ISO 640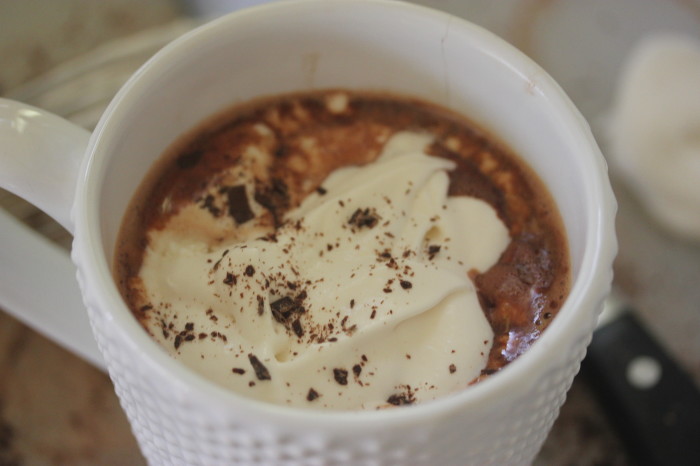 To develop the electric light bulb, Edison experimented. Thousands of experiments.
I read his biography as a kid, and I took Edison seriously. I have devoted a lifetime of experimentation in finding great hot chocolate. No, the greatest hot chocolate. I have been to Angelina's in Paris. I have, I admit, tried Swiss Miss. From top to bottom and in between, if it says "hot chocolate" I'm willing try.
This recipe is "mine" yet the result I must say of reading dozens and dozens of recipes. Out of the amalgam, here is what I truly find to be just the perfect hot chocolate. And, this recipe is for two so you can immediately share!
Brian's Best Hot Chocolate
Yield: 2 servings
Ingredients:
4 ½ ounces dark chocolate, bittersweet or semisweet
1 cup milk
1 cup heavy cream
3 tablespoons sugar
1 tablespoon vanilla
Whipped cream
Preparation:
Shave the chocolate. Really, shave it, not just chunk it. See the picture below.
Put the milk and cream into a heavy saucepan. Add the sugar and vanilla. Scrape in the shaved chocolate.
Turn the heat on medium high and begin to whisk the mixture. Keep the heat low until the chocolate has melted. By shaving the chocolate, this melting process will be swift.
Now, turn the heat to high and whisk vigorously. Bring to a boil and continue to whisk for just a moment to generate froth. Thing of this vision: Mexican Hot Chocolate.
Remove the pan from the heat and divide into two cups. Adorn with whipped cream. From the cutting board where you shaved the chocolate, take some leftover pieces and dot over the whipped cream.
Drink with love and care. It's hot.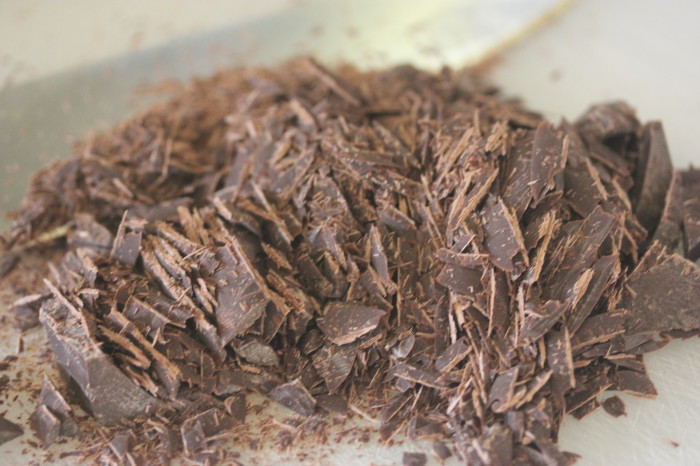 Source: Brian O'Rourke
Top Photo Information: Canon T2i, 18-55MM Macro Lens, F/2.8, 1/80 second, ISO 1000