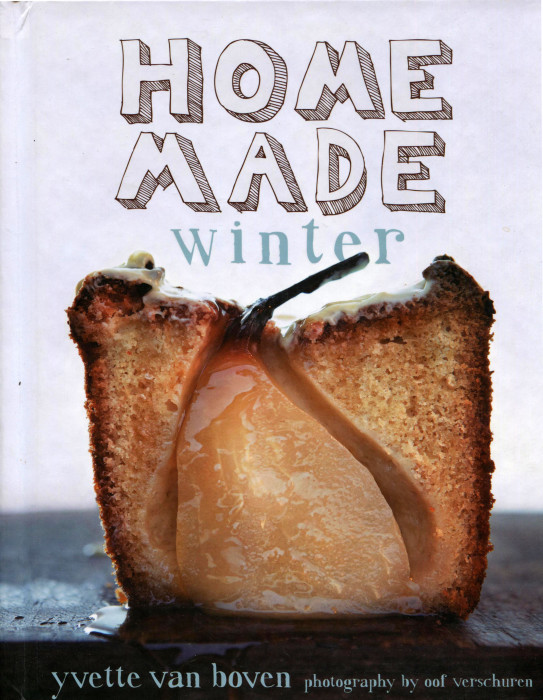 Yvette van Boven is an author, restaurateur, and recipe developer of excellence. Her first book, Home Made, appeared in 2011, followed by Home Made Winter in 2012 and Home Made Summer in 2013. 2014 was a year of pause for this busy author but later this year we will all welcome Home Baked, appearing in October 2015.
Suzen and I enjoy the Winter and Summer books, though we really do not distinguish seasons with them. There are recipes in each to try year round. Or ones we love so much that we won't wait for the right season. The Winter Gingerbread recipe is just fine on an August night.
Yvette was born and raised in Ireland of Dutch parents. Now she divides her time between Amsterdam and Paris. Her food is eclectic European, homey, a bit eccentric perhaps to an American, and decidedly delicious.
The first thing you notice about Home Made Winter, after the recipes of course, is the book layout and the photographs by Oof Verschuren. Take a look at the picture of the book cover above. It's a work of art. It's the Cardamom Cake with Whole Pears and White Chocolate, a recipe in the book and one that you really can do at home. You eat with your eyes, too.
Winter and Summer are beautiful books with food photos that are unsurpassed. They are visual invitations to rush to your kitchen. The food looks delicious but more importantly it looks elegantly doable. It's exciting food but still seem to be something that mere food mortals can attempt. And with the picture as a template, it would seem that we can really, actually, honestly duplicate that picture.
Winter has chapters that follow a European life style. Yes, there is a chapter for tea time with recipes that probably taste at their best if you are sitting by an Amsterdam canal with a real European espresso, perhaps with sunshine, perhaps with snowflakes anointing your beverage.
Here's a tour of the chapters and some representative, slightly spectacular recipe ideas:
Breakfast, Brunch & Lunch
Bannock Bread [a giant cast iron skillet biscuit that I will blog about tomorrow, superb]

Homemade Butter

Irish whiskey Soda Bread

Grapefruit and Lime Curd
Cakes & Sweet Things for Tea Time
Quinoa Apple Cake

Pecan Caramel Tart

Guinness Fruit Cake

Cardamom Cake with Whole Pears and White Chocolate
Homemade Irish Cream Liqueur

Winter Cocktail with Vanilla Ice Cream and Cranberries [still drinkable in April!]

Clementine Negroni
Lemon and Dill Popcorn

Butternut Squash Crème with Goat Cheese Cream & Sage

Irish Potato Soup

Split Pea Soup with Squash and Yogurt
Baked Risotto with Cauliflower Gruyere & Crisp Bread Crumbs

Mushroom Fondue with Roquefort & Brie

Mashed Potatoes with Brussels Sprouts, Orange & Smoked Sausage
Dessert
Upside-Down Pear and Nut Tart with Calvados Syrup

Poached Pears with Goat's Milk Brie & Red Wine Jelly

Cinnamon Citadel Cake with Chocolate Ganache, Ginger Confit & Dark Rum
When I started writing this book, I liked it. Leafing through it again to find these sample recipes, I have decided I love it. The recipes ideas here are both attractive and "different." A main dish with mashed potatoes and oranges [+ sausage, too] is not something I ever saw before. The Cinnamon Citadel Cake is a tower of cake and fruit and goodies that looks medieval. I think Suzen and I have to try this, perhaps our next Christmas dessert, but I'm going to post the recipe for you soon. You won't have to wait for a Christmas present.
When you go through this book, you won't immediately understand it at first. There is no "fried chicken" or "meatloaf" title to guide you. The combinations, the looks will be just peculiar, at first, and then attractive and then quite possibly intriguing. This is a fun cookbook, one that invites you to take a different path to new looks and new flavors.
Get Home Made Winter and enjoy these ideas. I'm blogging about Home Made Summer later this week. And, tomorrow, you'll learn about that Bannock Bread and why it made Suzen and me so very happy with Home Made Winter from the very first bite.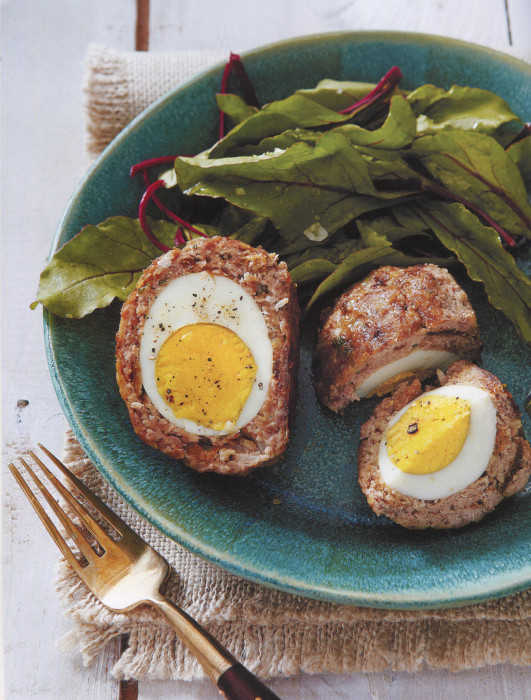 Just published last week is Nonna's House by Jody Scaravella. At Jody's restaurant on Staten Island, Enoteca Maria, the chefs are ten Italian-American grandmothers who rotate nightly in the Enoteca, preparing whatever intriegues them that day. This book is a collection of recipes of their best recipes, all inspired, all authentic. Some of the grandmothers are Italian-American, born here. Some were born in Italy and migrated. The recipes themselves though are Italian, not Italian-American. You can get a sense of the wonderful range of recipes by looking at my cookbook review of Nonna's Table.
Suzen and I have yet to make this recipe, but the photo has inspired me to share it with you now. At Suzen's cooking school, Cooking by the Book, she does team cooking events and is always on the look for a recipe that is "eventable" — a dish that a team of four to six people can prepare in a little less than an hour, plus some final cooking time. This is just such a fun dish where people can cook, get their hands meaty dirty and then eat their "surprise" when they slice and reveal that inner egg.
The meatballs themselves call for a combination of three meats: ground beef, pork, and veal. That's a terrific combination, so I'm confident this recipe will afford you great satisfaction.
---
Meatballs with Hard-Boiled Eggs Inside

Yield: serves 6

Ingredients:

1 cup fresh breadcrumbs
2 tablespoons olive oil, plus more for the baking sheet
½ cup minced onion
1 teaspoon minced garlic
⅓ pound lean ground beef
⅓ pound ground pork
⅓ pound ground veal
2 large eggs, lightly beaten
1 ounce Pecorino Romano, finely grated (about ¼ cup)
2 tablespoons minced fresh flat-leaf parsley
½ teaspoon salt
½ teaspoon freshly ground black pepper, plus more for serving
6 hard-boiled eggs, peeled
Green salad tossed with a light vinaigrette, for serving (optional)
Preparation:

Soak the breadcrumbs in a small bowl with 1 cup water for 10 minutes. Squeeze them dry over the sink in small handfuls; transfer to a large bowl.
Warm the oil in a small skillet set over medium heat. Add the onion and garlic. Cook, stirring often, until softened, about 5 minutes. Scrape the onion and garlic into the bowl with the breadcrumbs and let cool for 10 minutes.
Position a rack in the center of the oven and preheat the oven to 350°F. Lightly oil a large rimmed baking sheet.
Crumble in the ground beef, pork, and veal and break them apart with a fork. Stir in the eggs, Pecorino Romano, parsley, salt, and pepper. Mix with clean hands until you have a uniform mixture.
Divide this meat mixture into six equal portions. Cup a portion in your palms, flatten and form the meat mixture to make a concave depression at its center; set a hard-boiled egg in this, then wrap and form the meat mixture into a ball around the egg, sealing it well on all sides with no gaps. Set on the baking sheet and repeat with the remainder of the meat mixture and eggs.
Bake until the meatballs are cooked through and browned, about 20 minutes. Serve with a tossed green salad, if desired.
Source: Nonna's House by Jody Scaravella [Atria Books, 2015]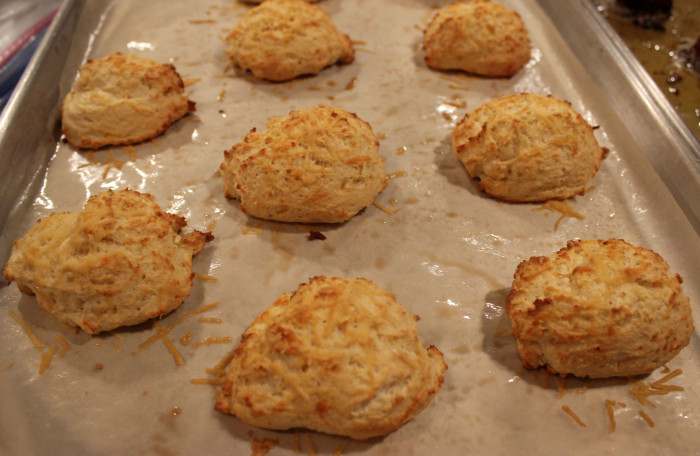 This recipe comes from The Philosopher's Kitchen: Recipes from Ancient Greece and Rome for the Modern Cook. Author Francine Segan is part cookbook author, part historian. In this book she offer a bounty of ancient recipes. Some are really ancient, translated from Greek and Roman texts. And some are "newly" ancient, Francine's inspired contemporary recipes based on concepts espoused in those texts. Some words from Cato in the second century B.C. inspired these biscuits.
If you say "cheese," Suzen and I will respond with a raised head. Say "biscuit" and I'll respond with smacking lips. Then I'll probably plead with Suzi to please, please make this for me.
I was able to plead loud enough, long enough, for her to relent here. Although, I think she was intrigued by the idea here anyway. This is a biscuit, but one made with a lot of ricotta cheese. I'm used to biscuit recipes made with milk, buttermilk, or sour cream. What would happen when we used ricotta?
These are amazing biscuits. The first biscuit I ever ate where I was not reaching for butter, jam or honey. You don't need anything on these gems. The flavor is cheesy but not over the top. The biscuits are puffy, soft and tender to the bite that seems to last deliciously long as you penetrate a sublime dough.
These are lovely, lovely biscuits. The perfect side dish to pair off with a main course of fish or chicken. These are dinner treats, not breakfast biscuits. For breakfast you need a platform for strawberry jam. For dinner, just pure cheese flavor.
If you make these, you'll enjoy them and be very surprised at the impact ricotta can have on a "biscuit" recipe. You can make a dozen of these in minutes. It's a quick treat to delight anyone at your dining table.
For a review of The Philosopher's Kitchen, please follow this link.
---
Cheese Biscuits with Aromatic Bay Leaves

Yield: one dozen biscuits

Ingredients:

¾ cup all-purpose flour
½ teaspoon baking powder
½ teaspoon salt
½ teaspoon freshly milled pepper
1 cup whole-milk ricotta cheese
1 large egg
2 tablespoons grated Parmesan cheese
1 dried bay leaf, crumbled
Preparation:

Preheat the oven to 875° F. Grease a baking sheet and set aside.
Stir together the flour, baking powder, salt, and pepper in a large bowl. Stir the ricotta and the egg into the flour mixture until well combined. Drop by rounded tablespoonfuls atop the baking sheet. Top each biscuit with the grated Parmesan and a few flakes of the crumbled bay leaf. Bake until golden, 15 to go minutes. Serve warm.
Source: The Philosopher's Kitchen by Francine Segan [Random House, 2004]

Photo Information: Canon T2i, EFS 60 mm Macro Lens, F/4.5 for 1/40th second at ISO‑800