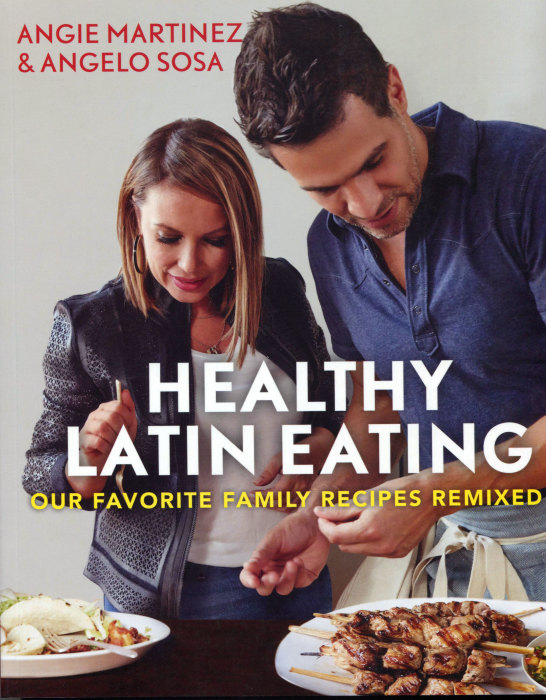 If you read this blog often, you know I write almost daily about a new cookbook. I leave it to you whether you will buy a particular book, of course, but sometimes I do suggest action. A book by Dorie Greenspan, for example, is destined to be a classic and it is very likely you'll eventually put a copy on your kitchen book shelf.
I have never been so blunt, though, as to say: Stop what you are doing. Get in the car or onto Amazon. Buy this book and get cooking.
So, now, right now, stop what you are doing. Get in the car or onto Amazon. Buy this book — Healthy Latin Eating — and get cooking.
The official publication date is January 2015 but you can order from Amazon now. The book will be stocked there on December 19th.
Why my enthusiasm? I do have a review copy in hand. I have not cooked from the book yet, but you see, I don't need to. Co-author Angelo Sosa, an alum of Top Chef and a participant in Iron Chef America, happens to have two NYC outlets for his Mexican restaurant and tequila bar, Anejo. The newest Anejo is just four blocks from where Suzen and I live. We've tasted Angelo's food and his beverages.
The verdict? I could use a lot of superlative adjectives, but I'll keep it simple: easily the best Mexican restaurant in New York City. He is an exceptional chef. And equally adept as a cookbook author.
The creative genius of Healthy Latin Eating begins with that dish we all use to judge a Mexican restaurant or cookbook: guacamole. Anejo offers several versions of guacamole and you'll find some of these power guac recipes here in Healthy Latin Eating:
Chunky Guacamole with Chipotle Syrup
Traditional Guacamole [no tomatoes so it does not turn runny!]
Guacamole with Tomatillo
Guacamole Verde with Toasted Pumpkin Seeds and Manchego Cheese
At Anejo on our first visit, Suzen and I both saw the pumpkin seed guac. Neither of us was quite brave enough to order it. We asked the waiter which one he preferred and the pumpkin seed version was described as "intriguing and full of flavor." He was being modest.
Co-author Angie Martinez is a Latin media personality who treasures her culinary heritage. She has teamed with Angelo to fashion this wonderful book. The pair begins by acknowledging that classic Latin cooking is not always the healthiest. Traditional ingredients and techniques became just that, "traditional," because of what was affordable and available.
Centuries of culinary tradition can be hard to break. But food experts do agree that some of those ingredients, some of the techniques, are not conducive to good health. How can you keep the old flavors, or even improve them, but move along a healthy path? You need a radical approach.
Angie and Angelo are culinary revolutionaries. Keep the key flavors, but find ways to assemble them in a more healthy way. The old, classic dishes are here but here better.
Expanding the food upon the table, the authors have added creativity to their revolutionary zeal. Both Angie and Angelo contribute recipe ideas here, introducing us to family favorites, comfort food dishes that have been loved for generations. Those classic flavors are combined here into new dishes that, I can assure you, will become instant favorites for you.
Book chapters are devoted to:
Small Plates: Garlic and Golden Raisin Gazpacho; Watermelon Gazpacho, Shrimp and Papaya Ceviche, Corn Dumplings with Oaxaca Cheese and Chipotle
Salads: Cucumber and Serrano Chile Salad, Mango Avocado Salad, Dominican Chicken Salad
Main Dishes: Turkey Chilaquiles, Orange and Cilantro Chicken, Whole Fish with Pineapple and Coconut
Dips, Chips and Salsas: Charred Tomato Mole, Carrot Mole, Watermelon and Chipotle Salsa
Desserts: Spicy Mango Pudding, Dark Chocolate Tamales, Grilled Pineapple with Ancho Agave Syrup
Drinks: Chipotle Passion Fruit Michelada, Tamarind Sour Punch, Guava Bloody Maria with Avocado
That first drink, the Michelada? The traditional recipe is beer, lime juice, hot sauce, and Worcestershire. Here Angie and Angelo double down by adding in chipotle heat and sweet passion fruit puree. This is a striking beverage, one that would make a cocktail party an event to be buzzed about for days. Want to get tweets? Serve this!
Suzen and I excited to have this book and are thumbing though it page by page. We had plans for Christmas dinner. Now we have an early Christmas present that will literally turn the table.
Stay tuned for blog posts on some of the individual recipes. Oh, one warning: the corn dumplings are, in a word, addictive. We sit at the bar an Anejo, sip tequila and let the dumplings arrive plate by plate. Make this particular dish and you'll understand why.
Hey, why are you still reading this? You are supposed to be buying Healthy Latin Eating and shopping for some avocados and pumpkin seeds!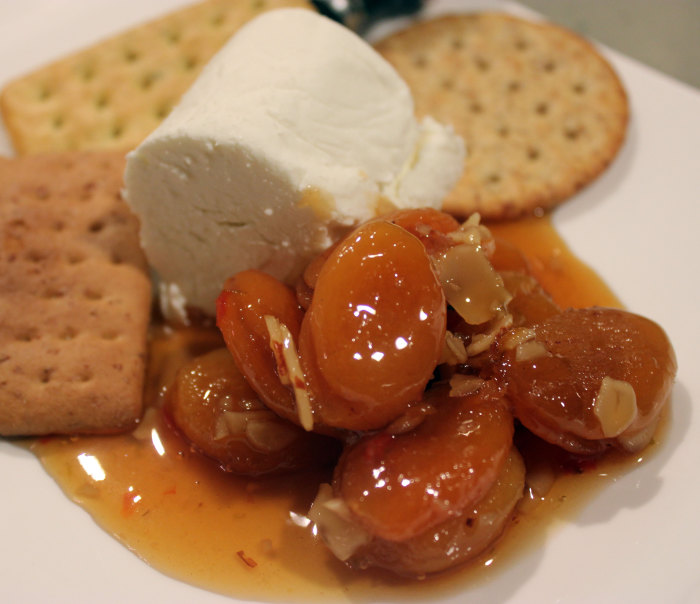 For each of her corporate events — where teams come into our kitchen to cook together — Suzen loves for her guests to begin enjoying food from their first steps. So, as soon as the coats are off, guests are welcomed with appetizers.
We serve a very, very wide range of appetizer dishes but one has become dominant: goat cheese with crackers and with something sweet to add on top. That "something" has been honey, and the combination of a great honey and superior goat cheese is something you will adore if you have not yet been sticky. It's impossible to eat this dish and not lick your fingers.
It's not that I was bored with honey, it's just that I found this recipe in the spicy Red Hot Chile Sauce Book by Dan May. Dan's book is tour of world, continent by continent, showing how recipes evolved as peppers spread from their origin in Northern Mexico to remarkably wide use in every culture around the planet.
I don't think Thailand would have been as interesting to visit, for example, before the post-Columbus chili culture evolved.
This particular recipe is from North Africa and is a typical — but taste wise exceptional — dish from that region. Fruit and chili are combined to give a sweet, hot condiment with a thousand uses. This goo is called a "jam" but I can think of it equally as sauce or spread. Or even goo. There is nothing wrong with goo, as long as it tastes sweet and hot. Use with crackers, or adorn roasted chicken, or even incorporate into a salad dressing.
The recipe below has instructions for testing when the jam has cooked. Suzen and I are good at a lot of things, but getting jam cooked to perfection is not one of them. Our attempt here was decent, because we used something called the Internet and we did something called "googling" to find that the set point for a cooked jam is 220°F. So, no testing with the back of a spoon, or drops into water, or any of those other frustrating ideas — the spoon things take time and the jam is still cooking so you can go way over the set point, as we have discovered more than once.
Finally, a word on North Africa. At the close of the last Ice Age, as vegetation returned, there was no Sahara dessert. That entire region was grassland, punctuated with flowing rivers and lakes as big as the Great Lakes. It was verdant and fertile. Perhaps around 3000BC, the climate began to change — not because of auto emissions. That grassland had been populated by wildlife and people. The people were forced to migrate, many of them congregating back along the one river that remained: the Nile. Egyptian society was the result.
The once verdant area shrunk, so that only the coastline along the Mediterranean was good for sustainable farming, which could exist for perhaps 10-20 miles inland. That thin belt was an agrarian powerhouse for the Roman Empire. Fruits, vegetables, wheat and wine were produced and sailed back to Rome. The roots of contemporary Middle Eastern or Mediterranean cuisine began then.
Then Christopher Columbus enabled the introduction of tomatoes and chilies and other foods that now seem "essential" to the Mediterranean diet. The climate keeps changing. The Sahara keeps enlarging to the south. And the people on the shores of the Mediterranean keep adapting as people have for thousands of years.
---
Cardamom-Infused Apricot and Almond Chili Jam

Yield: around 4 cups

Ingredients:

3 ¾ cups ready-to-eat dried apricots
2 cups packed muscovado sugar
¾ cup almonds, roughly chopped
½ cup lemon juice zest
Juice of 1 lime
¼ teaspoon ground cardamom
½ small Habanero chili, deseeded and finely chopped
1 large red chili, such as a Guindilla, as long as it is fleshy and not too hot, deseeded and finely chopped
Preparation:

Put the apricots in a bowl and add 2 ½ cups water, then leave overnight to soften and rehydrate. Tip the soaked apricots and their soaking water into a large saucepan and bring to the boil, then gently simmer for 30-40 minutes until they are soft. Stir in the sugar and heat over a low heat to dissolve, stirring constantly to ensure no sugar catches on the base of the pan. Once you are sure that all the sugar has been dissolved, turn the heat up. Add the almonds, lemon juice, lime zest and juice, cardamom and chilies. Boil rapidly over high heat, stirring regularly, to prevent the contents sticking to the base of the pan.
To test if the jam has reached setting point, drip a little onto a saucer and chill briefly in the fridge, or preferably in the freezer. If it forms a skin, it is ready. If not, return to the heat, continue cooking and test again in 10 minutes. Pour into sterilized jars and seal.
Source: Red Hot Chili Sauce by Dan May[Ryland Peters & Small, 2013]
Photo Information: Canon T2i, EFS 60mm Macro Lens, F/4.5 for1/50th second at ISO 800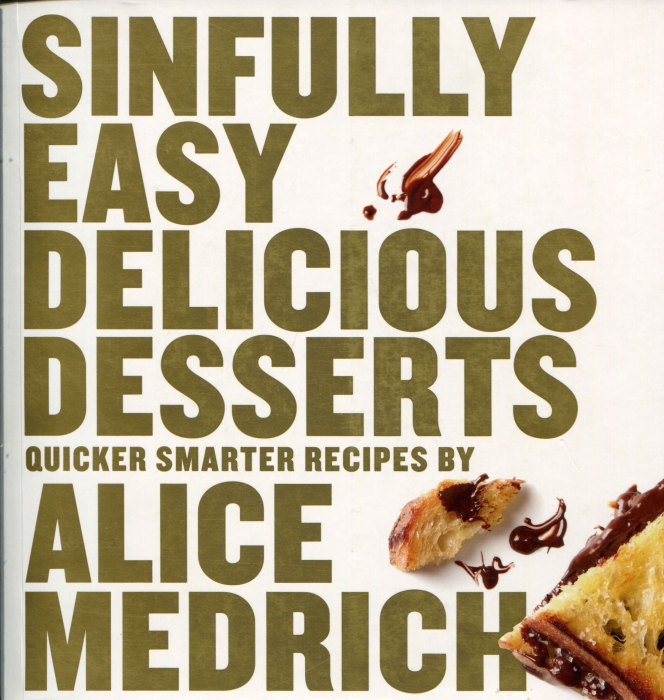 This is a lovely and important book from a dessert maven. And it is timely, for we have a plague upon on.
I read a blog yesterday about the end of quality on the Food Channel:
http://www.salon.com/2014/08/08/how_one_man_destroyed_the_food_network_guy_fieri_has_made_culinary_tv_into_a_viewers_hell/
The author decries the screaming antics of Guy Fieri pitching food that will kill you. And this post mourns the loss of Sarah and Ina and the others who once cooked real food for real people. Now the network has screamers and those morons who preach, "Take a box of cake mix, use a can of frosting, but top it with chopped walnuts and there, there you have lovely homemade dessert."
It has to be, it has to, that the process of dumbing down has reached rock bottom.
How do we climb back up, out of this culinary abyss? What if we do want something quick with just a few ingredients but that is real and as good a dessert as you could find anywhere. Something like, oh, Apples in Lime Cardamom Syrup. What if you want something simple and quick and clever? Something like an Ice Cream Float with Cocoa Syrup, Kahlua, and Stout? Yes, stout as in beer stout, as in wonderful, blissful stout.
Your first thought about Alice Medrich might be that she's that chocolate lady, the writer. This book, from April 2012, was her 12th [the 13th, Flavor Flours, is already out from this prolific author].
Sinfully Easy rolls along with chapters devoted to her primary ingredients including:
Ice Cream
Fruit
Puddings
Quick Pies, Tarts, and Meringues
Lickety-Split Cakes
I was surprised to find the "chocolate lady" beginning with ice cream and fruit, but I am intrigued by those Apples in Lime Cardamom Syrup and also by Plums in Brandied Coffee Syrup. Those fruit desserts are followed by puddings but the fruit is still there: Salted Caramel Banana Bread Puddings.
And intrigue builds page by page, recipe by recipe:
Best One-Bowl Chocolate and Vanilla Cakes
Chocolate Marquise [mousse enriched with butter]
Honey Balsamic Sundaes
Lemon Scented Apple Upside Down cake
Tahitian Vanilla Tart with Winter Cherry Compote
Along the pathway to excellence with ease, Alice gives you hints and advice that are as timeless as all her books. How to make great meringue, easily, and shift its final texture to you dessert needs. Three ways to make chocolate whipped cream, three indispensable chocolate sauces, four indispensable caramel sauces.
There are many reasons to read and sample from this book. All of them good reasons to put this book on your shelf. But there is one more, the final recipe in the book, My House Truffles 4.0.
Almost 40 years ago, Alice began making and selling truffles. Those truffles established her reputation and were the foundation for her career. Over the years, her truffle recipe has appeared in book after book, evolving over time, and we have graciously accepted her generosity to share her truffle perfection. Even perfection, though, can be improved upon and Sinfully Easy gives us her latest and greatest truffle recipe, the one she believes goes best with a glass a wine. Ingredients have changed, chocolate has changed, preferences have changed. The truffles have not just changed. They have gotten better.
Buy the book, roll the truffles, wipe the cocoa powder from your hands, and make sure the wine is red and excellent.