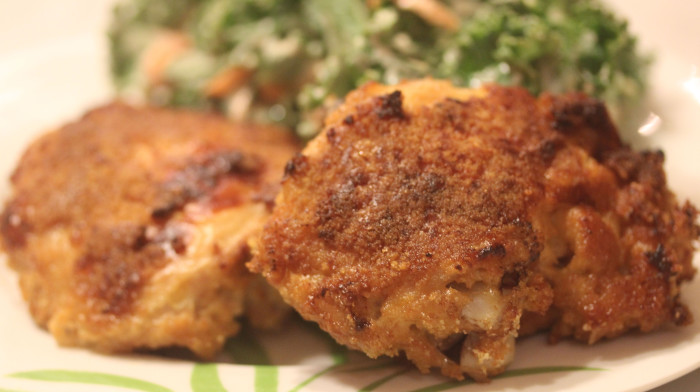 I am about to change your life. Below is the recipe for the best fried chicken recipe ever.
Oh, I'm sure that claim will rattle the edges a tad. By what right can I make such a claim?
Sixty years of fried chicken experience. When I was 8 [yes, you can figure it out], my parents moved to a suburb of Portland where there was a tiny restaurant called The Castle. 800 square feet. The outside was sculpted in stone, there was a two story turret and the top edge was crenelated so that archers could shoot arrows. Not that there were that many bands of errant knights roaming around Portland at the time.
Inside there was 30 square feet for a counter where you picked up orders of fried chicken, along with biscuits and little cardboard containers of honey that always spilled when you opened them, so I always ate honey fried chicken. The chicken was spectacular. It had to be because they need a cover for all the traffic that came and went at The Castle. The other 770 square feet was devoted to (a) a small kitchen and (b) a large gambling room. Portland was a wide open town with such industries and girls and gambling.
Periodically, law enforcement would visit The Castle and shut it down. My family could agree on only two food: potato salad and fried chicken. During those dark periods, we would look for other places offering fried chicken. There were dozens. With its logging industry, Oregon had many lumberjacks who need to consume a few thousand calories a day. What better way to calorie-up than by fried chicken. [I said this recipe was the best, not healthy].
Every café on the mountain back roads had a fried chicken special. Crusty or moist, browned or almost black. The perfect Oregon meal was fried chicken with dark brown gravy over mashed potatoes. Complete the meal with Chocolate Chiffon Pie and coffee served black. No salad need apply.
I did wonder in my childhood days why it was called Southern fried chicken because I lived in Northern Oregon.
Decades have past. My naivety is long gone. I have sample many fried birds across this nation. I understand, now, why it is called "Southern fried" and I have sampled south of the Mason-Dixon in many establishments. Last fall, and I blogged this, I finally ate at Lucy's in Austin. I left the table knowing I had eaten the best fried chicken in my life and that none could surpass it. None.
I underestimated three things: my wife's diligence to find great recipes, the gunpowder power of raw buttermilk, and the publication of Maximum Flavors. Authors Aki Kamozawa and H. Alexander Talbot have continued their explorations in perfecting flavors through exceptional techniques and combinations of ingredients. They have succeeded.
Yes, you may have seen a recipe to marinate the chicken in buttermilk. But this idea calls for a carefully balanced array of spices to extend that marinades potency. And, you let the chicken sit in this buttermilk mixture for 24 hours.
The result is sublime chicken, crusted in flavorful bread crumbs, suitably brown, tender and moist. Perfect. Just perfect.
One minor note here. Suzen looked at all the chicken and the recipe and doubled the amount of bread crumbs. She actually used more than 2 cups and less than 4. It will all depend for you on the size of your chicken pieces and how wet they actually are the second when dipped into the bread crumbs.
Oven-Fried Lemon Chicken
Yield: serves 4 to 6
Ingredients:
For the chicken:
2 cups cultured buttermilk
2 tablespoons tamari soy sauce
1 teaspoon sea salt
½ teaspoon garlic powder
½ teaspoon onion powder
Grated zest from 2 lemons
¼ teaspoon ground cumin
⅛ teaspoon cayenne pepper
4 pounds bone-in, skin-on chicken thighs
For the bread crumbs:
About 2 cups dried bread crumbs
2 tablespoons grams freshly grated Parmigiano Reggiano cheese
½ teaspoon garlic powder
½ teaspoon onion powder
½ teaspoon sweet Spanish paprika
½ teaspoon cayenne pepper
½ teaspoon fine sea salt
4 tablespoons unsalted butter, diced
Preparation:
Begin by brining the chicken. In a large bowl, whisk together the whey, soy sauce, salt, garlic powder, onion powder, lemon oil, cumin, and cayenne. Add the chicken thighs and stir gently to coat them. Cover with plastic wrap or transfer to a lidded container and refrigerate for at least 8 hours and up to 24 hours.
Preheat the oven to 450°F (235°C). Put a large rimmed baking sheet—big enough to hold all of the chicken in a single layer—in the oven to preheat.
Next make the bread crumbs. In a medium bowl, combine the bread crumbs, Parmigianino, garlic powder, onion powder, paprika, cayenne, and salt and whisk to blend.
Drain the chicken, discarding the brine. Set the chicken next to the bowl of bread crumbs and a large baking sheet on the other side. Take one piece of chicken, still damp from the brine, and put it in the bowl of crumbs. Turn it over a few times to coat it thoroughly, then gently shake off any excess crumbs, and transfer it to the baking sheet. Repeat with the remaining chicken.
Once all of the chicken has been coated and the oven is hot, remove the baking sheet from the oven. Add the butter to the baking sheet and swirl the pan so the butter coats the bottom. Immediately add the chicken thighs, setting them skin side down, and put the pan in the oven. Lower the oven temperature to 400°F (205°C) and cook for 20 minutes. Flip over the chicken pieces and bake until golden brown and the meat is starting to pull back from the tips of the bones, about 20 more minutes. Remove the pan from the oven and let the chicken rest on the baking pan for 10 minutes before serving.
Source: Maximum Flavor Aki Kamozawa and Alexander Talbot
Photo Information [top picture]: Canon T2i, EFS 60 mm Macro Lens, F/2.8 for 1/100th second at ISO-1600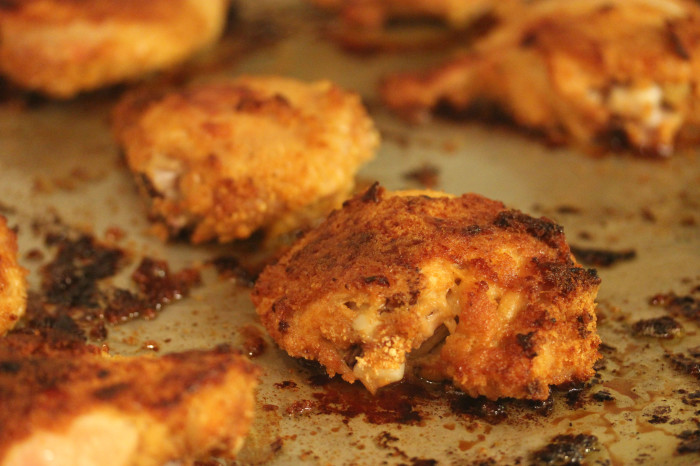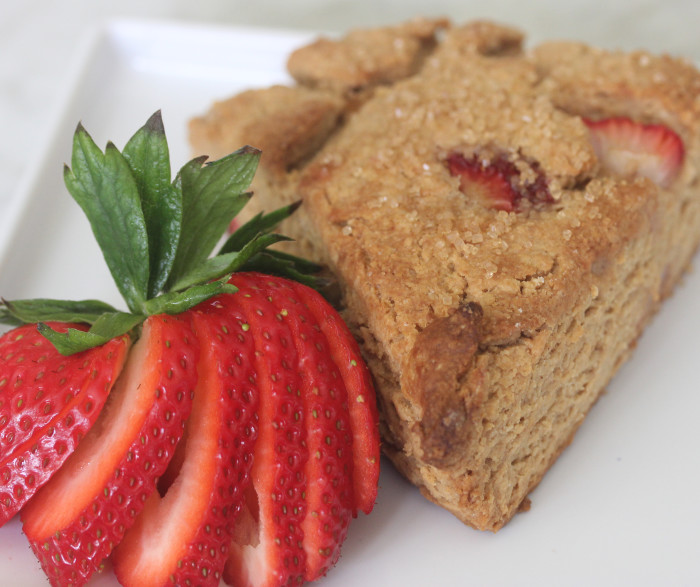 From Maximum Flavors comes this turn-the-world-around recipe for scones. Although the recipe below calls for nut butter and some kind of fruit, in the headnotes authors Aki Kamozawa and Alexander Talbot do give away their favorite combination: peanut butter and strawberries.
I know that "peanut butter" says "butter" but I never think of it as "butter" like the yellow stuff Suzen and I bake with. Yet here it is. And the result is a light, melt-in-your-mouth texture. The peanut flavor is an undertone with the strawberry highlights punctuating palate in unexpected surprises.
These scones are rich enough that no additional butter is needed. Pairing these scones with a hot espresso is precisely the way to begin a winter morning.
Nut Butter Scones
Yield: 12 smallish scones
Ingredients:
1 ½ cups/ 225 grams all-purpose flour
I ½ cups / 210 grams white whole wheat flour
½ cup / 100 grams granulated sugar
2 teaspoons / 12 grams baking powder
½ teaspoon / 2.5 grams baking soda
½ teaspoon / 3 grams fine sea salt
1 cup / 270 grams nut butter (peanut, cashew, almond, etc.), cold
1 cup / 260 grams whole milk (or substitute soy, almond, or rice milk)
¾ cup fruit (berries, raisins, diced bananas, etc.)
2 tablespoons / 25 grams raw sugar
Preparation:
Preheat the oven to 400°F. Line a baking sheet with parchment paper.
In a food processor, combine the flours, granulated sugar, baking powder, baking soda, and salt and pulse a few times to blend. Add the nut butter and pulse to blend. The mixture should look coarse and granular. Add ½ cup (195 grams) of the milk and pulse until the mixture begins to clump together. If it seems too dry, add the remaining milk, 2 tablespoons (32.5 grams) at a time, pulsing in between additions, until it begins to clump together and look like coarse streusel.
Turn the dough out onto a lightly floured countertop and scatter the fruit over the top. Use your hands and a bench scraper, if you have one, to gently fold the fruit into the dough, adding a bit of flour if the juices from the fruit make the dough too wet to hold together. It should just hold when you press the dough together. Form the dough into an 8-inch (20 cm) round and cut it into 12 equal wedges. Or you can shape it into two 4-inch (10 cm) rounds and cut each in to 6 pieces.
Put the scones on the baking sheet. Sprinkle the tops with the raw sugar. Bake for 8 minutes, rotate the sheet, and bake until golden brown, 4 to 8 minutes more, checking after 4 minutes. Let the scones cool on the baking sheet for 5 minutes before serving.
Source: Maximum Flavor Aki Kamozawa and Alexander Talbot
Photo Information [top picture]: Canon T2i, EFS 60 mm Macro Lens, F/4.5 for 1/100th second at ISO-1000