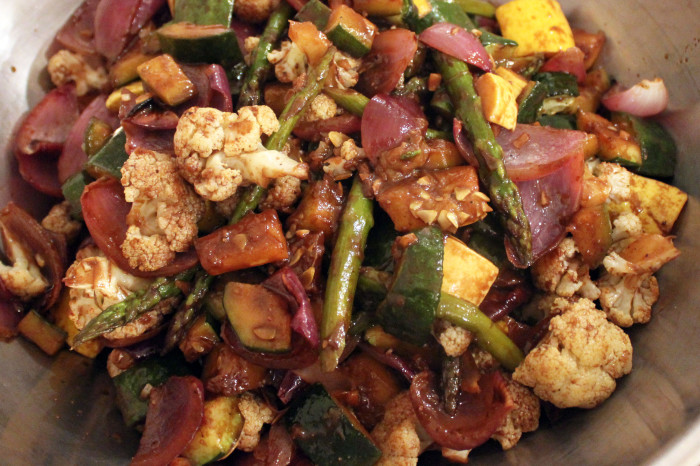 This recipe evolved naturally at Cooking by the Book. Suzen holds hands-on cooking classes for corporations, and private parties, several times a week. With dozens of people enjoying our kitchen, she orders food by the crate. Towards the end of the week, the refrigerator begins to burst with leftovers. Some are used in stock making, but it's a shame not to take more direct advantage of the wonderful flavors just sitting there, ready to be used.
So, one of our star chefs, David Domenion created this recipe. It's robust, meaning you can mix and match vegetables, increasing the amounts, adding others, taking some away. This recipe, for example, does not talk about green beans or peas, but you are welcome to add them to the mix.
This recipe scales up with ease, so it's a perfect side dish for a weekend bash where you need volume for that herd of people circling the tables and the barbecue.
Those guests will all appreciate the sharp, edgy tang to this recipe. You can keep it a secret or tell them the truth: the dressing is a cleverly balanced combination of roasted garlic, mustard, balsamic vinegar, agave, and citrus zest and juice. It may be hard to pick out the individual flavor components here. It is not hard at all to relish this dish and ask for seconds.
As I said, the recipe scales.
---
Spring and Summer Roasted Vegetables

Yield: 10 servings

Ingredients:

1 head garlic
About ¾ cup extra virgin olive oil
1 bunch, about 1 pound asparagus, trimmed and cut into thirds
2 cups of diced vegetables, mixed: zucchini, cauliflower, squash, potatoes
2 medium red onions cut into chunks
Kosher salt, to taste
Red pepper flakes, to taste
2 teaspoons Dijon mustard
¼ cup balsamic vinegar
1 tablespoon agave
Zest and juice of 1 orange or 2 lemons, optional
Freshly ground black pepper
4 scallions, finely sliced
Preparation:
Pre heat oven to 425° F.
Cut the top off the head of garlic. Place it on a square of aluminum foil, drizzle it with 1 teaspoon olive oil, wrap it up and put it in the pre-heating oven for about 30 to 40 minutes or until soft.
Toss the asparagus with 2 tablespoons olive oil, salt and red pepper flakes and spread out on a sheet pan. Do the same with the vegetables and onions. Put them into the oven to roast. About 15 minutes for the asparagus or until they are crisp tender. About 30 to 40 minutes for the vegetables and onion or until they are lightly charred around the edges. Just keep monitoring progress and remove pieces as they reach the doneness you desire.
Put all the removed components into a large bowl as they come out of the oven. Keep the bowl covered with aluminum foil to retain heat. And, you may want to keep the bowl in an oven at low heat to maintain the temperature at the "warm to the mouth" level.
While all the vegetables are roasting, make the vinaigrette. Whisk together the mustard, balsamic and salt to taste. Add the agave and orange or lemon zest and juice, if using. Squeeze out the roasted garlic and mash it or chop it finely and add it to the dressing. Whisk this together and drizzle in ½ cup olive oil. Season with salt and pepper to taste.
Pour half the vinaigrette over the vegetables, add the scallions and toss them. Taste and adjust seasoning adding more dressing if needed. Serve while still warm or at room temperature.
Source: Chef David Domenion at Cooking by the Book

Photo Information: Canon T2i, EFS 60mm Macro Lens, F/3.5 for1/25th second at ISO‑3200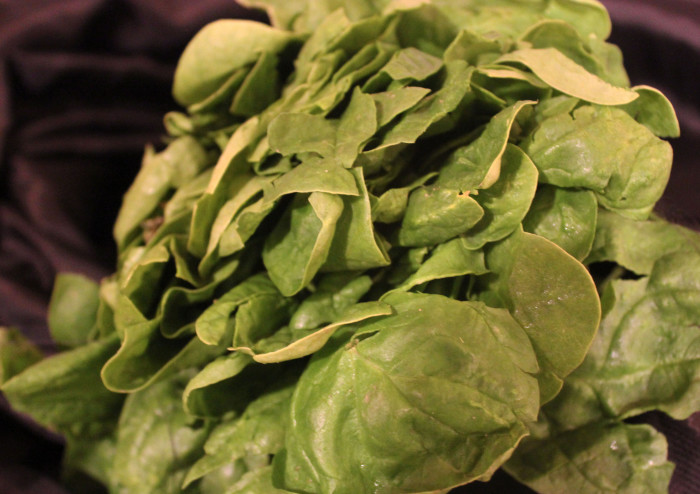 That's a head of spinach in the photo. Fresh off the delivery truck. Like any greens that you "buy" this head is perfectly edible but truthfully is showing signs of its last few days: tossed into a crate, refrigerated, trucked a few hundred miles, …
What to do with spinach? Fresh from the garden, it's great for a salad, perhaps with that hot bacon dressing most of us love. With a head like this, some cooking is in order to extract flavor by refreshing the molecules. That's figuratively, not literally. This head has been plucked and "freshness" is something that is gone. The trick is to capture the remaining flavor.
From Emeril Lagasse comes one of his prototype recipes: spinach cooked in butter with spice and onions and cream. Emeril knows that fats are the conveyor belt for taste. Fats provide flavor themselves and extend the flavor of the foods they are in. You don't want a pure red steak, because pure red meat lacks flavor. It's the fat that has the flavor.
Now, natural spinach has almost no fat. It's praised as a healthy food, rich in vitamins A and C and K, magnesium, manganese, folate, and iron. Just a small serving can provide an enormous amount of the daily percentage of these nutrients. So, Emeril rides that "healthy" foundation by adding just enough butter and cream to transfer the spinach from bitter to yummy. Here, 2 pounds of spinach provides enough servings for 10 people. You won't be overdosing on the dairy fat, but you will be getting a heavy dose of nutrients you do need. And, it tastes marvelous.
Looking for a creative way to serve creamed spinach instead of just placed on the side? Bake a large potato, and serve it stuffed with the creamed spinach.
As a side note on its history and usage, spinach originated in Persia, and was carried by traders first to India and then China. It took until the 9th century for spinach to appear in Sicily, introduced by the Saracens. Today spinach is grown and enjoyed worldwide. The United States is the world's second largest producer. And the largest? China, of course. They grow over 40 times as much spinach as we do. At your next tour of a Chinese restaurant, look closely at what is in your soup, spring roll, fried rice, and just about every other dish. And you can order what they love:stir fried in oil with some garlic. Not quite the same as Emeril with his butter and cream.
---
Creamed Spinach

Yield: 10 servings

Ingredients:

2 pounds fresh spinach, washed and tough stems removed
2 tablespoons unsalted butter
½ cup finely chopped shallots
1 teaspoon minced garlic
¾ teaspoon salt
½ teaspoon freshly ground black pepper
¼ teaspoon nutmeg
½ cup heavy cream
Preparation:

Bring a pot of salted water to a boil over high heat. Add the spinach and cook for 2 minutes. Drain in a fine mesh strainer, pressing with a large spoon to release as much water as possible. Or squeeze small portions by hand. Finely chop and set aside.
Melt the butter in medium sauté pan over medium-high heat. Add the shallots and garlic and cook, stirring until soft and fragrant, about 2 minutes. Add the spinach and cook, stirring, just until the liquid is released. Add the cream, salt, pepper, and nutmeg, and cook until the cream is reduce by half, about 4 minutes. Remove from the heat and serve immediately.
Source: Emeril Lagasse and the Foodnetwork.com with some facts from Wikipedia

Photo Information: Canon T2i, EFS 60mm Macro Lens, F/4.5 for1/6th second at ISO‑3200