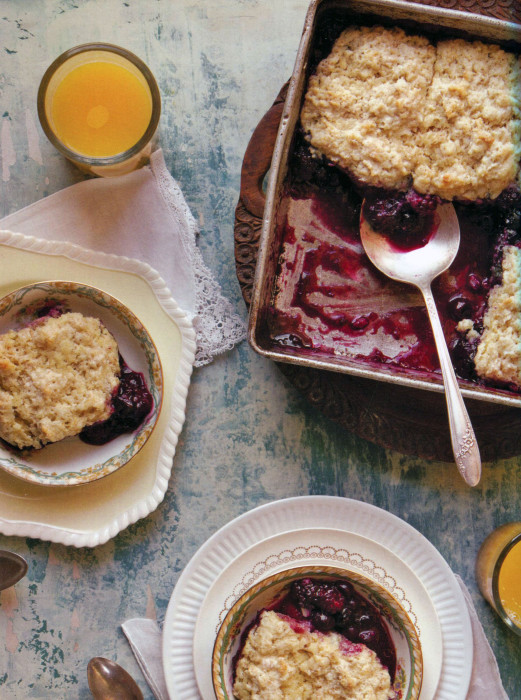 Joy Wilson's Homemade Decadence has this great premise: the most important meal of the day, of the week, is brunch. Just the word "brunch" connotes something special. It's not breakfast. It's brunch. Here's one of Joy's favorite dishes: a breakfast cobbler with oatmeal drop biscuits. While her family serves this for holiday weekend brunches, I think it's ready to go anytime. Joy mentions that strawberries are not the ideal candidate here. Blueberries and blackberries will work better. And, of course, you could always toss in a handful of cranberries.
This dish is easy to prepare and even easier to eat. Plus, there will be no leftovers so you won't be struggling where to fit the remaining pieces in your fridge.
This recipe is on the list of things that Suzen and I want to do, but have yet to find the time. We face a cold week in New York City so one of these morning we may forgo breakfast and just upscale to brunch. All I have to do is tell Suzen I am reforming my diet and would like some oatmeal with buttermilk. I don't think, when she reads the whole recipe, she can fight the tide.
---
Breakfast Cobbler with Oatmeal Drop Biscuits

Yield: serves 6

Ingredients:

For the Cakes:

4 cups fresh mixed berries, or frozen, thawed and drained (strawberries aren't great in this recipe)
2 tablespoons cornstarch
¼ cup fresh orange juice
½ cup packed light brown sugar
¼ teaspoon salt
For the Biscuit Topping:

1 ½ cups all-purpose flour
½ cup old-fashioned oats
¼ cup plus 2 tablespoons granulated sugar
½ teaspoon baking soda
½ teaspoon ground cardamom
¼ teaspoon salt
1 teaspoon grated orange zest
½ cup (1 stick) cold unsalted butter, cut into small pieces
1 cup cold buttermilk
Preparation:

Put racks in the center of the oven and preheat the oven to 375°F. Grease an 8 x 8-inch square or 8-inch round pan with butter. Set aside. Line a baking sheet with foil and put it on the lower rack in the preheating oven.
In a medium bowl, combine the berries and cornstarch until the cornstarch dissolves. In a separate small bowl, combine the orange juice, brown sugar, and salt, and then pour it over the berries. Gently combine the mixture and pour it into the prepared baking pan.
Bake on the center rack until the berries soften and begin to burst, about 15 minutes.
For the biscuit topping, in a medium bowl, whisk together the flour, oats, the ¼ cup sugar, the baking powder, baking soda, cardamom, salt, and orange zest. Add the butter and, using your fingers, quickly break up the butter in the dry mixture until the butter is the size of small peas. Make a well in the center of the mixture. Pour in the buttermilk and gently stir until all of the flour mixture is moistened.
Remove the berry mixture from the oven. Dollop six ½ cup scoops of the biscuit topping onto the berry mixture. Sprinkle with the 2 tablespoons granulated sugar.
Return the pan to the center rack directly above the foil-lined baking sheet, which will catch any drippings. Bake until the biscuits are golden brown and the berries are bubbling and thick, 20 to 25 minutes. Let cool for 20 minutes before serving. This dish is best served the day it is made.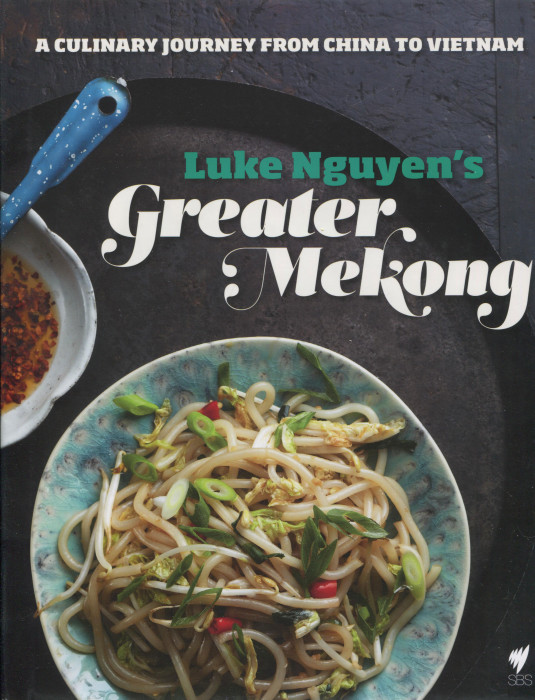 If you are fond of the cuisines of Southeast Asia, or just curious, or about to travel there, then this book is a supreme experience. Subtitled "A Culinary Journey from China to Vietnam" Greater Mekong provides an enriching and most enlightening survey of the people and foods that line the wandering Mekong River.
Author Luke Nguyen is an accomplished author and television personality and the owner of the famous Red Lion restaurant in Sidney. He is Vietnamese by birth, although that birth occurred in Laos in 1978 as his family fled the recent fallen South Viet Nam. Established in Australia, the family has thrived and Luke is a success story as wonderful as you might imagine.
Still, we all think of home and we want to return to it. While he did not grow up on the Mekong, his family had and you might say that the river was in his blood. When you do live on a river, you just naturally ask two questions: one simple and one mysterious. The simple question — where does this river go? — usually has a standard answer — the ocean. The mysterious question — what is upstream? — has answers you can only find by making a personal journey.
In Greater Mekong, Luke startsin China near the headwaters of the Mekong and follows it all 2700+ miles to the sea. The Mekong is the 12th longest river in the world, the 7th in Asia. But it is second in the world in terms of biodiversity, second only to the Amazon. The river has geological features unlike any other, is dotted with rapids and waterfalls, and provides only limited navigation — and then only in modest boats for stretches between those breaks in the flat river.
So the Mekong could never be the platform for one dominant country to establish rule over the six great societies that sit on its banks: China, Myanmar [Burma], Laos, Thailand, Cambodia, and Vietnam. Each of those societies has used the river and the local biodiversity and the local microclimates to establish cultures with their own culinary traditions. Each of those culinary traditions is the topic of one of the book's chapters.
The traditions are described here in very, very authentic recipes. And depicted here in pictures worth of any coffee table travel tome. How authentic are the recipes? Well, there are some stunners here, ones that I don't think Suzen and I would attempt: Red Ant Egg Salad or Duck Blood Salad. I'm not even sure about the Rice Paddy Frog Curry. As I said, very, very authentic. We live in New York City, right next to Chinatown, so I suppose we could find red ant eggs. If you live in Omaha, it might be harder.
But, there are recipes here that both intrigue and do not frighten, ones where the ingredients can easily be found and where the well written recipes and the lovely photos do entice you to sample Mekong River food. There are Chargrilled Capsicums Stuffed with Pork and Lao Herbs, Inle Lake Green Tomato Salad, Prawn Cakes and Tamarind Crab.
Here's the gorgous, intense photo accompanying that Tomato Salad: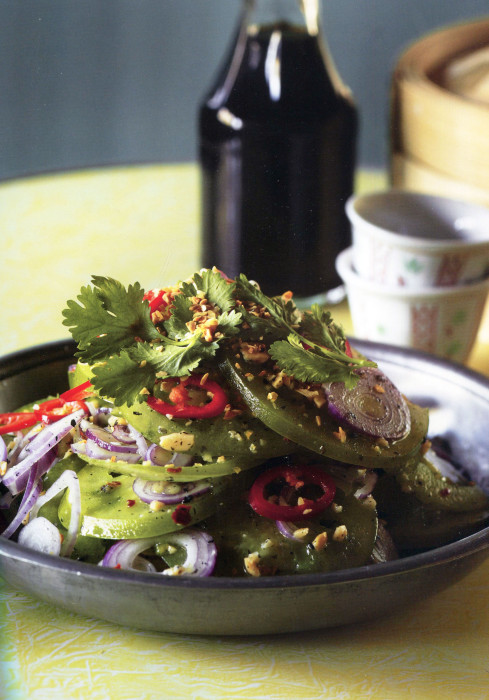 It's easily doable and beautiful. You'll see the recipe posted here tomorrow, just in time to prepare for a Sunday brunch.
In the United States we have a trend toward minimalist fast food even when cooking at home. You know, books that tout a meal with just "3 things in 10 minutes." In this book, it's often 10 or more things but it still may be a stir fry accomplished in just moments. The typical Asian home kitchen must resemble a small store, with jars of this and bottles of that. Building that inventory of ingredients is the hard part. Once your kitchen shelves are stocked, then you can imagine making these recipes, racing from one container to another for just that little bit of "this" and the touch of "that" to achieve a flavor combination that has taken centuries to perfect.
Reading this book, enjoying this book, is truly a culinary journey. Suzen and I will surely give some of these recipes a try. If we ever do take our dream vacation jaunt to Southeast Asia, this book is coming along. I'm sure we can find a small restaurant, point to one of the pictures, and get a knowing nod from someone who lives and cooks on the Mekong.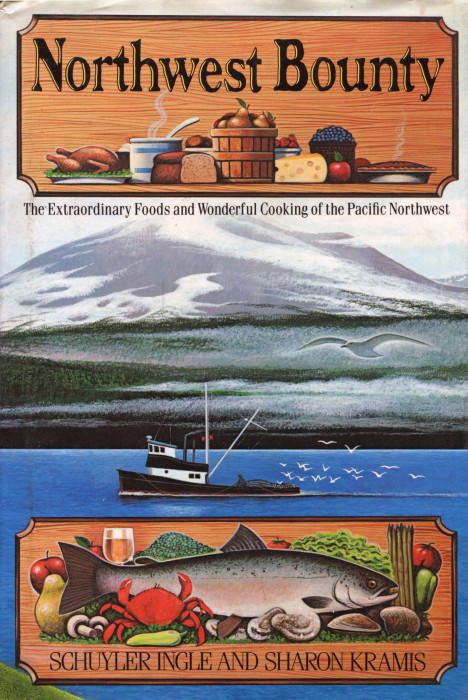 Suzen began Cooking by the Book in 1988. Back then, we did parties for friends where we all cooked together out of the same cookbook. Hence, our name.
This was the first cookbook we used, a book I picked because of my Northwest heritage. I grew up in Portland when the vineyards in the valley were not there — instead there were strawberry fields. There were a handful of good restaurants in Portland, but it was mostly "places."
Things have changed in Portland and Seattle, but there really was an underlying food heritage that is so evident in this book. One of the authors, Sharon Kramis, is one we have featured here in the past few years. Her series of cast iron cookbooks is wonderful.
But this post is about the treasure that is Northwest Bounty. It is not in print but at Amazon you can find copies starting at $0.01. It would be the best penny [plus shipping!] you ever spent.
It's a bit charming to read a book from "way back" then and see what is being discussed. Already the worries had begun about fresh versus farm-raised salmon. And already fresh was the verdict for food enthusiasts.
Blue cheese appears here, long before Oregon blue was spotlighted in the cheese counters of Whole Foods across the country. And the jam recipes. Oh these wonderful recipes. Contemporary jam books have loads of instructions and send you checking the temperature and cooking time endlessly — and Suzen and I fail every time. When the berries are in season, we will turn to the recipes here where it is "cook" or "boil" for a minute and then bottle. One minute, period. No temperatures taken.
The protein recipes here reflect the richness, indeed the bounty of the Pacific Northwest:
Braised Rabbit

Elk Stew with Cranberries and Horseradish

Honey and Chili Roasted Duck

Medallions of Lamb with Pinot Noir and Hazelnut Sauce

Venison Medallions with Gin and Thyme
Beyond the protein, there are chapters for Berries; Tree Fruits; Griddle Cakes, Scones and Coffee Cakes, Seafood, and Shellfish. Here you will find:
Sautéed Chanterelle Mushrooms with Port and Plum Cream Sauce

Walla Walla Sweet Onion and Cheddar Cheese Strata

Whole Baked Salmon with Cucumber Sauce
That first night for a CBTB event, unfortunately Suzen and I have lost that original menu so I don't know if we did salmon that night. Probably. I'm quite sure that rabbit did not grace our plates. I do know, because I picked it, that dessert was Buttermilk Chocolate Cake with Cocoa Glaze. It's a recipe that is very close to the classic Texas sheet cake. It's delicious and 27 years later we still make it once a year from Northwest Bounty. You can move thousands of miles from home, but your roots are never cut. They just extend.
Spend that penny and get yourself a volume of culinary history filled with authentic and quite exceptional recipes. I promise that you'll enjoy every page.