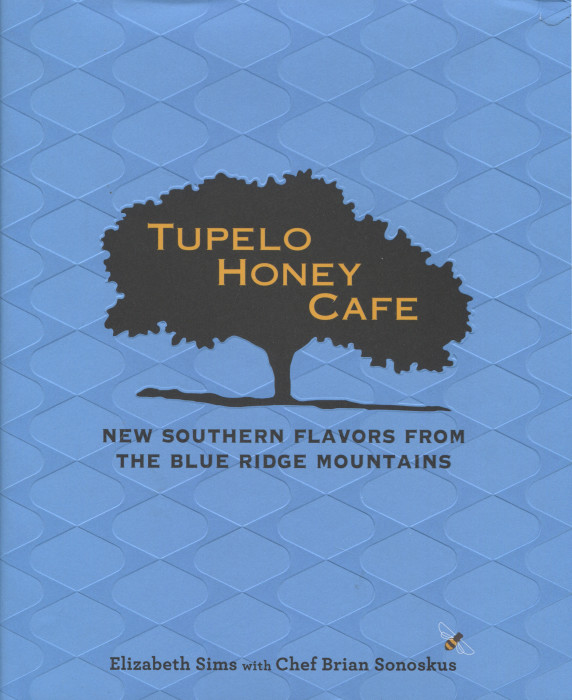 Tupelo Honey Café is a chain of southern restaurants that began in Asheville and has quickly grown to a dozen locations across the mid-south. Their first cookbook, Tupelo Honey Café: Spirited Recipes for Asheville's New South Kitchen, appeared in 2011. And just a year ago — yes, I running behind — came this book: Tupelo Honey Café: New Southern Flavors from the Blue Ridge Mountains.
Author Elizabeth Sims and Tupelo Honey Executive Chef Brian Sonokus bring the Tupelo concept to bright fruition in the 125 recipes and many pictures that comprise this newest volume. Brian is a graduate of Johnson and Wales and also has a farm just outside Ashville. He is literally a farm-to-table farmer-chef and the recipes here reflect Southern traditional food married to his Johnson and Wales sophistication.
If you have had the chance to drive the Blue Ridge Mountains, then you'll recognize the scenes from the many of the photos in this book that feature the land behind the food. If you have never seen the Blue Ridge before, these glimpses will make you want to sample the mountains. And food. Firsthand.
Enter a Tupelo Honey Café, and you are greeted with biscuits. White Lily biscuits, of course. And, no, this book's recipe is not one you'll find at the White Lilly site. Brian uses both heavy cream and buttermilk, both shortening and butter, to achieve breakfast nirvana. Or lunch. Or dinner. Or just anytime. You really can't say "no" to a biscuit, not these biscuits.
The recipes here range from beverage to picnics to dinner to, naturally, dessert. There are basic comfort food dishes here and then some elevated extensions of Southern basics. Here's a dozen and a half reasons you want to try New Southern Flavors from the Blue Ridge Mountains:
Rosemary Peach Lemonade with Rosemary Simple Syrup

Tupelo Honey Molasses Eggnog

Smoked Sunburst Trout Dip [cream cheese, garlic, trout, capers!]

Rib Eye Steak and Mushroom Pot Pie with Sweet Potato Biscuit Crust

Frogmore Stew [the Carolina Low Country specialty of sausage, chicken and shrimp]

Acord Squash Stuffed with Bacon Bread Pudding [an idea to savor until next Thanksgiving]

Maple Brown Sugar Butternut Squash Pancakes

Country Ham and Pimento Cheese Biscuits

Sea Scallop and Chorizo Cornbread Stuffing

Savory Herbed Pancakes with Smoked Trout and Tomato Concasse

Deep-Fried Macaroni and Cheese with Tomato Jam and Red Onion Marmalade

Appalachian Egg Rolls with Smoked Jalapeno Sauce, Pickled Onion, and Pulled Pork

Root Beer and Molasses-Braised Beef Short Ribs

Maple Sweet Potato Blinis with Mountain Cured Trout

Turkey Breast Tenderloin with Mushroom Parsley Beurre Blanc

Smoked Chicken Wings with Gorgonzola Cream Sauce

Gala Apple Cashew Cobbler

Maple Sweet Potato Bread Pudding
I think to enjoy the Deep-Fried Mac and Cheese, Suzi and I will be walking into one of the Tupelo Honey Café spots this summer — we're doing a drive-and-hike in the Blue Ridge on our way to a wedding. Suzi is not a deep-fry girl at all. But, I'm sure I can convince her to attempt the Root Beer and Molasses-Braised Beef Short Ribs. And that Apple Cashew Cobbler.
I hope that my sampling of the delights in this cookbook tempt you to pick up a copy and, ideally, take it home. You'll see the genius of Brian's kitchen. You start close to home with those everyday ingredients we all have: apples, sweet potatoes, onions, trout, peaches. But there is this urbane elevation that Brian applies. It's not typically southern to have Gorgonzola Cream Sauce or Maple Sweet Potato Blinis. Up in the "hollars" of those mountains, the folks don't normally serve egg rolls, and certainly not with Smoke Jalapeno Sauce.
But whether you are from a holler or a city, everyone will agree that this book is a Southern hoot, a tribute to Southern cuisines and style and to the imagination of a farm-to-table chef who epitomizes creativity.
Tupelo Honey Café: New Southern Flavors from the Blue Ridge Mountains is published by Andrews McMeel Universal. If you love cookbooks, you should explore their portfolio of edible delights.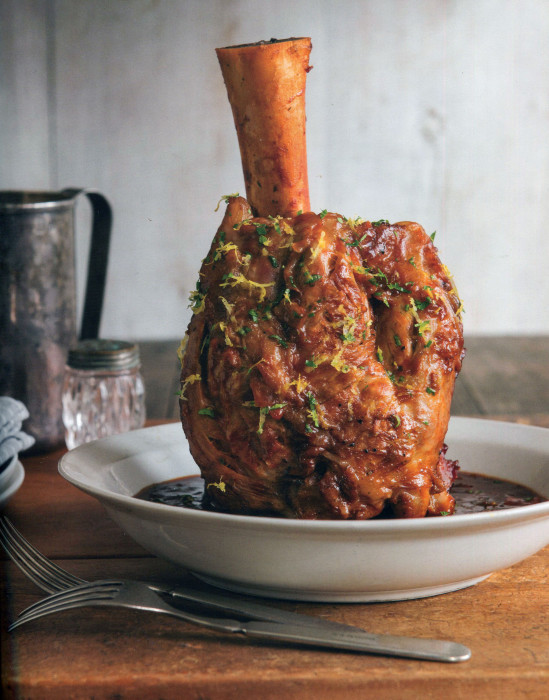 Famed butcher Pat LaFrieda has a marvelous new book Meat that combines information, education and wonderful recipes. This is the standard for meat books, the standard. Here's a link to my recent cookbook review:
http://www.cookingbythebook.com/cookbook-reviews/cookbook-review-meat-by-pat-lafrieda/
The homey recipes in Meat are definitely and truly Italian-American. The LaFrieda meat company is four generations old and meat has been the topic of work and of the table for almost a hundred years in that expanding housefhold.
This recipe, as you can see from the picture in the book, is one of those "ultimate" meat recipes that you might serve on a weekend night and certainly for a holiday. This is a classic dish, one Pat often makes. Rather than cut the shank into disks, here the entire shank is cooked whole and meat is carved off at the table. The dish has the striking presentation of, well, osso buco.
For the spring holidays, you might forgo that ham or lamb and serve this most elegant dish.
Oh, one note. When ordering a shank for this meal, be sure to request a hind shank which is considerably larger than a foreshank. If you cannot get a hindshank, use two hindshanks for four people.
---
Pat LaFrieda's Whole Shank Osso Buco

Yield: serves 4

Ingredients:

1 whole veal hind shank (about 3 ½ pounds), knuckle cut flat by the butcher; or 2 veal foreshanks (about 5 pounds)
2 teaspoons kosher salt plus more for seasoning
½ teaspoon freshly ground black pepper
All-purpose flour for dusting
¼ cup extra-virgin olive oil
1 large yellow onion, cut into ½-inch cubes
1 large carrot, cut into ½-inch cubes
1 stalk celery, cut into ½-inch cubes
4 cloves garlic, smashed
5 sprigs fresh thyme
2 strips orange zest (removed with a vegetable peeler)
1 sprig fresh rosemary
1 bay leaf
½ cup white wine
¼ cup tomato paste
6 to 8 cups veal or chicken stock, or as needed
2 tablespoons finely chopped fresh flat-leaf parsley leaves
1 lemon or ½ orange for zesting
Preparation:

Preheat the oven to 325°F.
Season the shank meat with the salt and pepper and dust it lightly with flour.
In a Dutch oven or other ovenproof pan just large enough to hold the shank (or shanks) resting on its side, heat the oil over medium-high heat until it slides easily in the pan, about 2 minutes. Add the shank(s) and sear until browned all over, about 15 minutes. Transfer the shank(s) to a plate. Add the onion, carrot, celery, and garlic to the pan you cooked the veal in. Season the vegetables with salt, stir to coat them with the oil, and cook until they begin to soften, about 10 minutes. Stir in the thyme, orange zest strips, rosemary, and bay leaf. Add the wine and cook until it reduces by half, 3 to 4 minutes. Add the tomato paste and cook for 4 or 5 minutes to caramelize it. Lay the shank in the pot (with the bone pointing to the side) and pour the stock around the meat, adding as much as needed so the liquid comes just to the top of the meat. Bring the liquid to a simmer over medium-high heat. Cover the pot with the lid (or cover it with foil if you're using a pan with no lid), put the pot in the oven, and roast until the meat is fork-tender and failing off the bone, about 3 hours. Let the shank cool in the braising liquid.
Remove the shank from the braising liquid and set it aside. Put the pot with the liquid on the stovetop and bring it to a boil over high heat. Reduce the heat to medium and simmer until the sauce is thick enough to coat the back of a spoon, about 15 minutes. Turn off the heat and stir in the parsley.
Put the veal shank on a platter with the bone standing straight up. Pour the sauce around it and zest the lemon (or orange) over and around the meat. To serve the shank, cut the meat down the length of the bone; it will begin to fall off in chunks.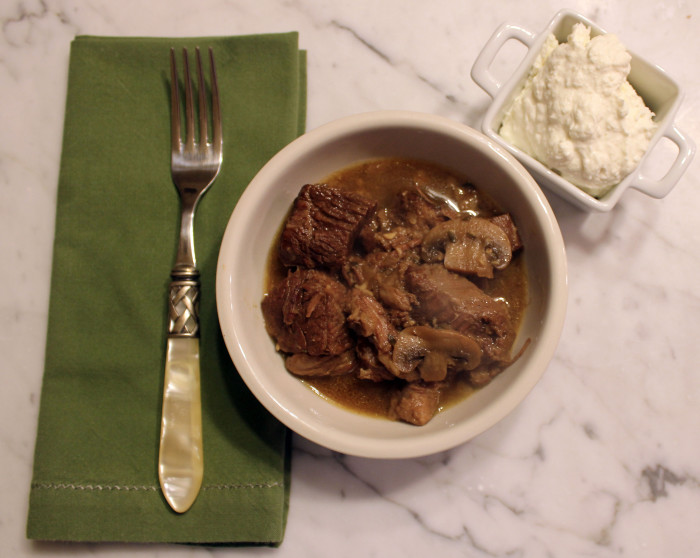 Yesterday's post was for Horseradish Cream:
http://www.cookingbythebook.com/recipes/horseradish-cream-from-curtis-stone-and-beyond/
The cream is a dream unto itself, useful in myriad ways atop proteins or salad. Heck, you can use it instead of mayo in that next roast beef sandwich.
But in Curtis Stone's newest book, Good Food, Good Life, this cream is the "frosting" atop the Porcini-Braised Beef. What is braising? It's slow cooking in hearty liquid that just covers the meat. I think of it in more military terms. Braising meat is like laying siege to city in medieval times. You take your time, you batter, you wear down, and ultimately you conquest.
Braising is idea for cheaper cuts of meat, like beef chuck roast. It's much cheaper than steak and it has a reputation for toughness. But, in this preparation, the beef is superb. It does, really and truly, fall apart in your mouth. Why not? It's been cooked for four hours in wine and beef broth. The toughness has literally been bled out of the meat and, particularly because of the mushrooms, flavor seems to have entered into every last molecule.
This was our first dish we prepared out of Good Food, Good Life and it was a happy and indulgent success.
We did not alter the recipe one single syllable. But next time, I could see adding some carrots, onions, or potatoes into the mix. Not for all four hours, say, but for the last 90 minutes for so. The broth from the braising is indulgently rich and deserves some vegetable accompaniment.
This dish is perfect for a busy weekend when you have things to do and your stovetop can carry the load, four hours at a time.
---
Porcini-Braised Beef with Horseradish Mascarpone

Yield: serves 6

Timing: prep for 20 minutes and cook for 4 hours

Ingredients:

½ ounce dried porcini mushrooms
1 3-pound beef chuck roast, cut into 8 large chunks
Kosher salt and freshly ground black pepper
3 tablespoons olive oil
1 cup dry white wine
3 cups low-sodium beef broth
1 pound white mushrooms, thickly sliced
4 shallots, sliced
8 garlic cloves, chopped 1 bunch fresh thyme
Horseradish Mascarpone (see the link above)
Preparation:

Preheat the oven to 300°F.
Using a clean coffee grinder or spice mill, grind the porcini mushrooms into a powder.
Heat a Dutch oven or other wide ovenproof pot over high heat. Season the beef with salt and pepper. Add the oil to the hot pot, then add the I beef, and cook, turning the meat occasionally, for about 10 minutes, or until well browned on all sides. Add the wine and stir to scrape up I any browned bits on the bottom of the pot, then add the broth, mushrooms, shallots, garlic, thyme, and porcini powder and bring to a simmer.
Cover the pot and place it in the oven. Braise the beef, turning the pieces of meat over halfway through the cooking, for 3 hours.
Uncover the pot and continue cooking the beef for about 1 hour, or until it is tender enough to pull apart with a spoon and the liquid has reduced by about one-third. Discard the thyme stems.
Transfer the beef to four shallow serving bowls, spoon the mushrooms and braising liquid over, and serve with the horseradish mascarpone.
Source: Curtis Stone Good Food, Good Life [Ballantine Books, 2015]

Photo Information [top picture]: Canon T2i, EFS 60 mm Macro Lens, F/4.5 for 1/30th second at ISO‑400