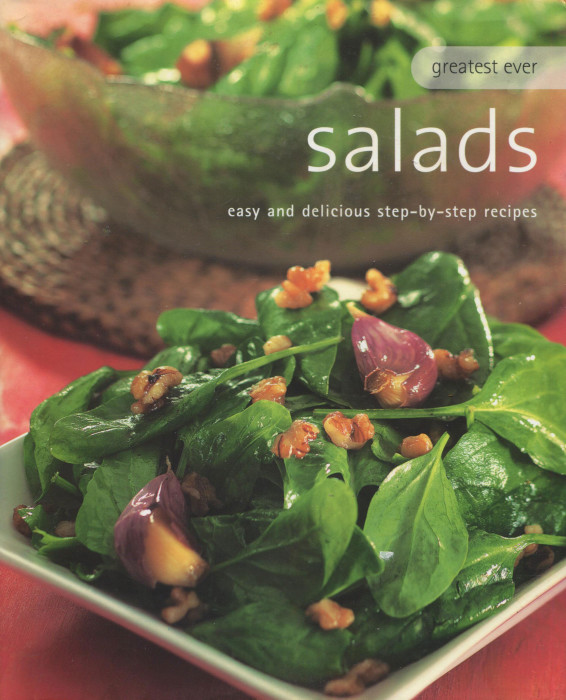 Sometimes greatness comes with no single name attached. There is no author listed for Greatest Ever Salads from back in 2005. It's one of those books, often from British publishers like this one: Parragon, that is a compendium fashioned by the staff of the publishing house. The array of recipes here are offered for us to relish, and relish you will. With, I suspect, a little dash of amazement.
That old knock on British food — at best awful on a good day — is certainly no longer valid. There is impressive food to be found there, both high end and home-based. Lovely baked goods, meat to be sure, cheese and sausages, and grand, grand Indian food.
But salads? Who would think about salads when dining ala London? Well, they are here in abundance. The over 100 recipes are divided into chapters for
Basic Recipes
Light Salads
Meat
Fish and Seafood
Vegetarian
Side
Fruit
There are old friends here, like a Feta Cheese Salad with cilantro, cucumber, scallions, tomatoes and olives. But embedded in these pages are many, many salad ideas that will have you saying, "I never thought of that. How interesting." Here is baker's dozen of salad ideas to intrigue you:
Potato Wedges with Dried Apricots and Walnuts

Chinese Salad of Pineapple, Carrot and Bell Pepper in a Deep-Fried Potato Nest

Salmon and Avocado

Smoked Trout with Pears

Cantaloupe and Crab

Buckwheat Salad with Smoked Tofu

Carrot, Cabbage & Mixed Fruit Salad

Beet, Apple and Celery

Eggplant Salad with Cinnamon, Tomatoes, and Garbanzo Beans

Mexican Potato Salad with Avocado and Green Chili

Fig and Watermelon

Melon and Strawberry

Grapefruit and Coconut
These are ideas that surely can be described as "outside the box." The influence of Asian cuisine — which you can observe on nearly every London street — is mighty. You see coconut, pineapple and other fruits pop up everywhere.
Followed to the word, these recipes will add a new dimension to your table. But, you can use these recipes as a template. Open up your fridge, look at the fruit in the bowl on your kitchen island, and just assemble your own inspiration.
Whether as a first course, main course, side, or meal finale, salads can offer immense satisfaction. Greatest Ever Salads is an excellent source for every day meals and festive feasts.