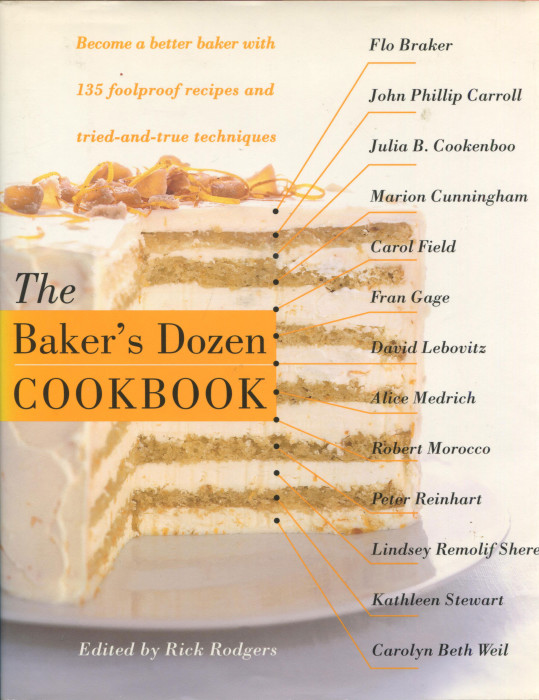 We don't know why the number 13 is feared. Suzi and I were once in Italy about to site for dinner. The hostess counted heads and discovered, in horror, that 13 of were about to sit down. The gardener was summoned so that 13 could be 14.
And we never talk about getting 13 cookies or cupcakes. It's always a baker's dozen. That extra one seems a hidden treat with such a hit of risqué culinary excitement.
Almost 20 years ago, a baker's dozen of supreme bakers in California had an idea for a fun project. They would pool ideas, recipes, time and experimentation on a baking book. They spent a few years find the "best" of many things and let Rick Rodgers edit the results into this wonderful collaboration.
Some of the 13 contributors are famous: Flo Braker, Marion Cunningham, Carol Filed, David Lebovitz Alice Medrich and Peter Reinhart. And the other, less familiar authors here are ones you surely wish to investigate: John Phillip Carroll, Julia B. Cookenboo, Fran Gage, Robert Morocco, Lindsey Remolif Shere, Kathleen Stewart, and Carolyn Beth Weil. The pedigree of this book is unsurpassed.
What do you find here? Chapters are devoted to all the usual and necessary suspects:
Cakes
Sweet and Savory Pie
Tarts
Fruit Desserts
Cookies
Muffins, Popovers, Easy Quick Bread and Doughnuts
Yeast Breads and Flatbreads
Custard and Other Egg-Based Desserts
Frostings, Glazes, and Sauces
In those categories you find a blend of old friends and snappy new ideas. [Well, new in 2001 and probably still new to you!]. There's a Best Cheesecake and Best Chocolate Chip Cookie. But my eye was caught by those ideas I had not yet tasted:
Blood Orange Chiffon Pie with Chocolate Crum Crust

Espresso Sponge Cake with Caramel Crunch Topping

Creamy Mocha Pie

Heavenly Hazelnut

Cake with Chocolate Rum Glaze

Peanut Butter Layer Cake with Strawberry Jam
The important factor here is that each of these recipes was honed by the team for several months to almost three years. They were baked, tasted, tweaked, tasted again, tweaked again. These are perfected recipes. And, while this book is 15 years old, you'll enjoy these recipes 15 years from now, or 30 or 45. I think 45 years might be a stretch for me, but I can make 30 more.
You need something to look forward to. For me, it's the Blood Orange Chiffon Pie with Chocolate Crumb Crust. And tomorrow, you get the recipe!