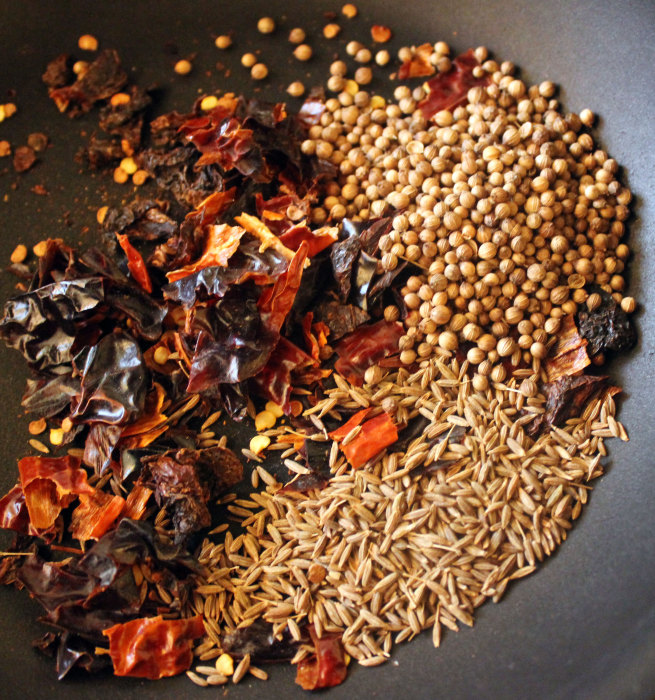 Last week I posted a review of Farm Fork Food by Eric Skokan,
http://www.cookingbythebook.com/cookbook-reviews/cookbook-review-farm-fork-food-by-eric-skokan/
I noted that there was recipe for Pork Chorizo I knew my chorizo-addicted wife would probably gravitate to. She did, quickly. I showed her the recipe last Wednesday and this Saturday we were at our butcher getting ground pork and salt back. We made chorizo patties and celebrated an amazing flavor. Author Erick Skokan notes that "Chorizo made from scratch is not only rewarding but substantially better than the store-bought version." He's right.
Eric also talked about the versatility of this sausage. You can cook and eat it on its own. Or combine it, as he does, with avocado halves. Or embed it, as we did, in scrambled eggs.
Suzen followed the recipe here in terms of the volume of spices. But, as the picture above shows, we started with fresh spices and chiles and toasted them in a pan to generate the most intense natural flavor. Once toasted, Suzie let the food processor create the volume of ground spices shown below.
One warning. This combination of spices is extremely hot. Suzen and I have a habit of seeing a recipe, saying "ah, we can make it hotter," and then doubling down on the spices.
"I'm going to follow the recipe this time," Suzen said. Something in her brain set off alarms. Once we ate the sausage patties, something in our mouth set off alarms. This mixture is HOT. Do not intensify it. There is back heat that arises after two or three seconds that can generate just a moment of panic. This is definitely not your typical store-bought chorizo. We are not going back.
Lastly, the directions here assume you have a meat grinder at home. We do, but for ease we let the butcher grind the pork for us. For the salt back, Suzen bought it solid, took it home and froze it, then let the food processor slice and dice. That processed salt back and butcher's ground pork were mixed by hand.
I must say Suzen looks smashing with rubber gloves on and meat dripping from her fingers.
You can freeze these patties and cook on demand. One taste and you will be demanding.
---
Pork Chorizo

Yield: serves 4

Ingredients:

1 pound pork shoulder, cubed
4 ounces fatback or pork belly, cubed
¼ cup diced onion
2 tablespoons minced garlic
2 tablespoons ground chiles de arbol
1 tablespoon ground black Oaxaca chiles
2 tablespoons ground coriander
1 tablespoon lemon juice
Sea salt
Preparation:

Pre-chill the grinder attachment, auger and cutting dies in the freezer overnight.
Pass the shoulder, fatback, onion and garlic through the grinder set with a medium cutting die. Change to a small die and pass the pork mixture through a second time. Transfer to the bowl of a stand mixer fitted with a paddle attachment. Add the spices and lemon juice and season with salt. Beat on low speed until tacky, about 3 minutes.
In a small sauté pan over high heat, cook 1 teaspoon of the pork mixture to check for seasoning. Taste and adjust if necessary.
Form the chorizo into 2-inch diameter patties. In a large sauté pan over I medium-high heat, cook until lightly browned, 2 to 3 minutes. Turn the patties over and cook for about 2 minutes more. Transfer to a platter to rest.
Photo Information: Canon T2i, EFS 60mm Macro Lens, F/4 for 1/20th second at ISO 3200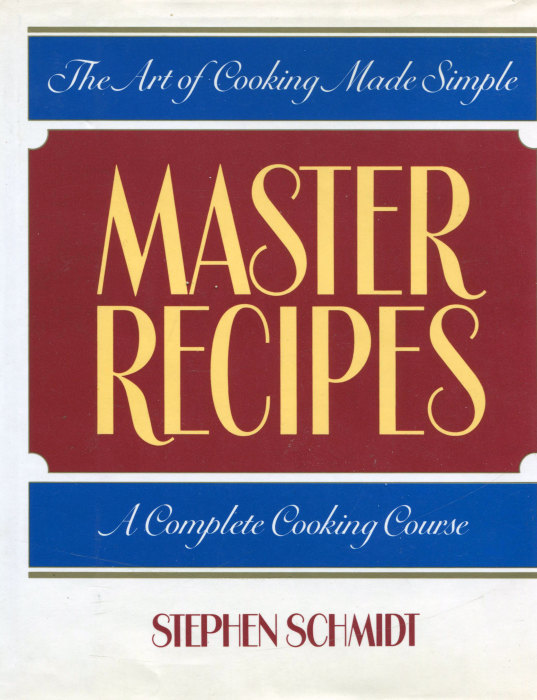 It's time this week's Throwback Thursday Cookbook Review, and this week the selection is personal.
I remember 1987 very well. Suzen and I moved to NYC from Boston, found our Tribeca loft and very early on began the steps that led to Cooking by the Book. In one of those steps, Suzen started taking cooking classes and met instructor Stephen Schmidt, the newly minted author of Master Recipes. If you have ever seen Master Recipes, then you know it is an amazing, groundbreaking book.
There are 941 pages and well over 500 recipes. Stephen's clever idea was to introduce the concept of a master recipe [or technique] — something that can serve as the foundation for multiple ideas.
For example, there is Master Recipe for Sponge Cake, with 2 ½ pages of ingredients and instructions. Detailed instructions so that you will successfully and flawlessly craft the best sponge cake possible. Information on pan sizes, techniques and scaling the recipe are all woven into the Master Recipe to give you perspective and options. Then, once you have mastered the idea, Stephen follows with recipe options:
Apricot Sponge Layer Cake
English Triffle or Zuppa Inglese
Filled Orange Sponge Cake
Sponge Layer Cake with Praline Butter Cream
Chocolate Ganache Cake
Italian Rum Cake
Sponge Roll Cake or Roulade
You might not know these are all dessert siblings, but they are. The recipes for these other treats often refer to the original Sponge Cake recipe, requesting some modifications or starting with a completed Sponge Cake but then extending the flavor.
So, if you have Master Recipes on your kitchen island, you may be doing some page flipping, working both with a master recipe and a particular variation. Your hand will not get too tired and you'll find yourself immersed in detail and receiving a superior education.
Master Recipes has over 30 chapters ranging from Master Herb and Spice Shelf through Stocks Braised Meat and Poultry, Shellfish, Quick Breads, Pies, and onto Fresh Fruit. Stephen is an exceptional chef, writer and teacher. Master Recipes is a master book, something that is ageless and a volume we resort to every single week.
Although Stephen can describe and teach any element of a meal, the man does have a sweet tooth that is refined but very large. His desserts are brilliant, for example the Angel Food Cake I blogged about a few days ago:
http://www.cookingbythebook.com/recipes/angel-food-cake-from-master-recipes-by-stephen-schmidt/
Originally published 1987 and reissued in 1998, you can still find copies of Master Recipes online. Stephen is a dear friend of Suzen and me. He and I have slightly different perspectives on the world and politics, but we do have common ground on desserts, of all kinds. That's probably the best way to forge a relationship.
And if you want the best in desserts — or soups or stews or braised fish — then you want to lift up all 941 pages, find an easy chair, and enjoy some delicious browsing. Master this book and you will have mastered cooking.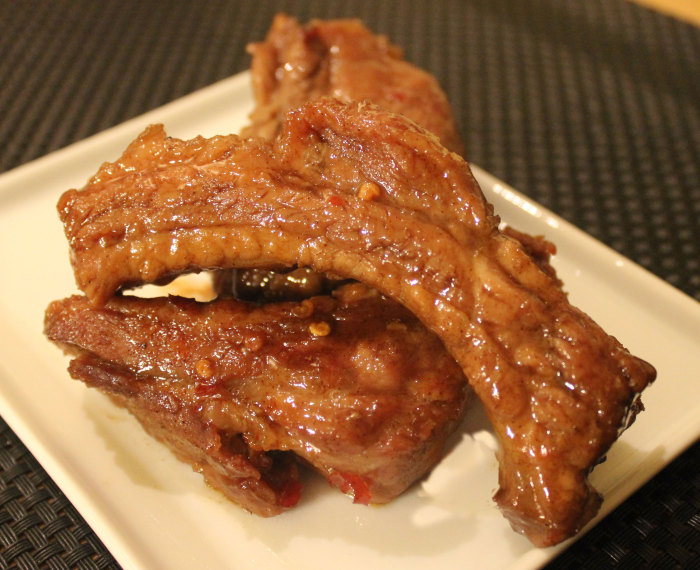 These ribs come from Comfort Food by Ryland Peters & Small, the British publisher of an exceptional line of cookbooks. The Comfort Food volume may be small and slim yet you will find it packed with comfort food ideas that will stir saliva:
http://www.cookingbythebook.com/cookbook-reviews/cookbook-review-comfort-food-from-ryland-peters-and-small/
I would suggest these ribs as an appetizer, but you'll have guests asking to use your shower. The title says "Sticky" but that is an understatement. They are also very, very good. You can use short or loin ribs. I actually got a rack of baby backs, better quality meat, and divided them up before cooking.
The flavor is spicy yet sweet because of the hoisin and sweet chili sauce. The meatier your ribs, the more you will enjoy. These are, cleanliness aside, a great Super Bowl Sunday treat.
This recipe will seem heresy to some of you, for it involves beginning the rib cooking process by parboiling them in water. Rib connoisseurs are used to cooking their ribs for hours, and you can do that and the ribs taste grand. But here, after 5-10 minutes of boiling and some time for marinating, the oven time is just 40 minutes.
You are going to save an hour or two. Yes, the kitchen will not fill with tantalizing aroma for so long. Neither will your stomach growl with disapproval. Is the taste or texture compromised? Honestly, with this spicy rub, I was a very happy rib eater.
Accompany the ribs with deep and dark red wine or a margarita made with chile tequila and rimmed, not with salt, but with chile pepper.
---
Sticky Spare Ribs

Yield: serves 4

Ingredients:

2 pounds short or loin pork ribs or country-style pork spare ribs
4 garlic cloves, crushed
2 tablespoons grated fresh ginger
4 tablespoons (clear) honey
2 tablespoons soy sauce
2 tablespoons hoisin sauce
2 tablespoons sweet chile sauce
2 tablespoons tamarind paste
¼ teaspoon Chinese five-spice powder
A large roasting dish
Preparation:

Place the ribs in a saucepan of water, bring up to the boil and simmer for 5-10 minutes, then drain.
Mix the remaining ingredients together in a large bowl, add the ribs and stir thoroughly to coat. Let cool and allow to marinate for about 30 minutes.
Preheat the oven to 375°F.
Tip the ribs and marinade into a large roasting dish, cover with foil and cook on the middle shelf of the preheated oven for about 20 minutes. Remove the foil, turn the ribs over, basting them with the marinade, and cook for another 20 minutes until sticky and browned all over. Allow to rest for a couple of minutes before serving with plenty of napkins.
Source: Comfort Food from Ryland Peters & Small

Photo Information: Canon T2i, EFS 60mm Macro Lens, F/4 for1/50th second at ISO 1200