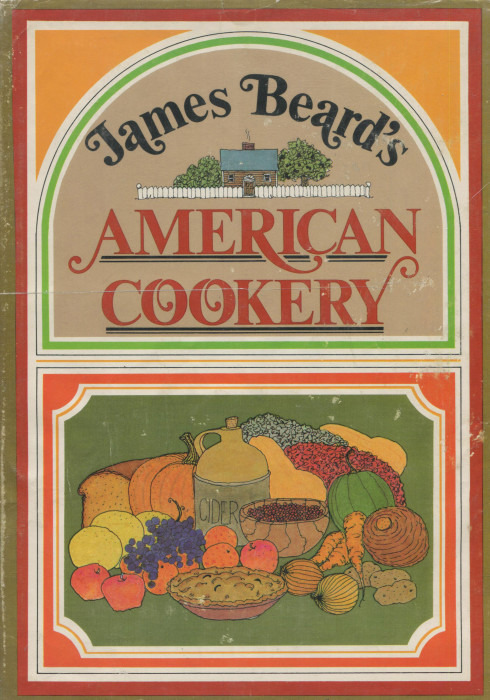 In 1972, as his long career was nearing sunset, James Beard wrote American Cookery, a massive treatise on the American cuisine of the 1970s and of the three centuries of earlier dishes that have contributed to American cookery.
Ah, cookery. A strange word and used in Britain but less here in America. Cookery is more than cooking, which classically referred to food preparation over heat. Cookery is more than that: it is the full compendium of ideas, techniques, ingredients and ethnic influences that shape each dish we fashion in our kitchens and our restaurants.
Beard was a character. Intense, demanding and with an incredible mind to recall and compare recipes. Born in Portland, Oregon to foodie parents, he began his food odyssey on the shores of the Pacific and the rivers and lakes of Western Oregon. By the time he constructed this volume, he had traveled the world and, in particular, circulated all across the United States. His sources were the big towns and prime restaurants, of course. But also small byways and home-cooked specialties that caught his eye.
Beard was a classicist. Here's a passage from the forward to this book:
French cuisine is the goal of every amateur in the kitchen. One must do all of the famous provincial dishes and bourgeois dishes, and now again attempt to reconstruct some of the monuments of grand cuisines, an aspiration that often leads the novice into techniques far beyond his depth.
Beard was not being a snob there, but he was being quite direct. He viewed French cuisine as the penultimate and a demanding one at that. Yet he was encouraging everyone to try French cuisine, learn, fail perhaps, and try, try again. There are 26 letters in the English alphabet and 27 chapters here, a micro-dissection of the food spectrum. Separate chapters for eggs and cheese. For poultry, game, beef, veal, lamb, pork, ham and bacon.
The spotlight is focused one chapter at a time on each of the ingredients that he so very treasured. You'll find recipes here that are familiar — at least to your ear if not to your palette — and then some that are among the gems he discovered in his journeys. Here are ideas from the 60 pages of fish and shellfish recipe:
Pan-Fried Smelts with Tabasco and breadcrumbs

Walnut-Breaded Sole

Smoked Fish Fillets Poached in Milk

Lobster Sauté with Curry

Illinois Oyster Balls with Mashed Potatoes and Chopped Almonds

Cioppino

Eel Chowder
These are American recipes but reflect some French influence: the number of ingredients, the delicacy of preparation and the time required for many of the recipes. Yes, the Fried Frog's Legs cook in just a couple of minutes. But the Lobster Chowder though takes 5 to 6 hours with, Beard notes, some Maine traditionalists claiming 4 or 5 days would be better.
Turn each page and things just do get better and better in American Cookery. It took Beard over 60 years to assemble the knowledge and recipes cradled here. It could take you another 60 to work your way through doing just what he suggests: trying, learning, failing perhaps, and then trying all over again. This book is a masterpiece. Walking through this book is a culinary education from an unsurpassed master. One lobster, one stir of the whisk at a time.