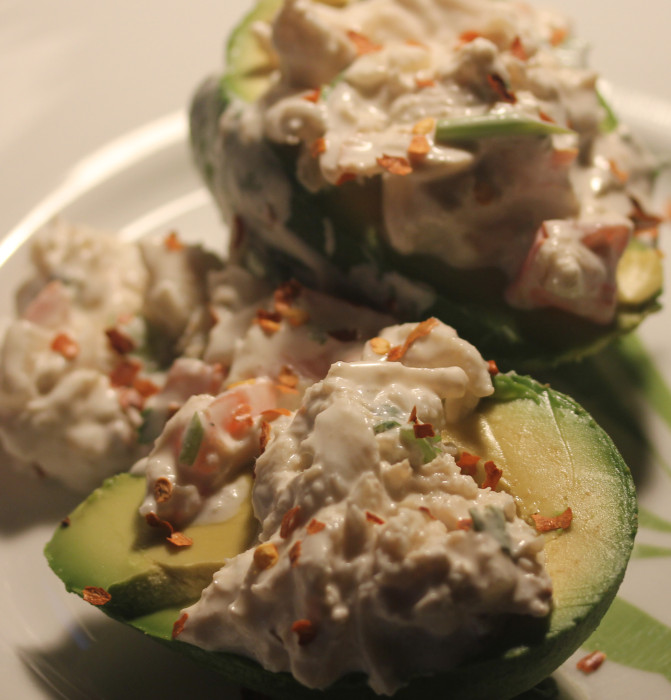 Certain marriages are just perfect. Like mine [no, I am not saying that under great duress]. And equally crab and avocado.
There are an infinite number of ways to match up crab and avocado. They do seem an unlikely pair, but in your mouth, well, there is nothing more satisfying. Here's my latest way to arrange that marriage using, unexpectedly, some left over salsa. The salsa was originally built for a Corn, Jalapeno and Goat Cheese Tartine from the new Le Pain Quotidien cookbook. That's tomorrow blog, in fact.
The tartine is served with a basic salsa. Take that salsa, augment with mayo and sour cream, add crab, and adorn the top of avocado halves. It's a ten minute operation that can serve as your first course or be the main for a brunch. The salsa is jalapeno free, so it's cool rather than hot. A dusting of red pepper flakes at the end addresses that little problem.
Brian's Crab and Avocado with Creamy Salsa
Yield: Serves 3 generously
Ingredients:
For the creamy salsa:
1 tomato, diced
½ onion, finely chopped
½ garlic clove crushed
2 tablespoons finely chopped cilantro
Juice of two limes
⅓ cup mayonnaise
⅓ cup sour cream
4-5 ounces of crab meat
Salt and pepper to taste
For the assembly:
3 avocados, halved and pitted
Red pepper flakes
Preparation:
Combine the tomato, onion, garlic, and cilantro in a bowl and mix. Add the lime juice and remix. Add the mayonnaise, sour cream and crab. Stir to mix. Then test for seasoning and add salt or pepper as needed.
To assemble the dish, place two avocado halves on a plate and scoop in a third of the creamy salsa. Sprinkle with red pepper flakes. Repeat for the two other avocados.
Serve with chilled white wine. Sparkling is an excellent option.
Source: Brian O'Rourke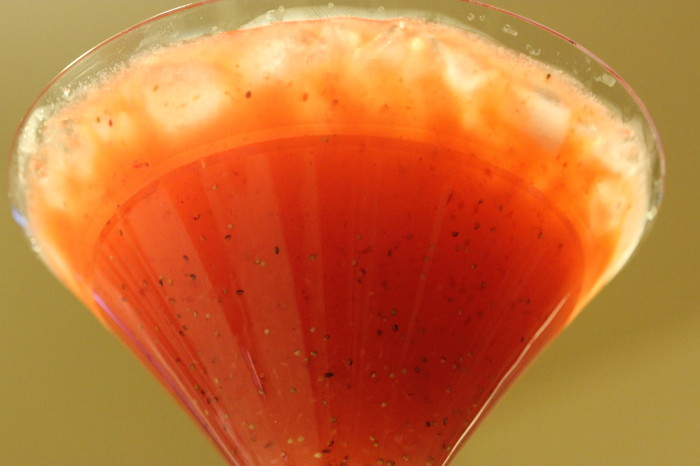 Ultimate is one of those words that just might seem a bit egotistical. The ultimate? The best?
"Best drink ever," Suzen beamed at me. She meant it. "How did you do this?"
"Sugar," I said.
"I know that. What else?"
"Aperol."
"No. Tell me the truth or I'll be forced to …"
"It's Aperol." I was telling the truth.
"Brian?"
"Yes?"
"How much Aperol do we have?"
In the past few months, I've touted Aperol as the liqueur that,  for those of who find Campari too harsh, anyone can enjoy with a smile. Aperol is orange and bitter. Margaritas demand orange and sweet. How can you make Aperol work here?
You make this strawberry margarita with strawberry puree — the recipe was posted a couple of days ago here. Basically, take 4 cups of strawberry halves and ¾ cup of sugar, and put them in a blender. Let it rip for 3 minutes. Sieve if you want, but the picture above shows those pretty black seedlets that I think gives character to the drink.
The balance of flavor here is perfect. You get the orange from the Aperol, plus the undertones of bitterness to contrast with the puree which is, in a word, sweet.
The drink is seductively smooth and does not overpower you like many a margarita can. This is about enjoying flavor. You'd have to drink a boatload to get smashed. Course, it tastes so good, a boatload is feasible.
There are liqueur options below. Besides Aperol, Rick Bayless suggests optionally paring up with Cointreau or Fragoli, the Italian strawberry liqueur. There are many, many flavor combinations here to enjoy. Somewhere, you'll find a favorite.
The recipe below calls for Strawberry Sugar for rimming the glass. It's really optional but easily done. To make it, just put equal amounts of freeze dried strawberries and granulated sugar in spice grinder or small food processor and pulverize.
Ultimate Strawberry Margarita
Yield: 1 drink
Ingredients:
Strawberry sugar for rimming

1 lime wedge
1 ½ ounces blue agave blanco tequila
¾ ounce lime juice
1 ounce Aperol, or ½ ounce Aperol and ½ ounce Cointreau or ½ ounce Aperol and ½ ounce Fragoli
1 ½ ounces strawberry puree
6 to 10 ice cubes
Strawberry fan for garnish [optional]
Preparation:
Spread the Strawberry Sugar on a small plate. Moisten the rim of a 6-ounce margarita glass with lime wedge and upend the glass onto the sugar to crust the rim.
In a cocktail shaker, combine the tequila, lime juice, Aperol [and other liqueurs], strawberry puree and ice. Cover and shake vigorously until frothy and cold. Tiny ice crystals will appear in the drink after about 15 seconds of shaking. Strain into the sugar-rimmed glass and serve immediately. Garnish with the strawberry, if you like.
Source: Frontera: Margaritas, Guacamoles, and Snacks by Rick Bayless with Deann Groen Bayless
Photo Credits: Canon T2i, 18-55mm lens at F/5.7, 1/60second at ISO 3200 [no flash]