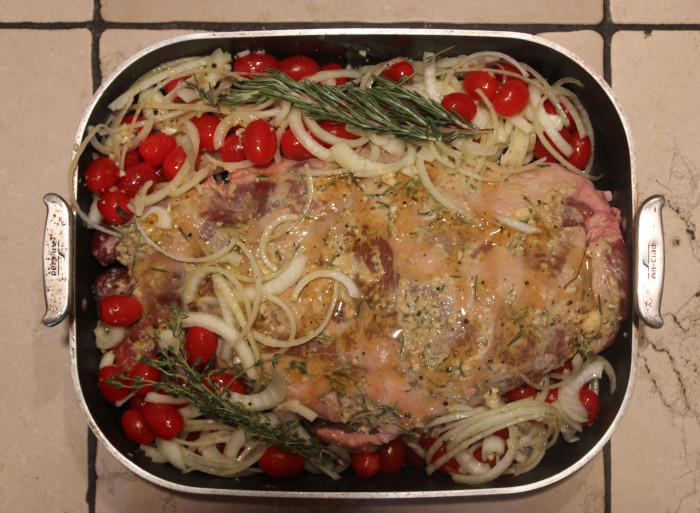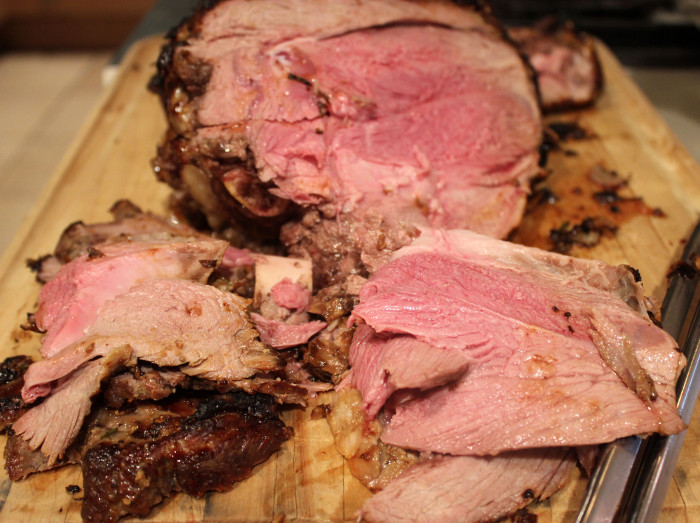 Easter is over. The candy gone, not to return for another year. Next Easter perhaps you'll face that same "lamb or ham" question. But you know, it's still springtime and the lamb is still here for enjoyment. For our Easter dinner, and perhaps for your next spring feast, we wanted lamb. But we did not want the standard "garlic and mint sauce" lamb.
"Find something different," was Suzen's request.
I googled and this recipe came up in first place. My search was over in five seconds and I'm sure I could not have found a better lamb roast idea. It's an Ina Garten recipe, so no more need be said. It's a lovely recipe, easily followed and perfectly delicious. Perfectly.
We've never cooked lamb this way before but we will in the future. This Provencal-style recipe begins with adorning the lamb in herbs, vinegar and honey. In the roasting pan, the lamb is surround with tomatoes and onions — no potatoes because this is Provencal and not Irish, but nobody is watching you.
We used cherry tomatoes and after 90 minutes in the oven, with the lamb juices to braise them, these tomatoes were a meal unto themselves. And, of course, there is the lamb: herby, spicy, sweet. It is a festive dish, one that supplies leftovers you'll enjoy either reheated or served in sandwiches.
For some folks, lamb is an acquired taste. Try this lovely recipe and you will have made the acquisition.
---
Easy Provencal Lamb

Yield: serves 8+

Ingredients:

1 (6- to 7-pound) bone-in leg of lamb, trimmed and tied
½ cup Dijon mustard
3 tablespoons chopped garlic (9 cloves), divided
1 tablespoon chopped fresh rosemary leaves
1 tablespoon balsamic vinegar
Kosher salt and freshly ground black pepper
3 pounds ripe red tomatoes, cored and 1-inch diced
½ cup good olive oil
½ cup good honey, liquid not solid, divided
1 large Spanish onion, sliced
4 sprigs fresh thyme
2 sprigs fresh rosemary
Preparation:

Preheat the oven to 450 degrees.
Place the leg of lamb in a large roasting pan fat side up and pat it dry with paper towels. Combine the mustard, 1 tablespoon of garlic, the rosemary, balsamic vinegar, 1 tablespoon salt and 1/2 teaspoon of pepper in a mini food processor and pulse until the garlic and rosemary are minced. Spread the mixture on the lamb.
Place the tomatoes, olive oil, 1/4 cup of the honey, the onion, the remaining 1 tablespoons garlic, 2 tablespoons salt, and 2 teaspoons pepper in a bowl and toss well. Pour the tomato mixture around the lamb and tuck in the thyme and rosemary sprigs. Drizzle the lamb with the remaining 1/4 cup of honey.
Roast for 20 minutes. Turn the heat down to 350 degrees and roast for another 1 to 1 1/4 hours, until a meat thermometer registers 130 to 135 degrees for medium-rare. Place the lamb on a cutting board, cover with aluminum foil, and allow to rest for 15 minutes. Discard the herb stems and return the tomatoes to the oven to keep warm. Slice the lamb, arrange on a platter, sprinkle with salt and pepper, and serve with the tomatoes and pan juices spooned on top.
Source: Ina Garten at Epicurious.com and her book How Easy Is That [Clarkson Potter, 2010]

Photo Information [top picture]: Canon T2i, EFS 60 mm Macro Lens, F/5 for 1/50th second at ISO‑2500

Photo Information [bottom picture]: Canon T2i, EFS 60 mm Macro Lens, F/4.5 for 1/30th second at ISO‑1250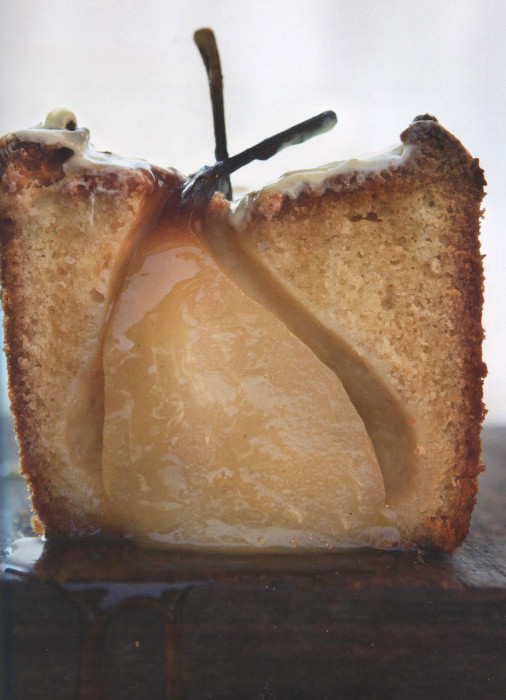 This exceptionally beautiful cake is on the cover of Home Made Winter by Yvette van Buren. Quoting her, "This recipe has been published all over in magazines and newspapers, but I really don't care; since it's so good and looks so cool, it belongs in this collection."
I agree. This cake is so breathtaking it is irresistible. Wine-poached pears are embedded in a spice cake baked in a loaf pan. The reduced poaching liquid is added on top for a final flourish of flavor. I don't know who first created this dessert, but they are an artist of magnitude. And taste.
Suzen makes poached pears often for her team building clients at Cooking by the Book. She's a red wine poacher and I'm sure that change is something that can easily be substituted here.
---
Cardamom Cake with While Pears & White Chocolate

Yield: serves 6-8

Ingredients:

For the pears:

3 medium-size crisp, firm pears (such as Bose), peeled but whole, with the stem left on
1 (750-ml) bottle dry white wine
1 ¼ cups (250 g) sugar
4 cloves
3 star anise
8 cardamom pods
2 cinnamon sticks
For the cake:

1 ½ cups plus 2 tablespoons [200 grams] butter, softened, plus extra for greasing
1 cup sugar
4 eggs
1 ½ cups self-rising flour
1 generous tablespoon ground cardamom
Pinch of salt
And further:

Preparation:

Poach the pears: In a large saucepan, combine the pears, wine, sugar, cloves, star anise, cardamom, and cinnamon and poach for 30 minutes over low heat.
Take the pears out of the liquid and set aside to cool. Add 2 ½ cups (500 ml) water to the poaching liquid and boil to 1 reduce the liquid by half. Let cool.
Make the cake: Preheat the oven to 350°F.
Using a hand mixer, beat the butter and sugar in a large bowl until creamy. Beat in the eggs one at the time. Don't add a new egg until the previous one is incorporated.
Sift the flour, cardamom, and salt over the batter and fold it in.
Butter a 9-by-5-inch (1.5 1) loaf pan and line it with parchment paper. Butter the parchment paper.
Spoon the batter into the pan. Press the pears in, stem end up. Bake for 40 minutes, until a toothpick inserted into the cake 1 part comes out clean.
Allow to cool in the pan, then gently remove the cake from the pan to a rack to cool completely.
Very carefully melt the chocolate: Set a heatproof bowl over a pan of simmering water, making sure the bowl doesn't touch 1 the water. Stir the chocolate in the bowl until melted. Using 1 a spoon, drizzle the chocolate over the cake and create nice stripes on top.
Let the chocolate dry for a bit and serve the cake in thick slice with the reduced pear syrup poured on top.
Source: Home Made Winter by Yvette van Boven [Stewart, Tabori & Chang, 2012]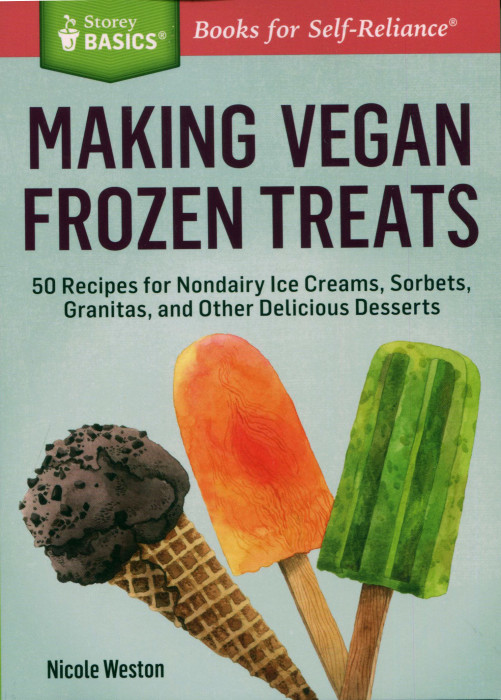 Yesterday I blogged a little book in the Storey Basics line: How to Make Ice Cream by Nicole Weston. Nicole has another book in this series that is equally excellent: Making Frozen Vegan Treats. Okay, I know, you see the word "vegan" and you begin to think … Vegans have sweet tooths, too, folks. In fact the subtitle of this book is "50 Recipes for Nondairy Ice Creams, Sorbets, Granitas and Other Delicious Desserts." There are idea aplenty here for everyone, vegan or not. Good things.
The Storey line of books, Storey Basics, are short, simple and attractive introductions to lifestyle topics, from knitting to beading to cooking. These books are portable, a compact 5" X 7", and come at a price point of about $9. These books are nostalgic, looked like some of those little cookbooks from the 50s and 60s that were "modern" then and now seem perfectly quaint.
These are more than quaint between the covers of this book.
Here's a rundown of the book's seven chapters [with some representative recipes!]:
Coffee

Maple Syrup

Chai Tea
Peanut Butter and Banana

Mocha Almond Fudge

Horchata
Pumpkin Spice

Mango Rice

Raspberry and Lime
Peach Melba

Tangerine and Olive Oil

Strawberry Watermelon

Honeydew and Mint
Banana Pudding Pops

Blueberry Balsamic Pops

Root Beer Float Pops

Avocado and Lime Creamsicles
Ice Cream Sandwiches and Other Frozen Treats
Maple Chocolate Chip Cookies

Chocolate Affogato
Dark Chocolate Fudge Sauce

Vegan Salted Caramel Sauce

Coconut Cream Whipped Cream
As you can see, there are contemporary flavors here: the Chai Tea, the Horchata or the Avocado and Lime Creamsicles. Plus there are lovely combinations of flavors — that Strawberry Watermelon Sorbet or the Root Beer Float Pops — that let you enjoy old favorites in new textures and shapes.
The ideas here will please adults and children. It's the perfect book for a summer vacation. Pack the kids, some fruit, and your ice cream maker. Spend an evening over the barbeque and making popsicles with your kids. Life is short. There is never enough time for all the sweetness you and your family deserve. This is a book with something for everyone at your table.