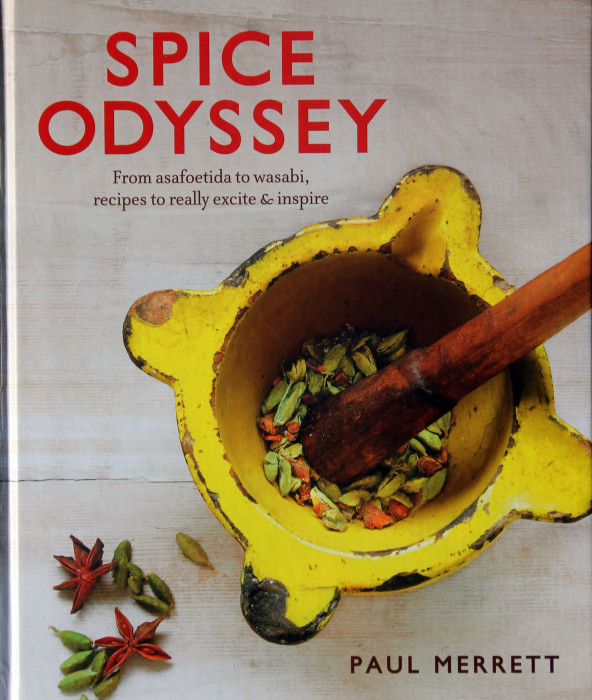 You are very likely see a copy of Spice Odyssey by Paul Merrett. I've been in several bookstores and Spice Odyssey is given prominent placement. You cannot miss the book lying on the "New Arrivals" table. The cover features a mortar and pestle. Not the pristine marble and marble pairing you first think of. No, this pestle is dark wood, hand carved and worn. The mortar is metal with yellow peeling paint. That's the definitive hint: this book is all about heavy duty, real food. It's comfort food with a spice punch.
Author and chef Paul Merrett was almost destined, from birth, for this book, his West London restaurant, his TV appearances, and the two Michelin stars he has won at two different restaurants. Paul was born in Zanzibar to a mom from South Africa who, he describes, had wanderlust. He grew up in the spice capital of the world, influenced by Asian and African cuisines.
The pathway then was simple: home to England, college, apprenticing in restaurants, then leading the outstanding teams that have won those Michelin stars.
This book is a display of Paul's favorite ideas and dishes. He has crafted it for the home cook and provides recipes written for us, not his accomplished restaurant staff. So, you are carefully guided on this Spice Odyssey. And, odyssey it is. Paul tells you up front that you will be dodging from country to country, continent to continent. On one page, you are in Asia, then Mexico, then Italy, then somewhere else. The pace is breathtaking, even before you hit the spice rack.
Here are the main chapters with some sample recipes:
Appetizers
Batel leaf wraps with ginger, crispy shallots, chile and broken cashew nuts
Ginger beer-battered broccoli tempura with minted mango yogurt dipping sauce
Fennel risotto with chilled melon and green peppercorns
Watermelon, mint and chile gazpacho
Fried egg soup with smoked paprika and ground chile
Lunch and Dinner
Whole baked sea bass with wok-fried peppers and a citrus-chile-cilantro broth
Clams cooked in cider with smoked bacon, chorizo, parsley and chile
Smoked paprika chicken casserole with chickpeas, peppers and chorizo
Asian spiced short ribs
Quick and Simple Suppers
Roasted vegetable couscous with feta and pomegranate
Tomato and scallion quesadilla with three bean, chile and avocado salsa
Twenty-five minute vegetable tangine with cauliflower couscous
Shrimp papparadelle with chile, lemon, garlic, basil, and parsley
Classic coronation chicken [ginger, curry, mango chutney, mayo, coconut cream, cilantro]
Moroccan spiced lamb burger with tomato chile jam and tzatziki
Sweet, Sweet Spice
Coconut and lemongrass panna cotta with sweet chile pineapple
Poached bananas on toasted brioche with coffee bean, cardamom and star anise syrup
Almond, cinnamon and cranberry wontons
Pecan and walnut baklava with apricots, Greek yogurt and honey
Those sample recipes have been carefully selected. There are many recipes here whose titles are going to puzzle you a tad, like the seared shrimp with patatas bravas, chile, garlic and pimento aumado and aioli. I have to tell you, as I write this down, my spelling checker is having a heart attack. What is all this stuff? Fear not, Paul explains it all. The pimento aumado is smoked paprika, for example.
I called this comfort food. I did that because Suzen and I have a fondness for chile, and complexity. These recipes reflect their world-wide origins. There are more than a few ingredients, more than a little time may be required. But, the results are feasts and you can serve these dishes equally for a dinner party at the high end as well as for your family on one of those comfort food night.
There is diversity in the origins, the heat, and the complexity level across the spectrum of recipes here. No matter your food mood, you are sure to find something here that will intrigue you and surely become a favorite.
Along this Spice Odyssey, Paul offers some enlightening notes on his travels, spice gardens, and how to buy and store and employ spices: grinding, deep-frying, rubbing, or marinating. All the techniques are here.
There is even, and I love this, a section on how to make your own tandoor oven using a metal garbage pail. I don't know. It doesn't look that hard. Suzen and I always order Tandoori Chicken. This may be the first cookbook where, after you buy it, your first stop in Home Depot before the hitting the spice section of your supermarket.
Look for the book. You'd have to be color blind to miss it!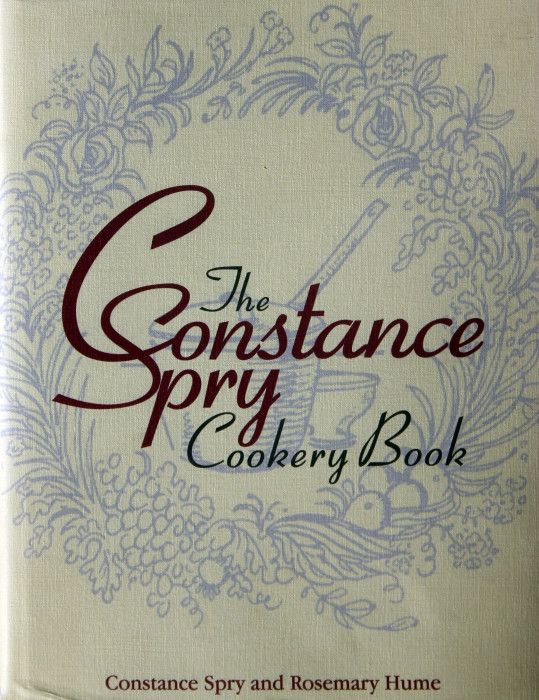 It is Throwback Thursday. Time to review an old cookbook with great contemporary value. We are going back here almost 60 years, to 1956 and the publication of The Constance Spry Cookery Book.
First things first. "Cookery" is an odd sounding word to Americans, but it is the common British term instead of just "cooking." It actually has a double nuance, officially defined as the "art of preparing food by the application of heat." It's not just cooking. It's an art. And heat, the mechanism for transformation, is right there. British cuisine is cooked, not raw. The term cookery has been part of the language since the 14th century.
Who was Constance Spry? Think of her as the English Julia Child + Ina Garten + Martha Stewart. Someone very accomplished, and very talented, and on a very grand scale. Born in 1886, she served in the Dublin Red Cross at the start of World War One, then head of the women's staff [welfare and medical treatment] at the Ministry of Aircraft Production.
After the war, something drew her to flowers and she quickly became the most famous florist for high society in London. Famed for her arrangements based on Dutch 17th and 18th century paintings, she scoured the byways of London to find unusual objects for containers and she employed unexpected garden elements including weed, grasses, and ornamental kale. By 1934, she had 70 employees.
When World War Two broke out, she expanded from gardens with flowers to gardens for food during a time of stress and conservation. She cultivated roses while working with co-author Rosemary Hume [whose Au Petit Cordon Bleu cooking school in London fell victim to World War Two shortages], to fashion new recipes, gather historic ones, and assemble this thousand page volume that is an early British version of The Joy of Cooking.
Cookery is vast, detailed, and lovely. The purpose of the book was to take the knowledge of culinary professionals and write it in a form that British housewives could understand and use. It was, and it remains, the British cookery [and cooking] bible.
There are 37 chapters, over a 1000 pages, and 100's of recipes. I can't begin to detail it all. It's far too vast. What I can do is give you some samples and encourage you to look for the book. It was reprinted 10 times after 1956, the last in 1990. Now, thanks to Grub Street Publishers in London we have a new edition [2011] that you can search for, scan, buy, use, adore, and pass on to your daughter. Or your son. It's a treasure.
It's lovingly dated in places. There is unchanged wording from the 1956 edition about parsnips mentioning that there used to be more sugar available. World War Two food rationing did not officially end until 1950 and there were cultural and economic ramifications in Britain all through the 1950s. So the Parsnip Galette recipe, using sugar, is treated here as an old friend that hopefully will come back to life when times are better. And now, they are.
There is a tradition of decrying British cuisine. Constance would battle anyone saying a disparaging syllable. If you scan this book, you'll be amazed at the ideas. She borrowed heavily from France, loving the marriage of French technique with British ingredients. British terroir is certainly not what you will find along the Loire or in Provence. France, and no other country, is the inspiration here. There is little pasta, for example, but a glorious range of soups and sauces. Desserts aplenty, soufflés, and mousses. It's not simple borrowing. It's more of an appreciative marriage, with those British ingredients — a gammon of bacon — given a fresh French buff of herbs and spice.
And there are things here that you have never seen. Suzen and I will be experimenting. For example, the Bananes Gratinees which is French [google "bananes gratinees and paprika"] but seems like some Hungarian-Italian-Swiss fantasy: bananas are first pan cooked in butter with salt and paprika, then sprinkled with bread crumbs, Parmesan and Gruyere cheeses, and baked. We are going to attempt this and offer it to dear friends, ones who are happily eager to be the testbeds for the very new or the very different.
Perhaps a little less extreme, the recipe below for Tomato Ice offers a velvety different take on how to create a shrimp or lobster cocktail. The British are seafood fanatics, and their repertoire goes far beyond mere Fish and Chips. So, this Tomato Ice may be the way you break the ice and consider looking at The Constance Spry Cookery Book. It will entertain and fascinate you.
If you are a foodie, if you love food history and "old recipes, then this is a book you simply must possess.
---
Tomato Ice

Yield: enough for 6

Ingredients:
½ cup thick mayonnaise
½ cup tomato pulp made from 1 pound of tomatoes stewed with a little garlic, bay leaf and lemon thyme or basil and then sieved
1 teaspoon tomato puree
Juice of 1 lemon
Grated rind of 1 orange
5 tablespoons partially whipped cram
Pinch of sugar
Salt and pepper to taste
Preparation:

Make the mayonnaise yourself from scratch, using lemon juice instead of vinegar to sharpen the flavor. Incorporate the ingredients in the order given. The tomato puree is added if the fresh tomatoes are poor in flavor or lacking in strength. Taste and adjust the seasonings. Pour into a container and freeze. The mixture will be thick yet creamy.
The Tomato Ice may be use either as an accompaniment to grilled sole and turbot or as the base of a prawn or shrimp cocktail. Freshly chopped herbs as well as shredded or chipped lobster may be added to the mixture together with a dash of brandy or sherry, so turning it into a lobster ice or frozen lobster cocktail.