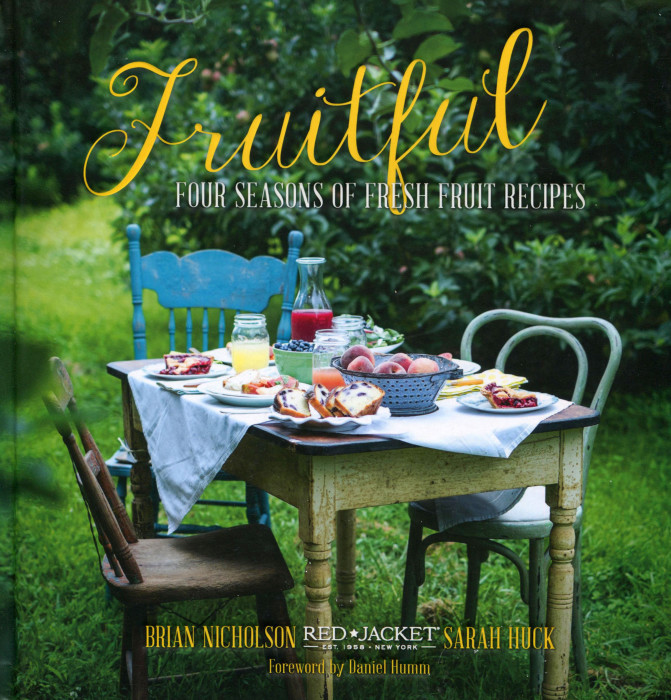 It is not that I am lazy, but I do like some personal attention. I love cookbooks that include not only recipes but entire menu ideas. Or cookbooks that take you through the seasons and offer you surprises with just about every page turn.
If I say "fruit" you may have an image of an apple ready to tackle with your teeth. Or a bowl of berries, dotted with sugar and cream. Beyond those instinctive images, though, there is enormous potential for fruit: raw, in desserts, but also in our salads and sides and main dishes.
Fruitful: Four Season of Fresh Fruit Recipes is just the dandy guide you need to show you the full potential of fruit. It's a book to keep out on the kitchen counter, or to carry along to the farmers' market. You can shop for what is fresh and use Fruitful to give you ideas, both sweet and savory, to unlock the great potential that fresh fruit offers.
Author Brian Nicholson is a third generation famer and works the family business, Red Jacket Orchards. The farm is in the Finger Lake of New York State, but the fresh fruits and berries and bottles of juice appear at farmers markets across New York City. When Suzi and I go to the Saturday market in Tribeca, the first stall has to be Red Jacket.
Coauthor Sarah Huck has worked the farmers markets for Red Jacket and is an accomplished author. She and her husband do not live in the Finger Lake. She's in Brooklyn running the Kos Kaffe micro coffee roasting establishment. I suspect she is the guiding force behind so many of the delightful recipes you will find in Fruitful.
The core of Fruitful is the four chapters devoted to different times, not quite seasons, of the year. Each chapter has sections for the fruits and berries that peak in those seasons. You'll find recipes for both sweet and savory, old ideas like cherry pie in new dress and new ideas to fascinate and surprise.
Here's a rundown of the chapters with sample and delicious recipes, one for each fruit or berry featured for that time of year:
Spring and Early Summer:
Spicy Roast Chicken with Rhubarb Chutney

Strawberry Olive Oil Cake

Freekeh Salad with Red Currants, Arugula, Golden Beets, and Feta

Pan-Seared Duck Breast with Honeyed Gooseberries

Grilled Skirt Steak with Blackberry-Serrano Glaze

Scallop and Blueberry Ceviche
High Summer:
Tender Greens with Raspberries, Pistachios, and Chive Blossoms

Smoked Duck and Cherry Confit Toasts

Charred Pork Chops with Apricot-Rosemary Sauce

Peach-Bourbon Gelato with Praline Swirl

Slow-Baked Salmon with Plum, Cucumber and Mint Salad
Autumn:
Spiced Apple Chestnut Soup

Asian Pear Martini

Peppery Chicken Thighs with Brandy-Roasted Grapes

Buckwheat-Quince Pancakes with Spiced Quince Syrup
Putting Up for Winter is the fourth chapter and gives you ideas for preserving those fresh flavors from earlier seasons. You'll use these recipe throughout the year:
Quick Strawberry Jam

Boozy Bourbon Peach Jam

Peach-Vanilla Butter

Pickled Seckel Pears

Homemade Crème de Cassis

Apricot Margarita
Fruitful is a wonderful, year-round guide to enjoying fruits and berries. Besides the recipes themselves, there are great background pieces on the different fruits and tabular guides to different varieties of apple, plums and other fruits. This is your one-stop fruit and berry book, a guide from experts for all of us who love these foods. Do any of us eat enough fruit daily? Okay, with Fruitful, you can. And it won't be just apple pie anymore!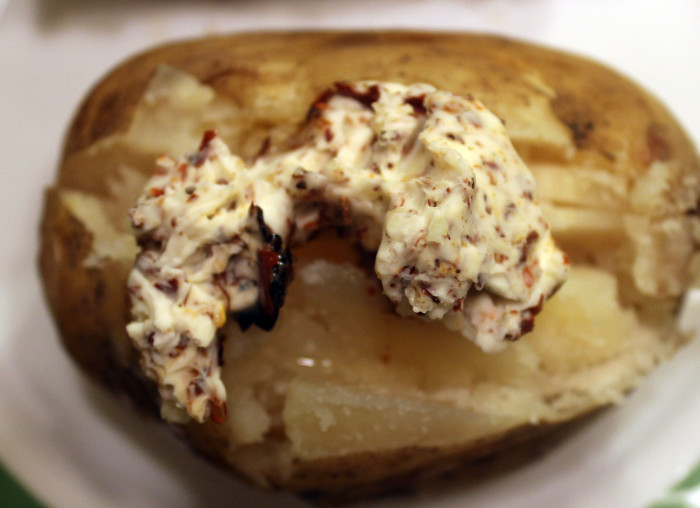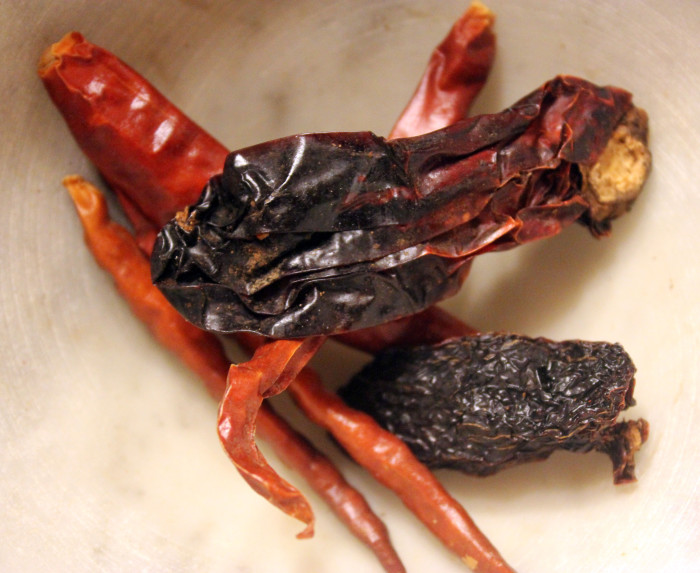 Making your own compound butter is just plain fun. You can make the combination of sweet, heat, and herby your very own. And it's likely that every time you do this, the results will be different.
These chile butters are oftem made with honey and lime juice. This version, something I created on the fly, uses neither. It's just chili and garlic matrixed into the butter.
The morita chilies suggested here are smoked jalapeno peppers, but they are not quite chipotles. They are smoked for a shorter time and are therefore softer with fruiter accents. Being softer means that they are harder to grind up in your mortar and pestle. The arbol chilies are dry and fragile. They disintegrate quickly. The moritas put up a bit of a fight. You may find yourself with some pieces that just won't break up. So, simply pick them up and discard them.
You can, of course, endlessly amend this recipe and you could add that honey. But I wanted a butter for a baked potato, not to adorn chicken or a steak. So, no honey here.
Do try the moritas to achieve a compound chili flavor. Everyone uses chipotles, so that flavor — while wonderful — can actually become a bit too common and a bit boring. Experiment.
With this butter, which does pack a flavor punch, you won't be reaching for salt or pepper when you enjoy your baked and now chilied potato.
---
Brian's Pure Chile and Garlic Butter

Yield: 9 tablespoons

Ingredients:

4 arbol chilies, dried and whole
2 morita chilies, dried and whole
1 tablespoon New Mexican red chili pepper flakes
2 large cloves of garlic
8 tablespoons (1 stick) unsalted butter, room temperature
Preparation:

Put the arbol and morita chilies in a mortar and pestle and grind away until well fragmented. Transfer to a metal bowl.
Add the chili pepper flakes. Use a garlic press to process the two garlic cloves into the bowl.
Add the stick of butter. Using two forks, gently work the butter and chili/garlic components together until very well mixed. Your butter does need to be soft and you need to be patient.
If your potatoes are coming out of the oven, use the butter fresh out of the bowl. If you plan on using the butter later, place it in plastic wrap and, if you desire, shape into a log. Refrigerate until ready to use.
Source: Brian O'Rourke

Photo Information [top]: Canon T2i, 18-55mm Macro Lens, f/5 at 1/80th second, ISO-1000

Photo Information [bottom] : Canon T2i, 18-55mm Macro Lens, f/5 at 1/80th second, ISO-1000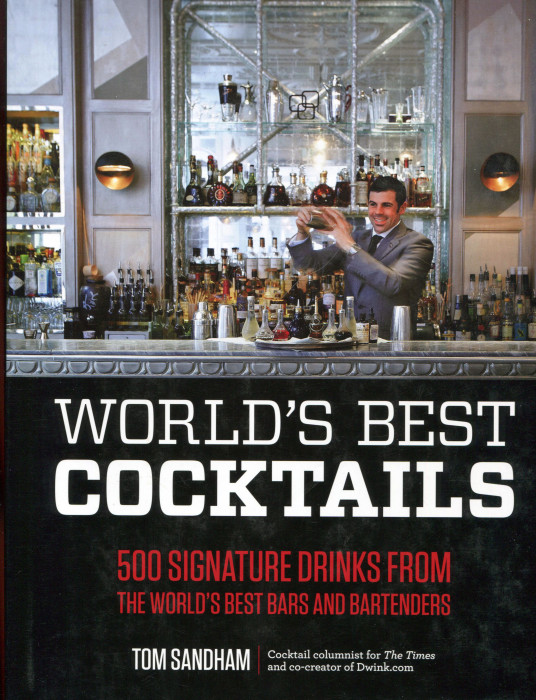 There are times when an "over statement" is really an "understatement." This book's title, World's Best Cocktails, is absolutely true, but the title could have read World's Best Cocktail Book. I think it is the best bar book in years from many perspectives:
Comprehensive content
Recipes both classic and refreshingly new, 500 of them
Reviews of the best international bars
Signature drink recipes from pioneering bars and bartenders from across the planet
Photographs and graphic layout that are as bright as the best in cocktails
This book is "busy," filled with graphics, pictures and lots of text. Lots of text. There are lengthy descriptions of the best bars around the world with their history and specialties laid bare. If you walk into the door of one of these bars, you can confidently step to the counter and begin ordering as if you've been there since that day that door first opened.
There are Bartender Profiles where a pioneer mixologist shares several of his personal bests and favorites. In long quotes, you learn their preferences and inspirations. Here you can gain insights and inspiration from Ago Perrone of The Connaught, Alex Kratena of Artesan Bar, Jim Meehand of PDT, Thomas Estes of Cafe Pacifico, and many other stars.
All of the major cocktail components are described for you: their history and their styles. You know how varied rums can be. Can vodkas really differ? Oh, yes, and here you'll learn why.
Author Tom Sandham is a leading mixologist with a broad perspective of cocktail history. While much of the cocktail world is buzzing with the newest and latest, Tom includes sections on classic cocktails for each spirit. Here's an example from the City Exchange in 1840's New Orleans, surely a site of cocktail inspiration:
Brandy Crusta

Ingredients:

Superfine sugar
Champagne flute
Zest of ½ lemon
2 ounces cognac
2 dashes Angostura bitters
1 tablespoon lemon juice
½ tablespoon sugar syrup

Preparation:

Rim the flute with the sugar and wrap the thinly pared peel of half a lemon around the inside of the glass. Stir all the ingredients with ice and strain into the glass. Garnish with a lemon zest spiral.
There are 500 recipes in this book, 500 good reasons to buy. You'll have hours of drinking pleasure with this book. And equally many hours of reading about the history, the ingenuity, and the charm of a glass filled with a mixture of magic.