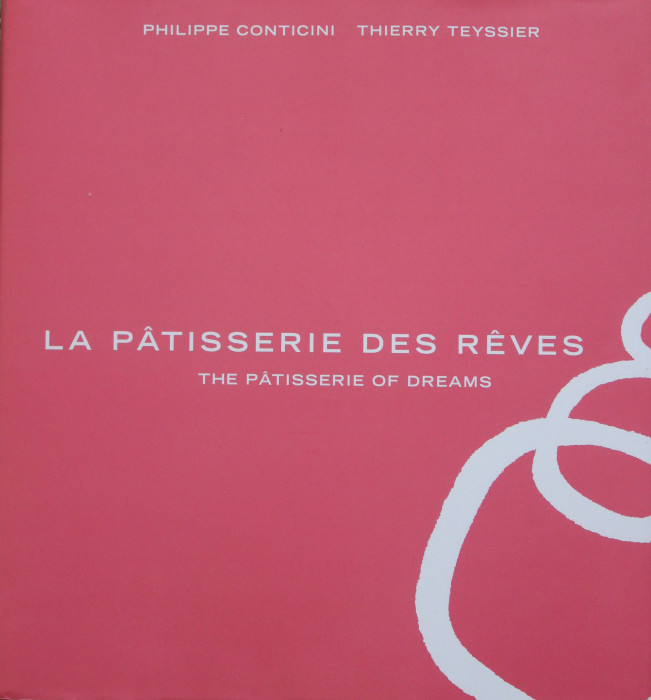 La Pâtisserie des Rêves is one of the most beautiful cookbooks you will ever encounter.
Is "beauty" a good criterion for a cookbook? Often it is. When a publisher invests in full page four-color photos of every recipe then you know the publisher considers the book to have substance and hopefully a long publishing life.
The book title here literally means Patisserie of Dreams. Here the dreams are the remembrances of classic French patisserie recipes. Co-author Philippe Conticini is the chef half of the team, the very man who invented "verrines," those vertical towers that delight Parisian diners and that ultimately will make their way around the world [go to Amazon to find book examples; you'll be intrigued]. And co-author Thierry Teyssier is an advertising guru, the business half of the partnership.
The pair opened their first brick and mortar store in Paris in 2009. Expansion in Paris and then to London followed. Now comes this exceptional book.
Their concept is simple: present the classic French recipes, ones that they have tweaked and perfected. The reviews for their patisseries around Europe are exceptional. People have instantly gravitated to the stores and the treats that are consumed in quantity.
I say the recipes have been tweaked because, as an example, the Pâte Sucrée recipe uses 40% more butter than the standard recipe [but one less egg white and less flour].
And while they present their classic Gateau Saint Honoré, every store in France has their own twist on this recipe. Is there even such a thing as the "authentic" any more. Does it matter, because if you like Vanilla Crème and caramel, this version offers an abundance of both, gracefully atop the entire dessert.
Chapters, with some examples, are devoted to:
Viennoiseries: Light Kouign-Aman, Brioche Mousseline
Teatime Treats: Marbled Chocolate and Hazelnut Cake, Dreamy Madeleines
Salon de Thé: Floating Island, Fruit Tagine
Biscuits [aka Cookies]: Praline Shortbread, Coconut Snaps
The Classics: that Saint Honoré, Paris-Brest
Seasonal Fruit Tarts: Rhubarb Tart, Banana and Coffee Tart
Freestyle Cakes: Coffee Cake, Goats Cheese Tart with Mango and Avocado
Confectionary: Caramels [with salted butter], Sweet Chocolate Ice Cream
Lessons on Taste: basic recipes and techniques with insights into flavor
Unlike most books, the techniques and tools discussion comes right at the end. Open the book, get past the Table of Contents and you are immediately at recipe #1: Light Kouign-Aman. A couple of years ago, few of us knew about this recipe. Now, thanks greatly to Dominique Ansel and his bakery in Soho here in New York City, this Breton sugar specialty is a treat in demand everywhere. I'm not sure why this recipe is called "Light" because the authors don't skimp on the butter or sugar.
None of the recipes in this book come with explanatory headnotes: there is simply the list of ingredients, the detailed instructions, and the matching full page picture. Yes, a picture can be worth a thousand words.
While these recipes are all classics from the authors' childhood, several of them are ones where the flavors and the techniques are entirely new to me and possibly to you.
The Banana and Coffee Tart starts with a base of Pâte Sucrée. That foundation is topped with an Almond and Coffee Butter that includes crème patisserie and rum. A layer of fried bananas is applied and itself topped with a hazelnut and brown sugar streusel. The picture makes you think about licking the page. Or buying bananas.
The Coffee Cake is much, much richer and more complex than the American standard. This dish is an assembly of Coffee Sponge Cake, Hazelnut Streusel, Coffee Meringue, and Coffee Cream. Like that banana tart above, this dessert is not a mile-high. Its multiple layers lie snug against the table, but offer burst after burst of deep coffee flavors. It's a treasure that awaits you.
The recipes here are "doable" by the typical American foodie with a sweet tooth. Some of the more beautiful, and layered deserts, like the Goat Cheese Tart with Mango and Avocado, have multiple components. You may need a dough, a cream, and some caramel or streusel. If you are starting from scratch, then these desserts can consume a long afternoon. It may be wise to divide the dessert preparation over two days, one for dough and crème, and one for other components and assembly.
There are treats, like the dough-centric Light Kouign-Aman, that simply require multiple steps with hours needed in each case for rising and resting. If you want these gems for breakfast, somebody is going to have to follow baker's hours and rise by 3AM. More likely, you may be serving these for an afternoon tea or a late night dessert treat with coffee. The recipes here are authentic and you will not find "simplifying" or faux ideas. There are no shortcuts to quality.
The message of this book is that the desserts of your dreams are there for you to make real. You just need La Pâtisserie des Rêves, some time, some patience, and a fondness for dough and cream. Your creation may not quite match the beauty displayed in the photos here — the difference between foodie and professional is most evident, not in the taste, but in the visual presentation. I guess the only solution here is to make one, and make it again, and make it again. You will not find that to be onerous at all. Your friends and neighbors will probably want to help.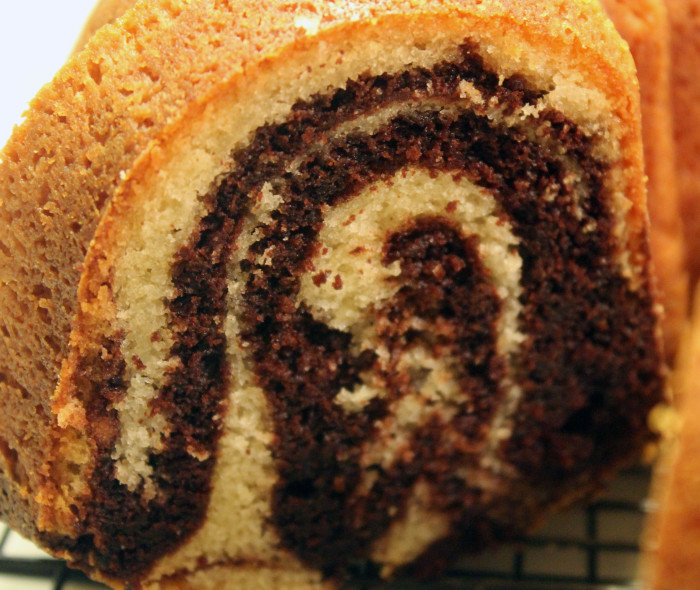 Grandsons often possess special powers. For example, if I want a marble cake, and I ask for it, Suzen is going to reply, "You have to watch your sugar intake! How many times …."
On the other hand, our grandson Reid was visiting from Austin. "Can I have a marble cake?" he asked.
"Brian, find the best possible recipe," Susan commanded me.
"Okay," I acknowledged and backed away. I bowed slightly so Suzen could not see the smile on my face. Reid was stone-faced, not showing one hint of conspiracy. I want the kid to be a lawyer, with his acting skills, but maybe with such skills he should just be an actor. Well, not just an actor. He's bound to get an Oscar, Emmy, Tony or probably all three. He convinced me at that moment of his angelic innocence.
I waited a reasonable amount of time, then reentered the kitchen with the recipe Reid and I had found the night before. Like I said: conspiracy.
In such a situation, where you may have only one shot before discovery, you make the shot count. There is a marvelous book, Cooking with Chocolate edited by Frédéric Bau, the Director of the École du Grand Chocolate Valrhona. This book was released in English in 2011. If you are a chocolate lover and have not yet discovered Cooking with Chocolate, it is time for an Amazon visit. I'll post a full review in a few days. But, in the meantime, …
The book, of course, is impeccable. You know that every recipe has run the gauntlet from a battery of the world's best chefs. There is a small picture on the recipe page for this cake, just a simple little snapshot of a slice of cake. Dark chocolate waves are embedded in a dough so richly yellow you just have to pause. What would this taste like?
Really good, actually. Moist with distinct chocolate and vanilla layers. The vanilla batter has 8 egg yolks [just like a good ice cream base!], so every bite is the definition of satisfaction. Extravagant satisfaction.
For something this good, the recipe is simple with a preparation time of just 20 minutes. It takes 50 minutes to an hour to bake and is dense, so after about 45 minutes you need to start checking for doneness with a long toothpick or, better, a skewer.
Quite honestly, this cake does not require frosting, sauce, whipped cream, ice cream or even just powdered sugar. It doesn't. But, in the interest of continuing the conspiracy, I will supply a few ideas for accompaniment over the next few days. Decadence, like conspiracy, is not a sin. Well, not if it's for a good cause. At least that's what I told my grandson.
For this coming weekend, here is a family-pleasing dessert. If you have young children, giving them a spoon or fork with order to "make the marblilng" is a moment they will always remember.
---
Chocolate-Vanilla Marble Loaf
Yield: serves 8

Ingredients:

For the vanilla batter:

8 egg yolks
1 cup plus 2 tablespoons granulated sugar
½ cup whipping cream
1 vanilla bean
1 ¾ cups cake flour
¾ teaspoon baking powder
4 ½ tablespoons butter, melted and cooled
For the chocolate batter:

2 ½ ounces bittersweet chocolate, 70 percent cocoa
4 egg yolks
⅔ cup sugar
⅓ cup whipping cream
1 cup [2 ¾ ounces or 80 grams] cake flour
2 teaspoons unsweetened cocoa powder
½ teaspoon baking powder
1 tablespoon plus 1 teaspoon grape-seed oil
A little melted butter to dip the spatula [optional]
Preparation:

Prepare the vanilla batter.

In a mixing bowl, combine the egg yolks with the sugar. Add the cream. Slit the vanilla bean lengthways and scrape out the seeds into the mixture. Sift in the flour and baking powder and incorporate them into the batter, then stir in the melted butter. Set aside.
Prepare the chocolate batter.

Chop the chocolate and melt it slowly in a bain-marie or in the microwave oven.
In a mixing bowl, combine the egg yolks with the sugar, then stir in the cream. Sift the flour, cocoa powder, and baking powder together into the mixture and stir in. Then stir in the melted chocolate and grape-seed oil until just blended.
Preheat the oven to 300°F (150°C). Line the loaf pan with parchment paper. For a really attractive marbled pattern (see p. 132), pipe out one-third of the vanilla batter over the bottom of the pan. Then pipe out half of the chocolate batter lengthways through the center. Cover this with one-third of the vanilla batter and pipe out the remaining half of the chocolate batter lengthways through the center. Cover it with the remaining vanilla batter. Dip a spatula into a little melted butter and run it lengthways along the batter, making an incision about ½ inch deep so that the cake rises nicely.
Bake for 50 minutes to 1 hour, until the tip of a knife or cake tester comes out clean.
Turn the cake out onto a cake rack and leave it for about 10 minutes on its sides so that it retains its shape.
Source: Cooking with Chocolate edited by Frédéric Bau

Photo Information Canon T2i, EFS 60 mm Macro Lens, F/5.6 for 1/15th second at ISO‑3200

---