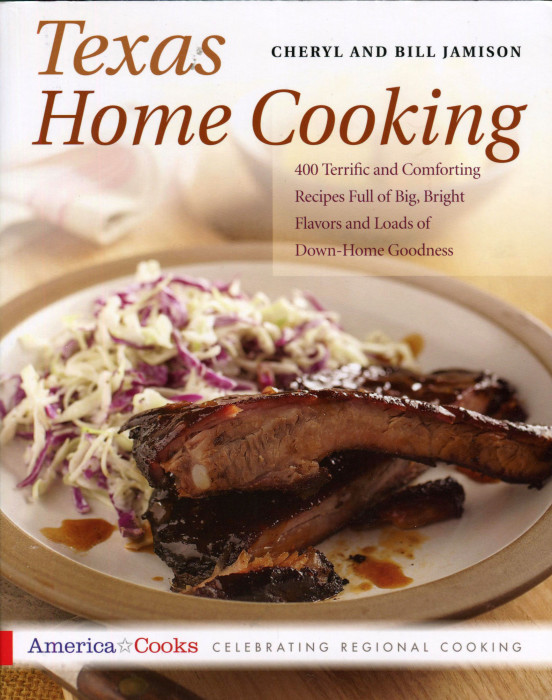 Recently I did a TBT Cookbook Review for A Real American Breakfast by Cheryl and Bill Jamison. It's a laudable book, one that still sustains Suzen and me on weekend mornings. It was just after I published that review that I learned, most sadly, that Bill had passed away earlier this year.
When it came to Bill, there were two kinds of people. The five-second people and the ten-second people. Whether you in one group or another, eleven seconds after you met Bill you were a fan. He was a fun, noble gentleman. And a smart one. He collaborated with Cheryl on their many books and his research was key to their exceptional quality. This book, Texas Home Cooking, was published in 1993 and really put the couple on the culinary map. This book was immediately recognized for its authencity, comprehensiveness, and usablity. It's a template for what makes "a good cookbook."
Texas is big, bigger than, say, France or Germany or Spain or Italy. So, if each of those countries can have its own national, and home, cuisines, then why not Texas? The Jamisons spent, I believe, over two years traveling the highways and byways of Texas performing the research for this book. Big cities. Little towns. Farm homes. They looked for "real" Texas food. They found it and they put it into the 400 down-home recipes packing this 600 page volume.
There is no subtitle to this book, but there could have been: Jalapeno Cooking. Jalapenos are not in each and every recipe, but they appear in a lot of them. And not just the jalapenos themselves. When you buy a bottle of pickled jalapenos, you are getting the chile itself and that pickling juice. Never, never throw away that juice. It is an ingredient unto itself and one used many times in this book.
The book spans the range of recipes you might expect and has the singular recipes that a true Texas book must contain.
So, you'll find a recipe for C.V. Wood's World's Championship Chili with a wheelbarrow load of 21 individual ingredients. And alongside this bright recipe is a discussion of what ingredients are allowable in a "real" Texas chili. Hint: some people object to onions.
The jalapenos are abundant in dishes like:
Chicken Fried Steak in Jalapeno Pickling Sauce

Corn and Jalapeno Jam muffins

Scallop Jalapeno Potatoes

Jalapeno Pie

Jalapeno Spinach Casserole
The local flavors appear in delights like:
Chile Pecan Sauce for Turkey

Creamy Peanut Coleslaw

Minted Beets

Venison Scaloppini with Blackberry Sage Sauce
Texas Hill Country is famous for its peaches which, it turns out, can be drunk in a Hill Country Peach Fuzzy — peaches, vodka, peach brandy, and orange juice — made in your blender and sure to please on a summer or fall evening.
There's dessert, too, of course. Spice cookies and that cocoa sheet cake that ubiquitous for Texan dessert tables. Texas actually has a climate that is almost Mediterranean so there is a bounty of interesting fruits, and those fruits can appear in most interesting desserts. There is a Fig Spice Cake with Buttermilk Glaze, for example, that would please you year round.
Suzen and I will be taste testing several of the recipes here for this coming Thanksgiving:
Bourbon Cranberry Sauce

Cinnamon Scented Squash

Sweet Potatoes with Honey-Mint Butter

Sweet Potato, Pecan, and Bacon Compote
There are recipe ideas here that, I'm pretty sure, you have not had the pleasure to enjoy. In Texas Home Cooking, these ideas are presented in abundance and with the consummate skill that trademarks the Jamisons' writing. Texas Home Cooking is a legacy cookbook, a Texas-size tribute to the skill of the Jamisons.