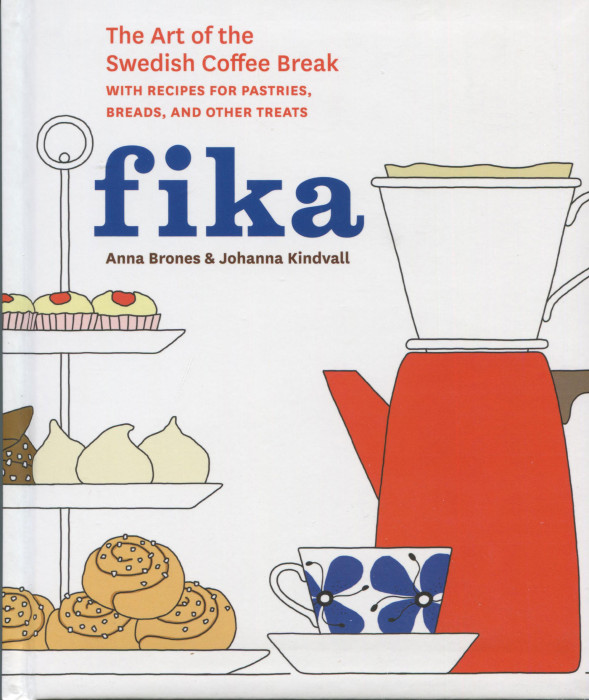 It would be an exaggeration, I suppose, to say this book will change your life. It is no exaggeration to say this book will make your life sooooooo much better, each and every day.
Fika is a Swedish word that first appeared in the early 1900s. It's a riff on "kaffe" the Swedish word, of course, for coffee. Nobody drinks more coffee in the world than the Swedes. I suppose that's how to spend time watching the snow fall.
But life cannot be all and only coffee, so the Swedes have adopted a tradition of coffee plus sweet nibbles. They down their coffee with a multitude of cookies and cakes. This charming little book is filled with those recipes, both traditional and modern, for cookies, cakes, tortes and more.
Here's the book's supply of classic recipes:
Cinnamon and Cardomom Buns

Cardamom Cake

Orange Almond Slices

Oat Crisp Chocolate Sandwich Cookies

Fig Squares

Jam Thrumbprint Cookies

Slilced Chcolate Cookies

Finnish Sticks

Nutmeg Slices

Hazelnut Crisps
It's actually kind of easy to recognize a Swedish recipe. They are simple and use ingredients that we often bypass: cardamom, oats, figs, hazelnuts. You can call these recipes stark if you wish, for on paper they seem so very direct. That's actually necessary for the fika tradition calls for a plate of various cookies, not just one. The coffee break here is meant for lingering, and is not a fast food dash. So, you need to prepare several things in one "baking binge" and consequently each treat really has to be quick to knock off.
Often, then, cookies are shaped into logs and sliced or baked brownie-like in a pan. But there is always flavor adornment to provide classy distinction: some pearl sugar on top, a dose of cardamom or other spice, or some flavored ganache.
Take the Chocolate Coffee Squares. The cake is simple: butter, flour, cocoa powder, eggs, milk and sugar. But the ganache is chocolate and butter and cold coffee. And the entire treat is copped with lots of shredded coconut.
The cookies tend to be flat, crisp, and storable. Yes, you'll find a lovely recipe here for real Swedish Gingersnaps.
Not everything is simple. There is a chapter "Celebrating More Than The Everyday" where you will find a Hazelnut Meringue Torte. A simple cake batter is amplified with chocolate chips and toasted hazelnuts. Then topped with meringue and then baked. Not hard to make, but complex in texture and visual appeal.
I'll be baking away here and show you the results: the cookies and the cakes. Ah, and Suzi? She's going to be making the Toasted Rye Buns. You cut the warm rye buns in half, top with sliced apples and cheese, and consume with a smile.
With your coffee, of course. And then a second one.
Fika is a truly lovely book that just may become your constant morning companion.