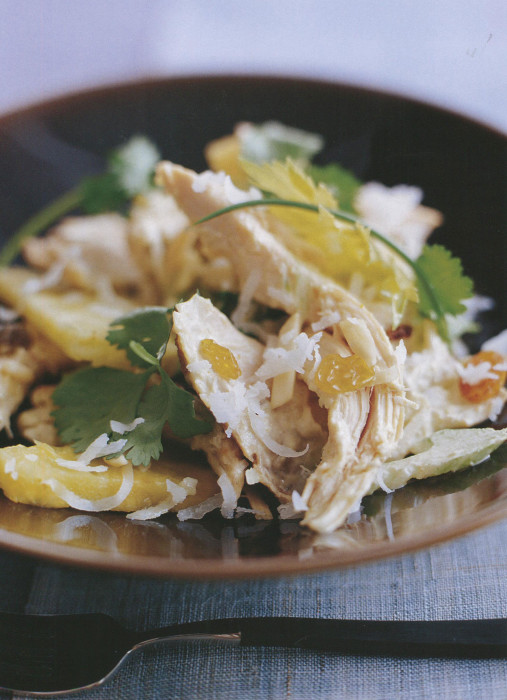 Many of us love chicken. The flavor, the texture. Constant, never changing.
Boring.
Yes, I just said chicken is boring. I'm sorry, but too often we get "regular" chicken and every now and then our taste buds just rebel. Okay, we're going to have chicken but can we please just have something exciting.
Enter Casual Cooking by Sara Foster. This delightful book is filled with easy, stress-free recipes that you would surely call comfort food. But different comfort food. Green curry paste is a spicy Thai ingredient that comes in small cans or jar. You can find it in Asian markets, which we all seem to have access to now. Even more than when Casual Cooking was published in 2007.
Sara suggests that you make this dish a few hours ahead of time, so that the chicken can absorb some of the curry dressing. That way, the flavor infuses into the meat and the chicken does not taste like chicken. Just, just the break we need!
Oh, besides that green curry paste, you'll use ginger, cumin and coriander, scallions, cilantro, celery and pineapple. There's lots of flavor, texture and wonder awaiting you.
---
Green Curry-Ginger Chicken Salad

Yield: serves 4 to 6

Ingredients:

1 cup mayonnaise
3 tablespoons grated peeled fresh ginger (from a 3-inch piece)
1 tablespoon Thai green curry paste
Juice of 2 limes
1 teaspoon ground cumin
½ teaspoon ground coriander
4 cups shredded cooked chicken
½ cup golden raisins
½ cup shredded coconut
½ cup slivered or sliced almonds
¼ cup chopped fresh cilantro
6 scallions, minced (white and green parts)
2 celery stalks, chopped
Sea salt and freshly ground black pepper
1 cup coarsely chopped fresh pineapple
Preparation:

Whisk the mayonnaise, ginger, curry paste, lime juice, cumin, and coriander together in a small bowl.
In a separate large bowl, combine the chicken, raisins, coconut, almonds, cilantro, scallions, and celery. Add about three-quarters of the curried mayonnaise and season to taste with salt and pepper. Toss to coat the chicken and add more mayonnaise, if desired. Serve or refrigerate in an airtight container until ready to serve or for up to 1 day. Just before serving, add the pineapple and stir gently to combine.

Source: Casual Cooking by Sara Foster [Clarkson Potter, 2007]

.