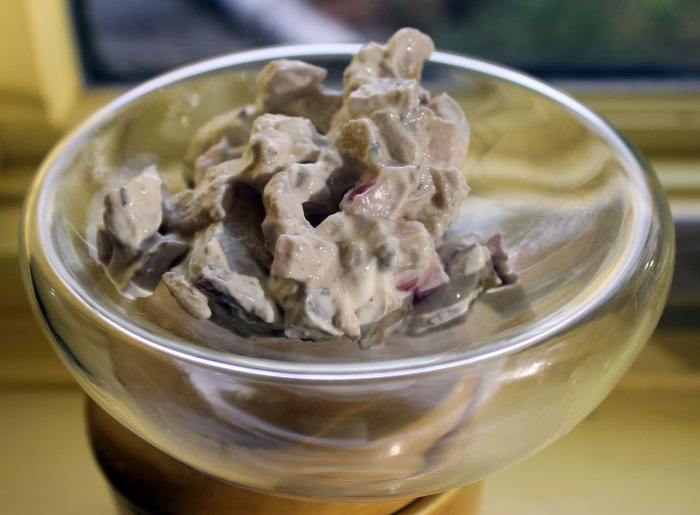 Potato salad should only be eaten between Memorial Day and Labor Day. And then there's the white pants thing.
I grew up with that nonsense. I ignore it now. I love potato salad and Potato Salad by Debbie Moose, a most accomplished cookbook author, is filled with lovely ideas to turn "ordinary" into "exceptional." Any recipe that calls for a can of chopped green chiles — Hatch, of course — will catch my eye and capture my tongue.
In just a week, we will be watching the Super Bowl, rooting for our favorite teams, watching the footballs tested for their level of inflatedness. I had always relished that at least we had one hold out where the lawyers could not intrude: our national pastime of football. On Super Sunday, there will be lawyers and security types surrounding those balls. It's a little sad to think a football needs to be accompanied by a Glock.
Security and cheating issues aside, we need food for Sunday and I've already begun with some ideas for hot, hot shrimp and hot, sticky ribs:
http://www.cookingbythebook.com/recipes/shrimp-adobo/
http://www.cookingbythebook.com/recipes/sticky-ribs-from-comfort-food/
To mellow the adobo and spice heat of these recipes, this potato salad offers the cool comfort of sour cream. Okay, there are those canned green chiles and chile powder and onion and garlic in these potatoes, but it's a sweet heat, not a fiery one. You would not want wimpy salad, would you?
After you make this salad, give it plenty of time to chill before serving. For eating during the game, you want this in the fridge a good 6 hours before game time. The icy cold salad will be chilling contrast to hotter dishes, say shrimp or ribs or wings.
Wings? Yes, I have recipes coming this week.
---
Potato Salad Olé

Yield: serves 6, well, 3 for a long game

Ingredients:

2 pounds red potatoes, quartered but not peeled
½ cup chopped onions
1 teaspoon chopped garlic
3 tablespoons canned chopped green chiles, drained
1 tablespoon chili powder
1 teaspoon dried oregano
½ teaspoon ground cumin
1 cup sour cream
1 teaspoon salt
1 teaspoon freshly ground black pepper
1 teaspoon fresh lime juice
2 tablespoons chopped fresh cilantro (optional)
Preparation:
Preheat the oven to 425°F. Spray a baking pan with nonstick cooking spray. Put the potatoes in the pan. Roast for 30 to 40 minutes or until the potatoes are pierced easily with the tip of a sharp knife. Cool to lukewarm.
In a large bowl, stir together the onions, garlic, green chiles, chili powder, oregano, cumin, sour cream, salt, black pepper, and lime juice. Add the potatoes and toss until coated. Cover and refrigerate for several hours to overnight.
Photo Information: Canon T2i, EFS 60mm Macro Lens, F/5 for 1/60th second at ISO 100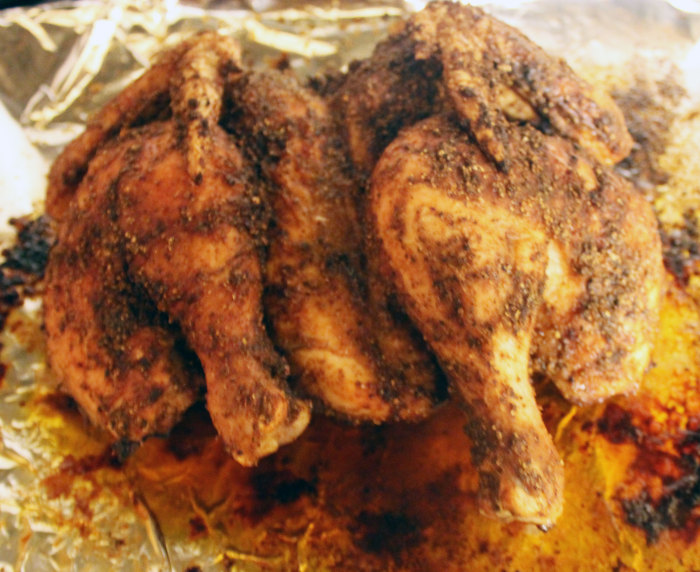 Yesterday I posted about making chorizo at home. You achieve better flavor and a spice/heat level that nothing in the store can match. It is, in a word, a fun recipe.
Now, I did note that the spice recipe is about as explosive as a block of C4. You know, the plastic explosive used in every movie except the ones made by Disney.
We had taste tested, and although Suzen made lots of the spice mixture, we wisely did not put any extra spices into the chorizo mix.
Consequently, we had leftover spices. Suzen can deal with leftover this and leftover that, but spices are something else. She has this itch to use them, to use them now before there is any loss of flavor.
We happened to have a defrosting free range chicken, we had the spices, and I had scissors. Suzen loves the look of a spatchcocked chicken. There are times when she has threatened to spatchcock me, but I believe the letters from my attorney have quietly ended that phase of our marital relationship.
When you spatchcock a chicken, you cut down the backbone, actually take out the backbone if you can, and fold the bird flat. Where did the word come from? I am happy to say that it is Irish and dates from the 18th century with appearances in Irish cookbooks of that time. What does the term mean? One theory in the Oxford Companion to Food, and other sources, is that it stands for "dispatch the cock."
Given the nature of Irish women, and their men, and the whiskey, I suspect there is another meaning.
A spatchcocked bird cooks in less time and you'll be more likely to have moist, and not dry, beast meat. Taken to the table, a spatchcocked chicken makes a thrilling, if not threatening, presentation.
I did the spatchcocking, Suzen applied the spice run and we roasted away. The flavor was hot, the skin addictively divine.
---
Chorizo Spice Mix

Yield: enough for a chicken

Ingredients:

¼ cup diced onion
8 garlic cloves
2 chiles de arbol
1-2 black Oaxaca chiles
2 tablespoons coriander seed
1 tablespoon lemon juice
Sea salt
Preparation:

Place all the ingredients, except the lemon juice and salt, in a cast iron pan over medium heat. Toast until softened and aromatic. Keep moving the item so you don't burn the garlic.
Remove from the stove and put in a food processor. Pulse until well dismantled but not powdery. Add lemon juice and salt to fit your flavor profile.
Store in an airtight container until used. Use quickly to take advantage of the freshness.
Photo Information: Canon T2i, EFS 60mm Macro Lens, F/3.5 for 1/4 second at ISO 3200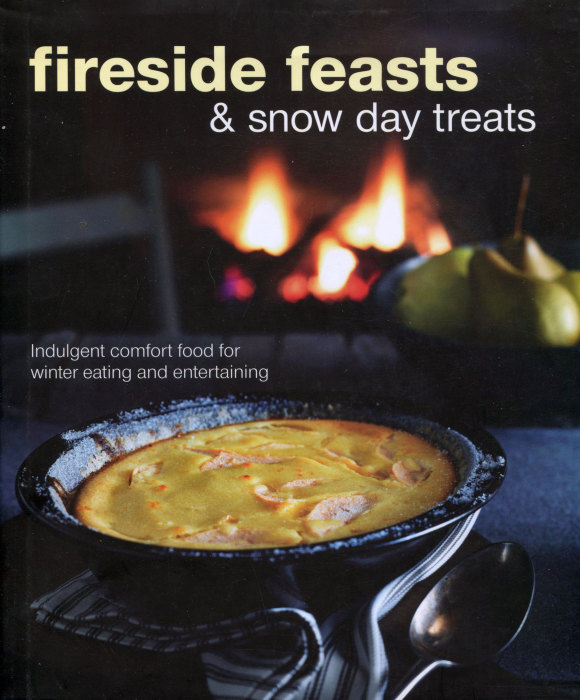 The team at Ryland Peters & Small has knack for producing cookbooks you want to embrace in a flash. I've already commented on their volume Comfort Food:
http://www.cookingbythebook.com/cookbook-reviews/cookbook-review-comfort-food-from-ryland-peters-and-small/
This book, Fireside Feasts & Snow Day Treats, is an expansion of Comfort Food containing some of the same recipes but so many more.
The recipes here — true comfort foods all — are organized by chapters featuring the time of day or the stage of the meal.
Snow Day Snacks offers ideas for nibbling that could be a modest lunch or just inspire you for another ski run. Here you'll find:
Creamy Pancetta and Onion Tart
Cheddar and Cider Fondue
Baked Goat Cheese with Herbed Ciabatta Croutons and Winter Fruit Salad.
Cold Day Comforts are dishes that can serve as a full and most satisfying meal:
French Onion Soup
Corn and Pancetta Chowder
Ham and Blue Cheese Gratin
Mashed Potato Pie with Bacon Leeks and Cheese
Smoked Trout Hash with Horseradish Cream.
Fireside Feasts offers bigger and richer meals, ideal for a special dinner:
Chicken Pot Pie with Tarragon and Leeks
Steak Leek and Mushroom Pie with Guinness
Tamale Pie
Spicy Pork Stew with Sweet Potatoes and Beans
Thai Red Beef Curry.
Winter Salads suggests ways to brighten those short winter days with veggie freshness. The recipes here offer flavor through complexity and ingenuity:
Pear and Parmesan Salad with Endive and Walnuts
Roasted Butternut Squash with Spiced Lentils and Goat Cheese
Slow Cooked Lamb Salad with Beans and Pomegranate and Fresh Mint
Spanish Bread Salad with Chickpeas and Chorizo
Hot Smoked Salmon and Cannellini Bean Salad with Gremolta.
Indulgent Treats make sure your sweet tooth is not neglected. And on winter days, we all could use a few fuel calories. The recipes here offer a distinctly British dessert perspective:
Hazelnut Cheesecake Bars
Rhubarb Custard and Crumble Tartlets
Pecan and Bourbon Tartlets
Pumpkin and Cinnamon Strudel.
A Cup of Cheer suggests beverages deep with flavor to bring winter cheer. The entries here, like the Rosemary Milk, reflect the English love for the herbs lingering in their garden:
Harvest Punch, featuring cider + spices
Catalan Coffee Punch
Marshmallow Chocolate Melt
Rosemary Milk
I'm posting this on a Friday from NYC where a Winter Storm Warning is in effect for the next day. Snow, sleet, and freezing rain. Ordinarily, we'd be leaving the city for a weekend in the Catskills. Why travel when the snow is coming to us? We do have time to dash to the store and stock up. We already have plenty of perfect recipes, for we have Fireside Feasts and Snow Day Treats. I don't care if we get 2 inches or 2 feet.
Actually, I do.