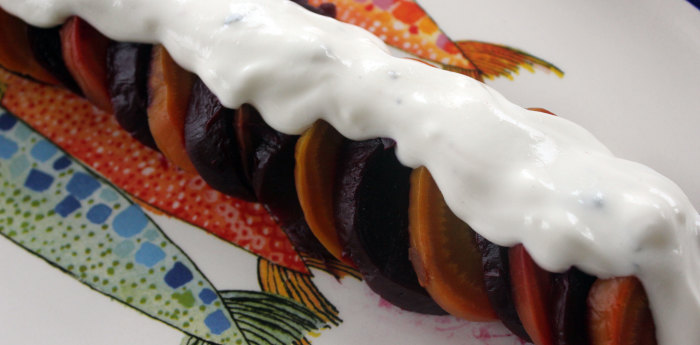 I do like beets, but it was not the "beets" word that got me here. The "buttermilk-goat cheese cream" is the magic phrase. I am a sucker for cremas, of all colors and intensities. I fully admit: I am a sauce addict. Using buttermilk and goat cheese to make a sauce coating smoked beets? I'm all in.
We made this dish as side for our Thanksgiving turkey. Our table was sagging from all the dishes laid upon it – like the mashed potatoes I made with bourbon and garlic butter. [Yes, you can search for that post and I recommend it!]. But we made room for the beets with everyone wondering just what it would taste like and everyone expressing unbeatable pleasure from the first creamy bite. The crema is important.
We followed this recipe, to a point. We did smoke the beets outside using wood chips in a large grill the day before Thanksgiving. On that that Thursday though, we were running out of time. Not wine, but time. So we passed on the pecans and some of the details of the "assembly" with horseradish and lemon zest. We did splash on some vinegar and then simply — and perhaps not too elegantly — poured the crema over those lovely beets, carefully stacked on a plate intended for fish. Have you ever, on Thanksgiving, just reached the point where it simply becomes time to "get it on the table."
You can smoke the beets or, I'm sure, you'll find roasting them is a suitable avenue if smoking is a bit of a hurdle when making a feast. I find beet flavor, full and earthy, is a wonderful match for the dark meat of turkey. With that splash of vinegar and the bright crema, the beets are the perfect foil for a holiday meal. It cleans your palate of any protein flavors and readies your mouth to enjoy that next bite of turkey or roast as if it were your first.
Beets have been considered a "health" food since medieval times. Today's scientists confirm that contan beets of lots of things — things with long chemical names — that actually benefit your health. Beets can provide antioxidant, anti-inflammatory, and detoxification support. Just when was the last time you cooked beets? Ah, time to give them some consideration. You're not fond of beets? Oh, dear. I must say, that with enough creama …
---
Smoked Beets with Charred Pecans and Buttermilk-Goat Cheese Crema

Yield: serves 4

Ingredients:

For the Pecans:

1 cup pecan halves
2 tablespoons unsalted butter, melted
1 tablespoon Worcestershire Sauce
½ teaspoon salt1 tablespoon
Buttermilk-Goat Cheese Crema:

½ cup crumbled goat cheese
½ cup buttermilk
1 tablespoon freshly squeezed lemon juice
1 teaspoon fresh thyme
½ teaspoon salt
¾ teaspoon freshly ground white pepper
Beets:

3 medium red beets (4 to 5 ounces each)
3 medium golden beets (4 to 5 ounces each)
2 tablespoons pure olive oil
2 teaspoons salt
Freshly ground black pepper
¾ cup soaked wood chips
Assembly:

¼ cup extra-virgin olive oil
2 tablespoons good-quality sherry vinegar
Zest of 1 lemon
2 tablespoons peeled and grated fresh horseradish
Mixed fresh herb flowers and sprouts (or mixed chopped fresh herbs)
Finishing salt
Freshly ground black pepper
Preparation:

To make the pecans: Preheat the oven to 350°F. Toss the pecans, butter, Worcestershire, and salt together in a bowl until well combined. Scatter the nuts in a single layer on a baking sheet. Toast the nuts for 5 minutes. Stir the nuts well with a spatula, return to the oven for another 3 minutes, and stir again. Continue this process until the pecans are dark brown and smell very nutty but are not burned. Remove from the oven, dump onto a cool plate, and let cool. Reserve until needed.
The nuts can be made up to 3 days in advance.
To make the crema: Place the goat cheese in a medium bowl and work it with a whisk until it begins to soften and smooth out. Whisk in the buttermilk and lemon juice and whisk until smooth. Whisk in the thyme, salt, and pepper. Taste for seasoning and adjust as needed. Cover and refrigerate until needed. The crema may be prepared up to 2 days in advance.
To cook the beets: Preheat the oven to 350°F. Trim the beets, roots and tips, and wrap them individually in aluminum foil. Place them on a baking sheet and roast for 30 minutes. Using a small paring knife, pierce the largest of the beets. If the knife goes in easily, remove the beets from the oven and let cool. If the beets are still firm, roast for an additional 10 minutes, and then check again. When cool, remove the foil and, under cool running water, remove the skins. (This makes the process easier and keeps your hands from staining as badly. It has no effect on the flavor of the beets whatsoever.)
Slice the beets into 6 wedges each. Place the red beets in one bowl and the golden beets in another (red beets will stain the gold). Divide the olive oil, salt, and pepper [among the bowls and toss each well.
Prepare a stovetop smoker with the soaked wood chips and place it on the stove over medium heat. As soon as the chips begin to smoke, place the red beets at one end of the smoker and the golden beets at the other. (They will likely touch in the center, which is fine.) Cover tightly with the lid and let smoke for 5 minutes. Turn [off the heat and allow the beets to sit in the smoker for an additional 5 minutes. Transfer them to a plate.
To assemble: Equally divide the red and golden beets among serving bowls. Drizzle with the oil, vinegar, and crema. Sprinkle with the zest and horseradish. Scatter the pecans and herb flowers over the top. Dust with the finishing salt and black pepper.
Source: Pickles, Pigs, and Whiskey by John Currence [Andrews McMeel Publishing, 2013]

Photo Information: Canon T2i, EFS 60mm Macro Lens, F/4.5 for1/60th second at ISO 1000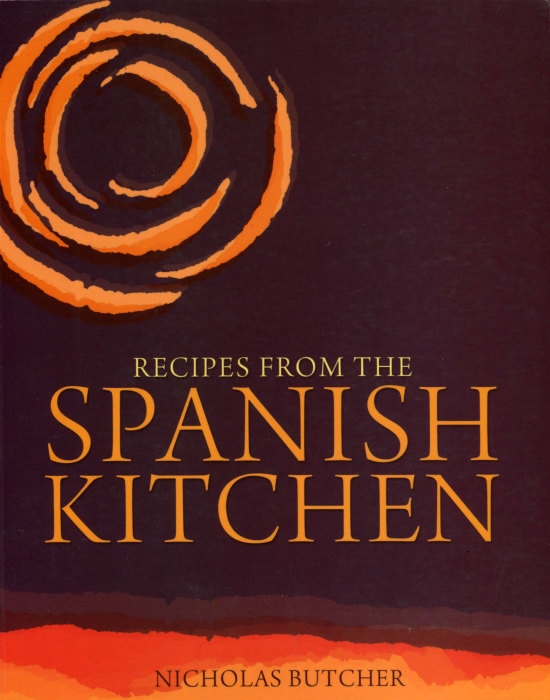 I always remember how Rod Serling would introduce an episode of The Twilight Zone. "For your consideration," he would say.
Well, this recipe is "for your consideration." In the holiday season, at least one turkey may appear on your table. Stuffing or dressing, whether cooked in the bird or in a casserole, is just about mandatory. It may be the only time this year you open up that can of stuffing spices, the can that you have had since the previous decade.
It can be hard to toss aside that can of stale spice, let along ditch the standard stuffing recipe. But, there are other ways to complete the bird experience. This recipe, a treat found in Recipes from A Spanish Kitchen by Nicholas Butcher, is filled with fruit, nuts, spice and meat. If you love pork and sausage, this stuffing is one that you should, as I suggest, consider.
---
Catalan Turkey Stuffing
Yield: enough for a 10 pound turkey, scale to your needs

Ingredients:

8 ounces prunes
8 ounces dried apricots or peaches
3 ounces dried chestnuts
2 ounces lard
8 ounces boned loin of pork, diced small
3 ounce spine-nuts
1 ¼ pounds sausage meet
1 cooking apple, peeled and diced
3 ounces vino rancio or dry vermouth
½ teaspoon ground cinnamon
Salt and pepper
Preparation:

The night before cover the prunes and apricots with water, and, in a separate bowl, the chestnuts. The next day drain the chestnuts, cover with fresh water and boil for 30 minutes.
Stone the prunes and apricots and chop them quite small. Melt the lard and mix it with the pork, sausages, prunes, apricots, chestnuts, apple, pine nuts and wine. Season with the cinnamon and plenty of salt and pepper. Place some of the stuffing in the main cavity of the turkey and the rest in a pate tin for baking separately. Sew up the opening of the cavity, or secure it with a couple of skewers.
Cook the turkey according to your preference.
Source: Recipes from the Spanish Kitchen by Nicholas Butcher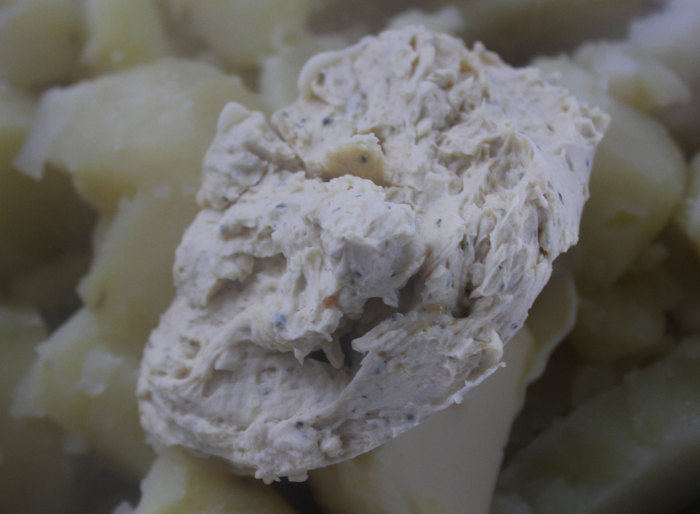 There are, of course, and infinite number of ways to make mashed potatoes. But, there are rules.
Rule One: use a hand masher and NEVER use a stand mixer. There is, it turns out, a distinct difference between mashed potatoes and wallpaper paste.
Rule Two: be creative.
Rule Three: just, just for one night, forget the stuff about eating healthy.
Rule Three gets you versions, like the French ones from Robuchon or Wells, where you have some potatoes along with your mashed butter. Rich beyond experience, decadent to the last atom.
Butter is, of course, essential to mashed potatoes. Sometimes to achieve great mashed potato complexity, we use the best in butter plus some other dairy: blue cheese, crème fraiche, …
And sometimes, you can be creative following Rule Two by amending the butter itself. I made this butter for Thanksgiving, planning to serve it with biscuits.
"Are you crazy?" Suzen licked her finger. "Put this in the mashed potatoes." She pointed to the steaming bowl of cooked potatoes ready for me to mash — she always does the stuffing, I do the potatoes, I hover and worry while she always succeeds with the gravy.
"Duh," I said.
I, I had just not thought about using bourbon and garlic and honey flavored butter for the mashed potatoes.
The result? There were six of us for dinner. When the meal was done, we had turkey leftovers. Cranberry leftovers. Stuffing leftovers. The mashed potatoes, with the bourbon butter, were gone. Simply and completely and I must say enthusiastically gone.
Yes, I did put gravy on them. They didn't need it, but habits are habits. Make this butter, enjoy it on a biscuit with strawberry jam if you want but by all means, mash your potatoes by hand with this complex butter.
---
Roasted Garlic and Bourbon Butter

Yield: 1 thick stick

Ingredients:

8 tablespoons (1 stick) unsalted butter, softened
2 tablespoons roasted garlic puree
1 tablespoon minced shallots
1 tablespoon whole-grain Dijon mustard
1 tablespoon minced fresh thyme
2 teaspoons honey
2 teaspoons bourbon
Kosher salt and freshly ground black pepper to taste
Preparation:

Puree all the ingredients in a food processor until smooth.
Source: Recipes from Home by Barbara Shinn and David Page

Photo Information: Canon T2i, EFS 60mm Macro Lens, F/4.5 for1/60th second at ISO 500