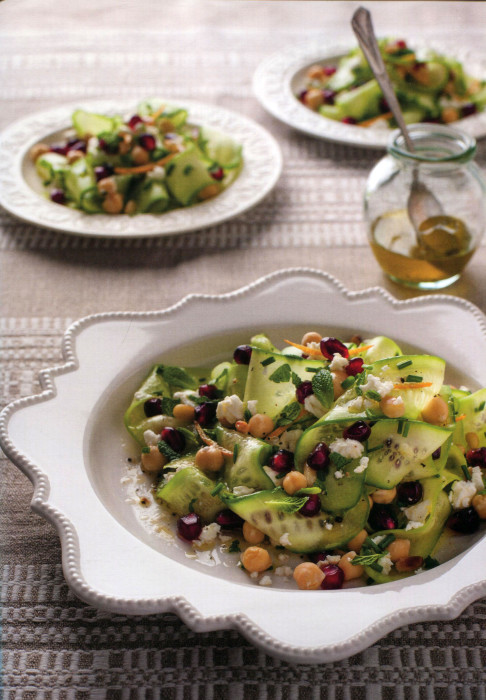 Pomegranates are just coming into season. Cucumbers are just beginning to finish their season as we pass from summer to fall. From last year, here's a recipe to marry the two into one luscious salad.
Pomegranates & Pine Nuts by Bethany Kehdy appeared in 2013. It was a dashing proponent for recipes from the Middle East, featuring Lebanese, Moroccan and Persian dishes. And it remains a leading book for these cuisines. You might say this book ages gracefully, but I suspect it will forever thrive. The recipes are lively, popping with flavor. Pomegranates & Pine Nuts is notable both for thoserecipes and the amazing photographs that entice you to the kitchen. These recipes may not be familiar when you start cooking from the book, but you will want to include many of them in your personal portfolio.
This recipe is typical of the simple yet surprising fare in store for you. From October through February it is pomegranate season. Here that intense red fruit is combined with pine nuts, chickpeas, mint, chives and cheese. The ingredients are simple, the combination is fascinating. This can be a perfect side dish for smoky eggplant or perhaps some lamb kebobs. It would marry with salmon any night of the week.
Or, with some terrific bread, this salad is a meal unto itself.
---
Pomegranate & Cucumber Salad

Yield: serves 4

Ingredients:

1 long cucumber or 4 short Middle Eastern cucumbers
2 tablespoons pine nuts
Seeds from 1 pomegranate
1 cup dried chickpeas, soaked overnight and cooked until tender, or 1 can (15-oz.) chickpeas, drained and rinsed
Zest of ½ orange
2 tablespoons finely chopped mint leaves
2 tablespoons finely snipped chives
3 tablespoons olive oil
2 tablespoons verjuice, or lime juice to taste
½ cup crumbled feta cheese
Sea salt and freshly ground black pepper
Warm thin flatbread for serving on the side, optional
Preparation:
Peel the cucumber(s), then use a mandolin or a vegetable peeler to slice them lengthwise into thin ribbons.
Toast the pine nuts in a heavy-bottomed pan over medium heat 1 to 2 minutes until golden and fragrant, shaking the pan often.
Put the cucumber ribbons, pomegranate seeds, chickpeas, orange zest, mint, chives and pine nuts in a bowl. Season to taste with salt and pepper and toss gently.
To make the dressing, put the olive oil and verjuice in a small bowl and whisk to combine.
Sprinkle the salad with feta, drizzle with the dressing and serve immediately with warm Thin Flatbread.
Source: Pomegranates & Pine Nuts by Bethany Kehdy [Nourish, 2013]