---
Our Signature Brioche Chocolate Bread Pudding



Yield: generous 8 servings



Ingredients:
6 large egg yolks (room temperature)
2 cups whole milk
1 cup heavy cream
1 cup granulated sugar
1-1/2 tsp pure vanilla extract
1/2 tsp kosher salt
One 1-lb loaf brioche (or challah), cut into pieces
8 oz bittersweet chocolate, chopped
Preparation:
1) Heat the oven to 350°F for 20 minutes.
2) In a mixing bowl, whisk together the eggs, milk, cream, sugar, vanilla and salt. Add brioche and chocolate to the mixture and combine well. Pour mixture into a well-greased 8-inch square or round baking dish.
3) Place baking dish in a bain-marie (larger pan filled halfway up with water). Bake until a knife inserted in the pudding comes out clean, about 35 minutes.
4) Serve warm with vanilla or coffee ice cream or whipped cream.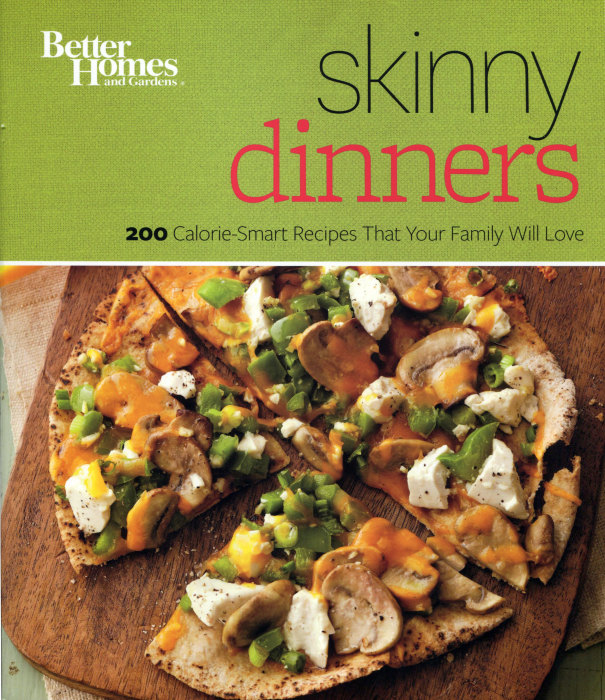 It's December 19th. In a week, it will be the day after Christmas. In two weeks, the day after New Year's. By then, you will have dusted off the resolutions for that new year. I have my resolutions saved as a Word document. I open the screen, look at it, see that I need to drop 20 pounds by Memorial Day, and close the file.
The resolution never changes, and neither do I. But, maybe, 2015 can be different.
Trying to eat healthy every day is impossible. We all know that. But what if, during the seven nights of the week, you could have three or four really, really healthy meals. That's achievable with the ideas in Skinny Dinners from Better Homes and Gardens. The book's subtitle is 200 Calorie-Smart Recipes That Your Family Will Love.
Leafing through the book, it is easy to find pages and ideas that I just might love and that I surely do what to try. The book has eight primary chapters for main dishes, described below, along with chapters for low cal [100!] side dishes and nearly as low cal [200!] desserts. The main dishes, sides and desserts should give you a satisfying low cal meal and head start on achieving that New Year's resolution to be slimmer by summer.
Here are the chapters and some intriguing recipes.
5 Ingredients offers ideas using a few ingredients, plus some staples, for a delicious, satisfying dinner. I know, some people talk about a great meal with just 3 ingredients. If those 3 are a steak, butter, and salt, I agree. Otherwise, 5 is a much wiser number. Here are some recipe attractive ideas:
Green Chile Pork Stew
Tomato Apricot Chicken
Crispy Seared Salmon with Tomato Cucumber Salad
Spinach Chicken Salad with Mango Dressing
Dinner in 30 Minutes recognizes that Monday-Friday we may need dinner in a flash. We are already low on fuel from a busy day and night may be filled with demands for even more activity. In the midst of all that, who has time to cook? Who has time to cook well? With this chapter you can enjoy:
Hot Ham and Pear Melts
Beef and Vegetables in Peanut Sauce
Jerk Chicken with Avocado-Orange Salsa
Coffee-Rubbed Salmon Sandwiches
Casseroles provide the comfort food that we all crave. An abundance of sauce in many casserole recipes render them comforting and less than healthy. Here the tables are turned with more modest sauces, made with less rich ingredients, but still offering significant flavor:
Caramelized Onion and Potato Casserole
Barbecue Chicken Pot Pie
Cajun Shrimp and Corn Bread Casserole
Skillets & Stir-Fries offers dishes that benefit from chemistry of high heat and benefits of quick cooking time:
Hungarian Style Pork Paprikash
Mango Chicken Stir Fry
Turkey Cutlets with Barley
If you are watching your blood sugar, but you still need energy, then the Low Carb, High Protein chapter has offerings you be delighted to see. And enjoy:
Pork Tenderloin with Lemon-Thyme Cream and Cabbage Apple Slaw
Beef Medallions with Horseradish Sauce, Celery, and Mushrooms
Orange-Balsamic Marinated Shrimp
From the Pantry gives you a staples shopping list of 27 items and then recipes that you can prepare by just grabbing those ingredients off your shelf and out of the fridge:
Lime-Glazed Pork Tenderloin with Roasted Vegetables
Spicy Cornmeal Crusted Chicken with Garlic Spinach
Creamy Chicken Artichoke and Mushroom Pasta
Make-Ahead Slow Cooker offers recipes that need time, but not attention. Make the recipe the night before, go about your day, and come home to fragrance and flavor:
Braised Pork with Salsa Verde
Dijon Beef Stew
Chicken Ragout
Southwestern Sweet Potato Stew
Recipe Makeovers takes favorite foods — but ones that are not really health — and reworks them into versions you will still enjoy but now without penalty:
Pork Tacos with Spicy Watermelon Salsa
Weeknight Boeuf Bourguignon
Simplified Chicken Tikka Masala
Oven-Fried Chicken with Tomato Gravy
Fresh & Fast offers salads for your main dish. Filled with color and flavor, these are the ultimate fresh comfort foods:
Citrus Pork and Arugula Salad
BBQ Chicken and Roasted Corn Salad
Curried Chicken Salad with Melon
White Bean Tuna Salad
100-Calorie Side Dishes include the flavors, textures and excitement you need to make the meal feel full and delightful:
Asparagus and Wild Mushrooms
Caramelized Balsamic Onions
Lemon Cilantro Slaw
Sautéed Cabbage with Bacon
Sweets Under 200 Calories gives you dessert finale we all seem to need, the finale that eliminates any sense depravation:
Vanilla Tres Leches Cakes
Banana Split Cake Roll [Roulade]
Chocolate Sesame Cookies
Salted Caramel Pistachio-Apricot Baklava
I've listed a number of recipes here to reinforce a key message: this is cookbook offering great meals, dishes filled with layers of flavor and texture. The meals happen, fortunately, to be on the skinny side. The intent of the book is to let you cook and eat healthy without that feeling of sacrifice or denial that undermines so many diet ideas. Nobody wants to be sentenced to reform school. So, if you can eat and enjoy, and just happen to do it all in healthful manner, then you've found a path you can follow with ease.
I will look at my Word document with the same old resolutions. This time, though, I may just print it out. And I'll keep Skinny Dinners on the kitchen counter. It's a companion for the entire year, a companion you might want to add to your culinary life.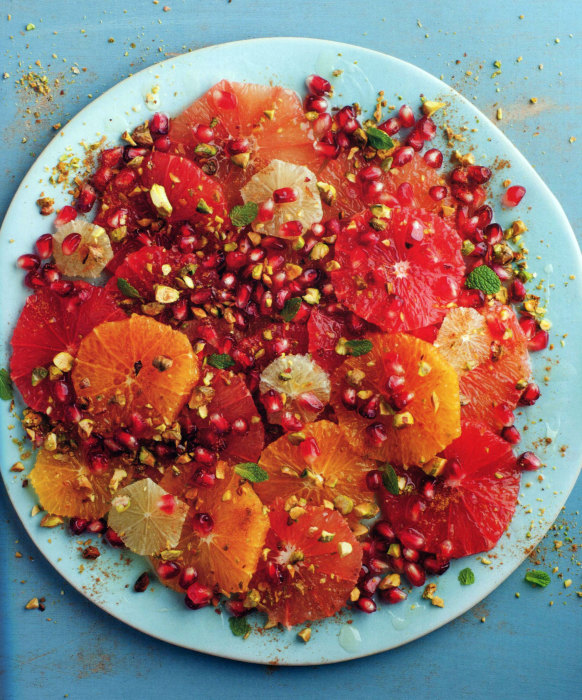 This salad appears on the cover of Pomegranates & Pine Nuts, the wonderful book by Bethany Kehdy, a book filled with exciting and most colorful recipes. This recipe, with its sprinkling of pomegranate seeds, immediately grabbed Suzen's attention.
Once we made this salad and sampled it over two nights, it grabbed our hearts. This dish, with all its multiple citrus ingredients, will storm your mouth. If you love citrus tang, you will welcome the army of flavor here. And, since sour demands sweet, you have the pomegranate seeds that offer crunch as well as sweetness. That snappy crunch is the perfect contrast for the pliant feel of the citrus components.
This salad has enough flavor and body to be your dinner. Just provide some bread and hummus on the side, and you have your meal. Or, better, from this same book you can use the Chargrilled Sweet Pepper & Walnut Dip:
http://www.cookingbythebook.com/recipes/chargrilled-sweet-pepper-walnut-dip-from-pomegranates-pine-nuts/
How did we sample the salad? With a great burger, blacked and crisped. No bun, no tomato, no lettuce. Just a mound of beef to alternate bites with this lovely salad.
Suzen and I shared a beer and hunted down every last pomegranate seed. It's a great salad that will have your eyebrows bending in new directions.
Consider this salad for your holiday table. It was a fine match for a burger. It would be a spectacular barrange of flavor and color to complement a holiday turkey or roast.
---
Moroccan Citrus Salad

Yield: serves 4

Ingredients:

1 lime
1 orange
1 blood orange
1 pink grapefruit
Seeds from 1 pomegranate
2 teaspoons roughly chopped pistachios
2 tablespoons honey
½ teaspoon orange blossom water (optional)
¼ teaspoon ground cinnamon
1 teaspoon chopped mint leaves, to sprinkle
4 tablespoons Greek yogurt for serving, optional
1-inch piece gingerroot, peeled and grated, for serving, optional
Preparation:

Using a sharp knife, trim the top and bottom of the lime so the flesh is revealed. Keeping the lime upright, cut through the peel downward from top to bottom, following the shape of the fruit, making sure to shave off all the peel and pith. Turn the lime onto its side and cut into thick wheels (not too thick, but thick enough so they are not falling apart). Remove the seeds and arrange the slices on a serving plate so they overlap.
Repeat with the remainder of the citrus fruit. Drizzle any juice over the citrus slices.
Sprinkle the pomegranate seeds and pistachios over. Put the honey and orange blossom water, if using, in a small mixing bowl and stir well, then drizzle it over the citrus fruits. Dust with cinnamon and sprinkle the mint leaves over.
To make the ginger yogurt, if using, put the yogurt and ginger in a bowl and mix well. Serve with the salad.
Source: Pomegranates and Pine Nuts by Bethany Kehdy [Duncan Baird Publishers, 2013]