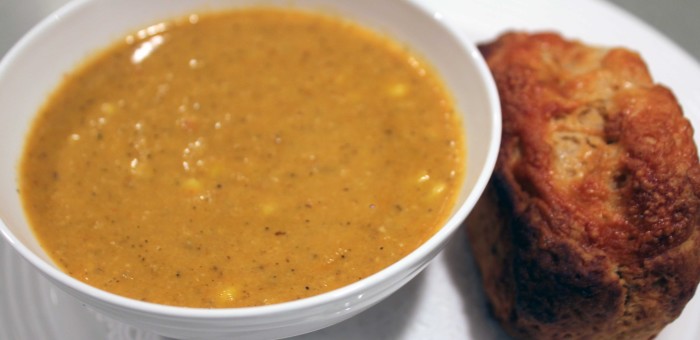 Before you comment, I have an explanation. I know the picture above is marginal. Cocktails and soup are the toughest foods to photograph. I'm working on it. It's not easy.
And, when I get a chance, I will take a better shot. But it may take a while and in the meantime this is peak corn season and I don't want to wait to share this recipe. You don't want to wait to try it and then enjoy a chile smile.
Many of the posts here are driven by Suzen's culinary team building program at Cooking by the Book. Clients want a hands-on cooking event, they pick a menu, they come and cook and eat, and I get to take photos and eat, too. Thing is, it's been a while and no one has chosen this soup again. I've waited and I'm out of time and Suzen is busy testing the "next" recipes and does not have time to revisit this one.
Actually, we will. Because I think this wonderful soup can be the perfect gateway to a Thanksgiving turkey. Pictured above, next to the soup, are the Chipotle and Cheddar Biscuits I blogged back in April [April 22 actually]. I can see serving the biscuits on Thanksgiving Day. Or, I can imagine making them on the Tuesday before, letting them dry out a bit, and stuffing the turkey with them. Some herbs, diced chiles, and a shot of tequila?
I'll see if I can stir Suzen's imagination. In the meantime, this is a rollicking good soup recipe with a delightful twist. You don't just use the corn kernels here. You cook with the cobs as well, extracting every last bit of corn flavor from the plant. The corn may be yellow, but this is a very green idea to "use it all." It's smart and something I would never have considered on my own.
Corn, chipotle, and cream. Unbeatable.
---
Smoky Roasted Corn Soup with Chipotle Chile

Yield: 4 servings

Ingredients:

3 ears corn
1 Poblano pepper, ¼ inch diced
1 small-red bell pepper, ¼ inch diced
2 tablespoons olive oil
3 cups water
2 tablespoons unsalted butter
½ cup finely chopped red onion
2 garlic cloves thinly sliced
¼ teaspoon chipotle chile powder
¾ teaspoon coarse (kosher) salt
½ cup heavy cream
Preparation:

Preheat the oven to 375°F.
Using a chef's knife, scrape the corn kernels off the cobs onto a rimmed baking sheet, reserve the cobs. Add the Poblano and bell pepper to the pan drizzle with the oil, and roast for 25 minutes, tossing the vegetables once or twice, until the corn is lightly browned.
Meanwhile, cut the cobs into thirds crosswise and place in a medium saucepan with the water. Bring to a boil over high heat, reduce to a simmer, cover, and cook for 20 minutes, or until the liquid is flavorful. Strain the corn broth into a bowl.
In a large saucepan, heat the butter over medium heat. Add the onion and garlic and cook for 7 minutes, stirring occasionally-until the onion is tender. Add the roasted corn and pepper mixture, the corn broth, chipotle powder, and salt and simmer for 5 minutes for the flavors to blend. Add the cream and gently heat. Serve hot.
Source: The Beekman 1802 Heirloom Cookbook

Photo Information: Canon T2i, EFS 60 mm Macro Lens, F/4 for 1/40th second at ISO‑250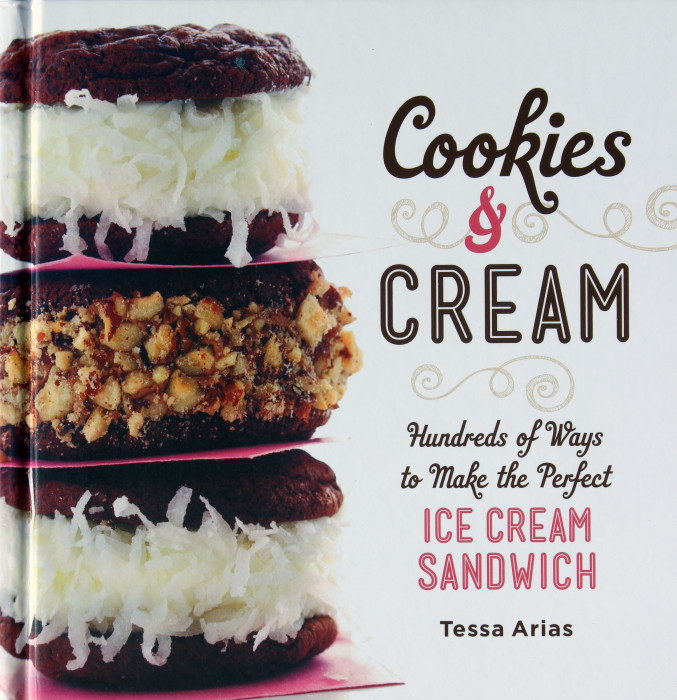 I do things besides write this blog. I actually test the recipes — certainly the brownies and cocktails — or I help Suzen test the recipes — the ones with kale and spinach. I grew up on canned vegetables, not fresh ones. My skills are limited.
I do have other skills. I dabble in artificial intelligence, data mining, Big Data stuff. I actually apply some of those techniques to this blog. I know which posts are most popular. I know, for a fact, that there are plenty of people like me who are focused on brownies and cocktails. I feel so much less lonely.
Now, Amazon has very sophisticated artificial intelligence. When I began getting cookbook recommendations from them, I felt a little invaded. But, then I looked at what they were sending me and all I could do was thank them. They have saved me a boatload of time. They have not saved me one damn calorie.
About that time and saving it or using it as wisely as possible. Time flows whether we want it to or not. It pulsates and drives us. And too often when we are cooking, we just don't seem to take the time up front to pause and ask ourselves: "What am I doing? What I can do differently or better?"
You make the same brownie, the same margarita, the same ice cream sandwich.
Oh, you never have made ice cream sandwiches? You want to? No, stop now. Don't think about two chocolate wafers with vanilla ice cream. That's just what I'm talking about. Break out of the mold.
Amazon sent me a recommendation for Cookies & Cream: Hundreds of Ways to Make the Perfect Ice Cream Sandwich by Tessa Arias. It's a book that you should consider. Even if you never make them, just reading here about all the different combinations and little things you can do, all those ideas may percolate into the rest of your kitchen portfolio. Here you'll see ideas about rolling the edges of ice cream sandwich in chopped nuts or crushed bacon. Next time you stuff a chicken breast with herbs and cheese, think about rolling that edge in nuts or bacons or something else.
In short, there's more to this book than simple ice cream sandwiches.
Not that the sandwiches themselves lack in importance. And Cookies & Cream takes you from beginning to end with detailed advice:
Instructions for making ice cream, both French [egg-based] and Philadelphia-style [eggless]
Making, shaping and baking cookie dough for the perfect sandwiches
It's the combinations that matter the most. You do want to step beyond mere chocolate + vanilla. So there are 50 ice cream recipes and 50 cookie recipes. That is 50 X 50 = 2,500 ice cream and sandwich combinations or enough for 2,500/52 = 48 years and 3 weeks if you just do one recipe a week.
Gee, when I think about it this way, I had better get started.
Fortunately, author Tessa Arias offers a speed ramp for us, certain combinations of ice cream and cookies that she finds particularly grand:
Carrot Cake Ice Cream + Cream Cheese Cookies
Root Beer Ice Cream + Vanilla Bean Cookies
Caramel-Chocolate Swirl Ice Cream + Chocolate, Caramel and Pecan Cookies
Pomegranate Frozen Yogurt + Orange Cardamom Cookies
Mango Ice Cream + Ginger Lime Cookies
Peanut Butter Ice Cream + Banana Oat Cookies [aka The Elvis]
Dulce de Leche Ice Cream + Chocolate Shortbread Cookies
Lime Ice Cream + Salted Tequila Cookies
Fresh Mint Bourbon Ice Cream + Bourbon Shortbread Cookies
That's just a quick sampling of the treats in store for you in Cookies & Cream. You can end a dinner party with an eye-smashing, delightful surprise. "No cake or pie or tiramisu, tonight," you could announce. "We're reverting to childhood with Hot Cocoa Ice Cream Sandwiches with Marshmallow Ice Cream and Hot Cocoa Cookies."
Never had that as a kid.
But I wish I had.
Now I can. You, too.