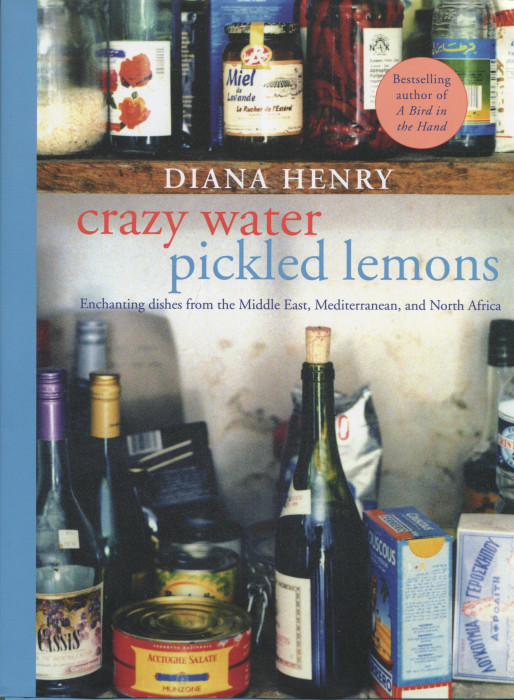 This week British author Diana Henry earned a James Beard award for her fantastic A Bird in the Hand. You can read my review here. It's a book you want to possess.
Actually, you want all of her book and certainly this one, Crazy Water Pickled Lemons, from 2006. Like many European cookbook writers, Diana does go beyond her national borders. Brits are ubiquitous travelers and in just a few hours can fly to destinations that are far, far from London culinarily.
In this book, Diana goes full throttle exploring the ingredients and dishes of the Mediterranean, Middle East and North Africa. Perhaps it is that British climate, a bit cloudy and often wet, that inspires people like Diana to dine on the flavors created by heat and sunshine.
There are twelve chapters here, each devoted to a set of complementary ingredients. Here are some chapter examples to tempt you:
A Bowl of Fresh Herbs: parsley, cilantro, dill, basil, and mint
Plundering the Stores: almonds, hazelnuts, pine nuts, and dried fruits
The Sweet and the Sour: honey and vinegar
Fruits of Longing: figs, quinces, pomegranates, and dates
Each chapter begins with a few pages discussing the origins, history, and culinary uses for the ingredients with a comparison of different cultures and cuisines. And the ingredients themselves are contrasted: when and why to use cardamom, saffron, cinnamon and paprika.
After that background come the recipes. Some are perfect translations of national recipes and some reflect Diana's interpretations of the classics. Fear not. If Diana has "tuned" a recipe, you can be sure that it will afford you supreme flavor. And, of course, in Diana's style the recipes have been written for British and American kitchens. Here's a sampling of the ideas Diana presents:
Moroccan Chicken with Tomatoes and Saffron-Honey Jam

Harissa-Marinated Lamb with Spiced Mashed Vegetables and Cinnamon Onions

Lavender-Scented Chocolate Truffles

Chilled Avocado and Cilantro Soup

Salt-Baked Potatoes with Crème Fraiche and New Season's Garlic

Arab-Adalusian Monkfish with Saffron, Honey and Vinegar

Raisin and Sherry Ice Cream

Cardamom-Baked Figs and Plums with Burnt Honey and Yogurt Pannacotta

Baked Sweet Potatoes with Marinated Feta and Black Olives
As I built this list of Diana's ideas I realized something very important: I've never eaten anything like what is suggested her — with the exception of that Avocado and Cilantro Soup. I've never imagined these combinations, teaming with complex associations of flavors and spices. With Diana's skills and reputation, I'm simply happily excited to have such a vast spread of new ideas before me. I am already thinking about that lamb with the cinnamon onions or the baked sweet potatoes with feta and olives.
This is an important book, another element of the culinary legacy of Diana Henry. If you never heard of her before, you have an exciting and most flavorful future before you.