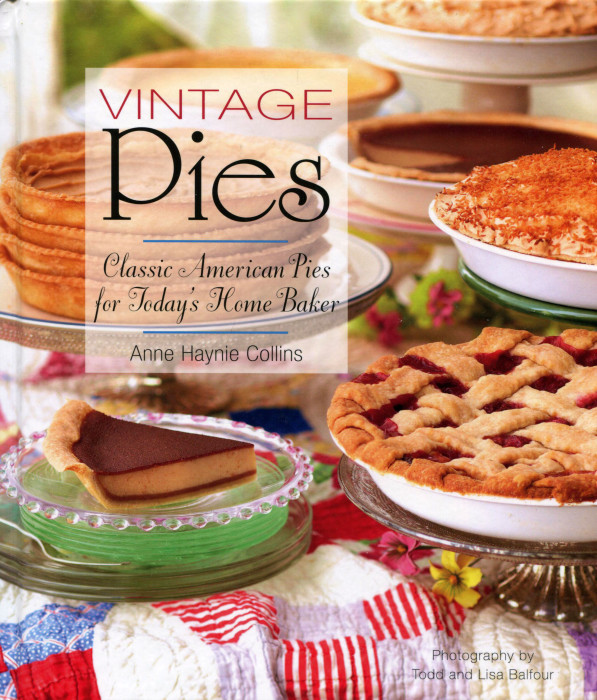 If you love pie, or wish you could, then Vintage Pies by Anne Haynie Collins is volume you can use now and in the spring and summer and fall. Pie in some form should be a year round experience. Anne lets you have that experience with authenticity.
A pie fanatic, Anne focuses here on those vintage pies that made pie an American staple in the 18th and 19th centuries. Here are the pie ideas that Anne's grandmother remembers her grandmother made. We get a view here of pie from the mid-1800s and earlier, pie as it was loved and nourished by a country of famers without electricity.
There are pie styles and types here you may have heard of — like Chess Pie — but there are many examples here of other heritage pies. And they are grouped in chapters that reflect the basic nature of that treat.
It's clear that mankind has a sweet tooth. There is no intellectual reason for a farm family in Amish territory in the 1800s to have pie. Except, that we all seem to crave and love the sweet side of life. Here we find examples of how to achieve that sweetness with an elegant simplicity.
Chapter by chapter we can explore these pie concepts.
Transparent Pies have their origin in traditional English baked goods. The filling is sugar, eggs and butter — sometimes augmented by flour or with some additions of fruit, spices or little dairy. Still these fillings are very simple, not see through transparent pie, but surely resembling stained glass in their devout color. Examples of transparent pies include Pecan and Vinegar and the classic Chess where a resonant yellow color is the result of adding yellow cornmeal.
Cake Pies are a Pennsylvania Dutch specialty. They are extensions of transparent pies, ones where additions like molasses or sugar introduce a deeper color and denser texture. The contenders here include Shoofly and Amish Vanilla.
Custard Pies have been enjoyed for over 200 years. Their original popularity grew because they use simple ingredients, often leftovers, that every household would have had on hand. You may not have seen these recipes before, like the Union Pie from Pennsylvania with a filling of sugar, milk, eggs, molasses and buttermilk. The Marlborough Pie uses apple custard, something new to most of us. What we would all recognize here is the quintessential Pumpkin Pie.
The chapter on Cream Pies will open your pie eyes. You probably, like me, hear "cream pie" and imagine a rolling white top of whipped cream. Not in the originals, where the "cream" referred to the base like Butterscotch, Chocolate, or Lemon. Then, atop the filling goes meringue, not whipped cream and the pie has another round in the oven. So your Lemon Meringue Pie is actually a cream pie.
Fruit Pies presents an array of the treats we can savor, from spring to fall. Rhubarb, Strawberry Rhubarb, Peach and more all are on the display here. Each recipe comes with a matching photo that does make you want to find that buried can of Crisco and being making crust. What is interesting here about these fruit pies is their stark authenticity.
These are the vintage, heritage versions. If you look up "peach pie" in a contemporary pie book — I'm not naming anyone here — you'll find ingredients like lemon juice, nutmeg, cinnamon, vanilla, perhaps some jam and more. Not here. For example, the Cherry Pie recipe uses a crust, cherries, some sugar, a little flour and even less butter. That's it: really cherries and sugar. The result is a pure, intense flavor of cherries and cherries alone.
Vintage Pies is a celebration of a different era, a different cuisine, and ideas that have been pushed aside as turn to the "newer and better," the more extravagant. A return to the past, if only for a pie or two, is a good idea. Vintage Pies is an excellent guide to the pie past that is part of the complete American culinary heritage.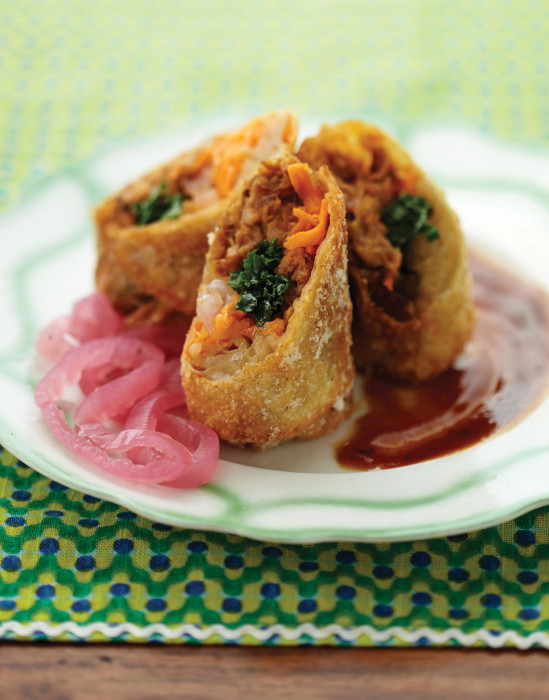 I recently posted a review of Tupelo Honey Café: New Southern Flavors from the Blue Ridge Mountains. Author Elizabeth Sims and her collaborator, Chef Brian Sonoskus, have compiled a second volume of dishes representing the lively fare of the Tupelo Honey Café chain. Spread across the mid-South, the cafes greet you with biscuits and a menu replete with Southern-inspired gems.
Well, some of the inspiration comes from places other than the South. Chef Brian has a professional culinary background which he combines with his deep understanding of Southern cuisine. A graduate of Johnson and Wales, Brian loves to play with Southern ingredients combined in new fashion. Here's a positively brilliant idea that you won't find in any Chinese restaurant. But you can at Tupelo Honey!
There are recipes galore here: the egg rolls, sweetly pickled onions, roasted garlic puree and oil, smoked jalapenos, and smoked jalapeno sauce. There's a solid Sunday afternoon here for you, making, tasting, and ultimately enjoying.
---
Appalachian Egg Rolls with Smoked Jalapeño Sauce, Pickled Bnions, and Pulled Pork

Makes 12 rolls

Ingredients:

1½ cups (about 8 ounces) pulled pork, preferably grilled or roasted Boston butt
¼ cup Smoked Jalapeño Sauce (recipes follow)
2 teaspoons Roasted Garlic Oil (recipe follows)
¼ pound mixed greens (kale, spinach, bok choy, or a combination of these), thinly sliced (about 3 packed cups)
1 tablespoon soy sauce
1 tablespoon water
12 egg roll wrappers
¾ cup shredded carrots
¾ cup Sweetly Pickled Red Onions (recipe follows)
Canola oil, for frying
3 tablespoons Dijon mustard
3 tablespoons coarsely ground mustard
Preparation:

Combine the pork and Smoked Jalapeño Sauce, mixing well, and set aside. Heat a large, heavy skillet over medium-high heat and add the Roasted Garlic Oil, heating until hot, but not smoking. Add the mixed greens and sauté for about 2 minutes, or until just tender. Add the soy sauce and water and sauté for about 30 seconds, or until the liquid evaporates. Set aside and allow the greens to cool.
Working with 1 egg roll wrapper at a time, lay the wrapper on a work surface with a corner facing you. Brush a little water around the outer edge of the wrapper to make it sealable as you roll it. In the center of the wrapper layer 2 tablespoons pork, 1 tablespoon greens, 1 tablespoon shredded carrots, and 1 tablespoon pickled onions. Fold the bottom corner over the filling, tucking the tip of the corner under the filling. Fold the left and right corners over the filling. Tightly roll the filled end toward the remaining corner and gently press the edges to seal. Repeat the process with the remainder of the egg roll wrappers and place them on a wax paper–lined baking sheet.
Refrigerate the egg rolls until you are ready to fry them.
Pour the canola oil in a Dutch oven to a depth of 3 inches and heat the oil to 375°F. Fry the egg rolls in batches for 3 to 4 minutes, until golden brown. Remove with a slotted spoon and drain on paper towels. Mix the Dijon and coarsely ground mustards and serve with the egg rolls along with additional Smoked Jalapeño Sauce.
---
Sweetly Pickled Red Onions

These pickled onions are delicious as part of our Appalachian Egg Rolls (recipe above) or as a topping for salads and sandwiches.
Makes 4½ cups

Ingredients:

4 medium red onions (about 2 pounds), sliced ¼ inch thick and separated into rings
1 cup sugar
1 cup cider vinegar
½ teaspoon salt
½ teaspoon freshly ground black pepper
Preparation:

Combine the red onions, sugar, vinegar, salt, and pepper in a 3½- to 4-quart saucepan. Press down on the onions with a wooden spoon and add water to barely cover the onions, about 2 cups. Bring to a boil, stirring gently until the sugar melts. Lower the heat and simmer for about 10 minutes, or until the onions are translucent. Let the mixture cool. Lift the onions from the cooking liquid with tongs or a large fork and pack the onion rings into jars. Spoon the liquid over the onions and cover tightly. Refrigerate in an airtight container for up to 1 week.
---
Roasted Garlic Puree and Roasted Garlic Oil

Another basic in our pantry, roasted garlic puree is the end product of simmering 12 to 14 garlic cloves over medium heat in 1 cup olive oil in a saucepan for about 20 minutes, or until the garlic turns golden brown. Strain the oil, reserving the garlic, and use the oil for sautés, salad dressings, and marinades. Puree the garlic cloves in a food processor until it forms a smooth paste. Refrigerate for up to 2 weeks.
---
Smoked Jalapeños

Makes 6 to 8 smoked jalapeños

Ingredients:

1 cup hickory chips
6 to 8 jalapeño peppers
Line the inside of a 9 by 13-inch springform pan with heavy-duty aluminum foil, enabling the pan to hold water. Place the hickory chips in the pan and cover them with water. Let the chips soak for at least 15 minutes.
Preheat the oven to 450°F. Drain the hickory chips and spread them in a single layer in the pan. Place a piece of foil on top of the chips and arrange the jalapeños on top of the layer of foil. Cover the pan tightly with an additional piece of foil, sealing it to the top edge of the pan. Bake for 10 minutes and then lower the oven temperature to 250°F. Continue to bake for 30 minutes. Remove from the oven and allow the peppers to cool before removing the stems, seeds, and membranes. Store the jalapeños in an airtight container in the refrigerator for up to 1 week.
---
Smoked Jalapeño Sauce

Here's a versatile smoky sauce that's just the right equation of spicy and sweet with a touch of heat.
Makes 1½ cups

Ingredients:

1 Smoked Jalapeño (recipe above)
½ cup V8 juice
½ cup freshly squeezed orange juice
1/3 cup tupelo honey
¼ cup orange marmalade
3 tablespoons freshly squeezed lime juice
1½ teaspoons Roasted Garlic Puree (recipe above)
1½ teaspoons cornstarch
1½ teaspoons chili powder
1½ teaspoons ground cumin
¾ teaspoon ground coriander
½ teaspoon sea salt
1 tablespoon minced fresh cilantro
Preparation:

Combine the smoked jalapeño, V8 juice, orange juice, honey, orange marmalade, lime juice, Roasted Garlic Puree, cornstarch, chili powder, cumin, coriander, and sea salt in a blender container and process just until smooth and blended. Pour into a medium saucepan and bring to a simmer over medium heat, stirring constantly. Simmer, uncovered, for 5 minutes. Remove from the heat and stir in the cilantro. Allow the mixture to cool and store in an airtight container for up to 3 weeks.
All recipes from Tupelo Honey Cafe: New Southern Flavors from the Blue Ridge Mountains by Elizabeth Sims and Chef Brian Sonoskus, Andrews McMeel Publishing 2013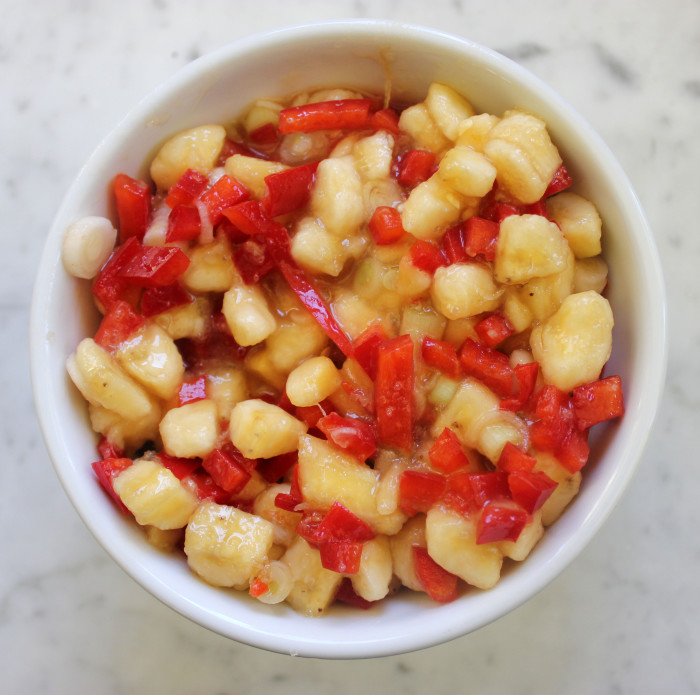 It's a Red Flag day upstate. The temperature will be in the 70's, for the first time in six months. But the winds will be high, perhaps 35 mph. That'll scatter all the fall leaves that remain. Mine will blow away, but I'll inherit my neighbors'. The net effect is that the ground will still be covered in brown.
Green will not come to upstate for another month. Although, finally, this week the last of the white went away. The natural snow finally melted away last week. But until Wednesday, there were still little mounds of snow from the piles created when the driveway was plowed. I put away the snow shovel this week.
Spring is here, not just officially, but actually. For Suzen and me, there is little difference between Spring and Summer. We turn to making the freshest, and the spiciest, dishes we can.
This Banana Salsa with Pepper Zing is simply our own version of a recipe that seem universal. Combining bananas with peppers, both hot and bell, is something beloved among salsa fans. It's lovely with chips but is a natural accompaniment for chicken or fish. This salsa, with a simple fried trout, is a magnificent flavor package.
The tradition seems to be that this salsa has to have bell peppers of some kind. At least the red ones you see in the picture above. Some folks add green and yellow ones, too, both for color and for heat. As for the deep heat, the zing, you want to add one hot pepper here, just one for too much heat will overcome the bananas. I used a red serrano in keeping with my yellow and red theme. You can go Christmasy, too, and use a green serrano, or jalapeno, or habanero.
Yes, you could make this salsa next Christmas, too. There will be snow on the ground. But chilled banana salsa served over hot dark turkey slices is a present you'll devour.
Most recipes call for lime juice. I think, as this recipe call for, a little champagne vinegar makes for modestly dazzling difference. Most recipes call for cilantro, but I find that herb conflicts a bit with the banana flavor so I don't use it. There are days, you understand, when you don't have to have cilantro or chipotle. Days, not whole weeks.
---
Banana Salsa with Pepper Zing

Yield: 1 pint+

Ingredients:

¼ cup champagne vinegar [or an equal amount of lime juice]
2 ripe but not browning bananas, skinned
1 red bell pepper, ends cut off, seeded, and rib removed
1 bunch of scallions, white and green parts, very thinly sliced
1 red serrano chile, minced [keep the seeds for heat, discard for moderation]
¼ cup brown sugar, preferably light since it is not as hard as the dark
Preparation:

Put the vinegar or lime juice in a large bowl. This ingredient goes first because, as you slice the bananas, you'll add them to the bowl and stir to make sure the bananas have no chance to brown. This is salsa, not gravy.
Cut the bananas in half lengthwise and then cut those halves lengthwise again. And again if necessary. Then dice the slices so that you have little cubes of banana, perhaps ¼-inch on a side. Periodically, stop, add the banana cubes you have so far into the bowl and stir.
Mince the red bell pepper into similar small pieces. Add the red pepper slices and the thinly cut scallions to the bowl.
Cut up the serrano and add to the bowl. Add the brown sugar, after first crumbling your brown sugar so it will stir easily with the other ingredients — if you try to stir to break up hard brown sugar balls you will end up bruising the bananas. Mix gently until the sugar is dissolved.
Cover and refrigerate for an hour or more. Serve very cold with chips or protein.
Source: Brian O'Rourke

Photo Information: Canon T2i, EFS 60mm Macro Lens, F/4 for 1/50th second at ISO‑320