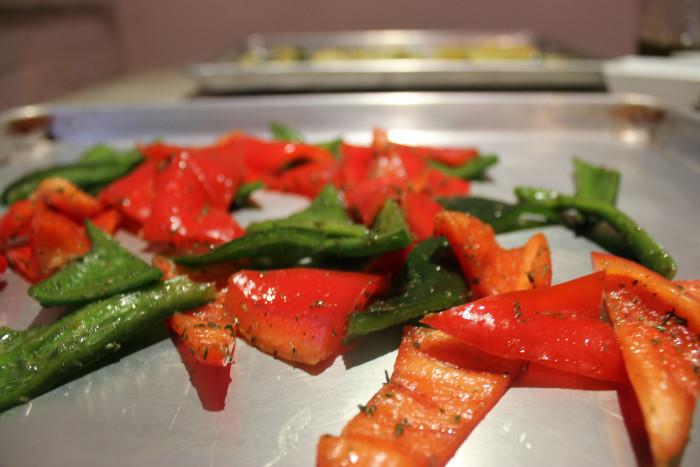 Suzen buys bell peppers by the crate. Each week one or two hundred people enter our kitchen for hands-on cooking events. For appetizers, for ingredients in other dishes, peppers abound in our kitchen. Recipes for roasting even bell peppers often call for heating them until the skin is blackened, storing in a covered bowl, and removing the skin.
Suzen has a quicker solution for speedily using bell peppers. For those varities, that skin is just fine when baked with a little olive oil and perhaps some herbs. So, cut up your peppers, wet them with olive oil, lightly bake and enjoy.
Simple strips of these peppers make great appetizers. Dipped in yogurt, perhaps yogurt with dill or other herbs, the strips can be brilliantly refreshing. A still warm strip coated with cold yogurt and dill is simple but powerful comfort food.
As an ingredient in a larger dish, peppers add color, flavor and texture. Any rice or pasta dish can be "beautified" by adding diced peppers. In a soup or stew, these are an excellent "final" garnish. Try using these peppers and you'll find yourself craving their contribution to dishes across the board.
---
Quick Roasted Pepper Pieces

Yield: whatever you want

Ingredients:

Assorted bell peppers, color of your choice
Olive oil
Herbs of your choice
Preparation:

Preheat the oven to 450°F. If you wish, like a half-sheet baking tray with aluminum foil.
Wash the peppers, slice off the ends, then halve the peppers. Carefully cut away the internal membrane. Dump off the seeds. Cut the peppers into pieces that meet your needs:
Longish and slim for dipping
Triangular for incorporating into a dish
Square to be diced later for adding to rice or pasta
Place the pepper pieces on the baking sheet. Lightly dress with olive oil. Sprinkle with herbs, if you desire. Bake for 15 minutes or so. Pull from the oven before they begin to blacken.
Source: Suzen O'Rourke at Cooking by the Book

Photo Information: Canon T2i, EFS 60mm Macro Lens, F/3.5 for1/40th second at ISO‑320