All this week I've been writing about dishes to have during the Super Bowl. The custom for sports fans on this long and intense Sunday is snack food: say wings and ribs. And I've shared recipes for just those, dishes, ones filled with spice and dash.
How about something a bit mellow to eat on the side, or maybe as the entire meal?
Here's a dish that might be much appreciated alongside those wings and ribs: rich mashed potatoes, fashioned into a baked pie complete with bacon, leeks and cheese. You could serve this any night as feast, but for Super Sunday it might be just the ideal snack for that long 30-minute half time. You know, the half-time show filled with music you cannot understand by someone you never heard of.
Well, actually, I do know who Katie Perry is and who can forget Janet Jackson. Let us all hope there are no malfunctions or under inflated footballs.
This recipe and photo come from the lovely Fireside Feasts & Snow Day Treats by Ryland Peters & Small. It's a recipe just begs for your personal tinkering. You can amplify the mashed potatoes with more milk and butter. You can add more cheese, or a different style of cheese: think pepper jack with a can of green chiles tossed in! Bacon does seems the right touch here, but you might be a pancetta person or want some cooked diced ham. You could even, don't laugh at me, use smoked salmon.
Look, it's Super Sunday. Anything goes. Think of this dish as your chance for culinary onside kick.
I'm sure that once you try this recipe, you'll be experimenting on different versions for every Super Bowl to come.
---
Mashed Potato Pie with Bacon, Leeks and Cheese

Yield: serves 4-6

Ingredients:

2 pounds floury potatoes
2 tablespoons olive oil
1 onion, finely chopped
2 small leeks, thinly sliced
3 ounces bacon or pancetta, diced
2 tablespoons butter
1 cup milk or single/light cream (or a bit of both)
1 egg, beaten
A large handful of fresh parsley leaves, chopped
A pinch of paprika
3 ¼ ounces firm cheese, such as Gruyere, grated
Sea salt and freshly ground black pepper
Preparation:

Grease a 9-inch baking dish or round skillet.
Halve or quarter the potatoes depending on their size; they should be about the same to cook evenly. Put them in a large saucepan, add sufficient cold water to cover, salt well and bring to the boil. Simmer for 20 minutes, until tender.
Meanwhile, heat the oil in a frying pan over low heat. Add the onion and leeks and cook gently for about 10 minutes, until soft. Add the bacon and cook for 3-5 minutes, until just browned. Season with salt and set aside.
Preheat the oven to 375°F.
Drain the potatoes and mash coarsely, mixing in the butter and milk. Season well and add the egg. Stir to combine.
Stir in the leek mixture, parsley, paprika and half the cheese. Transfer to the prepared dish and spread evenly, sprinkle over the remaining cheese and bake in the preheated oven for 35-45 minutes, until well browned. Serve immediately.
Source: Fireside Feasts & Snow Day Treats by Ryland Peters & Small

Photo Credit: Ryland Peters & Small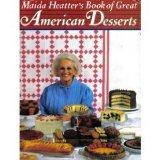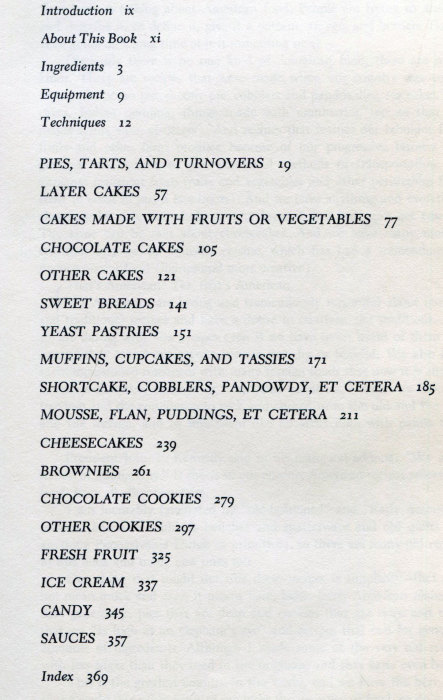 Beginning with Maida Heatter's Book of Great Desserts in 1974, for over two decades Maida Heatter published a half dozen dessert cookbooks that were grandly recognized as the best of breed. Some books were devoted single topics: cookies or cakes. And some were compendiums like this one, Maida Heatter's Book of Great American Desserts from 1985.
The small cover picture above comes from Amazon followed by the Table of Contents. I don't have a big cover picture because, my own cover long, long ago disappeared. Suzen and I have over four thousand cookbooks yet this is the only book whose cover has been worn out.
Classic as these books are, they are no longer in print. You can still track down copies on Amazon and I do suggest you add them to your dessert library.
If you only have space for one volume by Maida, then this is the one to begin with. As that table of contents shows, the full spectrum of American dessert lore appears between the covers.
I appreciate the book for the bounty of recipes it provides: the very best brownie recipes, for example, and then those "other ones" that are surprising and exotic.
Let's look at the brownies, first. Maida was selling brownies at age 10 and she recommends traveling with brownies, individual wrapped, to warm the hearts and turn the heads of those you met along the way. She presents what she believed, at least 30 years ago, was the first published brownie recipe from Maine in 1914.
You'll find Hershey's Brownies, made with cocoa powder but frosted with unsweetened, semi-sweet, and milk chocolate frosting. Katherine Hepburn's fabulous Raspberry Brownie recipe appears.
Although she was born on Long Island, Maida has spent a great deal of time exploring the cuisines of Southern desserts. The header notes for the recipes show her deep research into each recipes, often with a tour of the many variations that evolved in rural settings. For example, the Banana Black Cake is described as one of the family of Southern Black Cakes, typically dark, heavy and made with fruit. This Banana variation is different: filled with dates, walnuts, blackberry jam, bananas, and buttermilk. Plus just about every spice in your cabinet.
You've probably never had a dessert like this and just reading the recipe makes you pause. Maybe, just maybe we should all spend some time this weekend assembling this banana boatload of flavors.
Maida actually drew upon the dessert traditions across the nation – this book is titled American and not Southern of course. Some other cake ideas include:
Oreo Cookie Cake invented by Maida
Walnut Rum-Raisin cake from New England
Miami Beach Sour Cream Cake
Cowtown Chocolate Cake from Dallas
Cranberry Up-Side Down Cake, inspired for sure from Maine
I could go on raving and listing recipes chapter by chapter, but I hope by now I have convinced you that this class dessert cookbook is one you want to test drive. Once you begin using this book, prepare to need it close at hand. And prepare for the cover to fall off in less than a decade. That's the ultimate cookbook praise.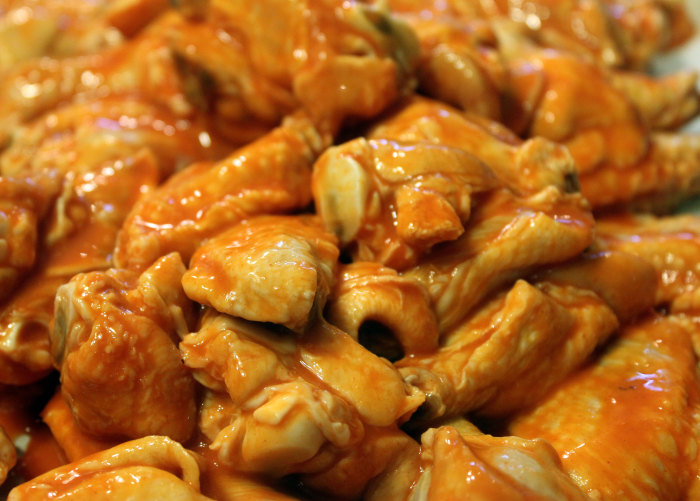 It is less than a week to the Super Bowl and you have two decisions to make: who to root for and what to eat.
This post was first published four years. While the Super Bowl teams have changed, our need for super food remains high. There are great ideas here for Chicken Wings, Dips, Cocktails and Desserts – everything you need for a football feast.
The wings picture above represents neither of the recipes below. These wings are right out of the Frank's Hot Sauce bottle, which is an excellent alternative. Buy a bottle, get the recipes from the website, and wing it. If you want wings with less heat but more complex flavor, then consider the two wing supremes I have presented links for.
For your Super Bowl parties, here are some excellent, delicious, and easy ideas. These are all items that you knock off in quick time yet find yourself and your guests smiling and satiated.
Chicken Wings:
Wings, of course, are as a much a part of Super Sunday as the hash marks on the field. These two recipes offer you alternatives to the fiery wings we all know. You can have your wings sweet, with syrup flavor, or herb with a cilantro infusion. Or you can have both. A wings platter with alternative flavors will surprise and please.
http://cookingbythebook.com/blog/recipes/chicken-wings-maple-syrup/
http://cookingbythebook.com/blog/recipes/cilantro-onion-chicken-wings/
Dips:
For those wings, dips are essential. Here's an assortment of dip ideas you can set before your guests that will accommodate chips, crackers, wings, and veggies.
http://cookingbythebook.com/blog/recipes/simple-guacamole/
http://cookingbythebook.com/blog/recipes/smooth-blue-cheese-dip/
http://cookingbythebook.com/blog/recipes/homemade-mayonnaise/
http://cookingbythebook.com/blog/recipes/arugula-sauce-horseradish/
http://cookingbythebook.com/blog/recipes/crab-guacamole/
Drinks:
The easy sour mix here can be topped with whisky or rum for a classic cocktail. The two champagne cocktails here are deliciously different without requiring any significant effort on your part. You want delicious simplicity for a party where everyone is focused on the game and on the commercials. There isn't time for complexity.
http://cookingbythebook.com/blog/recipes/fresh-sour-mix/
http://cookingbythebook.com/blog/recipes/pom-royale-easy-champagne-cocktail/
http://cookingbythebook.com/blog/recipes/apricot-mimosa/
Dessert:
Everyone loves chocolate, of course, and this cake is richly satisfying. The ginger bars are happily spicy and the ideal way to end the meal. No matter who wins!
http://cookingbythebook.com/blog/recipes/milk-chocolate-frosted-layer-cake/
http://cookingbythebook.com/blog/recipes/ginger-bars/