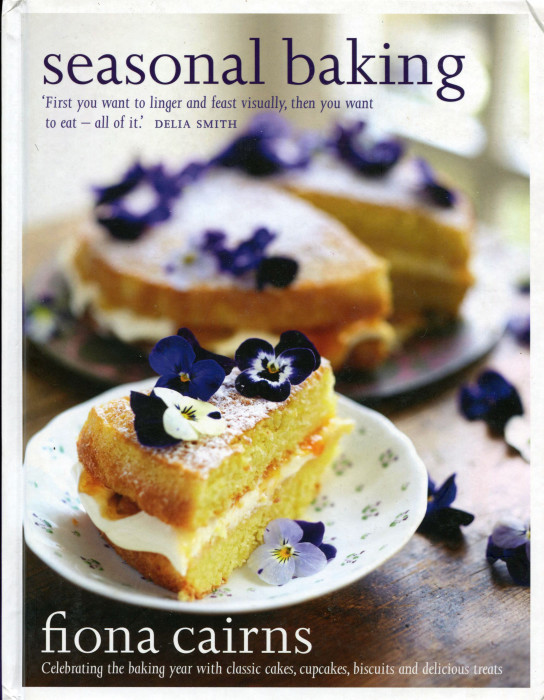 Fiona Cairns is a most accomplished British cookbook author with a fascination for dessert. And, she has a fascinating ability to develop recipes and present them to home cooks enabling us all to actually taste a fascination. The recipe presentation is easy to follow, easy to make, and very easy to consume. Other British authors you may have heard about, say, Diana Henry, love Fiona's extraordinary creations. So will you.
If you pick up a British cookbook [okay, cookery book], and in particular if you pick up a British dessert book, then you are going to be instantly comforted. Imagine yourself in a British garden, filled with herbs and fruits and berries. The garden is warm, hopefully not rainy, and the cookbook is literally a treasure trove of recipes that never really leave that garden.
Honey, jam, rhubarb, lavender, berries, blackcurrants, and apples are among the ingredients woven through these recipes. These are not "standard" recipes in the American sense. These are British-garden inspired recipes. Oh, there is a Chocolate Tart but it's a Cardamom Chocolate Tart. Spices abound here, too.
The book is set out by seasons and it is timely to review it now. Soon, very soon, we will have Spring and spring recipes include:
Rhubarb Compote, to enjoy on its own or put atop cakes
Lime Curd filled with zest and juice
Rippled Chocolate Meringue Nest for Easter
The garden and the dessert options are at their peak in the Summer:
Classic Victoria Sandwich, a rich butter-vanilla cake with jam filling
Caramel Meringue Baskets with Wild Strawberries, stick, gooey and irresistible
Earl Grey, Cardamom and Orange Loaf, every British book has to have Earl Grey
Gooseberry Crumble Cake with Gooseberry and Elderflower Fool Cream, a lovely word is fool
Honey Cupcakes with Lavender Buttercream, every book also has to have lavender
On the other hand, maybe the best baking is in the Autumn:
Coffee, Cardamom and Walnut Cake, a riff on a British classic

Poire William Mousse Cake, using that bottle of liqueur you do have resting away

Blackberry, Apple and Cobnut Crumble Cake, cobnuts are filberts

Fig, Blackcurrant and Fennel Tarts, a combination that you must consider
Winter poses challenges for anyone wedded to their garden, but the British always rise:
Dundee Cake, the most famous of Scottish cakes, a very light, delightful fruit cake

Chocolate Cardamom Tart, a classic blend of cocoa and spice

Fig, Port and Star Anise Christmas Cake, see the picture below and I'll post the recipe in December!
Seasonal Baking is a book that you cannot breeze through. You turn a page, you pause. What would that taste like? Turn the page. Oh, that one? What would … This is a happy book. I think it does ring of that garden and summer in every season, but that may be just because I'm watching it snow now outside my window. I can dream. I can hope. Or I can start baking. With Seasonal Baking.
Update: you might wonder how I know this book is good, if it works. I understand. Suzen is the chef in the family, but I cook too. I know recipes and I'm very confident about this book. Oh, there's one more thing. In 2011 there was this wedding for the Duke and Duchess of Cambridge in Great Britain. You may have seen it on TV. Fiona designed and made their quite spectacular wedding cake. If she is good enough for the Royals, she's really just fine for us ex-colonists.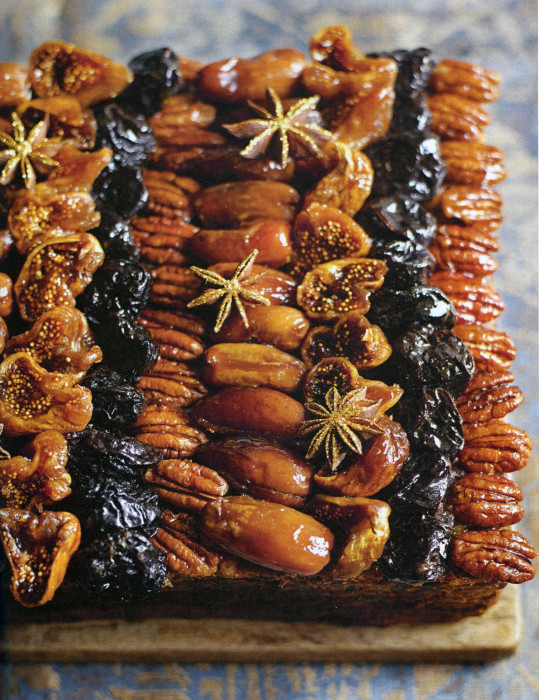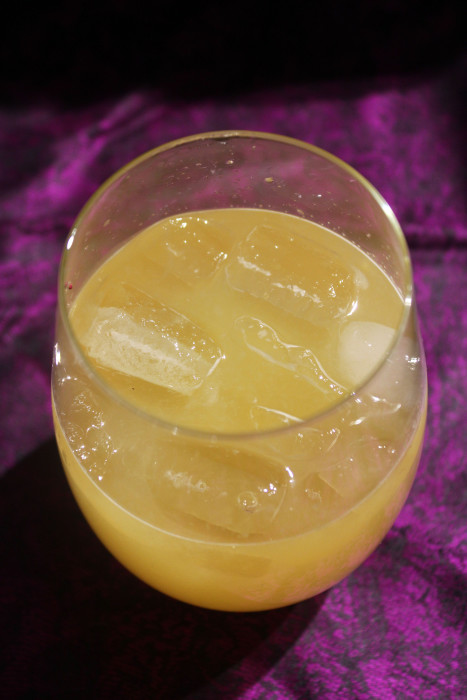 We all hear about cooking "fresh and local." Various people gain credit for the start of the locavore movement, and, while I mean no disrespect to folks in California, the trend began long ago and far away.
Brandy is distilled wine and the Spanish love brandies of all sorts. Wine was first distilled about the year 800AD and by 1300AD medicinal distillations were being formulated in Spain. It was the Dutch who initially began the commercial trade and traffic in distilled wines. In the 1600s there was trade and demand. And expense.
The Spanish conquistadors in South America wanted brandy and they did not want the expense of buying in Europe and transporting across the Atlantic. As soon as grapes were available in South America, distillation began. Pisco is a brandy created in Bolivia, Peru and Chile and was so important as to once be considered sacred. Pisco means "flying bird" in native language and the Pisco Sour reigns as the dominant cocktail in Peru.
By itself, pisco can stand on par with rocket fuel. So mixing with fruit juice and sweeteners is a wise tempering path. Besides the icon Pisco Sour, you'll find recipes in abundance for Pisco Punch. Here's mine, one where the "proportions" have been rounded to simple numbers so that when you are making a second or third round, you do not have to think. By Round Three, you should be able to pour, but thinking may be cloudy. And, please if you do make it to Round Three, do not drive. You'll feel jolly and mellow but your car competence will be compromised.
---
Brian's Pisco Punch

Yield: 1 very large or 2 medium cocktails

Ingredients:

4 ounces Pisco
2 ounces Triple Sec
2 ounces pineapple Juice
2 ounces orange juice
2 ounces agave
Juice of 2 limes
Preparation:

Put all the ingredients in a cocktail shaker. Add ice and shake well, at least 30 seconds. Pour into a glass and top off with ice. The glass can be garnished with lemon, orange, or lime slices.
Source:Brian O'Rourke

Photo Information: Canon T2i, EFS 60mm Macro Lens, F/4.5 for 1/50th second at ISO‑640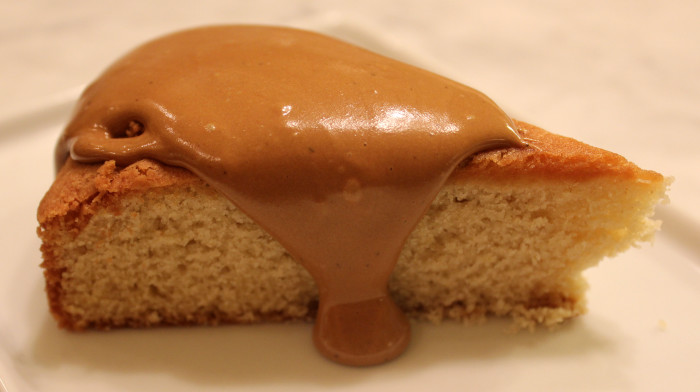 Yesterday's post was for an Ultimate Butter Cake from Flavor Flours, the latest and greatest book from Alice Medrich. The cake was lovely and we baked two rounds. We froze one for a quick dessert treat on some future weeknight. And the unfrozen layer was consumed in two nights. Here's a link to that post:
http://www.cookingbythebook.com/dessert-digest/16752/
When you have a small cake, or a single layer, you may not want to "make frosting." A fast, easy and delicious alternative is to fashion a simple glaze to drip over and adorn your cake. Here's an espresso glaze that is has a rich flavor, ideal for this butter cake. That flavor intensity is achieved by using both espresso powder and Kahlua.
The suggestion is for 1 cup of powdered sugar. You may want more or less — you are striving to get the "thick" glaze in the photo. I think glazes should be as thick as concrete, not paper thin. You really want body as well as flavor to make the one-layer option here a "full" dessert.
---
Espresso Glaze

Yield: 1 cup, enough for a 8 or 9-inch round

Ingredients:

1 cup powdered sugar, sifted
2 tablespoons espresso powder
3 tablespoons very hot water
1 tablespoon Kahlua or other coffee-flavored liqueur
Preparation:

Put the sugar in a bowl. In a separate small bowl, combine the espresso powder and hot water, stirring until the powder is thoroughly dissolved.
Add the espresso mixture and Kahlua to the powdered sugar and slowly whisk to blend. Adjust with more sugar or Kahlua to achieve the consistency that you prefer.
Source: www.health.com

Photo Information: Canon T2i, EFS 60mm Macro Lens, F/4.0 for 1/50th second at ISO‑800