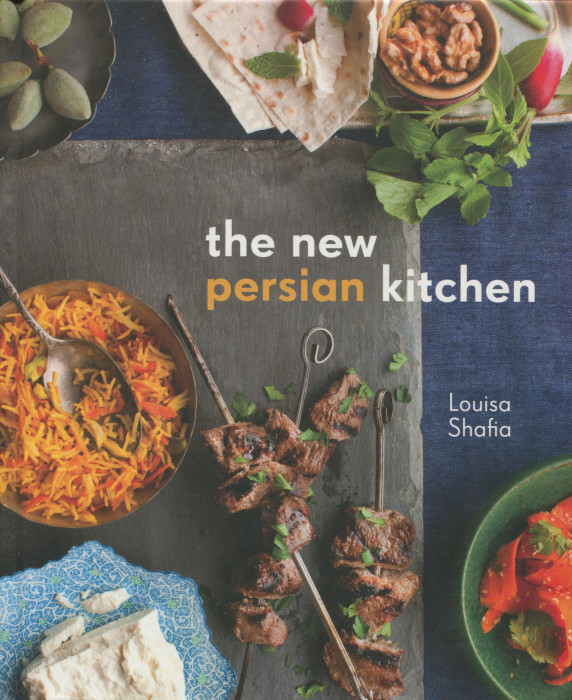 We rarely use the term "Persian" now. It's "Iran" and Iran carries oh-so many connotations in our world.
Let's set aside the past 40 years of conflict and the nukes and the verbal thrashing about a treaty over nuclear development. Let's step back and consider the train of history.
Persian history is almost as old as that of the Fertile Crescent lying west just over the formidable Zargos Mountains. It was ancient Persia that fought with ancient Greece and almost won. Between the periods of fighting that Eastern Persian culture traded and interacted with the Greek Western culture. In fact, our Western culture bears heavy influence from Persia and nowhere does that appear more today than in food.
In The New Persian Kitchen, author Louisa Shafia explores Persian cuisine and does some contemporary reimagining of the classic recipes. Classic, and for us unfamiliar, ingredients like rose petals, dried limes, tamarind, and sumac are employed in recipes with both vegetable and protein elements. The result here is an assemblage of 80+ recipes, some quite classic and some that no Persian emperor would have tasted — like an ice cream sandwich made with Saffron Frozen Yogurt and Cardamom Pizzelles.
There is not really one Iran or Persia but several. Mountain ranges and very dry desserts where no one can live divide the land into regions and each of those has evolved its own cuisine. The regions have similar foods — flatbreads and sweets — but each region presents its own style. And those styles reflect the neighbors: Turkey, Iraq, Afghanistan, and even Northern India. Yes, ancient Persia once spread from all of Turkey east into India and the foods and preparations techniques have all been part of the culture for thousands of years.
Lousia argues that there is an inherent healthy aspect to Persian cooking. Those benefits stem from ingredients we, in the West, use infrequently: cardamom, dates, dried limes, mint, pistachios, pomegranates, rose water and rose petals, saffron, sumac, tamarind, and turmeric. Oh, you say you use mint? I'm sorry, but mojitos don't count.
Here's a rundown of the major chapters and selected recipes for your consideration.
In Starters and Snacks, yogurt and spices naturally appear:
New Potatoes with Dill and Lemon

Yogurt with Beets

Whole Grilled Fava Beans
In a land with hot summers and cold winters, Soups are central to the table's fare:
Cold Pistachio Soup with Mint and Leeks

Pomegranate Soup

Savory Amaranth and turkey Porridge
Vegetable and Egg Entrees include some variations with flavor power:
Stuffed Tomatoes with Pistachio Pesto

Sweet and Smoky Beet Burgers

Potato Cakes with Tamarind Sauce
The Meat and Fish Entrees display a combination of ingredients from across that wide geographical area of ancient Persia:
Whole Roasted Fish with Oranges and Saffron

Turmeric Chicken with Sumac and Lime

Grilled Shrimp with Lime Powder and Parsley-Olive Oil Sauce
For one pot cooking the chapter on Main Dish Stews and Casseroles continues this theme of diversity:
Eggplant and Tomato Stew with Pomegranate Molasses

Barley Stew with Lamb and Rhubarb

Persian Gulf-Style Spice Tamarind Fish Stew
The Sweets chapter provides this quite distinctive Persian perspective on dessert. You'll think twice when you read these ideas, some new and some very old. But the ingredients have been employed for three thousand years, so your second consideration is encouraged:
Chickpea and Almond Flour Icebox Cookies

Pomegranate Semifreddo with Blood Orange Compote

Date-and-Walnut Filled Cookies

Amaranth Rice Pudding with Rose Water
The recipes in The New Persian Kitchen are both old and new. The classic ingredients are here, sometime folded in new creations from Louisa and sometimes in dishes, like Saffron Rice, that have brought pleasure to endless families. Cook from this recipe and you'll discover the power of pomegranate and the new ways lime can bring sparkle to a dish.
The recipes here are relatively short, typically less than a dozen ingredients and with just a few steps for the preparation. These are recipes first created in a very different time and world. Lousia has been true to that underlying theme, but presents you the classic flavors in both their original and now modern contexts. The New Persian Kitchen is a book that deserves your attention. There are meals for you here, wonderful meals with flavors you have not experienced but will surely treasure.