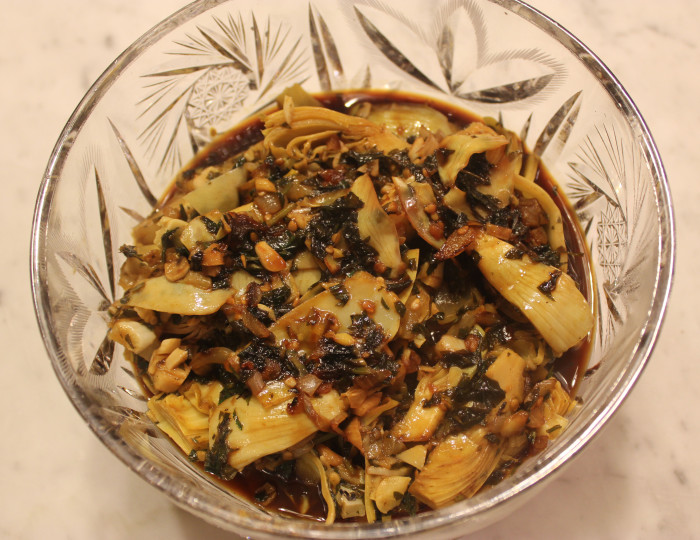 Saveur magazine has just published a collection of world-wide recipes to celebrate their gallant first 20 years. Here's a link to my cookbook review.
And here, on the same day, is a recipe I could not resist. This artichoke dish is from Aleppo, a town now sadly in the news because of the Syrian civil war. Aleppo has been a city for eight thousand years and seen tides of different civilizations enter, thrive, and establish culinary ideas. It's about 75 miles inland from the sea, surrounded by farmland to the north and west, farmland famous for their olive and pistachio trees. To the east, the desert begins. Aleppo was the end of the Silk Road that stretched across desserts, plains and mountains to China. That trade made Aleppo rich, famous, and the focus of rivalries that continue to this day.
Politics and conquerors aside, Aleppo is truly a world center for cuisine. This dish is typical in its simplicity and yet bombastic flavor. And its sheer beauty. Quickly prepared, it will be lastingly enjoyed.
---
Artichokes in Cilantro and Pomegranate Sauce

Yield: serves 4

Ingredients:

2-3 medium tomatoes, halved
3 tablespoons extra-virgin olive oil
1 medium onion, finely chopped
8 cloves garlic, minced
¾ cup finely chopped fresh cilantro
Kosher salt, to taste
8 artichoke hearts, halved if large
Water
2 tablespoons pomegranate molasses
Preparation:

Place the tomatoes in a medium-mesh sieve set over a small bowl. Use a spoon to press juice through. Reserve juice; discard seeds and skin.
Heat oil in a skillet over medium-high heat. Add onion and cook for 2 minutes. Stir in garlic and cilantro, season with salt, and cook until fragrant, about 1 minute.
Reduce heat to medium, add reserved tomato juice, artichokes, and 1 cup water, and simmer until liquid is reduced by half, about 15 minutes. Using a slotted spoon, transfer artichokes to a serving platter. Increase heat to medium-high, add pomegranate molasses, and cook, stirring constantly, until sauce thickens, 1-2 minutes. Spoon pomegranate sauce over artichokes and serve.
Photo Information [top picture]: Canon T2i, EFS 60 mm Macro Lens, F/4 for 1/30th second at ISO‑500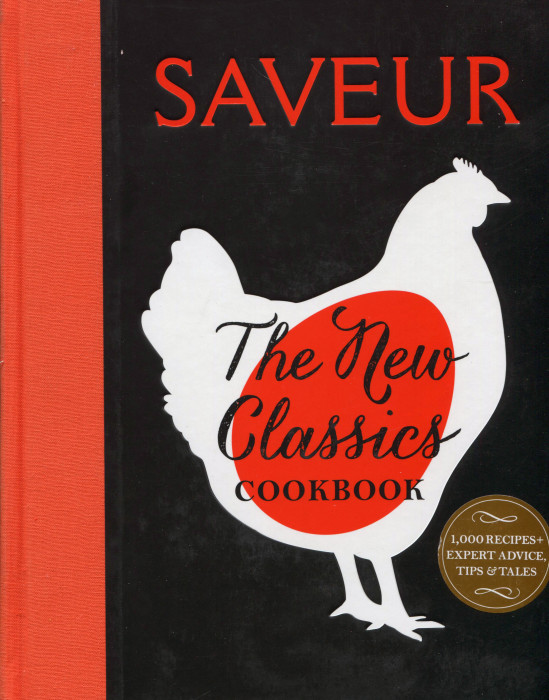 For twenty-one years, Saveur has served a special role for the food community. You can think of Saveur as "the Gourmet for the world." Saveur offers essays, recipes and insights into the world's wonderful cuisines. Open Saveur and you open a window into the world.
In celebration of its first twenty years, the editors of Saveur have published Saveur: The New Classic Cookbook. It's an interesting title, a new classic. I hear the word classic and immediately I have an image of Greek statue crossing my mind. Or a few words from Julius Caesar. Somehow "new" and "classic" are not an automatic association for me. Yet, I read that phrase and I smile. For instantly, this book is a classic. It's a treat. It's an adventure.
There are a thousand recipes here, arranged in the "usual suspects" for chapters:
Appetizers
Salads
Soups and Stews
Sandwiches, Pizzas and Burgers
Poultry
Meat and Game
Seafood
Vegetables
Pasta, Noodles and Dumpling
Beans, Grains and Potatoes
Breads and Rolls
Breakfast and Brunch
Desserts
Drinks
The Pantry [pickles and spices and more!]
Each chapter offers a "best of the best" experience from the many years and issues of the magazine. You do get a full spectrum of ideas from around the world. There are 43 chicken recipes,for example, ranging from wings to chicken and dumplings to chicken marsala to chicken curry. You can spin the globe, point your finger, and find a representative recipe in Saveur. There's surely a bit here for whatever your taste buds are craving.
This book is, in fact, a one-stop cooking experience that offers you recipes for every minute of the day, from dawn to midnight and beyond. It's the kind of practical recipe encyclopedia that you can readily put to use every single day of the week. But Saveur offers a wonderful, unusual twist.
The unusual part is the urbane nature of the recipes. This is not a book with the standard comfort foods. Each of these recipes comes with both flavor and sophistication. Meatballs? Sure, but not just any meatball: you have Di Palo's Spaghetti and Meatballs from the famed Little Italy cheese establishment. Mashed potatoes? Yes, but Joel Robuchon's whipped potatoes with a pound of butter for every two pounds of potatoes.
Every dish here affords you a special level of intensity and care that will make you proud to put it on your table. And make you so happy with every bite.
With a thousand recipes, you will find many standards here, written in excellent form. A perfected cassoulet choice or a classic version of chicken with 40 cloves of garlic. Yes, you could find excellent recipes for those dishes in other books, but they are gathered here in one place for you. And then there are the world-wise recipes this book offers, temptations that I had not seen before or not been tempted to try before. But now, they are on full display here and have me headed to my pantry.
Here are sixteen very interesting reasons to put this book on your countertop, open it up, and begin cooking:
French Onion Dip [slow roasted onions, sour cream, and cream cheese, not a soup package in sight]

Meat Stuffed Romaine Leaves with Avgolemono Sauce [chicken broth + lemon juice]

Senegalese Orange-Avocado-Mango Salad

Maryland Crab Soup

Cincinnati Chili [with cocoa powder]

Warm Open-Face Avocado and Goat Cheese Sandwiches

Diced Chicken and Peanuts Sautéed with Dried Chilies [aka Kung Pao]

Chile-Rubbed Turkey with Beet Stuffing and Gravy

Lamb Stewed with Parsnips, Bacon, Fennel and Red Wine

Vietnamese Catfish Simmered in Caramel Sauce

Artichokes in Cilantro and Pomegranate Sauce [being blogged today!]

Veal Pasta Sauce with Red, Green, and Yellow Peppers

Turkish Lamb-Stuffed Dumplings

Texas Grapefruit Cake

Homemade Crème de Menthe

Javanese Cucumber and Carrot Pickle
The recipes here have a common character: relatively short in description, a modest list of ingredients, and no hurdles for you in the preparation. You have wonderful ideas here that can be most readily enjoyed. Saveur is kitchen companion that can sit alongside your copy of The Joy of Cooking or Good Housekeeping. Saveur is a classic, too. A new classic, to be sure. But still, a classic.
Oh, it's six hundred pages and seems to weigh about five pounds. Pick it up with both hands. It's a big classic.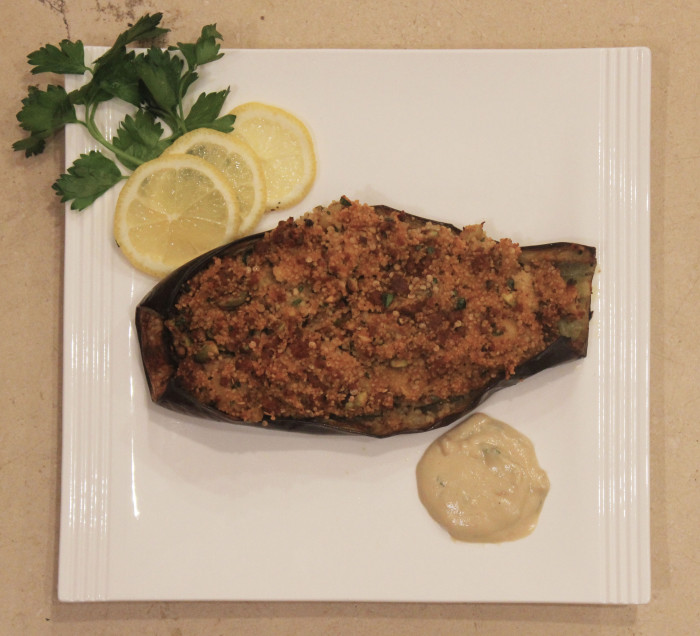 I've done a bad thing. It's been bothering me for a couple of weeks and I would like to resolve it. Thing is, having done this bad thing, having confessed to it, I suspect I will do it again. And again.
Oh, I did not do it alone. In fact, Suzen was the mastermind. In fact, it's all really her fault.
I had seen this recipe for Bake Eggplant with Lemon-Infused Couscous and could not wait to spring it on her.
"Would you be interested?" I began as I put the recipe and the matching picture, one of the most beautiful food shots I have ever seen, in front of her.
"I'm in," she announced. She got out her shopping list and on the way home from the gym bought all the ingredients that were not already in our pantry. And then it began.
She was getting things set out to cook, when she turned to the freezer and opened the door. "How would you feel," she began, "if I added some of this lamb sausage." Her hand came out of the freezer holding a gray coil of her favorite sausage in the whole world.
I did not know what to say. Am I going to turn down sausage? No. So I just asked, "If we add sausage, does that mean this dish is no longer vegan?"
I got a smile and a snort. Sausage was included. So, I'm going to show you the photograph of what we made. You can't see the sausage, but Suzen cut up a half pound of pieces, sautéed them, and then added to the couscous mixture. We made one other change. The recipe below calls for two teaspoons of harissa. We did four tablespoons of sriracha. What can I say? Suzi and I love heat.
If you make this dish as described below, if you make this vegan, is will be wonderful. But, I must say that a little protein was quite delightful. You could do sausage, chicken pieces, or shrimp.
We each had a half eggplant and it was our one-stop meal, intensely satisfying. And I think it was even healthy. Well, there wasn't that much sausage.
The recipe does call for a tahini dressing, and a recipe is included in the book. We had a small problem there. I believe that the tahini the author uses in Ireland must have a different consistency from the ones we get at our Middle Eastern market. So, when making this dish, get the tahini dressing of your choice.
My apologies to author Aine Carlin who put so much effort into Keep It Vegan. I promise. I'll try.
I know that if "vegan" appears in a book title, you might be inclined to walk on. When you see this book, I suggest you pause and browse. There are lovely recipes here you would enjoy and you can surely modify as Suzen and I did. How deep a sin you commit is up to you. Click here for a link to the cookbook review of Keep It Vegan.
---
Baked Eggplant with Lemon Infused Couscous

Yield: serves 2

Ingredients:

1 eggplant, halved lengthwise
2 teaspoons harissa
2-5 tablespoons olive oil
Salt and freshly ground black pepper
¾ cup couscous
Pared strips of zest from ½ lemon
Juice of 1 lemon
1 teaspoon of smoked paprika
1 tablespoon pine nuts, toasted
¾ cup fresh flat-leaf parsley, chopped plus extra to garnish
1 teaspoon sesame seeds, toasted, to garnish
Tahini dressing of your choice
Preparation:

Preheat the oven to 350°F and lightly oil a baking sheet.
Score the eggplant flesh diagonally both ways, creating a diamond pattern. Place on the baking sheet. Spread a teaspoon of harissa over each half, covering all the crevices. Drizzle 1 tablespoon of the oil over each, season with salt and pepper, and bake for 40 minutes or until the flesh is completely soft, turning over halfway through to ensure the skin doesn't crisp or dry out.
Place the couscous in a bowl with the lemon zest strips. Add ⅔ cup freshly boiled water, cover, and set aside until all the liquid has been absorbed— about 10 minutes. Discard the lemon zest and fluff the couscous with a fork.
Scoop the flesh from the center of each eggplant half, leaving enough around the sides to keep its shape. Roughly chop the flesh and place in a bowl. Stir through the couscous along with the lemon juice, smoked paprika, and remaining olive oil. Season, then add the toasted pine nuts and parsley. Divide the mixture evenly between the eggplant skins. Return to the baking sheet and bake for another 15 to 20 minutes.
Remove the stuffed eggplants from the oven and serve with a dollop of tahini dressing and a sprinkling of sesame seeds and parsley.
Source: Keep It Vegan by Aine Carlin [Kyle Books, 2015]

Photo Information [top picture]: Canon T2i, EFS 60 mm Macro Lens, F/4.5 for 1/60th second at ISO‑2500