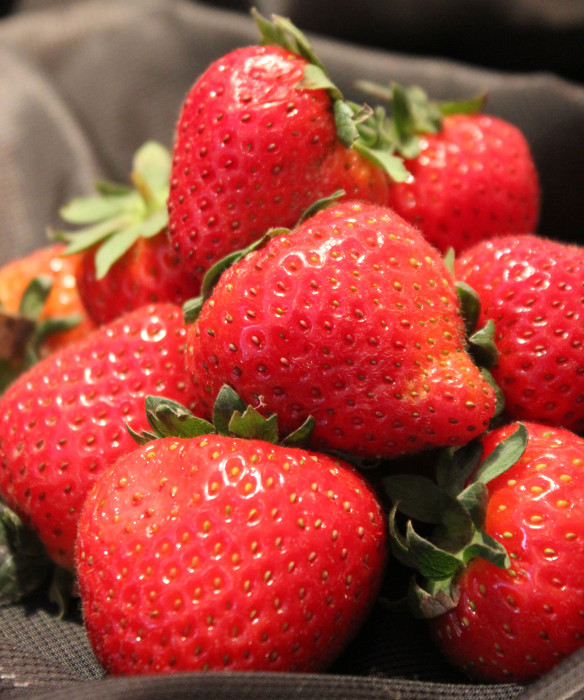 Tomorrow is Easter, and besides chocolate eggs, many households will be sharing an Easter brunch with pancakes, or [better] waffles, or [best] French toast. Or [better best] big, soft wondrous Southern biscuits.
What do all those dishes need in common? Butter. But why just plain butter when you can incorporate the flavors of spring or summer? In her book Brunch, Gale Gand suggests you make fruit-flavored butters. She offers the five recipes you will find here:
Orange
Lemon
Strawberry
Raspberry
Blackberry
Gale is a maven at tuning each recipe to achieve a flavor balance that is recognizable but not too penetrating. You may have had a strawberry butter served that, well, was a tad too intense. Here, Gale suggests just enough modest strawberry flavor to give you the perfume and the pleasure. You get to taste, rather than be smacked in the palette.
Her are Gale's brunch suggestions.
Fruit Butters
Yield: ½ cup
Preparation:
Take a stick of butter out of the refrigerator and let it come to almost room temperature. Then whip it in a food processor, or with the whip attachment of a hand mixer, to aerate the butter and create a fluffy consistency.
Now add the flavoring, from the list below, and mix until thoroughly blended. Use a spatula to put the butter into a ceramic ramekin, smooth the surface, cover with plastic wrap, and chill until nearly ready to use. Give the butter 15 to 30 minutes at room temperature to soften slightly for easier spreading.
You don't want to tear that pancake.
For orange butter: use ½ teaspoon grated orange zest
For lemon butter: ½ teaspoon grated lemon zest
For strawberry butter: purée 2 hulled medium-sized strawberries, then add to the butt
For raspberry butter: puree 8 to 10 raspberries
For blackberry butter: puree 5 to 6 blackberries.
Source: Brunch by Gale Gand
Photo Credits: Canon T2i, EFS 18-55MM, F/5, 1/620th second, ISO-3200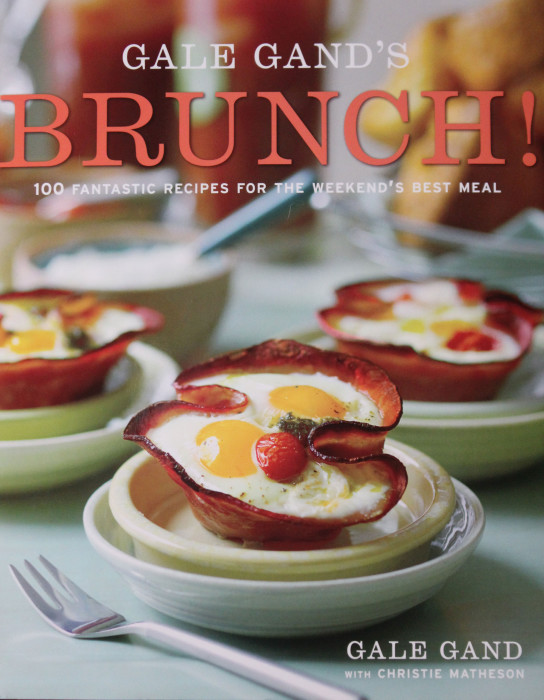 I recently posted a Loaded Potato Salad from Gale Gand's lovely new Lunch book. There will be more recipes here from Lunch, but I did not want to forget her earlier book, Brunch.
What is so special about Gale's food? It works, right out of the book. The recipes have the twist of a "little" complexity but you can read them and instantly know you will have something delightful. And successful. As author, chef, and restaurant owner, Gale understands a very basic fact of life: if the recipes fail, so would her business. She takes deep pride in her food and her recommendations to you. So, the ideas in Brunch [and Lunch] are honed to perfection.
Brunch has nine chapters that attack a brunch project from every direction. Here are the chapters along with some representative recipes:
Drinks: Hot Cocoa with Brown Sugar, Orange Lime Juice with Grenadine
Basics: 101 Courses for Omelets, Stratas, Frittatas, Quiches, and Crepes
More Eggs: Torta Rustica, Asparagus with Poached Eggs and Asparagus
Pancakes, Waffles, French Toast and Other Sweets: Almond Ciabatta French Toasts, Pineapple Noodle Kugel
The Bakery: Bacon Scallion Scones, Quick Pear Streusel Coffee Cake
Brunch Bites: Gougeres, Fried Quail Eggs on Eggnog French Toast
More Savories and Some Sides: Cheese and Tomato Galette, Goat Cheese and Chive Hash Browns
Salads and Soups: Apricot Chicken Salad, Beet and Artichoke Salad with Jicama
Fruits and Condiments: Roasted Pears and Rhubarb with Orange, Spicy Horseradish Mustard
The head notes for each recipe show the careful path that these recipes have followed: a fleeting glance of something in a San Francisco bakery that triggered her imagination and led to experiments that have finally unfold onto these pages. Why does she have brown sugar in her cocoa? Well, you'll have to pick up a copy of the book and read to find out. Then I suspect you'll be buying the book for a long, long series of test drives at home. You'll immediately realize this: the whole brunch can come from this book.
Not surprisingly, Gale provides suggested menus for different holiday weekends, but I'm sure you will be tempted to pick-and-choose from the 100 recipes here. The benefit of Brunch is that you can scale the elegance and complexity of the meal. She offers a great Buttermilk Pancake recipe which you can pair with something delicately special, like a fruit butter. Or you can go all out and serve one of her upscale stratas with watermelon gazpacho along with cranberry angel-food muffins. Thanks to Gale, your brunch will surely be good and perhaps extravagant.
Brunch is an enjoyable book that will tempt you to spend next Sunday morning in the kitchen. Which is where you belong anyway. Right?