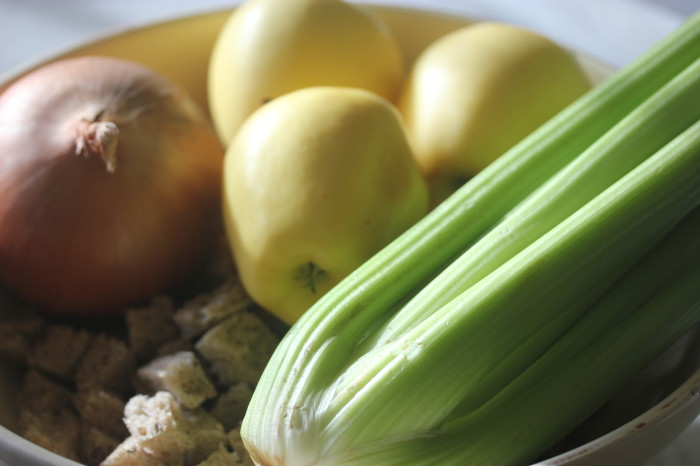 There is a lovely work called the Thanksgiving Cookbook by Holly Garrison that has a Calvados Rye Stuffing. I've blogged the recipe and we loved it. Thing is, this Thanksgiving our grandson Daniel was with us. It just seemed a bit of a stretch to incorporate that Calvados into something a 12-year old was about to consume.
So, Suzen went cautious. We kept most of the recipe, but added more stock in place of the Calvados. Daniel was happy eating it in volumes. I'm still working on the leftovers.
Suzen's Apple and Rye Stuffing
Yield: 2 ½ cups
Ingredients:
¼ pound butter
5 celery ribs, finely chopped [2 cups]
1 large onion, finely chopped [1 cup]
3 Golden Delicious apples, peeled, cored, and chopped [about 3 cups]
9 cups of bread rye bread pieces, dried and broken into postage stamp-sized pieces
2 teaspoons dried sage leaves, crumbled
1 teaspoon salt
½ teaspoon freshly ground black pepper
1 cup turkey stock
Preparation:
Heat the butter in a large skillet until melted. Pour off ¼ cup and set aside. Add the celery, onion, and apples to the butter remaining tin the skillet and cook over medium-high heat, stirring frequently, until tender-crisp. Combine the skillet mixture, bread, sage, salt, and pepper in a large bowl and toss gently until well mixed. Drizzle the ⅔ cup of the stock over the ingredients and mix well. If the stuffing mixture is too dry, add the remainder of the stock. You can add water as well. The mixture is properly moist when it hold together when lightly pressed in the palms of your hands.
Place in a greased pan big enough to support a 2-inch baking pan. Bake at 350°F for 45 to 60 minutes. If the top of the bread begins to singe, pull it.
Source: Inspired by Thanksgiving Cookbook by Holly Garrison
Photo Information: Canon T2i, 18-55MM Macro Lens, F/2.8, 1/100 second, ISO 200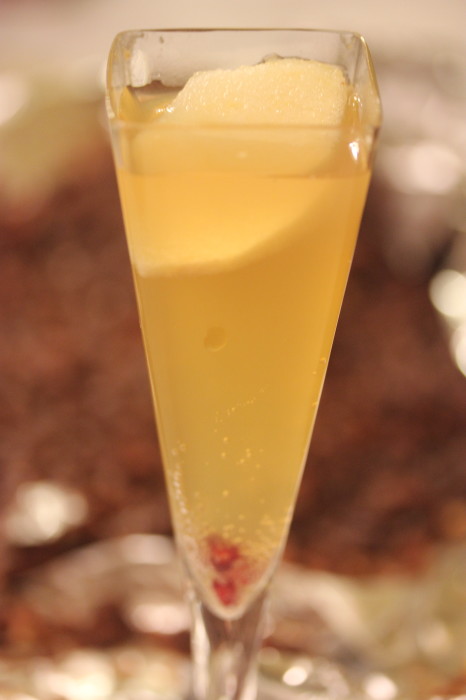 Sangria is a word that conjures up languid summer evenings. Some tapas, a pitcher of the fruity liquid, and a comfy chair. After two or three glasses, the world is fine.
Living in the Hudson Valley, we are surrounded by apples, which are often part of the fruit of our summer sangrias. But, for this Thanksgiving, we went further, using the apples and cider in a holiday sangria that is every bit as refreshing as those summer varieties.
This recipe has everything you might want: sparkling wine, fresh apples, apple cider, some cognac for a kick, and pomegranate seeds for a dash of holiday color.
By the way, it tastes sublime. Apple flavor mixed with sparkling wine. Not too sweet, because there is no sugar added, as many sangria recipes suggest you do. And it is pretty on cold winter night as the red pomegranate seeds slide past the slices of apple in the glass.
For Christmas or New Years, this is a simple yet distinctive beverage to begin your celebrations.
Sparkling Apple Cider Sangria
Yield: serves 8
Ingredients:
2 apples, peeled, cored, and thinly sliced
½ cup cognac
3 cups apple cider
1 750 ml bottle of Cava or other sparkling wine [but do try Cava first]
¼ cup pomegranate seeds for garnish
Preparation:
Add the apples to a large pitcher, reserving about ½ cup for garnishing. Add the cognac, apple cider, and chilled Cava.
Stir gently to mix. Refrigerate until ready to use, then add ice to the pitcher.
Pour into ice filled glasses, topping each glass with a couple of slices of apple and several pomegranate seeds.
Source: thekitchn.com
Photo Information: Canon T2i, 18-53MM Macro Lens, F/2.8, 1/100th second, ISO 1250