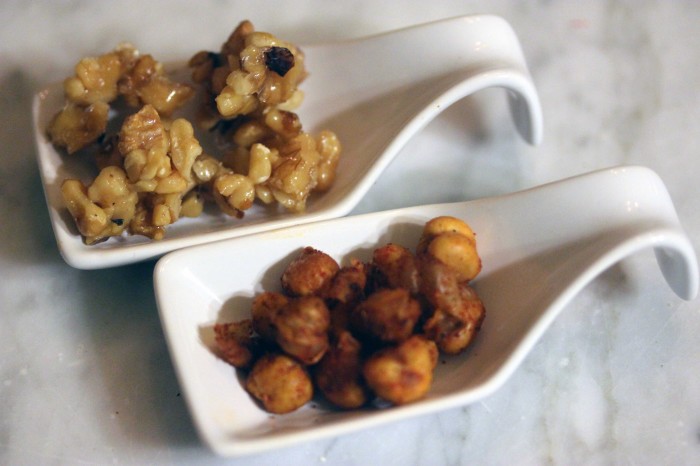 Yesterday's post featured Cinnamon Pecans. And a picture of two others treats, Honey Candied Walnuts and Crispy Roasted Chickpeas. That's them pictured again in the two spoon-sized portions above.
The walnuts, from Alice Waters, are divine on their own but Alice mentions all the potential uses. They pair well with fruit and cheese, either on an appetizer plate or in a salad. These nuts would be a surprise sprinkled on a baked sweet potato or buried deep in a quesadilla filled with pork. While this version uses walnuts, pecans and pistachios are good substitutes. Of course, because honey is key ingredient here, and because honey comes in a zillion flavors, there is the potential for creative variability. Pick your honey. And your walnut, too, for they come with their own range of wonderful flavors.
Chickpeas are the core of hummus, ideally soft, creamy and lightly lemoned. Here is a recipe that goes to the opposite extreme. The chickpeas are roasted until crisp, then rolled in a spicy mixture that will turn you to drink. I suggest something with higher alcohol content than simple water. These treats are hot, and not just moderately hot.
Honey Candied Walnuts
Yield: 2 cups
Ingredients:
½ cup sugar
¼ cup honey
¼ cup water
2 cups walnuts
Preparation:
In a deep saucepan, combine the sugar, honey and water, while stirring. Bring to a boil over medium heat. Add the walnuts.
Stir, mixing well, for 1 minute. Turn off the heat and let the nuts steep in the syrup for 2 to 3 minutes. Pour the nuts into a strainer and drain well. Spread the drained nuts in a single layer on a baking sheet lined with parchment paper. Bake for 10 to 15 minutes, stirring every 5 minutes. Properly candied nuts should feel slightly sticky and look light golden and shiny. Remove the nuts from the oven and cool completely before using. The nuts can be stored in an airtight container in the pantry for up to a month.
Source: The Art of Simple Food II by Alice Waters
Crispy Roasted Chickpeas
Yield: serves 4
Ingredients:
One 15-ounce can chickpeas
2 tablespoons extra-virgin olive oil
¼ teaspoon salt
¼ teaspoon ground cumin
¼ teaspoon smoked paprika
¼ teaspoon freshly ground black pepper
Preparation:
Heat the oven to 400°F. Line a rimmed baking sheet with paper towels.
In a colander, drain and rinse the chickpeas. Remove as much water as you can, then pour the chickpeas onto the lined baking sheet and place another paper towel on top of them. Roll the chickpeas around between the towels to dry the chickpeas and removes some of their loose, thin skins. Remove the paper towels (from the top and bottom) and add the olive oil, tossing to coat well. Roast the chickpeas for 30 to 40 minutes, until they are golden brown and crispy.
Meanwhile, combine the salt, cumin, paprika, and pepper in a small bowl. Removed the chickpeas from the oven and immediately sprinkle them with the spice mixture, tossing to distribute the mixture and evenly coat the chickpeas. Let cool before serving. The chickpeas will keep in an airtight container at room temperature for up to 2 weeks.
Source: Lunch by Gale Gand
Photo Information: Canon T2i, EF-S 60MM Macro Lens, F/2.8, 1/60th second, ISO-3200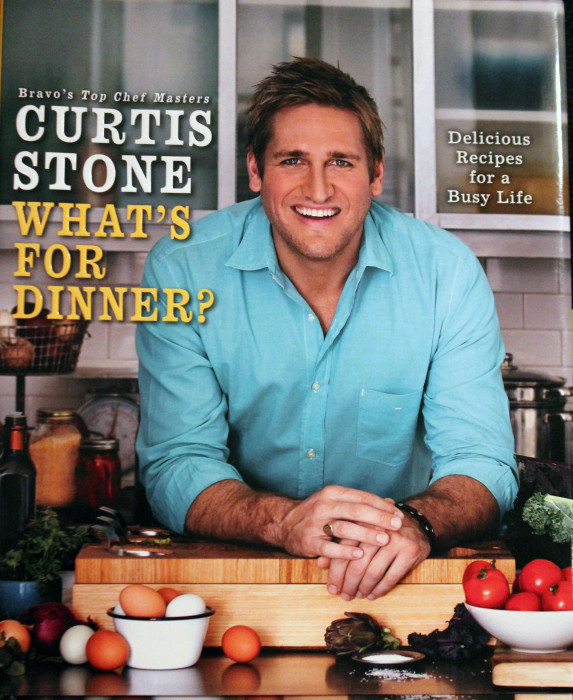 "What's for dinner?" is a question that I, and many husbands, present to their lovely spouses. Answers can vary, more than we all might like. It's not meant to be a stressful question, but it can be. If I don't know what is planned for dinner, is it fair to presume that Suzen always does? Wives have interests and needs that may include meal preparation but still range far and wide from just "what's for dinner?" All of us need to help in answering that question for our families.
Curtis Stone's latest book, What's For Dinner, gets right to the point. The book is a series of high intensity recipes centered around main courses that respect the work week. Come to think of it, when you ask the "what's for dinner" question, how often do you get an answer like, "We'll start with a salad, then a side of carrots, and some applesauce, and then …" No, we don't think that way. The answer is going to be "roast pork" and maybe with the extension "roast pork with veggies."
Curtis understands this focus on the main course, the central dish. This book is about main courses seven days a week. Ah, but there's his twist. He offers up main courses for each day of the week understanding the pace of the week and need for economy on some nights. By Wednesday, we can start to drag, so a one-pot meal is appreciated. On Friday night, the weekend has begun and celebrating can get off to a start with recipes that take a bit more time to give us extra rewards.
Now, for all the nights, Curtis does include a side dish or two, so don't worry: the complete meal is here with the appropriate emphasis on the protein or the occasional pasta. With representative recipes, here is the week ala Curtis:
Motivating Mondays: Chicken Masala with Cucumber Raita; Turkey Meatballs with Marinara Sauce
Time Saving Tuesdays: Steak and Bean Stir Fry, Sausage and Mash with Caramelized Onion Gravy
One Pot Wednesdays: Slow-Cooked Thai Chicken with Corn and Asparagus, Grilled Lemon-Oregano Lamb Chops with Rustic Bread Salad
Thrifty Thursdays: Grilled Ginger-Sesame Chicken Salad, Sliders with Red Onion Marmalade and Blue Cheese
Five-Ingredient Fridays: Two-Cheese Quesadillas with Chorizo and Hatch Chiles, Seared Ham Steak and Eggs with Smashed Potatoes and Sourdough Toast
Dinner Party Saturdays: Moroccan Braise Lamb Shoulder with Golden Raisin-Lemon Puree, Oven Roasted Salmon with Cauliflower and Mushrooms
Family Super Sundays: Steak and Mushroom Cobbler with Gruyere Biscuit Topping, Barbequed Spareribs with Apple-Bourbon Sauce, Curried Lamb Shanks with Carrots, Chickpeas and Potatoes
Born and first educated in Australia, Curtis has traveled the world and appeared on television food shows extensively in the UK and the US. He has written three wonderful books, opened his own restaurant, and created menus for air lines. His experience is as diverse as his recipes.
His culinary approach is contemporary and brilliant. He knows what we like, what we buy, what is in our kitchens. Look again at that list of recipes and you'll see something important: he's generating new combination of things you've had but not with his accelerated flavor palate. You won't be hunting in specialized foods market for an exotic ingredient. Your kids will see food this as different yet familiar. You have a fighting chance. And if the kids rebel, they can have pasta and you can have more of the Moroccan braised lamb. Life is all about education.
The recipes here are not 3-ingredients and 3-steps in 10 minutes. There is a reasonable number of ingredients, a dozen or more, and half dozen, or more, steps to create a memorable meal. Memorable. Curtis has assembled what can be called "extended recipes" where some extra flavors and extra time multiply to diverse, rewarding meals.
That very last recipe, the Curried Lamb Shanks with Carrots, Chickpeas and Potatoes, was our first test from the book. I will  post a picture and the recipe in coming days. It is sublime. And the leftovers, the next day on noodles, gives new meaning and respect to that derogatory "leftover" label. Some things do get better with age. Like me.
Look for Curtis' book, What's for Dinner, and you'll have dozens of answers to that important question.