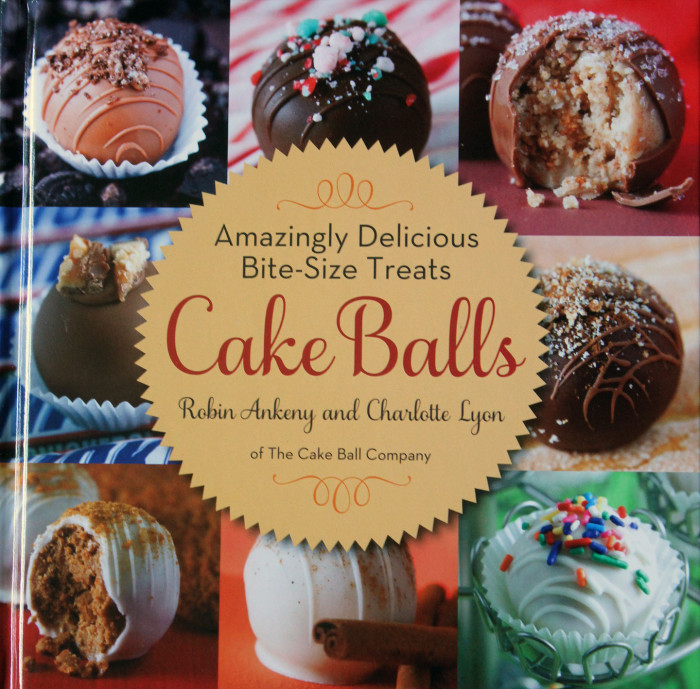 Recently I posted a recipe for Oreo Truffles. A friend put one near my mouth and announced, "Eat it." He did not say I would like it, because he knows me and my mild chocolate addition.
For that treat, you pulverize Oreo cookies, mix with cream cheese, form into balls, dip into melted chocolate, refrigerate, wait — and you do have to wait, folks — and then indulge.
Sometimes things just happen by chance. Suzen had finished off the last Oreo Truffle — at least I admit my addiction — and I was off to scout new cookbooks. And there, on the shelf, is this very modestly sized book titled Cake Balls: Amazingly Delicious Bite-Size Treats by Robin Ankey and Charlotte Lyon of the Cake Ball Company.
Here's the idea. Make a cake. Make icing. Don't ice the cake. Crumble it. Add in the icing and mix with your fingers — licking your fingers here would be a violation of the health code but I'm going to let you proceed on your own honor. More or less.
Back to that cake crumb and icing mix. You now have this sticky mixture that is dough-like and yet moist. Use a cookie scoop or your hands to form bite-sized balls. Roll them into perfect spheres. Freeze them for 2 hours. Dip in melted chocolate and decorate, if you desire, with more chocolate, nut, sprinkles, … The potential here is endless.
Cake Balls comes with full instructions and their personal recipes for cakes and icings:
Basic chocolate, vanilla, and yellow cakes
Basic chocolate, vanilla, and cream cheese icings
Use those foundations, and you get, what else, a basic cake ball. But you can go so much further with the decorations:
Toffee bits or chopped up Snickers bars
Chopped Andes mints or ground up candy canes
Ground up cookies [gingerbread, chocolate wafers, …]
Cut up dried cherries or other fruit such as dried apple slices sprinkled with cinnamon
Pistachio, walnut or pecan halves, placed on top and glued in place with a thick dollop of ganache
Milk chocolate and coconut for a German Chocolate feel
White chocolate and silver sprinkles for a wedding cake effect
Stripes of dark chocolate anointed with cinnamon
Cake Balls presents with excellent, beautifully styled photos that will both inspire you and serve as a roadmap.
You can do this. Your kids can do it. You can make the cake balls in advance, freeze them, and then let a herd of kids dip and decorate. It's a perfect kids' party idea. Just do it outdoors on a wooden table that you can hose down.
No, Suzen has not seen this book yet. I'm saving it as a surprise. I just don't know quite what to say to her to begin our cake ball adventure. Perhaps:
"Wanna get your hands dirty?"
Or:
"About those Oreo Truffles, the ones you finished off without me? Since you owe me…"
I need a script writer.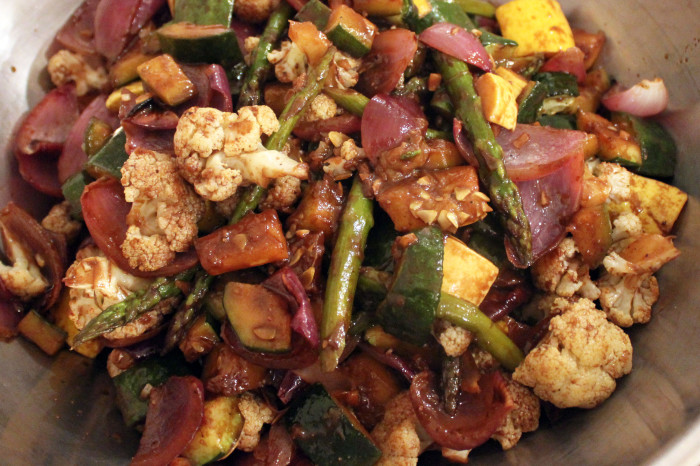 This recipe evolved naturally at Cooking by the Book. Suzen holds hands-on cooking classes for corporations, and private parties, several times a week. With dozens of people enjoying our kitchen, she orders food by the crate. Towards the end of the week, the refrigerator begins to burst with leftovers. Some are used in stock making, but it's a shame not to take more direct advantage of the wonderful flavors just sitting there, ready to be used.
So, one of our star chefs, David Domenion created this recipe. It's robust, meaning you can mix and match vegetables, increasing the amounts, adding others, taking some away. This recipe, for example, does not talk about green beans or peas, but you are welcome to add them to the mix.
This recipe scales up with ease, so it's a perfect side dish for a weekend bash where you need volume for that herd of people circling the tables and the barbecue.
Those guests will all appreciate the sharp, edgy tang to this recipe. You can keep it a secret or tell them the truth: the dressing is a cleverly balanced combination of roasted garlic, mustard, balsamic vinegar, agave, and citrus zest and juice. It may be hard to pick out the individual flavor components here. It is not hard at all to relish this dish and ask for seconds.
As I said, the recipe scales.
---
Spring and Summer Roasted Vegetables

Yield: 10 servings

Ingredients:

1 head garlic
About ¾ cup extra virgin olive oil
1 bunch, about 1 pound asparagus, trimmed and cut into thirds
2 cups of diced vegetables, mixed: zucchini, cauliflower, squash, potatoes
2 medium red onions cut into chunks
Kosher salt, to taste
Red pepper flakes, to taste
2 teaspoons Dijon mustard
¼ cup balsamic vinegar
1 tablespoon agave
Zest and juice of 1 orange or 2 lemons, optional
Freshly ground black pepper
4 scallions, finely sliced
Preparation:
Pre heat oven to 425° F.
Cut the top off the head of garlic. Place it on a square of aluminum foil, drizzle it with 1 teaspoon olive oil, wrap it up and put it in the pre-heating oven for about 30 to 40 minutes or until soft.
Toss the asparagus with 2 tablespoons olive oil, salt and red pepper flakes and spread out on a sheet pan. Do the same with the vegetables and onions. Put them into the oven to roast. About 15 minutes for the asparagus or until they are crisp tender. About 30 to 40 minutes for the vegetables and onion or until they are lightly charred around the edges. Just keep monitoring progress and remove pieces as they reach the doneness you desire.
Put all the removed components into a large bowl as they come out of the oven. Keep the bowl covered with aluminum foil to retain heat. And, you may want to keep the bowl in an oven at low heat to maintain the temperature at the "warm to the mouth" level.
While all the vegetables are roasting, make the vinaigrette. Whisk together the mustard, balsamic and salt to taste. Add the agave and orange or lemon zest and juice, if using. Squeeze out the roasted garlic and mash it or chop it finely and add it to the dressing. Whisk this together and drizzle in ½ cup olive oil. Season with salt and pepper to taste.
Pour half the vinaigrette over the vegetables, add the scallions and toss them. Taste and adjust seasoning adding more dressing if needed. Serve while still warm or at room temperature.
Source: Chef David Domenion at Cooking by the Book

Photo Information: Canon T2i, EFS 60mm Macro Lens, F/3.5 for1/25th second at ISO‑3200