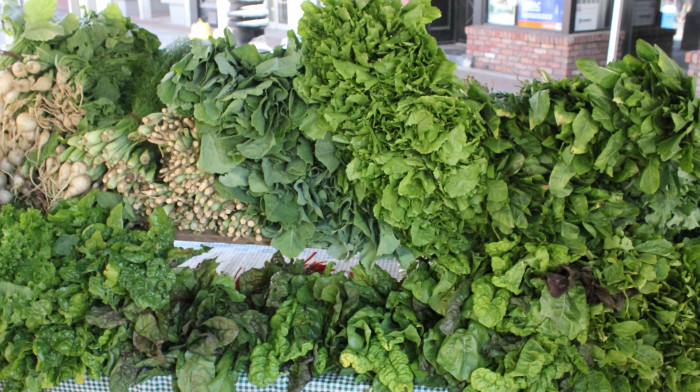 The image is from a greens and herb vendor at the Kingston farmers market. Sometimes these guys can be lifesavers.
Suzen's cooking school, Cooking by the Book, offers team building classes for corporations. Teams come here and socialize for a bit, then cook together in our very large kitchen, and naturally eat what they have just cooked. Enough people have passed through our kitchen to fill Giants Stadium. Twice.
So Suzen has seen everything. She tries to anticipate what is coming by planning and planning. Asking questions and asking again.
There are, despite all that, occasional surprises. She tries to anticipate food needs for those who come to cook and eat. Allergies, vegetarians, vegans — everyone is welcome and everyone can be prepared for.
Except, sometimes as we are plating the food they have prepared, Suzen will get a note from someone in the event saying, typically, "I'm actually vegan and I don't want to make a fuss but while I just cooked that chicken, I can't eat it."
That's why Suzie usually has on hand a stash of Portobello mushrooms, ready for a quick turn in the sauté pan. But what if the person, God bless them, is allergic to mushrooms, too?
Thank God for Alice Waters. In her new book The Art of Simple Food II you will find a lifesaving recipe, right there on page 40, second recipe in the lettuce chapter. The idea is refreshing, simple, and refreshing simple: combine greens, herbs, yogurt and some spices to create a lovely tortilla filling. Complement the fresh garden ingredients with the nutty warmth of a grilled tortilla, and you have a meal anyone, or any rabbit, can enjoy.
We do hope you'll visit Cooking by the Book and enjoy an event with your team or your family. Don't hesitate to mention any special food needs. We please any palette. It's Suzie's pleasure.
Garden Salad Tortilla 
Yield: 1 serving
Ingredients:
1 handful of salad greens
A few tender herb leaves
Spoonful of plain yogurt
Sprinkle of salt [exotic is grand]
Pinch of freshly ground spices [cumin, coriander, nigella, or fella]
1 whole wheat tortilla
Drizzle of good olive oil
Preparation:
Gather, wash and dry well the greens and herbs.
In a small bowl, mix together the yogurt, salt, and spices.
Over a gas burner or in a hot pan, grill/warm the tortilla. Place the warm tortilla on a plate, spoon the yogurt over half the tortilla, add the greens and finish with the olive oil.
Fold, bite, savor.
Consider Alice's advice to be growing your own greens, no matter how small your living space.
Source: The Art of Simple Food II by Alice Waters
Photo Information [top picture]: Canon T2i, EFS 60 mm Macro Lens, F/5.6 for 1/20th second at ISO-3200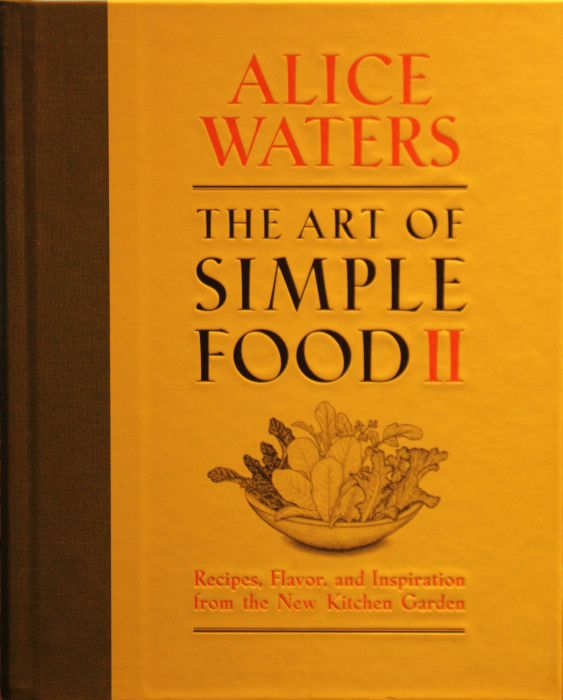 Alice Waters has many claims to fame. There is the restaurant Chez Panisse. There is the long chain of food professionals who worked at Chez and then have moved on to their own great restaurants around the country. There Alice's many books. And there is Alice's new book: The Art of Simple Food II.
Alice's first The Art of Simple Food published in 2007 is a serious book that truly gets to the heart of her style of food preparation — with her legendary focus on fresh, local ingredients. Today's generation of farmers markets owes an invaluable debt to Alice's dedicated and so persistent demand for "fresh and local."
It would have seemed hard to surpass that first book, but The Art of Simple Food II does. To begin with, it's a twofer, two books in one. The first 358 pages are a cookbook [and also an encyclopedia of garden products]. That first part is titled literally: Part I: Flavor as Inspiration. But then there are 55 pages in Part II: Seed to Seed. Part II is not a cookbook. It's a gardening book. For Alice, if you have backyard or a side yard or some boxes on the porch, then "fresh and local" can have a personal meaning.
While Simple Food II does have a full spectrum of recipes, like Chicken with 40 Cloves of Garlic and Hazelnut Floating Island, every recipe here has that garden connection. There is something from the earth — vegetable or fruit or herb — that participates in each recipe. As the title of Part I indicates, those garden-based ingredients are there to inspire you, to help you create dishes that have that mysterious and wonderful extra something. That organic mystery is the trademark that Alice stamps on every recipe in the book.
There are sixteen chapters in the book organized by food type [like Ripe Summer Fruit] and simultaneously by season [Summer!]. That grouping lets you see the connections among your ingredients and how they can play and substitute for each other. Each chapter includes some genetic heritage, too. One chapter — covering cabbage, broccoli, cauliflower, kohlrabi, and Brussels sprouts — educates you that broccoli and cauliflower are actually descendants of cabbage. New species of cauliflower, for example, are being created all the time. As you might expect, Alice is at the forefront of finding, testing, tasting, and letting us all enjoy this ongoing evolution of ingredients and flavor.
What kind of recipes are here? What will intrigue you? Let's stick with cauliflower. You'll find Deep-Fried Romanesco Cauliflower here. And then Orange Cauliflower Salad with Fried Capers and Rocket.
Never had kohlrabi? Try the Kohlrabi, Carrot and Apple Slaw. Or the Kohlrabi and Red Lentil Dal. Yes, influences from India, from countries around the world, have penetrated the portfolio of recipes you'll see here. There is a Tomato and Toasted Pita Bread Salad here that would be called fattoush if you were in the Middle East. You'll enjoy Alice's version which still calls for sumac seasoning — but thankfully offers you the option to use red wine vinegar instead. This is an example of the balance is the book, inspiration paired with practicality. The recipes are almost all less than one page with from a few to under a dozen ingredients. The book is approachable, doable, and will occupy a treasured spot on your bookshelf.
If you are a foodie, modestly or in full earnest, The Art of Simple Food II is a volume you'll want to read, to cook from, and to share with family and friends.