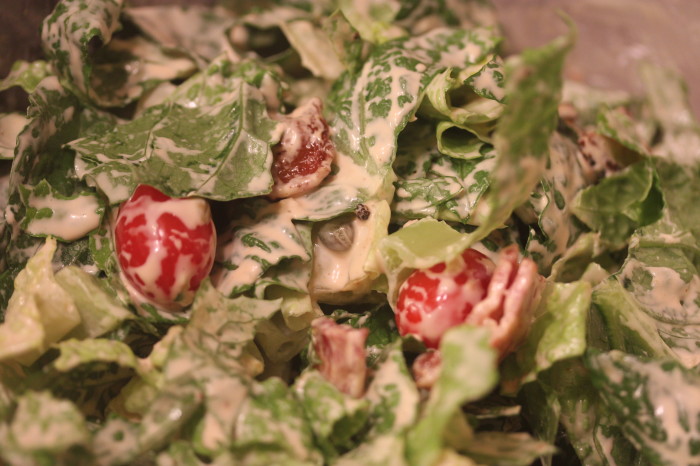 The picture above is Suzen's interpretation of this recipe.
"It's raining," she said. "I'm not grilling."
And so, we did not grill the romaine lettuce but simple served it tossed with bacon, tomatoes and dressing. Either way, this salad is treat, familiar yet dramatically different. This dish easily forms a full meal. Miss the bread of your traditional BLT? How about a warm dinner roll with butter.
Particularly if you do not grill the lettuce, you can create this meal in minutes.
Chilled white wine. You probably want that along with the rolls.
This recipe comes from 365 Comfort Foods from Better Homes and Gardens. Just as that BLT sandwich is something many of us crave [I can do it daily], this is a salad you'd enjoy on a regular basis.
Finally, when baking the bacon, consider topping it with brown sugar or maple syrup. The sweetened bacon will contrast with the buttermilk dressing and give your dish an added lift.
BLT Salad with Buttermilk Dressing
Yield: serves 4
Ingredients:
4 slices bacon
2 tablespoons crème fraiche or sour cream
2 tablespoons mayonnaise or salad dressing
1 tablespoon snipped fresh dill
1 tablespoon cider vinegar
1 clove garlic
¼ cup buttermilk
Freshly ground black pepper
2 head romaine lettuce
 Olive oil
1 cup cherry tomatoes, halved
½ cup shaved Parmesan cheese
Preparation:
Preheat the oven to 375°F. Arrange the bacon in a shallow baking pan. Bake about 15 minutes or until crisp. Remove the bacon and drain on paper towels. Rumble the bacon and set aside.
Meanwhile, for the dressing, in a small bowl whisk together the crème fraiche, mayonnaise, dill, vinegar, and garlic. Whisk in the buttermilk. Seaton to taste with salt and pepper.
Cut each head of the lettuce in half lengthwise. Brush lettuce with oil and sprinkle with additional salt and pepper. For a charcoal or gas grill, place the lettuce on the rack of a covered grill directly over medium heat. Grill about 2 minutes or until lightly charred, turning one halfway through grilling. For a grill pan, preheat the pan, add the lettuce and cook as above.
Place the lettuce on 4 plates. Sprinkle over the bacon and tomatoes. Pour over the dressing and sprinkle with the Parmesan.
Source: 365 Comfort Foods from Better Homes and Gardens
Photo Information: Canon T2i, 18-55MM Macro lens, F/2.8, 100th second, ISO 1000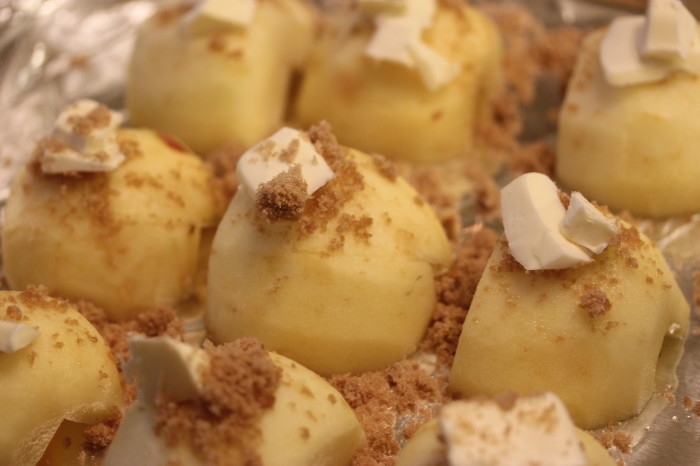 A fool is an English fruit dessert, typically berries in sweet custard [is there any other?]. Levi Roots in his new book Sweets offers a fall fool with a very different aspect. The berries are gone. The apples are in. Along with maple syrup.
Levi lives in Britain and grew up in Jamaica. He's created an all-American dish. The fool is soft, velvety and surely decadent. It does not photograph well, which is why I've shown the starting point above: the apple halves ready to be baked with butter and sugar.
You can, of course, make alterations like mad here. Add spices to the apples [cinnamon, nutmeg, …]. You add more or less booze and switch from rum to brandy or calvados or … You have idea. Now all you need are apples!
Roast Apple, Rum and Maple Fool
Yield: serves 8
Ingredients:
1 ¾ pounds cooking apples
2 ounces soft light brown sugar
1 ounce unsalted butter
9 fluid ounces whipping cream
7 ounces custard [crème anglaise]
3 tablespoons maple syrup, plus extra for drizzling
2 ½ tablespoons white or dark rum
Dried apple slices to serve
Preparation:
Preheat the oven to 400°F. Peel, core and halve the apples, then arrange them in a roasting pan lined with foil. Sprinkle over the sugar and dot with the butter. Bake for 30-40 minutes, or until the apples are completely soft.
Transfer the apples and any juice they released to a bowl and mash them using a fork.
Whip the cream to soft peaks.
Carefully fold the apple pulp, custard, maple syrup and rum into the whipped cream. Chill in the refrigerator until ready to serve.
To serve, spoon the fool into 8 serving bowl or glasses, drizzle with maple syrup and top with dried apple slices.
Source: Sweets by Levi Roots
Photo Information: Canon T2i, 18-55MM Macro Lens, F/2.8, 1/100 second, ISO 640