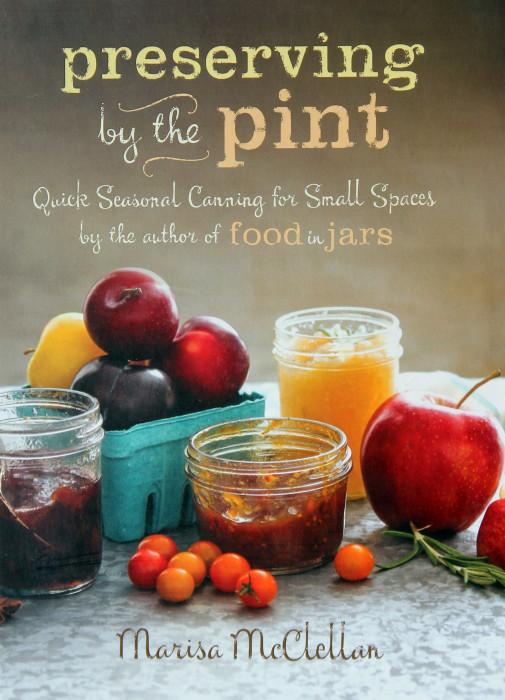 When I was growing up we did canning and preserving. Canning meant pickles. "Preserving" was word rarely used. We "made jam." Strawberry jam. Sometimes it was exotic: we added rhubarb. Sometimes we even made raspberry jam. And the pickles, well, maybe there was a sprig of dill added and a tablespoon from a box labeled "pickling spices." Sophistication was lacking.
In the past few decades, there has been the rise of the mighty "fresh and local" movement. "Seasonal" has become a byword. And, for a while, "seasonal" seemed to be in conflict with those "canning" and "preserving" words. But lately, there has been a steady pouring of books devoted to the art, yes the art, of preserving food, and a recognition that when well done, preserved food is satisfying, delicious, and even important.
The new books in the last few years included:
Canning for a New Generation by Liana Krissoff and Rinne Allan
Preserving: Putting Up the Season's Bounty by the Culinary Institute of America
The Gentle Art of Preserving by Katie and Caldesi and Giancarlo Caldesi.
I actually have all three and I've posted a review about The Gentle Art of Preserving, a good review. I'll dig up those other two and talk about those as soon as I can.
But today I want to talk about a new star book: Preserving by the Pint by Marisa McClellan. Marisa wrote the bestselling Food in Jars books and now continues her progression of teaching us all the merits of "putting up" food.
Marisa has been preserving for years, but began to notice there was an abundance of "too's":
Too much
Too messy
Too limited
She'd make jam, go to put it away and discover that she had yet to finish last year's batch. Making jam from flats of berries rendered her kitchen sticky from floor to ceiling. And simple recipes could, it seems, become boring.
There had to be more to jam. And more beyond jam.
And, lastly, in line with the "seasonal" movement, there had to be recognition that preserving was not a spring-summer activity but one that could and should last year round. There's always something freshly available that can be preserved for year round enjoyment.
So this book divides the year into seasons and presents recipes that are seasonally sensitive. As you'll see from the samples below, these are far, far from the standard recipes. The combinations of ingredients here reflect Marisa's own creativity but also her research into classic combinations here. The origins of many of these recipes are centuries old and far away in European gardens. Yes, we have the "new" habanero being combine with berries but also classic lavender and rosemary ideas. These recipes thus become a template: you can make them as they stand or employ your own imagination and personal preferences. Mixing and matching herbs, as well as changing proportions, will give you distinctive results. By the season, here are some sample ideas:
Spring:
Pickled Ramp Bulbs
Spicy Mango Salsa
Rosemary Rhubarb Jelly
Quick Pickled Spring Peas
Honey-Sweetened Strawberry Jam
Summer:
Apricot Rosemary Jam
Slated Brown Sugar Peach Jam
Raspberry Habanero Jam
Preserved Fig Quarters with Whiskey
Apricot Almond Conserve [dried fruits or nuts]
Fall:
Fig Jam with Thyme
Pickled Hot Pepper Rings
Pickled Seckel Pears
Caramelized Shallot Jam
Pickled Garlic Cloves
Winter:
Savory Quince Preserves
Spicy Pickled Cauliflower
Lavender Lemon Marmalade
Orange Cardamom Curd
Pickled Oyster Mushrooms
The recipes in Preserving by the Pint are, of course, designed for small batch production. In fact, the book's subtitle is Quick Seasonal Canning for Small Spaces. So, if you are short on time or space, this book is perfect for you.
Everybody eats. But we do not have to be regulated to the terribly limited variety of our market shelves. Even my Whole Foods cannot afford the space to offer Caramelized Shallot Jam. But Suzi and I can quickly make up our own batch, and perhaps amend it with herbal notes of our own. If there is a habanero in the house, Suzen will use it.
And that is surely the point of this lovely book: seize not just the moment but the season. Make combinations. Experiment. Savor. And, because you've only done it one pint at time, there's next week to experiment again, learn again, and surely enjoy endlessly.
If you've never canned, never preserved, never overcome that reluctance, then Preserving by the Pint is the easy and so tasty way to change everything.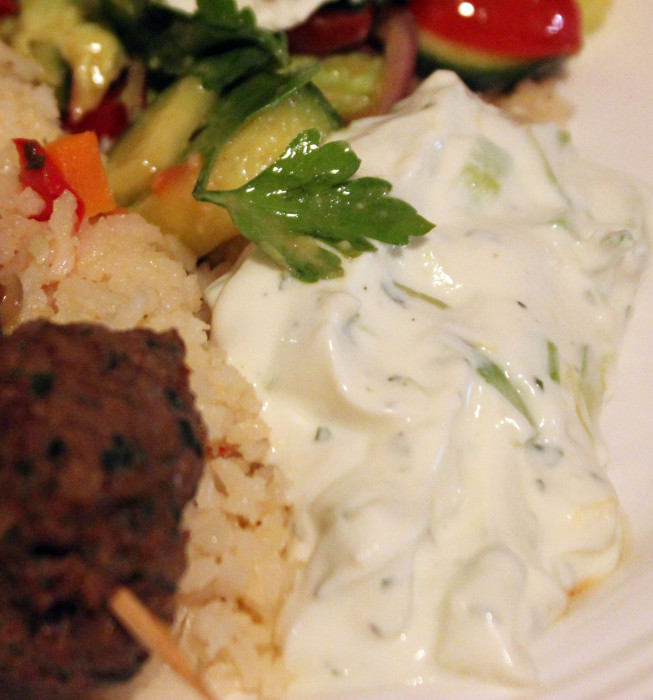 Cool. Refreshingly cool. Tzatziki, a combo of sour cream and cucumber, is a side dish that is a hallmark of Middle Eastern Cuisine. It should be on all our plates as well. Here you see it paired with meat kabobs [yes, the recipe is coming tomorrow!]. But tzatziki is a striking accompaniment to proteins of all shapes and sizes. Think of those cucumber notes reverberating with salmon. Or chicken. Or, even, on top of a burger.
Contrast in color, flavor and temperature is an easy way to generate excitement on your plate. This tzatziki can be made in seconds. Well, technically, over 60 seconds, but it is quick. And, as noted in the recipe, while it can be stored in the refrigerator for a few days, it really is best fresh from your cutting board.
In the ingredients below, there is a range for the amount of garlic and cucumber. The low numbers are from Einat Admony's Balaboosta and are her genuine proportions. If you do happen to look at other recipes, they generally tend to be more generous with these ingredients. Try the recipe with lower amounts and adjust to your own taste and the intensity of your fresh ingredients. You can always add garlic, but it's tough to subtract.
I've tired the burger with tzatziki. Loved the idea. Even better is dipping the fries into it. That's probably not an ancient Middle Eastern custom.
---
Tzatziki

Yield: about 2 cups

Ingredients:

1 cup yogurt
2 tablespoons olive oil
2 teaspoons fresh lemon juice
⅓ to 1 cup finely chopped unpeeled cucumber
½ to 2 garlic clove, finely chopped
1 tablespoon finely chopped fresh mint
1 teaspoon kosher salt
Pinch of freshly ground black pepper
Preparation:

Combine all the ingredients in a large bowl and whisk until thoroughly mixed. Keep the tzatziki chilled until ready to use.
It's best used that day, but can be stored in the refrigerator for up to 3 days.
Source: Balaboosta by Einat Admony

Photo Information: Canon T2i, EFS 60mm Macro Lens, F/5 for1/30th second at ISO‑3200