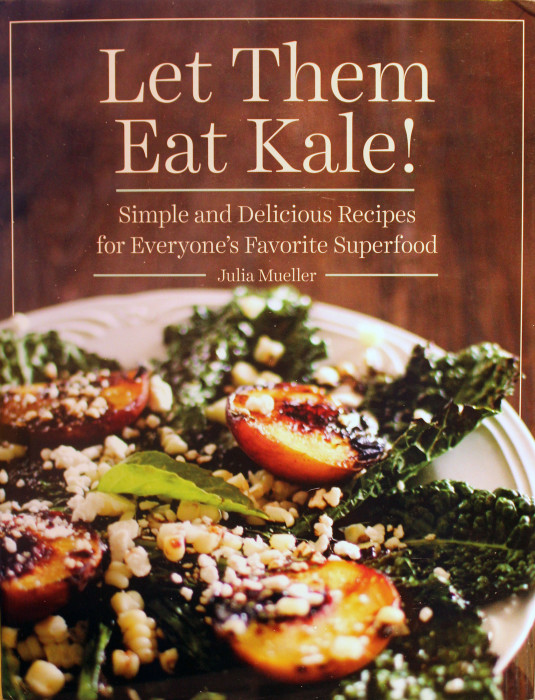 Some trends can be silly. You've had some clothing or a hairdo that you would just prefer to never see again — and you are so very happy Facebook wasn't around when you indulged.
Other trends are significant and even good for you. Kale is one of those. All of a sudden, kale is popping up everywhere. In restaurants, in grocery stores and the farmers markets, and on book shelves. If you go to Amazon and search for "kale" there are 123 hits today, with certainly more tomorrow. And most of these books are recent, published just in the last year.
So, if want to find excellent kale recipes, maybe make your own kale chips because the Whole Foods price reminds you of gold and silver, where do you turn? Which of those new kale cookbooks really gives you a bevy of wonderful recipes that you will enjoy and return to?
I'm intrigued by Let Them Eat Kale! by Julia Mueller from Skyhorse Publishing. A first, and a minor reason, is that I do believe Marie Antoinette unfortunately was misquoted. Again, that was a before-Facebook event so we'll never know.
What we do know is that author Julia Mueller has worked with dedication to fashion an array of recipes, from breakfast to dinner's main dishes, that employ kale as a key ingredient. Sometimes as the dominant ingredient, sometimes simply as an addition to integrate the nutritional values that make kale such a useful food.
In her Introduction, Julia presents kale from multiple aspects, explaining how that very basic and bitter taste can infiltrate into your culinary life. Julia's a convert, preferring kale to other greens in her salads. If you read my review of Taste, you know that there are genetic issues at play here: while humans normally avoid bitter foods, we have evolved to go for the healthy ones. And kale, as Julia points out, is very healthy. Kale is a nutrient-dense superfood packed with vitamins and minerals. The varieties of kale and the varieties of ways to cook it are all presented by Julia in few key pages.
Then it is time for the recipe chapters. Here they are with some representatives of Julia's clever yet practical recipe development:
Breakfast: Chorizo, Potato and Kale Hash; Peach and Kale Stem Smoothie; Poached Egg over Sautéed Kale
Appetizers, Side Dishes and Snacks: Vegan Cheese Kale Chips; Cheddar Kale Skillet Cornbread; Southwest Stuffed Bell Peppers; Zesty Kale Slaw
Salads: Fall Harvest Kale Salad with Cinnamon-Orange Dressing; Roasted Beet and Fig Massaged Kale Salad with Blackberry Vinaigrette
Soups, Stews and Chilis: Butternut Squash and Kale Chili; Creamy Sweet Potato and Kale Soup; Sausage, Fennel and Kale Soup
Main Dishes: Eggplant, Kale and Chickpea Tacos with Charmoula Sauce; Cauliflower and Kale Yellow Curry; Sautéed Shrimp and Kale Tacos with Pineapple, Corn, and Kale Salsa
Sauces, Salsa, and Spreads: Roasted Garlic Kale Hummus; White Bean Kale Dip; Chimichurri Sauce
To gauge this book, it's important to see the spectrum of recipes here. Some are old food friends with kale just woven into the mix to modify the flavor, texture and nutritional values, like the Southwestern Bell Peppers. Some recipes — the Eggplant, Kale and Chickpea Tacos, for example — display Julia's creative instincts. You'll find many totally new dishes here that will entice you to experiment in your kitchen.
And, thankfully, there is no Dessert chapter here with silly Kale Brownies. Julia displays some serious common sense along with her sparkling creativity.
It's impossible to thumb through this book and not stop several times to ponder a recipe. A major reason for that is the accompanying photos. Each recipe gets a lovely full page close up shot of the dish. And, in a bright book design by Skyhorse Publishing, the photos extend all the way to the edge of the page. There are no photo margins and the effect is just what you need: the photos seem to pour out beyond the page, inviting you to look twice and hopefully begin cooking.
Suzen and I began with kale salads a couple of years, just one of those culinary accidents that happen. For her corporate team building events at Cooking by the Book, Suzen introduced kale salad onto the menu and the effect was pretty dramatic: we've had corporate lawyers coming back into the kitchen asking for seconds. Now, with Let Them Eat Kale! we have a wonderful array of salads and beyond to treat our customers and ourselves.
Treat yourself. Get on the kale bandwagon and use Let Them Eat Kale! as your guide.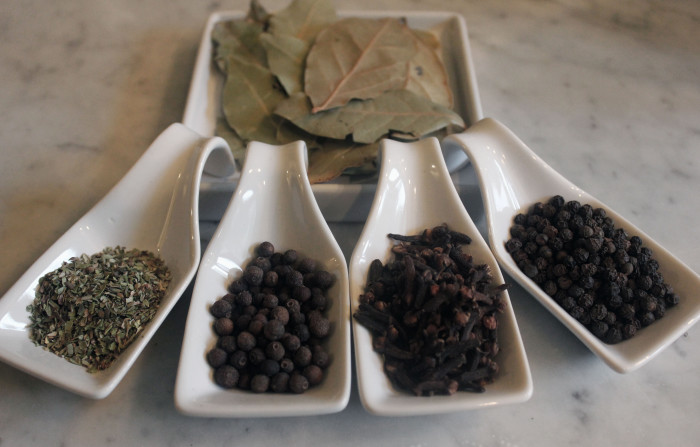 When was the last time you used allspice? Did you even know? If you are not Caribbean by descent, if you don't go forage for jerk chicken, then about the about the only time you may encounter allspice is when you make pumpkin pie. It's one of the components of "pumpkin pie spice." No, the spice there is a mix. There is no pumpkin pie bush. Time for a spice change.
In fact, it's time for a big change, one that affects your culinary life, one that gives you a new avenue of flavors that can impact the taste profile of your kitchen.
Yesterday, I posted a cookbook review of the remarkable book Yucatan by David Sterling. His survey of Yucatan cuisine includes not only recipes but a vast sea of information on history, culture, and sociology. It's an important work, not just a cookbook, but literally a study of the Yucatan civilization.
Often we hear about regional cuisines and most often that triggers an image of Italy. Little towns and villages, just miles apart, with quite different cuisines or at least quite different techniques and flavors for the "same" dish. Think of Yucatan as the same situation, one where the culinary roots go back 8,000 years.
In the Yucatan, spices have evolved to be basic ingredients, key ingredients. I should say spice mixtures. For what has happened there is the evolution of the recardo, a spice mix in either powdered or paste form. Recardos appear in almost every dish it seems. There are hundreds of versions with, as in Italy, the same name not necessarily meaning you get the same flavor.
In Yucatan, there are 10 recipes providing an intelligent but still very small sample of the recado world. This one, the Recado Para Escabeche gets its name from the Spanish "escabechar" meaning "to pickle." Pickling, and vinegars, were one of the skills brought to the Yucatan by the Spanish. The Maya took that pickling idea and merged creating this spice mix.
This combination of peppercorns, oregano, cloves, allspice and bay leaves is one that you have to experience. Just make it, wait a moment, take a deep breath, and relish. It's fabulous.
And while this recado can be used for pickling, tomorrow I'll post using it with corn to make a side dish that is common in Yucatan as a street food. Corn like you have never experienced.
This particular recado appears over and over again in the many recipes in Yucatan. It's wonderful on chicken, on fish, on veggies.
And that's how I want to change your flavor profile. Instead of barbequing with one of those commercial rubs, considers making your own recados. All you need is pepper and spices and imagination. You can look in Yucatan for wonderful, authentic idea. If you Google now, you'll begin to see a battery of recado recipes working their way onto the web. Fresh, homemade and without preservatives, this is the better way to add flavor to your food.
Oh, when I went to make this and looked for allspice berries, I found two containers. There was the little one bought last Thanksgiving, one of those inch high containers with just a few berries. And then buried away I found a two cup container that Suzen must have bought at some big box store. I hate to compare the price per ounce of my small container and her big box version. Good for Suzen and me, because we are now in the recado business. Try this recipe, and you will be, too.
Oh, this recipe says to use a spice grinder. How could I do that? I got out a marble mortar and pestal and pretended to be Maya. Thing is, black peppercorns are pretty hard. I would crush and they would soar out over the floor. I had fantasies of how to explain this debris on the kitchen floor to Suzen: "I don't know," "Maybe the cats did it," "Someone else is using our house when we are not here." I switched to the Vitamix. It's a wonderful machine: works well on pepper corns and you don't have to lie to your wife.
Recado Para Escabeche: Peppery Spice Bland for Pickled Dishes

Yield: 6 tablespoons

Ingredients:

3 tablespoons black peppercorns
3 tablespoons dried whole Mexican oregano, lightly toasted
20 cloves
10 allspice berries
13 bay leaves
Preparation:
Place the first 4 ingredients and 5 of the bay leaves in a spice mill or coffee grinder reserved for the purpose and grind until very fine. Strain the power through a fine-mesh sieve over a bowl, crumbling any remaining bits of debris through the sieve with your fingers. Return anything left in the sieve to the grinder and process again. Pass through the sieve again. Discard any residue.
Transfer the ground spices to an airtight container, add the remaining whole bay leaves, and toss to mix.
Source: Yucatan by David Sterling

Photo Information [top]: Canon T2i, EFS 60 mm Macro Lens, F/4.5for 1/50th second at ISO‑2000