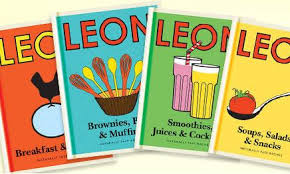 You may be familiar with the Leon cookbooks that represent, in print, the particular philosophy of the Leon restaurants in the UK: simple food, fresh, easily prepared, generously enjoyed. They have just published four mini books that let you readily target a specific craving:
Breakfast & Brunch
Smoothies, Juices and Cocktails
Brownies, Bars & Muffin
Soups, Salads and Snacks
In true Leon perspective, you find these recipes "simple" yet wonderfully different. Consider, if you will:
Persian Onion Soup: with turmeric and fenugreek
Cheese Empanadas
Salmon & Dill Muffins
Summer Punch: strawberries, pears, vodka, lemon juice and Prosecco!
Honey and Rose Baklava
Zucchini Mini Cupcakes
Clementine Granita
Healthy Granola: buckwheat, almonds, flaxseeds, pumpkin seeds, raisins, cinnamon and much more
You'll find a range of ideas here, from a perfected recipe for basic scrambled eggs to that Healthy Granola extravaganza. Do you want something baked but need to avoid dairy or wheat or sugar? Then there are delicious solutions just pages away.
You can start the day with a Breakfast Banana Split, later enjoy a Cucumber  Cooler, snack on their Better Brownie, and indulge in a Duck and Lettuce Wrap.
These mini books are precisely that, 64 pages exactly of fast recipes designed to let you quickly search, contemplate and decide. You can buy minis individually but it would be wrong to break up such a brilliant family. Get all four, for yourself or for a friend. Then sample the simple but wondrous Leon treats.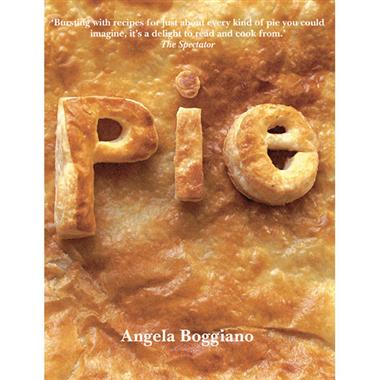 Just a few years ago Angela Boggiano treated us to Pie, her carefully selected set of recipes from the United Kingdom [or Great Britain or England or even Wales]. Now, there is a revised edition of Pie which you may want to consider, particularly if you have a sweet tooth.
There are many critics of British cuisine but it would be a total oversight to miss the true highlights that Britain affords us. While Southern United States chefs may claim dominance for sweet pies, the British can now dispute that with force. One of the new adds to this edition of Pie is a Banana, Chocolate and Salted Caramel Pie that takes second place to none.
In fact, almost all of changes to this edition of Pie come in the sweetpie chapter, a recognition of the power of sweets on both sides of the Atlantic. The other Pie Chapters, which focus on savory pleasures, are almost unchanged [some shifting in the order, a few pictures dropped]. Those savory chapters are full evidence that the British own pies. You'll find:
Asparagus Turnovers: half pie and half tart and spring ready
Spanish Pepper and Chorizo Pie: something Suzen could make every week
Beef Wellington: of course
Cheshire Cheese and Onion Pie: Angela's own mix of cross county tastes
Chicken and Mushroom Pies: elegantly presented with a basket weave crust
It is natural to term these savory pies as hearty. Surely they are that. But there is, and I'll use the word again, a quiet elegance to these recipes. They represent centuries of daily cooking. The combinations of ingredients and proportions have been honed to a razor sharp degree. Angela has dutifully captured these recipes and made them available to us: poetically photographed and written in easy prose. Browse through Pie and you'll be seduced into some combination of protein and veggies. Maybe, just veggies alone!
If you did not catch Pie in its first edition, do give this revised edition a look when you can. You don't have to begin with that Banana, Chocolate and Salted Caramel Pie, but you can. Darn those veggies.