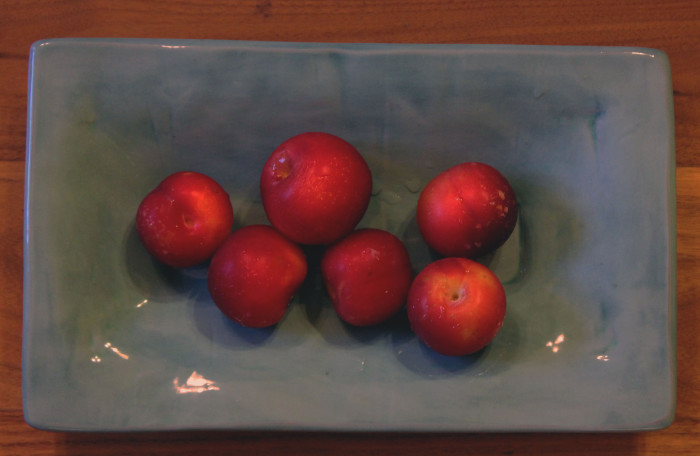 How do you eat?
Literally. Figuratively. Forks and knieves but also noses and eyes.
"What are you going to do with these?" I asked Suzen. I was holding some very fresh and fragrant plums.
"Put them in the bowl," she said.
"You want honey? Cheese? You want me to slice them up?"
"Put them in the bowl. Just them. We are eating just them."
When the plums were cradled in the bowl, and I could see the effect, then I understood. Our first "taste" of a dish is usually a smell or a sight. Here Suzen was going for ultimate simplicity: pure plum and only plum. The sun-fed, red plums were invitingly nestled in a quite dramatic blue bowl. The visual effect was simply striking.
And striking is what good food is all about. Striking taste is something we always seek. But a striking visual presence can be equally important. In this case, Suzen has organized a powerful invitation to eat. Our dinner guests did just that. The plums disappeared long before the cheese and crackers.
The point here is that your appetizers can be elaborate concoctions, taking as much time as the main course. Or, equally, they can be simple but seductive. Using color is an easy and often inventive way to entice your guests to a dish.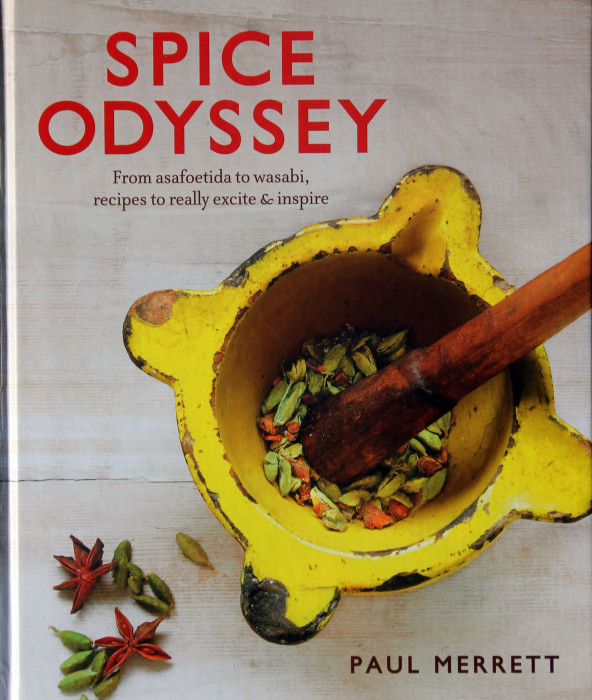 You are very likely see a copy of Spice Odyssey by Paul Merrett. I've been in several bookstores and Spice Odyssey is given prominent placement. You cannot miss the book lying on the "New Arrivals" table. The cover features a mortar and pestle. Not the pristine marble and marble pairing you first think of. No, this pestle is dark wood, hand carved and worn. The mortar is metal with yellow peeling paint. That's the definitive hint: this book is all about heavy duty, real food. It's comfort food with a spice punch.
Author and chef Paul Merrett was almost destined, from birth, for this book, his West London restaurant, his TV appearances, and the two Michelin stars he has won at two different restaurants. Paul was born in Zanzibar to a mom from South Africa who, he describes, had wanderlust. He grew up in the spice capital of the world, influenced by Asian and African cuisines.
The pathway then was simple: home to England, college, apprenticing in restaurants, then leading the outstanding teams that have won those Michelin stars.
This book is a display of Paul's favorite ideas and dishes. He has crafted it for the home cook and provides recipes written for us, not his accomplished restaurant staff. So, you are carefully guided on this Spice Odyssey. And, odyssey it is. Paul tells you up front that you will be dodging from country to country, continent to continent. On one page, you are in Asia, then Mexico, then Italy, then somewhere else. The pace is breathtaking, even before you hit the spice rack.
Here are the main chapters with some sample recipes:
Appetizers
Batel leaf wraps with ginger, crispy shallots, chile and broken cashew nuts
Ginger beer-battered broccoli tempura with minted mango yogurt dipping sauce
Fennel risotto with chilled melon and green peppercorns
Watermelon, mint and chile gazpacho
Fried egg soup with smoked paprika and ground chile
Lunch and Dinner
Whole baked sea bass with wok-fried peppers and a citrus-chile-cilantro broth
Clams cooked in cider with smoked bacon, chorizo, parsley and chile
Smoked paprika chicken casserole with chickpeas, peppers and chorizo
Asian spiced short ribs
Quick and Simple Suppers
Roasted vegetable couscous with feta and pomegranate
Tomato and scallion quesadilla with three bean, chile and avocado salsa
Twenty-five minute vegetable tangine with cauliflower couscous
Shrimp papparadelle with chile, lemon, garlic, basil, and parsley
Classic coronation chicken [ginger, curry, mango chutney, mayo, coconut cream, cilantro]
Moroccan spiced lamb burger with tomato chile jam and tzatziki
Sweet, Sweet Spice
Coconut and lemongrass panna cotta with sweet chile pineapple
Poached bananas on toasted brioche with coffee bean, cardamom and star anise syrup
Almond, cinnamon and cranberry wontons
Pecan and walnut baklava with apricots, Greek yogurt and honey
Those sample recipes have been carefully selected. There are many recipes here whose titles are going to puzzle you a tad, like the seared shrimp with patatas bravas, chile, garlic and pimento aumado and aioli. I have to tell you, as I write this down, my spelling checker is having a heart attack. What is all this stuff? Fear not, Paul explains it all. The pimento aumado is smoked paprika, for example.
I called this comfort food. I did that because Suzen and I have a fondness for chile, and complexity. These recipes reflect their world-wide origins. There are more than a few ingredients, more than a little time may be required. But, the results are feasts and you can serve these dishes equally for a dinner party at the high end as well as for your family on one of those comfort food night.
There is diversity in the origins, the heat, and the complexity level across the spectrum of recipes here. No matter your food mood, you are sure to find something here that will intrigue you and surely become a favorite.
Along this Spice Odyssey, Paul offers some enlightening notes on his travels, spice gardens, and how to buy and store and employ spices: grinding, deep-frying, rubbing, or marinating. All the techniques are here.
There is even, and I love this, a section on how to make your own tandoor oven using a metal garbage pail. I don't know. It doesn't look that hard. Suzen and I always order Tandoori Chicken. This may be the first cookbook where, after you buy it, your first stop in Home Depot before the hitting the spice section of your supermarket.
Look for the book. You'd have to be color blind to miss it!