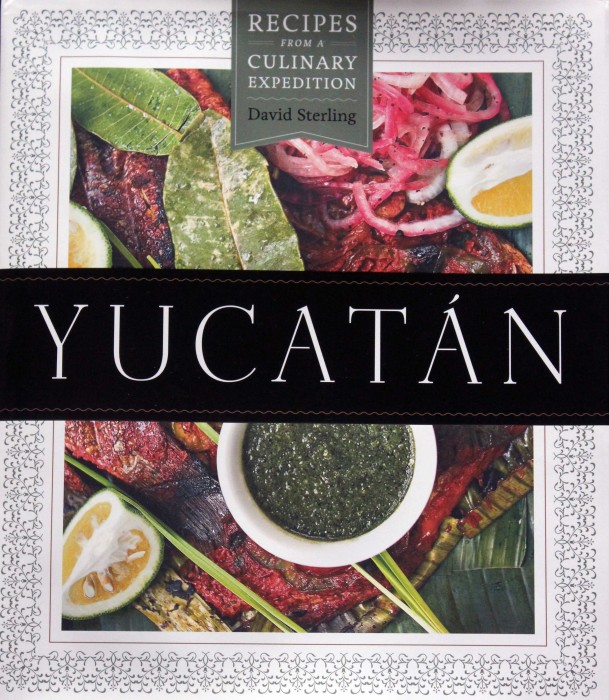 On my lap is a 6 ½ pound baby, one that I don't know quite how to describe. It's heavy, oversized and filled, filled with an incredible array of information about food, recipes, culture and history. Is there one word to describe Yucatan by David Sterling?
Yes, Yucatan is a masterpiece.
This is a huge book, with 500 pages, oversized pages. If you measure "volume" in terms of cubic inches, then this book is literally 250% bigger than the standard cookbook. Does that matter? Oh, yes, because this beautiful book is just packed with pictures, text, and a richness of detail that in unsurpassed. I'm incredibly impressed with this book. It's on book store shelves now, so you can pick up a copy — careful, it really is 6 ½ pounds — and marvel at all the contents yourself.
Author David Sterling has the only Yucatan cooking school in Mexico and many, many years spent exploring Mexico with an emphasis on his Yucatan passion. He begins with some explanations: yes, the Maya people were in Yucatan but also in a much wider area spreading south into Central America. So, this book is about Yucatan food, not all of Mayan. [I should say Maya there because, Sterling points out, Mayan refers only to the language; it's Maya for everything else].
There's some history to be explored at the start, too, because of two big explosions. 65 million years ago an asteroid struck the earth at the north end of Yucatan. That impact lead to the death of the dinosaurs. No, no human was there roasting chilies at the time. But the impact did alter the landscape, affecting things like availability of fresh water and eliminating all the high ground. Today Yucatan is flat limestone plateau, sub-tropical but with water shortages that affect what can be grown and how it is grown.
The second impact was more recent. When the Spanish explorers came, there was the greatest exchange of culinary ingredients in history. The Maya had corn and chilies in almost countless varieties. Fruits and berries in abundance. The Spanish brought pigs, citrus fruits, olive oil, vinegars, and capers. And, peppercorns. We do have some idea of what Maya cuisine was like before the Spanish arrival, and, yes, many of those dishes survive, but the current cuisine has been incredibly impacted by European influences, first Spanish, then French and Dutch. The Spanish impact was, literally, a culinary asteroid.
After these important background considerations about geography, language, and history, the book unwinds in 8 principal chapters:
The Yucatan Market
The Maya Heartland
Fertile Shores
The People's Food
The Urban Matrix
The Pueblos
Pantry Staples
Basic Techniques
The Yucatan Market is the first chapter. There are 70 eye-opening pages with full color pictures of the armada of local ingredients so essential to this cuisine. There is a cornucopia of fruits and vegetables here, many new to us in the North, with excellent descriptions of the varieties, seasons of use, and typical recipes. The chapter will make you salivate, and begin searching for some local outlet to secure them for your pantry.
The Mayan Heartland describes the territory the people of Yucatan inhabit: forest, plots of land next to their homes, larger plots further away and created with slash and burn techniques. Why slash and burn? The Yucatan is one vast limestone plateau that is not covered with a rich topsoil. It was the Maya who first perfected careful farming techniques to make the land as productive as possible. Those techniques are continued today. Here you visit typical rural Maya families and take a tour of a palm covered home. The palm is 50 years old and has never leaked.
And, in this chapter you being to encounter the recipes which are woven into the tours conducted in each chapter. Yucatan has its own variety of turkey and here you find Turkey in Maize-Thickened White Sauce. Maize is eaten, of course, but also still worshipped.
Fertile Shores is a tour of seven seaside villages. Imagine yourself in a Jeep dashing along the coast, visiting one village after another and discovering the local bests, like Lobster Tails in Charred Chile Sauce. Historically, these coastal villages were also portals between the interior and trading sites in the rest of Mexico and the Caribbean. So, not all the food is seafood. And, there is a sophistication here that might surprise you: Duck Magrets in Honey-Anise Liqueur Glaze.
People's Food takes you on another tour across the Yucatan, this time investigating dishes often with world-inspired cuisines:
Sweet and Savory Ham and Cheese Pastry
Pork Belly Confit
Pork Cracklings in Tomato Sauce
Little Tacos of Octopus
Coconut Sorbet
Corn Sorbet
Chicken and Potatoes Stewed in Oregano and Black Pepper Sauce
Yucatan Margarita with Seville Orange Juice and Mezcal,
Egg Stuffed Tortillas Bathed in in Squash Seed and Tomato Sauces
The jeep is parked for a walking tour of the markets, restaurants and homes of The Urban Matrix. The Spanish created three "cities" to conquer and then control the Yucatan: Campeche, Merida, and Valladolid. Here you will find dishes that are a step up in complexity and reflect ongoing European influence
Pompano en Papillote,
Soup de Lima [Chicken Soup with Sweet Lime Essence]
Dutch Edam Cheese Stuffed with Savory Mincemeat
Bread Pudding Soufflé with Cinnamon Syrup and Nuts
Torta Cubana [Pressed Sandwich of Roast Pork, Smoke Ham, and Cheese]
Brined Turkey Stewed in Onion and Chiles
Vinegared Soup with Mincemeat and Caper-Stuffed Ravioli;
Fried Fish with Caper Pesto Olives and Chiles in Vinaigrette
Turkey with Capers, Raisins, and Olives in Sweet Orange Sauce
This cuisine would not have been possible without the marvelous marriage of Yucatan and Spanish ingredients. It dramatically spotlights the power of evolution and integration.
The Pueblos is the last major chapter. Back in the jeep, out of the cities, and into the maze of small villages that retain historic recipes. We are in search of the best in bread, protein, fruits and desserts:
Papaya in Burnt-Sugar and Honey Glaze
Pit Smoked Pork
Maize and Chocolate Porridge
The Pantry Staples chapter is extremely important, a key to the integrity of this book. Can you cook Yucatan dishes at home? Yes, thanks to the insights here. Yucatan cuisine is about three things: smoke, spice, and chile. The spice comes from spice mixes called recardos, some in powder form and some in paste. With decades of experience, author David Sterling admits to still being confused at the plethora of recardos across the Yucatan. You'll find mounds of them in each local marketplace and each wife and mother has her own ideas, ideas honed by generations. Lots of generations. The elements of this cuisine began 8,000 years ago. The recardo recipes here are used in almost every recipe in the book.
Beyond those spice mixes, you'll find salsas, of course, plus insights into repurposing: a Yucatan cook will prepare beans for Sunday and then keep using and reusing them through the week, in one recipe after another. That underlying, asteroid-impacted limestone geography does not allow for any waste in the kitchen.
Finally, Basic Techniques covers such essentials as making masa, dealing with banana leaves, cooking tamales, and making rice the Maya way.
This has been a long review. And, it does not do justice to this great work. I plan, in future posts, to revisit Yucatan with you. We have fun journeys ahead.
In fact, in the next two days, you'll see a great recardo and then use it in a corn dish that will tears — joyful ones — to your eyes.
And, yes, I'm lobbying Suzen for us to make the Turkey with Capers, Raisins, and Olives in Sweet Orange Sauce. And, no, I'm not waiting until Thanksgiving.
Lastly, Yucatan is published by the University of Texas Press, which in 2010 published the monumental Diana Kennedy work Oaxaca al Gusto: An Infinite Gastronomy. The UT Press deserves applause for the extraordinary care and quality of these books. It is one thing just to get matters of culinary importance down on paper. It's another to have it produced with such elegance and beauty. So, if you buy Yucatan and Oaxaca too, you'll be sending a message that these efforts are relished. That would be a third impact.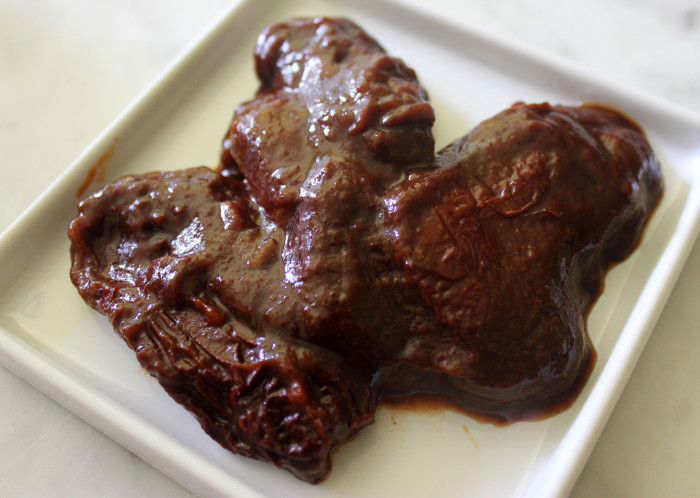 These moments occur in every marriage.
"We have to talk," I began.
Suzen paused, looked in my face, and realized I was serious. "What?" was her reply.
"Something is not as good as we thought," I began. Brilliant way to start this off. She clenched her hands.
"It's okay," I tried to reassure her. "I still love you."
"But?"
"There's something else," I said.
"Someone else?" she quivered.
"No, something. The chipotle thing."
For some reason she got very mad at me.
A few years ago, we were eating artichokes and just before serving, Suzen had frowned. She did not want mayo and was tired of butter as the dipping medium. Her face was staring into an open refrigerator. "Ah ha," she announced, pulling out the mayo still but also our plastic container devoted to chipotles. Once a container has been "stained" with adobo, you really need to consider it married.
And so, we began our chipotle-mayo life. Mostly mayo, with some adobo sauce and diced chipotle. How much do we use? It depends on our heat addiction for the day. It's basically mayo, colored to a light red. And on artichokes, I think it's divine. I was so proud of Suzen for creating it.
And then, I read the new Virgil's Barbecue Road Trip Cookbook by Neal Corman with his Texas Chili with Chipotle Cream. The recipe there, a fascinating one, is below and it's quite a distance up the culinary landscape from Suzi's. And then, to check, I googled "chipotle cream" only to discover that:
Suzen is not the discoverer of this recipe
Hundreds of variations exist
Here's an endlessly fun way to use up those leftover chipotles
What do these other recipes do differently? They use more ingredients to achieve richer flavors and textures. Mayo may still be used, but there is some other "dairy" component: yogurt, sour cream, heavy cream, cream cheese and — in Virgil's case — goat cheese. You'll find recipes with lime and lemon juice as well as zest. Dashes of salt or sugar are suggested in different recipes.
What can you learn from all these ideas? How do you proceed? Basically, for a ½ cup of dairy, use 1-2 teaspoons of citrus juice, the zest of a single lime or small lemon, and perhaps a teaspoon of sugar to mediate the heat. How much heat? For that ½ cup of dairy, recipes vary from a meager 1 teaspoon of chipotle to a burning 2 tablespoons of heat. That's a 6 to 1 ratio, so there is generous space here for you to achieve the fire level that you want.
Is your mouth lined with asbestos? You can do even more chipotle or just the adobo sauce, itself a chili combination. How are you using this chipotle cream: for those artichokes, as a garnish on top of chile as in Virgil's case, as a replacement for mayo in roast beef sandwiches, … You may well find yourself using different proportions depending on the day's culinary mission.
Here's the recipe from Virgil's. It's the only one I found using goat cheese and I can see substituting cream cheese, particularly if bagels are being targeted. At Virgil's, this cream is used on top of a hearty and hot chili. This recipe is cut with a cup of heavy cream, so it is not goat cheese stiff, but you could use less cream, have a stiffer mixture, and litererally let the cream melt into the chili – my idea and not what they do at Virgil's.
Preparation of all the cream ideas I saw is pretty simple: process most of the ingredients in a blender then add any final seasonings.
Oh, Suzi is no longer mad at me. She is testing different goat cheese. The only counseling we need is on the herb contents.
---


Virgil's Chipotle Cream

Yield: 4 to 6 servings

Ingredients:

10 ½ ounces goat cheese
2 tablespoons pureed chipotle in adobo sauce
1 cup plus 2 tablespoons heavy whipping cream
Juice of ½ lemon
Juice of 2 limes
Zest of ½ lime
Preparation:

Place all the ingredients except the lime zest in a blender. Process until smooth.
Remove to a bowl and add the zest. Refrigerate for at least 2 hours before serving.
Source: Virgil's Barbecue Road Trip Cookbook

Photo Information Canon T2i, EFS 60 mm Macro Lens, F/4 for 1/40th second at ISO‑500