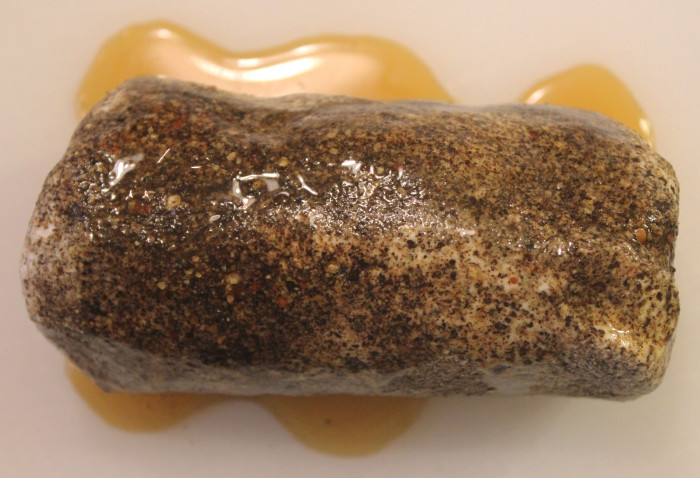 There are things that people love to cook and things they don't. Suzen spends hours a week baking bread and relishing every flour-covered second of it. Ask her to make an appetizer, and she's not happy.
Well, she used to not be happy. Now she can smile again for she's developed this easy and exceptional appetizer. For each of her events at Cooking by the Book, before the teams go into the kitchen for their hands-on cooking experience, folks enjoy an offering of several appetizers. If this peppered goat cheese log is on the table, it's the winner. Hands down. The winner.
Here soft and creamy goat cheese contrasts with the bite, heat and crunch of pepper. These two ingredients are married with the sweetness and distinctive notes of maple syrup. In a phrase, we love this appetizer. It's quick to make on, say, a 4th of July holiday weekend.
We have made this with herbs instead of pepper but find the pepper heat and texture to be our personal favorite. We did begin making this with honey, not maple syrup, and honey is still an option. With all the honey flavors available, you can literally have a different appetizer each time.
Lately though we have shifted from honey to maple syrup. There is a local New York syrup, Crown Maple from Dutchess County, that provides unsurpassed purity and intensity of flavor. You can discover more about their products at his link.
---
Goat Cheese, Pepper and Maple Syrup Appetizer

Yield: appetizer for 6 to 8 people [or 3 cheese lovers!]

Ingredients:

½ cup of freshly ground pepper [or herbs or both]
1 log of goat cheese
Maple syrup [ideally Crown Maple Syrup from Dutchess County New York]
Preparation:

Place and spread the freshly ground pepper on a plate large enough so the goat cheese log can fit. Unwrap the goat cheese, sit on the plate and carefully roll it to thoroughly cover it completely around.
Transfer the peppered log to an appetizer plate. Carefully drizzle the maple syrup over the top and side of the log. You don't want to drown it, but excess is fine.
Serve with an array of crackers or pieces of toasts.
Source: Suzen O'Rourke

Photo Information: Canon T2i, EFS 60mm Macro Lens, F/5.6 for1/60th second at ISO‑2500