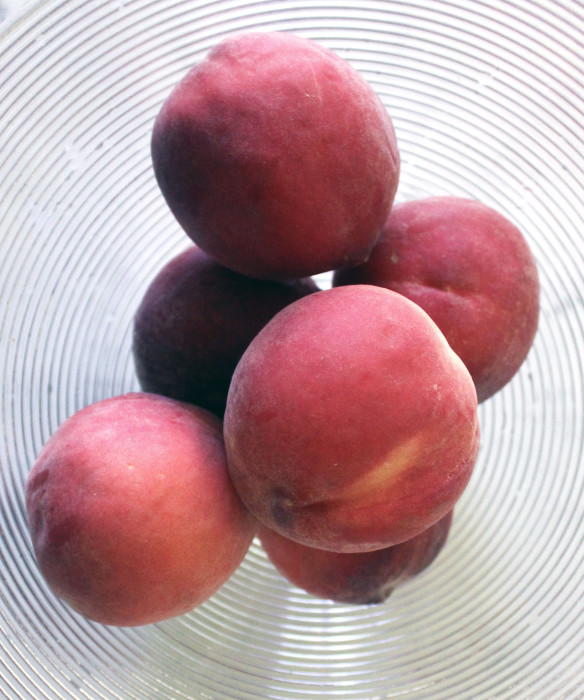 "Just so you know, I have ripe peaches. They have to be used." It was Suzi giving me a heads up on Sunday morning.
"We'll drink them," I said. "Peach margaritas?"
"Perfect." She sat back in her chair already relaxing.
It's always good to make your wife happy. It's actually very important to make her very happy. Peaches, as you know, are a difficult fruit to buy, store and use: hard one hour, then unexpectedly perfect the next, and sadly downhill by the next morning. They drive me nuts, but I love peach flavor and I just cannot find myself buying frozen peaches. I know, that's a hang up but I'm not making any progress in therapy on it.
I have, however, perfected the concept of the perfect Frozen Peach Margarita. The secret is, I believe, fresh, ripe peaches. Those peaches close to turning on you, so they are soft and sweet.
Oh, and Secret Number Two here is the tequila. I used homemade mango tequila. It's really, truly wonderful with a complex flavor that is idea for cocktails. At end of this post, I've included the recipe I used for this special tequila from the glorious Infused by Susan Elia MacNeal.
You'll enjoy this beverage with its combination of peach and mango flavor. It's subtle and a perfect match for food of any kind. We drank ours with a meal of artichokes served with chipotle mayonnaise and a curry onion quiche. Look for the quiche recipe to appear here later this week!
---
Frozen Peach and Mango Margarita

Yield: serves 4

Ingredients:

1 ½ cups peach slices, from fresh peaches ripe with flavor
½ cup simple syrup
½ cup lemon juice
½ cup mango tequila
½ cup peach schnapps
Ice
Preparation:

Put the peaches and liquids in a blender. Add ice and blend until smooth. Add more ice if you desire to thicken, a little more syrup to thin. Pour into chilled margarita glasses.
Source: Brian O'Rourke
Photo Information: Canon T2i, EFS 60mm Macro Lens, F/5 for1/50th second at ISO‑3200
---
Mango Liqueur [Tequila and others …]

Yield: 1 quart

Ingredients:

1 750-ml bottle of brandy, vodka, rum, tequila or cognac
3 cups sliced mango
¼ to 1 cup sugar syrup [optional]
Preparation:

Decant the spirits into a clean 2-quart (2-liter) glass container with a tight-fitting lid. Soak the original bottle to remove the label. Let dry.
Add the mango slices to the spirits. Allow the spirits to 3 infuse away from direct sunlight and intense heat for 1 month. Shake the container a few times each week.
When you're satisfied with the intensity of flavor, strain the liqueur through a metal sieve into a bowl. Discard the mango. Add the sugar syrup to taste, if desired.
Using a funnel, pour the liqueur into the original bottle (or another container). Label with the name of the liqueur and the date. Age the liqueur for 1 month away from light and heat.
Source: Infused by Susan Elia MacNeal [Chronicle Books, 2006]