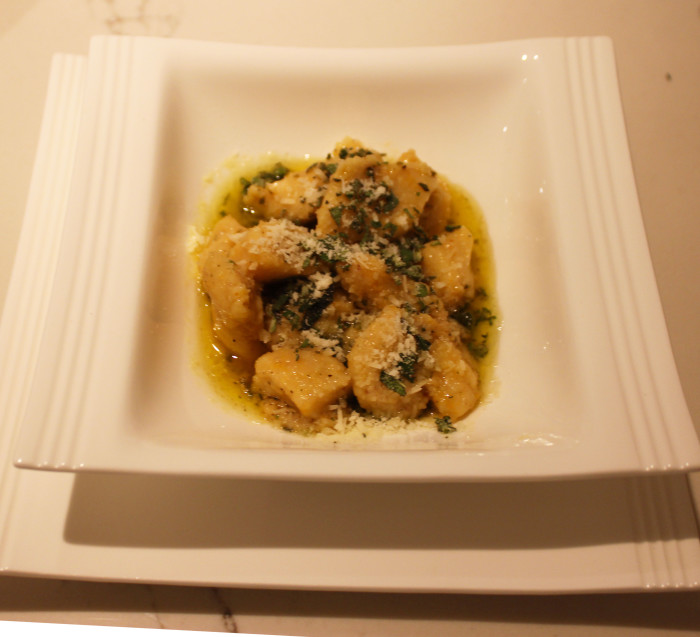 Gnocchi used to be a tad exotic for many of us, something to be enjoyed only in restaurants. But now the dish can easily be found in supermarkets. Those frozen morsels cannot compare with the gems freshly folded in that restaurant you enjoy. And, actually, you can easily make them yourself in your own kitchen.
Instead of just the standard potato, here sweet potatoes are used to provide their special tang. I don't find sweet potatoes to be sweet at all — unless adorned with maple syrup. No syrup here. Just that natural flavor, accented with sage butter. Oh, and a touch of curry is optional to accentuate the sweet potato.
This is a super first course that can introduce any protein: fowl, footed, or finned.
---
Sweet Potato Gnocchi with Sage Butter

Yield: serves 8

Ingredients:

2 large sweet potatoes
1 large russet potatoes
2 cups all-purpose flour (or gluten-free flour)
Salt to taste
1 tsp curry powder (optional)
¼ cup olive oil
2 tablespoons butter
½ cup julienned sage leave
Preparation:

In a medium pot of water over high heat, cook the potatoes until tender, about 20 minutes. Cool and peel. Put the potatoes through a ricer and process. Mix in flour, season with salt and pepper, and curry if using, until well combined. (Do not use food processor or blender, or potatoes will have a sticky texture like glue).
Turn dough out onto a floured work surface. Knead a couple of minutes and roll into a½-inch rope, then cut into 1–inch long pieces. Add a slight indentation in the center of each piece.
In a large pot of boiling salted water over high heat, add the gnocchi and cook until they float to the top, about 2 minutes.
In the meantime, add the oil and butter to a large nonstick pan over medium heat. When the butter is melted, sauté sage for 1 minute then add cooked gnocchi and toss. Adjust seasoning with salt and pepper to taste and serve hot for 2 to 3 minutes or until the sauce is reduced and syrupy. Drizzle the sauce over the chicken.
---
Source: Corinne Trang for Cooking by the Book